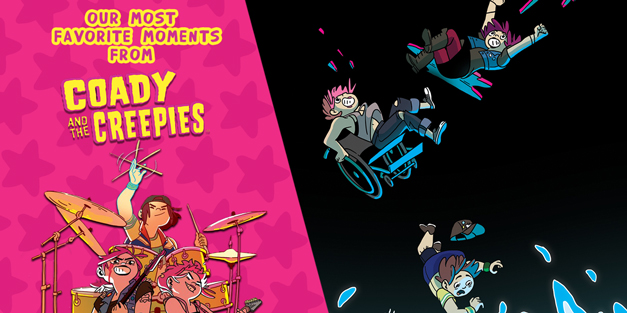 Coady and the Creepies #4 Heads Deep Underground
Coady and the Creepies #4 is out tomorrow from BOOM! Studios, and sadly, it's the final issue. We've totally loved following these punks on tour, watching them rock out, sass just about anyone who'll listen, and take on everything from rival bands to paranormal foes. In this final issue, the girls head underground to play their final Pinmaggedon show, but they're in for a big surprise.
As you read how the story wraps up and what happens when Criss and Corey finally find out Coady's secret, you'll be smacked with laugh after laugh, joke after joke. (Just try not to get hit in the face with cave pee like Corey!) This is seriously the funniest issue of the bunch, and it makes so totally sad to say goodbye.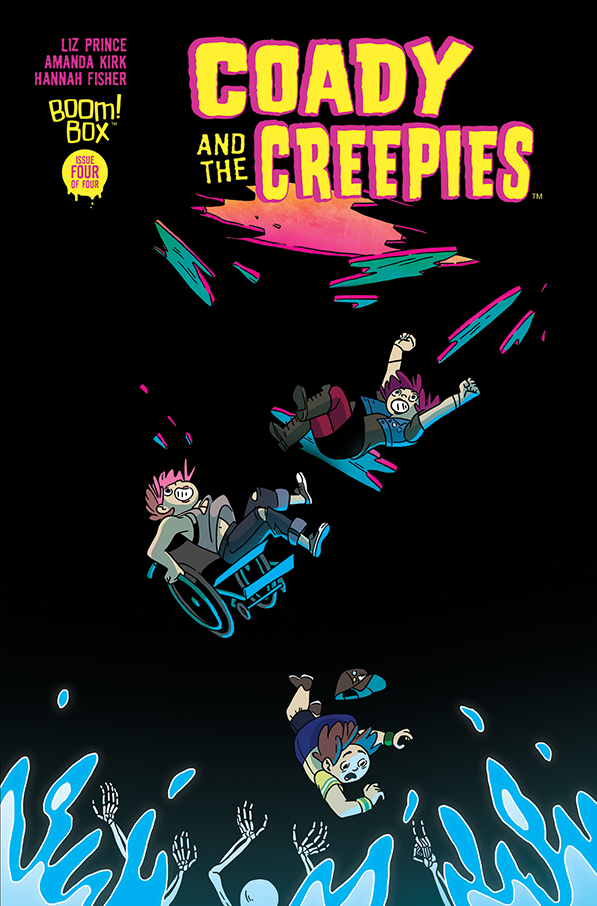 Before you preview the issue, let's take a look back through some of our favorite moments of the series.
Our Most Favorite Moments from Coady and the Creepies:


Issue #1:
It's really a toss up between José's intense love of chimichangas and finding out that Coady is a ghost. While Criss and Corey have no idea that their sister Coady died in their big accident over a year ago and returned as a ghost, readers find out her big secret in the first issue. This fact fills every issue with suspense that her secret will get out as readers tear through this otherwise fun and angsty series.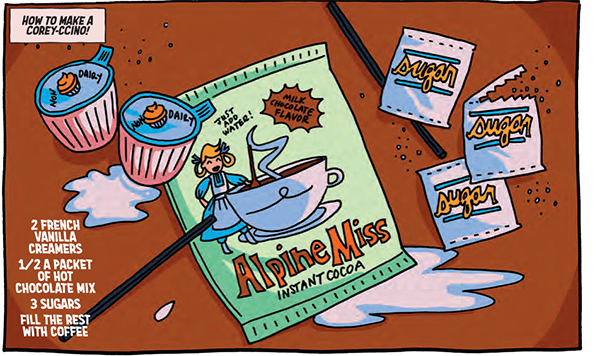 Issue #2:
The Corey-ccino and getting to know the girls a little bit more. The Corey-ccino is Corey's ultimate hot chocolate/cappuccino mashup that she loves to drink on tour, and creators Liz Prince and Amanda Kirk ever so kindly gave readers the recipe for this delightfully sweet concoction. But the best part of Issue #2 is how we get a more in-depth look at Criss and Corey's personalities, insecurities, and how the accident affected them emotionally. Yay for character building!


Issue #3:
This issue calls out a wheelchair unfriendly venue, reminding us all to be inclusive to everyone. The drama also builds like crazy when Coady's secret is almost revealed by big jerk VJ Devin Danger, leading us to the final issue. We also love any moment where the Creepies actually get to rock out on stage!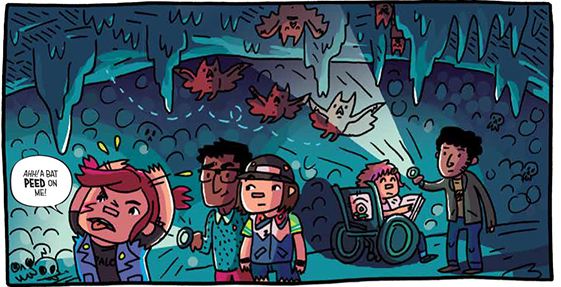 Issue #4:
We don't want to include too many spoilers for the newest and final issue, but the girl power is totally fierce. There's some great sisterly bickering and hilarious moments, but the best moment of the entire series lies within these pages, and we'll give you just one line. "You tried to steal Coady's soul because you're mad that punk isn't just for boys anymore?"
Alright, now that we've taken a walk down memory lane, enjoy these preview pages and get a feel for the issue before it's release tomorrow.
PREVIEW: Coady and the Creepies #4 – BOOM! Studios:
Click the image to view it larger.
Coady and the Creepies #4 (of 4)
Publisher: BOOM! Box, an imprint of BOOM! Studios
Writer: Liz Prince
Artist: Amanda Kirk
Cover Artists:
Main Cover: Kat Leyh
Variant Cover: Liz Prince
Price: $3.99
Synopsis: The Creepies perform their final set despite The Boneheads doing their best to sabotage them!
Ready to rock out? Coady and the Creepies #4 is out tomorrow, June 21st! Pick up the issue, and while you're at it, check out some of these other great comics!