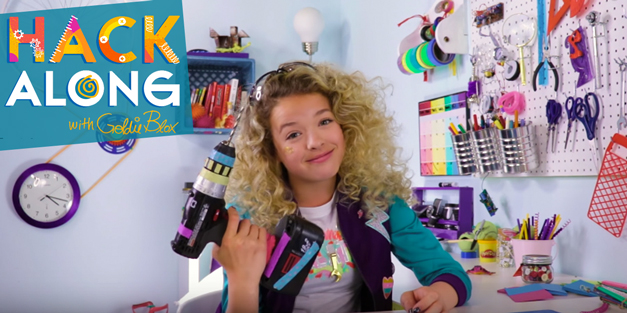 Hack Along with Two New GoldieBlox Series
Calling all hackers, inventors, tinkerers, and scientists! GoldieBlox just launched not one, but TWO new weekly series on their YouTube channel to help inspire you to start building. Each series features amazing robotics, DIYs, and lots of engineering tips to help empower young girls (and boys!) to get their life-hack on. GoldieBlox has always been about inspiring and encouraging girls to get interested in STEM and get them hooked on thinking like an engineer in a way that's not intimidating, but encouraging.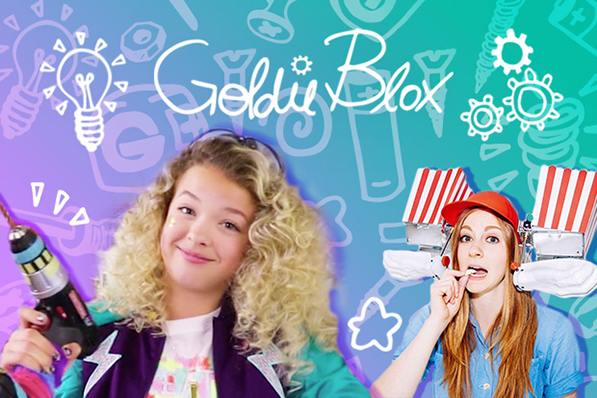 It's all of you amazing girls out there who are the future makers and inventors, after all! We know you're all about to change the world and make some completely life-changing discoveries and inventions, and Goldie knows it too. If you're ready to join the GoldieSquad, keep on reading to find out more about these fun, creative new series.
The first series, Hack Along with Goldie Blox, lets you step inside Goldie's colorful and inventive workshop. Goldie, along with her beautiful, sassy drill Felicia will show off a bunch of DIY projects that you can follow along and make yourself. In the first episode, Goldie shows off how to make 3 Summer DIYs, including Musical Sunglasses so you can rock out while protecting your eyes from the Summer sunshine. She'll also show you how to craft a Pocket Phone Charger that's super cute and perfect to take along on beach trips and a Solar Light Party Jar that doubles as a drum, allowing you to absorb energy from the sun so you can party all night long.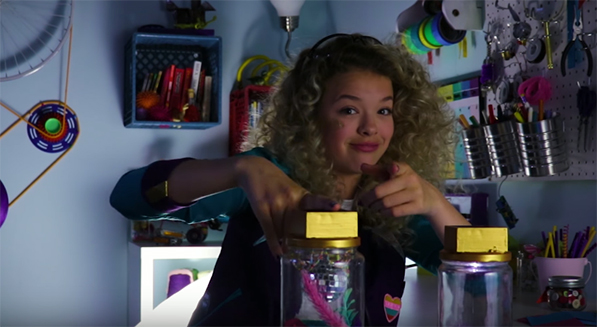 Along with all her hacks, Goldie brings her adorable sense of humor, amazing jacket, and of course, all her engineering knowledge! All the DIYs that Goldie will teach on Hack Along will help you hack your world while teaching you useful science and engineering skills. New episodes of Hack Along with Goldie Blox will release every Friday on the GoldieBlox YouTube channel.
The second new series, Scrappy Robots with Simone Giertz, stars a very familiar face in the YouTube life hacker/robotics scene. You may recognize her from the GoldieBlox Toy Hackers series, or from her personal channel where she builds tons of robots that don't always work right, but are a lot of fun.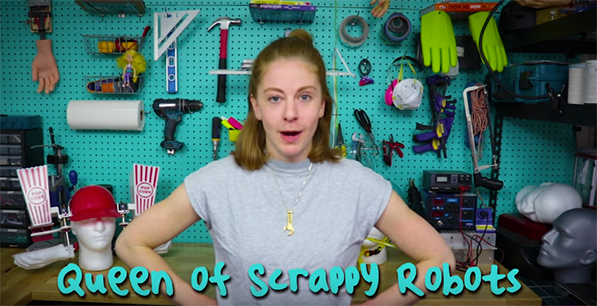 This series will feature Simone (and some of her equally talented friends, like Adam Savage) as she builds robots to help her with everyday problems. The first episode of Scrappy Robots shows off Simone's quirky self-feeding Popcorn Helmet. Who wouldn't want a hands free popcorn eating machine? Watch a movie while your popcorn helmet does all the work and feeds your face for you. New episodes of Scrappy Robots will be uploaded to the GoldieBlox channel every Thursday.
If you're as excited as we are about these two new series, be sure to subscribe so you never miss an episode! We can't wait to see what amazing DIYs Goldie dreams up next! If you're all about engineering and STEM like Goldie, we think you'll love Smore Magazine, a science magazine made just for girls!