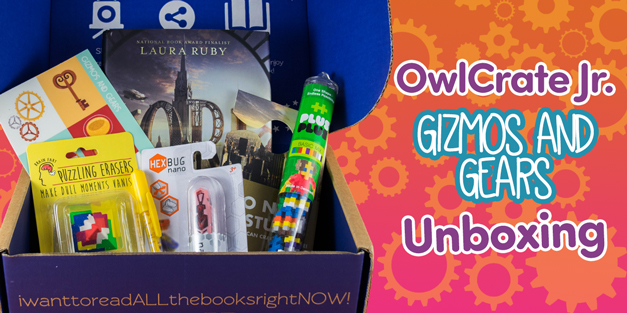 Get Your Tinker On With the OwlCrate Jr. June 2017 Box
Can you guys believe that OwlCrate Jr. is already up to it's fourth box? With every crate delivery, subscribers are slowly building out a library of amazing reads – and what better time to catch up on your reading than Summer? Speaking of Summer activities, all of the items in this box are perfect for those days that are a little too hot to play outside. Put away your spy gear from last month's box and bring the adventure inside to crack open your new Gizmos and Gears box.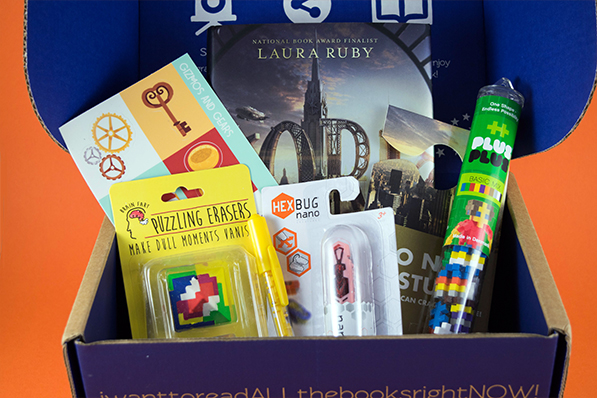 Inside you'll find an exciting new read that's brimming with fantasy and historical elements mixed with steampunk-esque technology, humor, and a modern day alternate version of New York City. There's also lots of goodies that'll have you tinkering, inventing, and puzzle solving until your July box arrives! Not sure what OwlCrate Jr. is? It's a monthly subscription box featuring fun goodies and middle grade books that's delivered directly to your doorstep each month.
Ready to find out what's inside this month's Gizmos and Gears themed box? Let's go!
OwlCrate Jr. Unboxing – Gizmos and Gears – June 2017 Box:

Book of the Month: YORK: The Shadow Cipher by Laura Ruby
About the Book:
It was 1798 when the Morningstarr twins arrived in New York with a vision for a magnificent city: towering skyscrapers, dazzling machines, and winding train lines, all running on technology no one had ever seen before. Fifty-seven years later, the enigmatic architects disappeared, leaving behind for the people of New York the Old York Cipher—a puzzle laid into the shining city they constructed, at the end of which was promised a treasure beyond all imagining. By the present day, however, the puzzle has never been solved, and the greatest mystery of the modern world is little more than a tourist attraction.
Tess and Theo Biedermann and their friend Jaime Cruz live in a Morningstarr apartment house—until a real estate developer announces that the city has agreed to sell him the five remaining Morningstarr buildings. Their likely destruction means the end of a dream long-held by the people of New York. And if Tess, Theo and Jaime want to save their home, they have to prove that the Old York Cipher is real. Which means they have to solve it.
From National Book Award Finalist Laura Ruby comes a visionary epic set in a New York City at once familiar and wholly unexpected.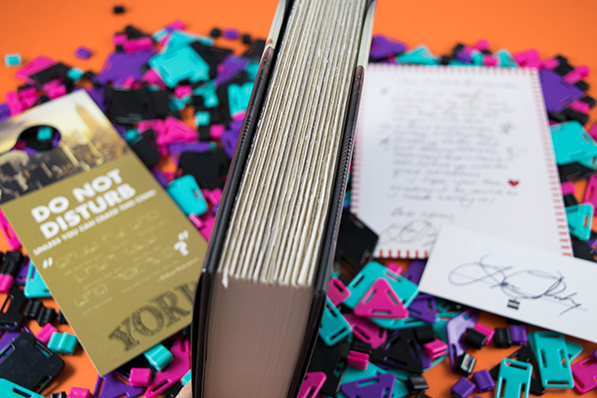 Doesn't this story sound totally captivating? We love how the edges of the pages are a little bit tattered. It suits the whole vibe of the story really well, making the book seem like it was uncovered by Tess and Theo in their race to solve the Old York Cipher puzzle. Along with the book, readers will receive a handwritten note from the author detailing all her favorite things about the book from cats to robots to the riveting mystery. Also included, you'll find an author autograph and a door hanger with a secret code for you to decipher. The best part? This is the first book in the York series, so you'll be able to dive into this world again very soon!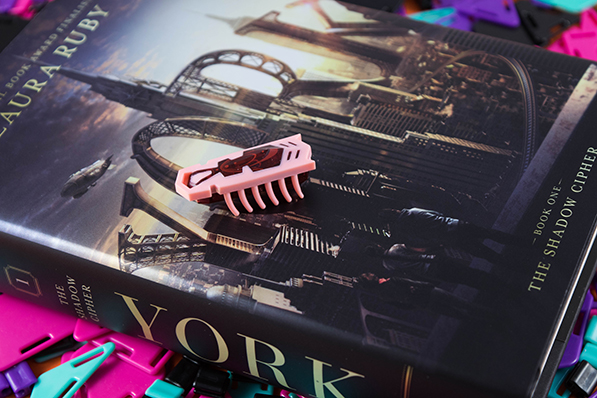 HEXBUG Nano from Hexbug:
Hexbugs fit perfectly with the Gizmos and Gadgets theme of this OwlCrate Jr. box as they're tiny electronic robotic bugs. Hexbug is all about teaching kids about robotics in a fun and easy way, by using interesting insect-like creatures, fun race tracks, and more. We were so excited to find a Hexbug Nano in our box, and immediately tore it open, turned it on, and watched it crawl all over our stuff. You can try building a maze for your Hexbug using the next item in the box, or out of anything else you have lying around the house. If you're super into your Hexbug Nano, they also sell lots of accessories and other bugs you can buy to go along with it so you can launch them across gaps, watch them crawl upside down in a loop, and more!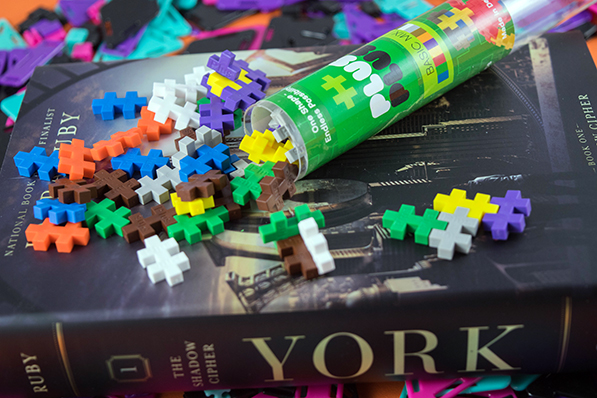 If you love LEGO and K'NEX (or Znapeez, which is what you see in the background of all our photos), you'll love Plus-Plus. The double plus shape allows for you to build out both flat designs and 3D shapes, making the possibilities completely endless. (And makes building a maze for your Hexbug super easy to do!) The only thing standing in your way is your own imagination. Need inspiration on what to build? Check out the Plus-Plus Instagram feed, where you'll find amazing fan creations ranging from donuts to dinosaurs to crowns and more!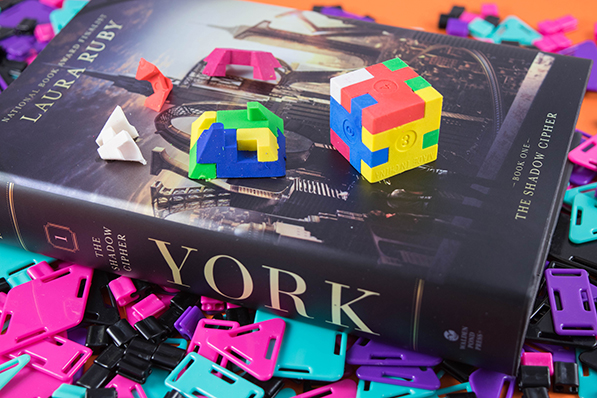 These super cool erasers break apart, allowing you to do some puzzle solving of your own alongside Tess and Theo. Pull them apart and try to put back together the 3D shapes or try building something of your own. Since it's also an eraser, you can use it to get your brain working while studying and erase any mistakes you might make on your homework.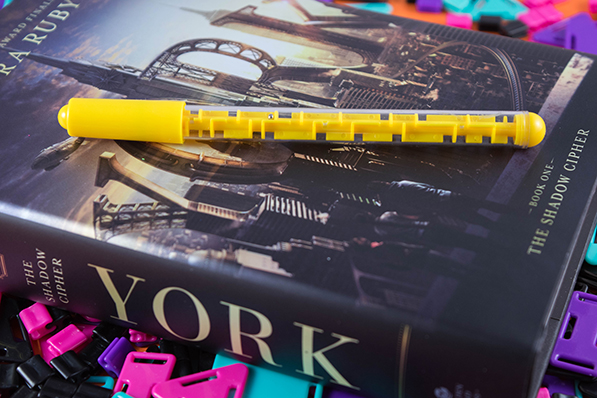 Need to jot down some ideas while reading to help you keep track of the clues, puzzles, and ciphers while reading this captivating story? OwlCrate Jr. knows all you budding tinkerers and inventors love taking notes and problem solving, so they included a maze pen right in the box. Put your brain into problem solving mode by trying to get the metal balls all the way through the maze. Just don't get distracted in class!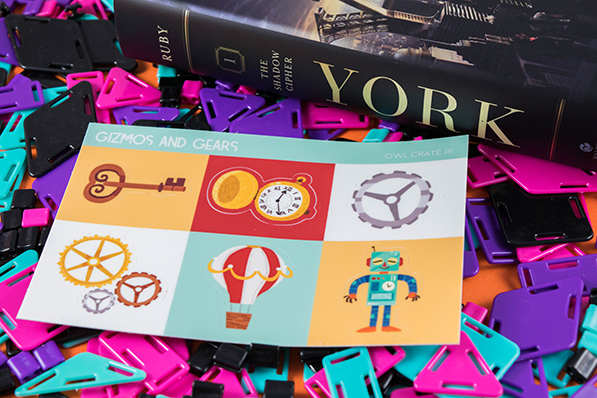 Gizmos and Gears Stickers designed by Anoosha Syed:
We LIVE for stickers. We're always looking for new stickers to stick all over our stuff and receiving stickers designed by the talented Anoosha Syed makes it even better. These inventive Gizmos and Gears inspired stickers will get you super excited to read The Shadow Cipher or to start building, coding, or planning your own exciting projects and puzzles.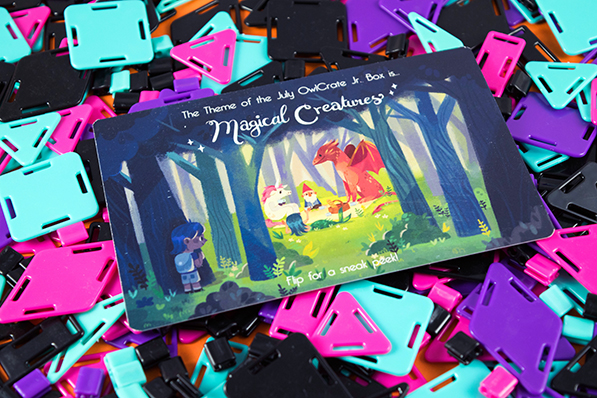 Ready to find out what awaits for July? Next month's theme is Magical Creatures, which we have a feeling might be the best one yet! We can't even imagine the magical story and goodies that OwlCrate have in store for such an exciting theme. They also mentioned on their Instagram that the July box will be packed with even more goodies and activities than they've ever included, so you're definitely in for a treat!
From the Card Insert:
"Do you believe in magical creatures? Here at OwlCrate Jr. we're pretty sure they're out there somewhere… Just because we haven't seen them yet doesn't mean they don't exist! If you feel the same way, you'll love our July box! Each one will include an enchanting book full of fantasy, friendship, and magic."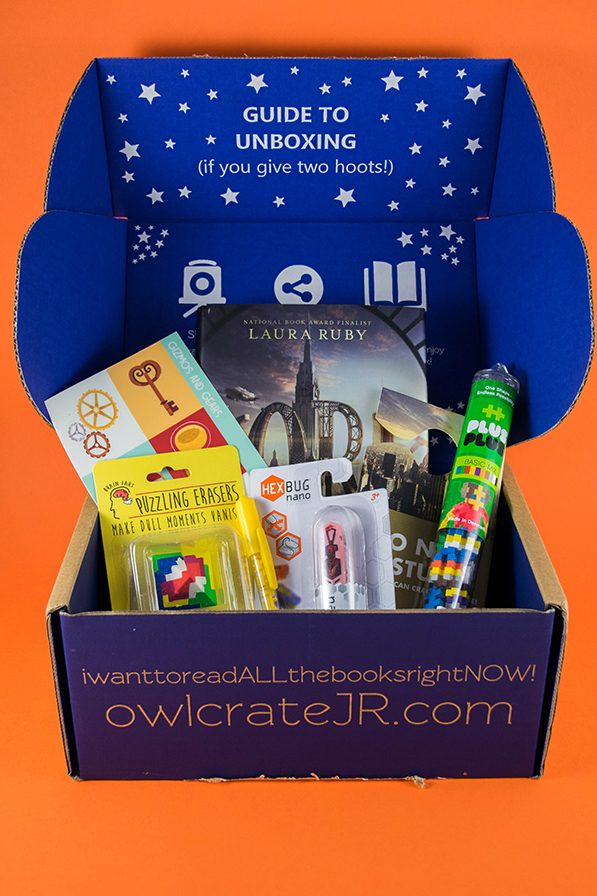 Ready to start your own OwlCrate Jr. adventure? Head on over to their website to subscribe. Just be sure to ask a parent first! It's perfect for total bookworms like you guys who just can't their hands on enough books. If you just have to get your hands on this Gizmos and Gears box, be sure to sign up in the next few days. If you're looking forward to the upcoming Magical Creatures box, be sure to hold off for a few days until the theme switches over.
OwlCrate always announces when they switch themes on their social media accounts, so always check those if you're not sure. They've also got a coupon code right now for 20% off a 3 or 6 month subscription. Use code SUMMERFUN before August 1st to get that discount.
Want to see what you've missed in future boxes? Click here for all our past OwlCrate Jr. unboxing reviews!