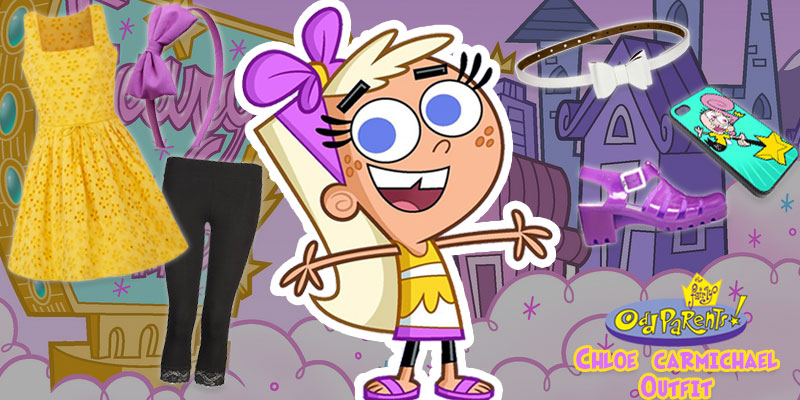 Fairly OddParents: Chloe Carmichael Outfit
Chloe Carmichael is the newest character on Fairly OddParents. If you're not up to speed, she's a new character that was introduced in Season 10. She's Timmy's bubbly, over-achieving new neighbor who, due to a fairy shortage, will be sharing Cosmo and Wanda with Timmy. That's right, instead of one fairy per kid, the fairies are being shared between multiple kids at once for the first time ever. Timmy isn't exactly thrilled about this after having Cosmo and Wanda to himself for all these years, but Chloe is excited to start making wishes to change the world for the better.
Unfortunately, even Chloe's best intentioned wishes seem to be turning out completely wrong and she's sort of ruining everything. Her personality is super energetic, sweet, and over the top, and she's definitely going to be a great addition to the show. Since she's completely adorbs, we decided a Chloe Carmichael outfit was in order for all of you who wanna dress just like her!
Chloe's outfit is made up of yellow, white, and pinkish purple color – somewhere in the lilac family. She wears a white tank with a white stripe across it and a white skirt with purple trim layered over some black capri leggings. (Or is her outfit just a really unique and awesome dress? We're not sure!) For your Chloe Carmichael outfit, you can start with something yellow. For our look, we picked a summery yellow dress with a white bow belt, to get the look of the stripe in Chloe's outfit. In the gallery, you'll find a bunch of cute yellow tops and dresses we found that we think Chloe would totally wear. For the leggings, we picked a pair of black capri leggings with lace trim, but you can pretty much go with any black (or lilac, if you're feeling colorful) pair to match Chloe's look.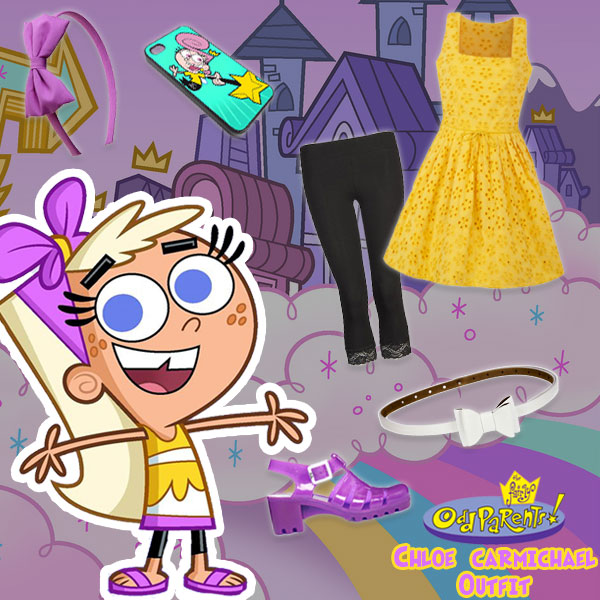 Instead of regular sandals, we chose purple jelly shoes for our look. If jelly shoes aren't your thing, you can go with pretty much anything in the pink/purple palette from flip flops to sneakers. For the headband, you can do a purple hairbow, a headband with a big purple bow on it, or even a dolly bow to get the more over the top style that Chloe's bow has. To take the look to the next level, try a matching yellow or purple backpack, a Fairly OddParents phone case, or even a fairy dust necklace.
No matter how you choose to rock you Chloe Carmichael outfit, we're sure you'll look just as cute as she does!