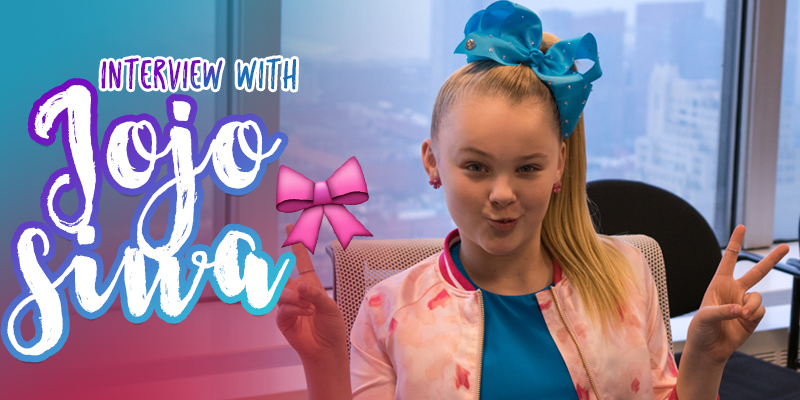 EXCLUSIVE: JoJo Siwa Shares Her Exciting Nickleodeon News!
JoJo Siwa is an absolute powerhouse. She totally slayed on Dance Moms, she's basically the queen of Musical.ly and YouTube, and her single "Boomerang" was just certified as Gold! (That means you guys have listened to it… A LOT!) You may have noticed she's been popping up at Nickelodeon events and making guest appearances on their shows quite bit recently – and she's finally able to share what's next.
We sat down with JoJo to chat about how she's taking her relationship with Nickelodeon to the next level and what that means for fans. Get ready for lots of JoJo inspired merch, more guest appearances, and her very own half-hour special all about her life – complete with lots of surprises, some of her Nick besties, and of course – her dog BowBow! Here's what she had to say about her deal with Nick, her upcoming book, and some inspiring advice she has for her fans.
JoJo Siwa dishes on her upcoming Nickelodeon projects and more!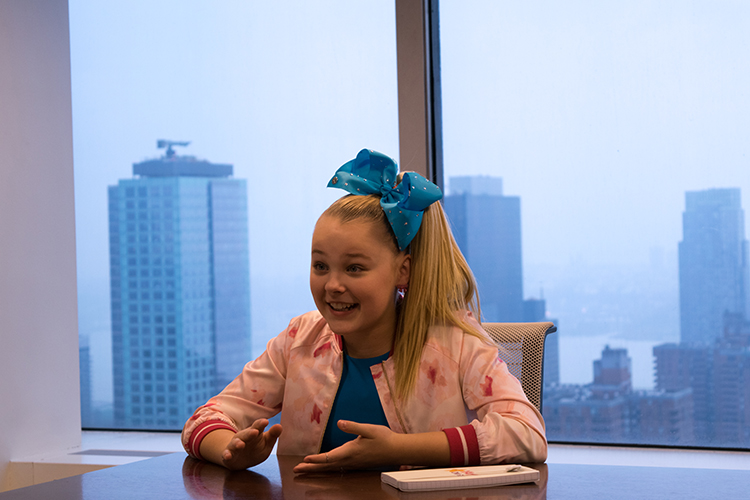 On how she feels about being a part of the Nickelodeon family:
"It's honestly very exciting to be a part of the Nick family. I've been a part of the Nickelodeon family for a little bit now, but it's really exciting because now I get to release and tell everyone WHY I'm a part of the Nick family and what I'm doing with Nickelodeon so it's very exciting now that everyone is gonna get to know and see what we've been working on…all the awesome, amazing things."
On what she's been working on with Nick:
"I'm going to be working a lot with Nickelodeon as you guys probably know. Right now what I can tell you I'm working on is that I'm going to be on School of Rock which is very exciting and we're filming that soon. I already filmed the Sizzling Summer Camp Special so that's coming out in the Summer…"
"…I'm also doing a docu-style little mini follow me around special – that's going to be very fun because people are going to get a look into my world. People are going to get to see what a day in the life of me is like. So that's going to be very exciting."
More about her upcoming docu-style special:
"What I'm gonna do is basically a non-scripted [show]. It's literally gonna be just a day in my life – day of what I do my fun, my work, my filming, my collabs – every single thing that I do, my meetings and it's just gonna be mashed into a 30 minute special."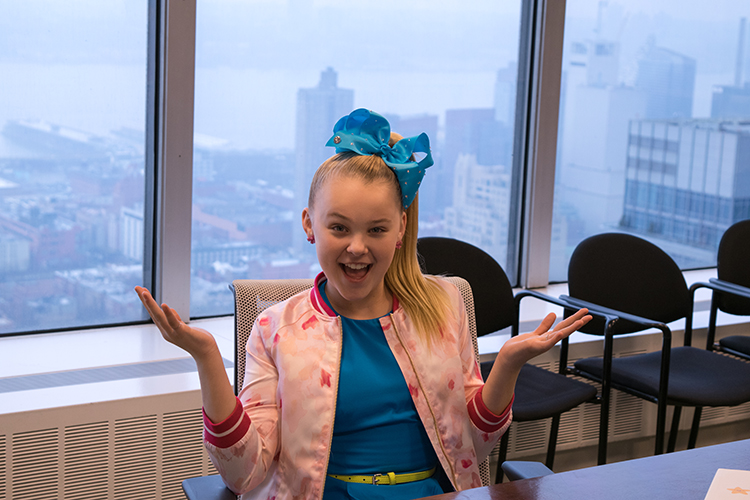 Jojo dishes on her favorite Nickelodeon shows:
"If I can go back in time, I like SpongeBob, iCarly, Drake & Josh. If I had to pick my number one Nick show it would probably be iCarly. I will say I do like Nick at Night for Friends and Full House, just sayin'. But obviously for like kids shows there's Thundermans, Henry Danger, Bella and the Bulldogs, Ricky, Nicky, Dicky & Dawn, Game Shakers. Jagger Eaton's show which I'm actually slightly secretly obsessed with because it's hilarious. I love reality shows, I just like seeing real life…"
What it's like being nominated for her first Kids' Choice Award and her competition:
"I am up against a lot of good, amazing people [in the Viral Music Artist category]. Carson Lueders, Jacob Sartorius, Johnny Orlando – mostly boys that are also my friends. I'm gonna be happy if any of them win but I'll definitely be happiest if I win, so hey go vote for me!
(Psst: You can vote for Jojo by hitting up the KCA site.)
And how she's hoping for her big slime moment:
"…I want the biggest sliming that has ever happened. I want to get what Cameron Dallas got, how he had to like stand there. So cool, so awesome!"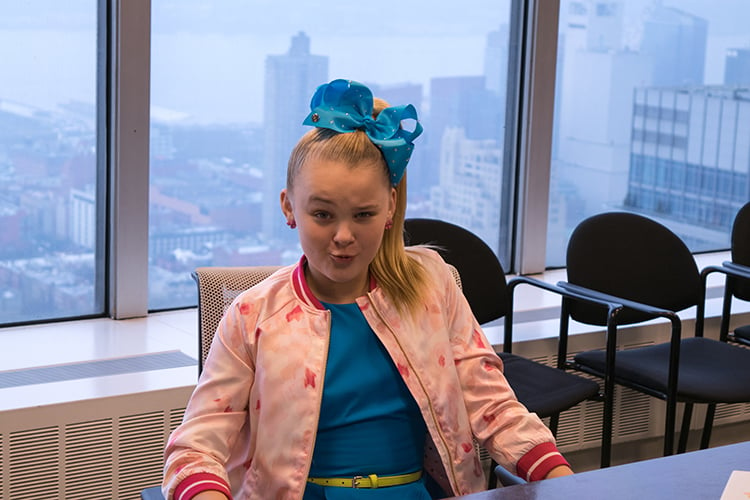 What she likes to do for fun:
"The one thing I love to do to just be a normal kid is going down to iFLY at City Walk in Universal Studios. It's amazing, it's indoor skydiving and it's the one semi-dangerous thing my mom will actually let me do."
She's got HOW MANY bows?!:
"In my personal collection I have over 700 bows, but I that 2 years ago, so I'm sure I have over 1,000 now."
On her upcoming book (hitting shelves this October!):
"My book is called "JoJo's Guide to the Sweet Life #PeaceOutHaterz". I am SO excited for this book, it's going to be so, so, so amazing. It's an inspiring book, it's an interactive book – I'm super excited about it."
On staying motivated, inspired, and working hard:
"Honestly, there's this thing inside me where I set a goal and I want to reach my goal. I want to have success and I work really hard…I know that it's what I want so I've just always wanted to be successful at it."
Her advice for her Siwanators and anyone struggling with embracing their inner-awesome:
"I would just tell people to just believe in themselves and be confident in themselves…just be confident and be yourself. Someone's going to love you for who you are."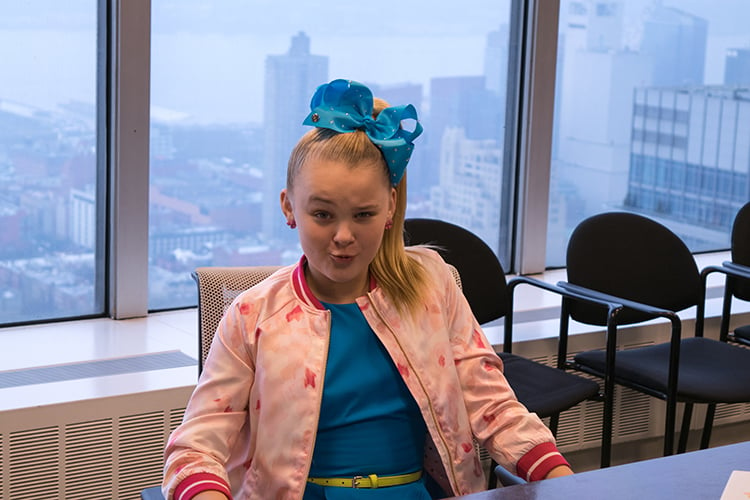 Phew! JoJo Siwa is seriously crushing it and we can't wait to see all the really fun stuff she's working on with Nickelodeon. While you get psyched for her upcoming appearance on School of Rock, why not find out which character is most like you?