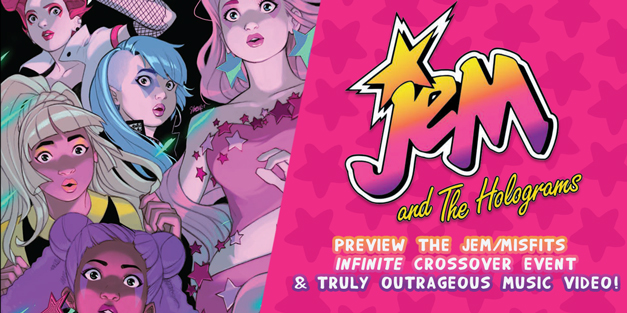 Truly Outrageous: Jem and The Holograms: Infinite Comic and Music Video
Here at YAYOMG!, we're all about everything sparkly and brightly colored, especially when those things are filled with girls who are truly, truly, truly outrageous. That's why when our friends at IDW Publishing started releasing a totally modernized Jem and the Holograms comic series back in 2015, we nearly lost it with excitement. An excuse to read about the adventures of a kick-butt girl band filled with amazing glam outfits, friendship drama, secrets, and devious rival bands? Count us in.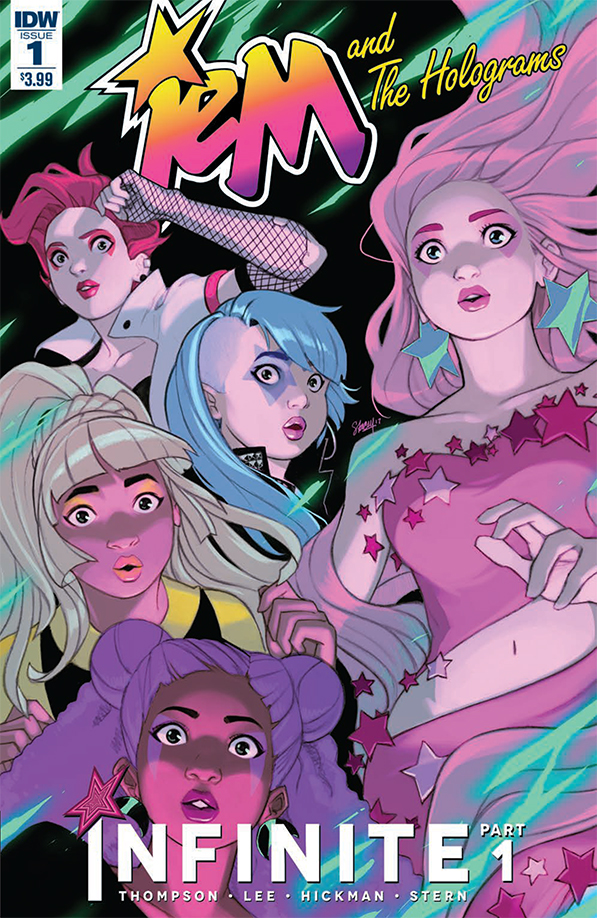 Sadly, the series ended recently after 26 fantastic issues, but exciting news has arrived. Jerrica and the gang are back for yet another adventure in the Jem and the Holograms: Infinite crossover event. Want to know more about this awesome mega event? We promise we'll share! But first, enjoy this fiercely glam music video for the the Jem and the Holograms theme song, "Truly Outrageous". The IDW team created this music video to celebrate their new crossover mini-series. The video features fun scenes from the comic and catchy new take on the theme song. It's sure to be stuck in your head all day! Watch it here!
So, what's going down between The Holograms and The Misfits now? In case you haven't read the Jem comics (or the Misfits spin-0ff), let us help catch you up. Jerrica recently revealed her identity to Rio, her now ex-boyfriend, but her identity is still a secret to the rest of the world. The Holograms sound is tighter than ever now that they've got Shana on bass and have recently added a new drummer to the band.
The Misfits wrapped on their super successful reality show and released a new album on their very own label. Even with the spotlight back on the Misfits, Pizzazz is still holding a huge grudge against The Holograms. With both bands in prime shape, how will things play out? This series re-introduces all the characters, so while we highly suggest you pick up the issues you've missed, you don't have to have read it in order to get dive into the Infinite mini-series crossover.

Things pick up in Jem and the Holograms: The Misfits: Infinite, where some super crazy stuff is about to change everything for both bands. The Holograms and the Misfits have a public blowout at a charity concert and the conflict between them is more intense than ever. Jerrica is working to piece things back together after her breakup with Rio and deal with the struggles of her dual life when things get a little crazy. A mysterious hacker named Techrat shows up, begs for the Holograms help, and drops some potentially life-changing information.
When the story flips over to the The Misfits perspective next week, they'll find themselves trapped inside a computer simulated world ruled by none other than Jem and is powered by Synergy Hologram Technology. Obviously Pizzazz and the Misfits are NOT happy about this and will do anything it takes to take down Jem and break free.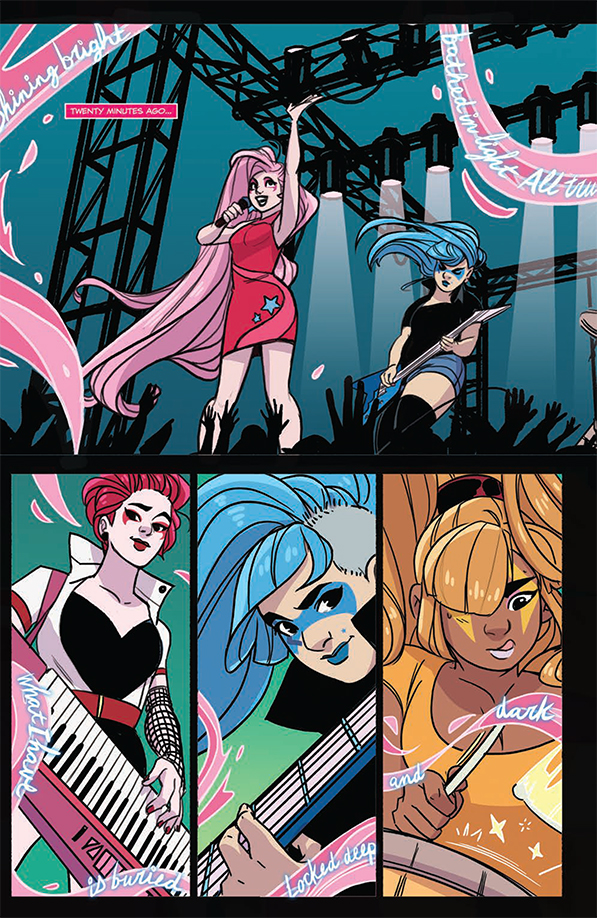 The crossover event will take the subtle sci-fi theme of the series to the next level in a big way. Basically, it will feature two mini comics simultaneously, telling the same story from different sides. Both bands will be pulled into a whole new world they never expected, where an alternate version of Jem rules everything.
The six issue mini-series will release bi-weekly and trade off perspectives from issue to issue, featuring 3 issues from each band. That means you'll be able to pick up Jem and the Holograms: Infinite #1 when the series begins tomorrow, and then The Misfits: Infinite #1 on July 5th. The series is written by the fabulous Kelly Thompson, who penned the previous Jem comics. The Holograms issues are illustrated by Stacey Lee and the Misfits issues are illustrated by Jenn St-Onge, two exceptionally talented artists who give a ton of life to the series.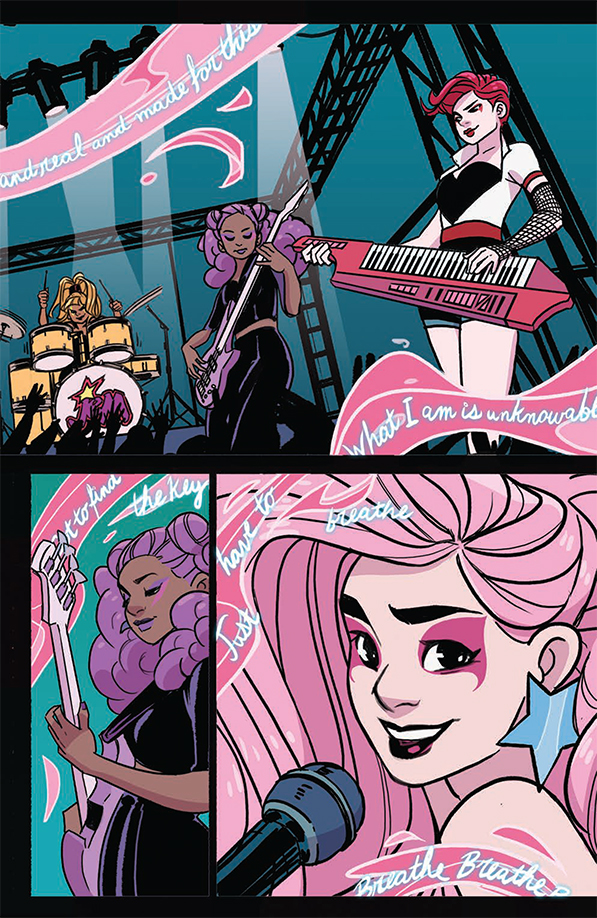 Jem and the Holograms: Infinite #1 (of 3):
Publisher:IDW
FC • 32 pages • $3.99
Writer: Kelly Thompson
Artist/Cover: Stacey Lee
Variant Cover: Marley Zarcone
Interconnecting Subscription Covers: Veronica Fish
SYNOPSIS: The FIRST-EVER Jem/Misfits Crossover Event begins here and now with "INFINITE PART ONE!" Now a happy quintet, Jem and The Holograms are stronger than ever, which is a good thing because they're about to embark on an adventure unlike anything they'd ever imagined possible. After a public fight with The Misfits at a charity event, a strangely dressed Techrat shows up and takes them to a whole new world… literally. And it is going to change EVERYTHING.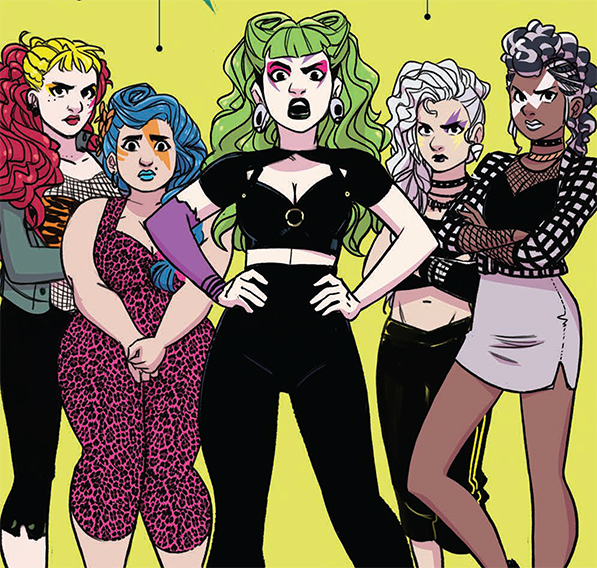 Sounds like things are heating up and are going to be more intense than ever. It's showtime, Synergy! Jem and the Holograms: Infinite hits comic shops tomorrow, June 28th. While you wait, why not take our Jem and the Holgorams movie quiz or check out this amazing Crystal Gems/Jem and the Holgorams mashup!