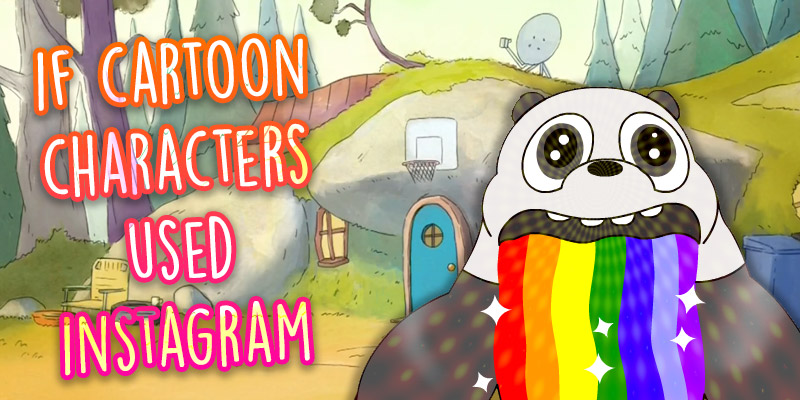 Here's What It Would Be Like If Your Favorite Cartoon Characters Used Instagram
It's always hilarious when your favorite cartoons mimic real life. Whether it's Star Butterfly being fascinated by triangle shaped food, Patrick Star shouting "NO THIS IS PATRICK" into the phone when someone calls the Krusty Krab, or Panda totally nailing it (and then totally failing) at using social media over and over again on We Bare Bears, it's always a riot. It doesn't matter if these characters totally are totally addicted to tech like the rest of us or totally confused by real world things, it's never NOT funny.
That's why we thought it would be fun to see what it might be like if our favorite characters used Instagram. Is Ice King secretly the Selfie King? Would Squidward think filters were bold and brash or totally lame?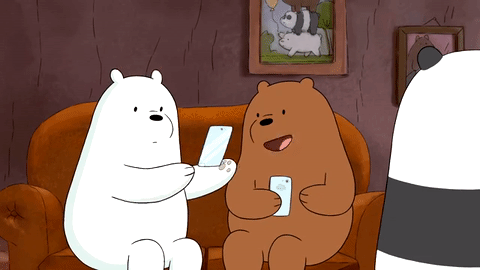 We collabed with our favorite artist Scoobykun to find out! (Scoob drew our infamous Evie Easter Pic that even Sofia Carson gave a heart to on Instagram as well as our Tumblr famous Gem and the Holograms concert posters – a mashup of the Crystal Gems and Jem and the Holograms)
Cartoon Character Instagram Feeds: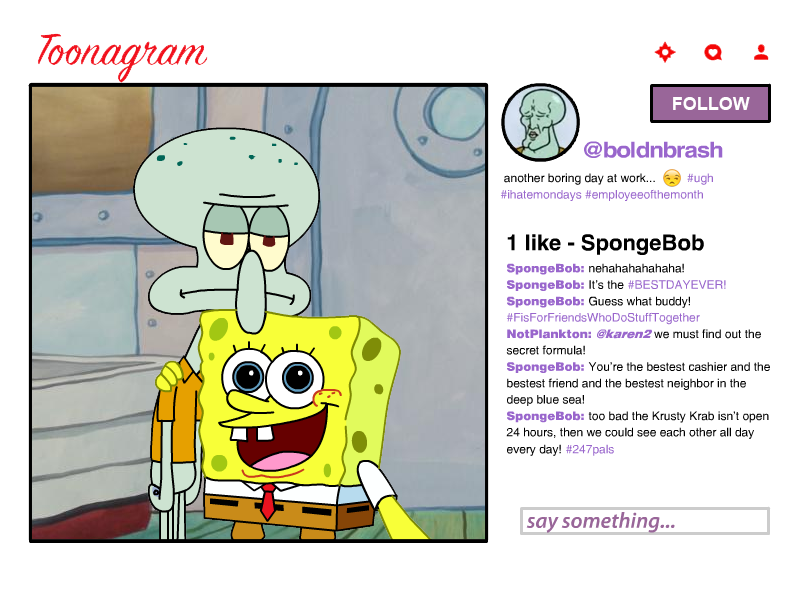 Squidward Tentacles – SpongeBob SquarePants:
We're guessing SpongeBob uploaded this selfie to Squidward's feed while he wasn't looking. Why else would he actually admit to snapping a selfie with SpongeBob? And just look at those comments. Something tells us SpongeBob and Plankton are probably Squidwards only followers, though it's pretty obvious Plankton is still getting the hang of this whole social media thing. Squidward's other Insta posts? Super smooth clarinet stylings and Bob Ross-esque painting vids. Anyone else think SpongeBob will be sharing this pic EVERY #TBT for the rest of time?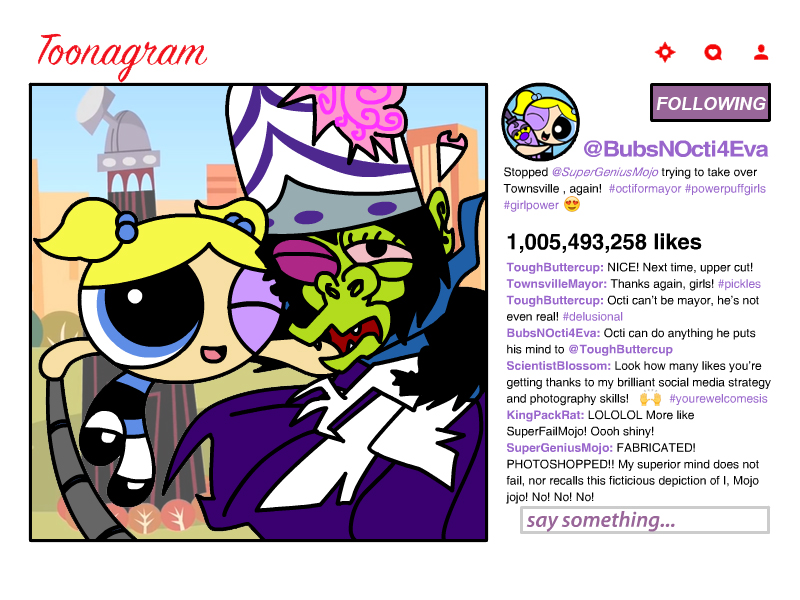 Bubbles – Powerpuff Girls:
Bubbles may be mostly sugar and cuddly animals, but that doesn't mean she's not proud of the times she takes down the bad guys. Townsville is her home, and she'll do anything she can to protect it! It's no surprise Buttercup is egging her on, but is anyone else totally shocked that Mayor actually knows how to use a smart phone? Maybe Miss Bellum gave him a lesson before she left for her 1,000 day vacation, or maybe Blossom is helping the Mayor with his social media strategy too? Either way, we'd for sure love to see what else Bubbles posts about (and hearts) on the 'gram.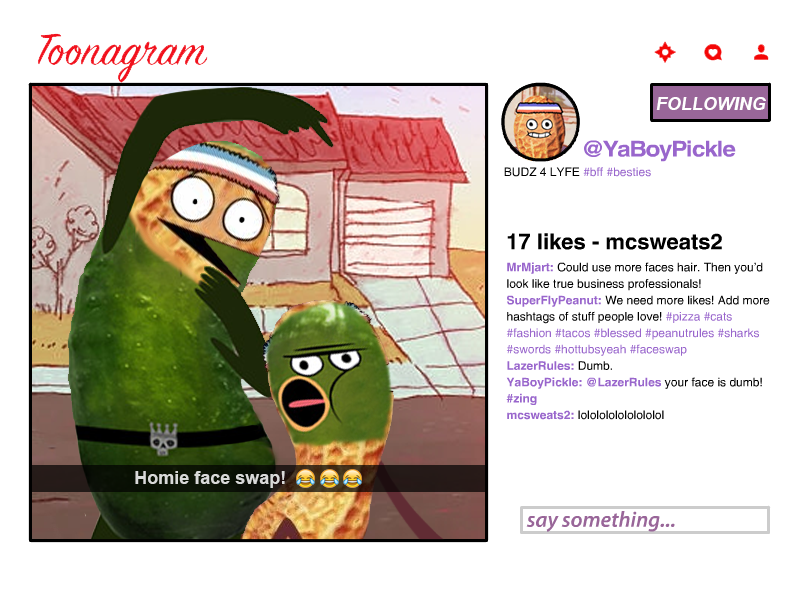 Pickle – Pickle & Peanut:
Pickle and Peanut are keepin' it fresh with a homie face swap. (We've bet $5 that Pickle tried to slice off his own face and stick it to Peanut at the mention of the words "Face Swap" though) Mr. Mjärt is a savvy business owner, so you know Mjärt Mart definitely has a rockin' social media presence. (Or whatever Mr. Mjärt's definition of rockin' may be) It's obvious that Pickle and Peanut realize that Snapchat is where it's at, and they're probably big fans of the selfie lenses. Show of hands – who wants to see Peanut with a giant dog tongue?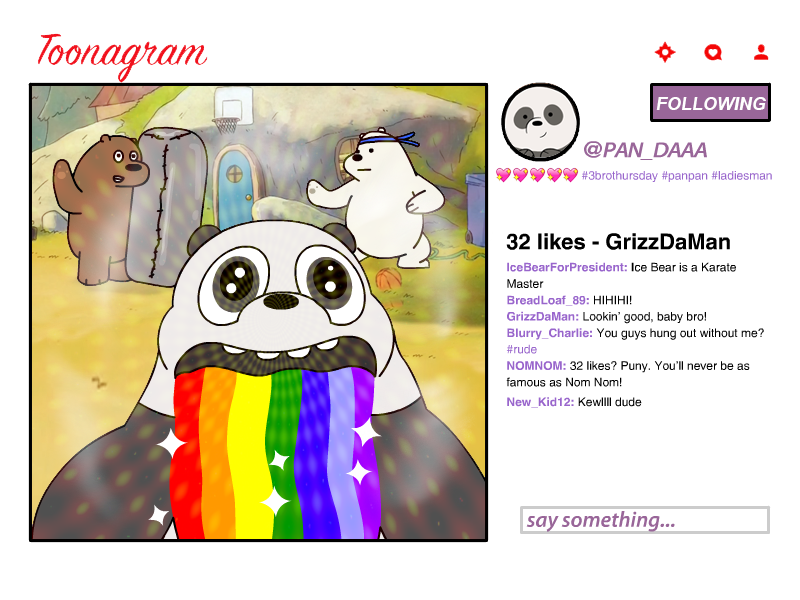 Panda – We Bare Bears:
Leave it to PanPan to know what's cool. While he sometimes tries a little too hard and doesn't get it right, there's no denying he's always up to date with what's on trend. Of course, Nom Nom had to comment and stomp all over his dreams and Charlie is basically just overattached girlfriend when it comes to the bears. Why no comment from Chloe? She's not allowed to use her phone 'til she's done with her homework. One thing we noticed was #3brothursday – looks like Ice Bear forgave Panda and Grizz for their 2BroTuesday hangs, and they made up an all new Bro-Holiday! Hooray for bear bro hang time!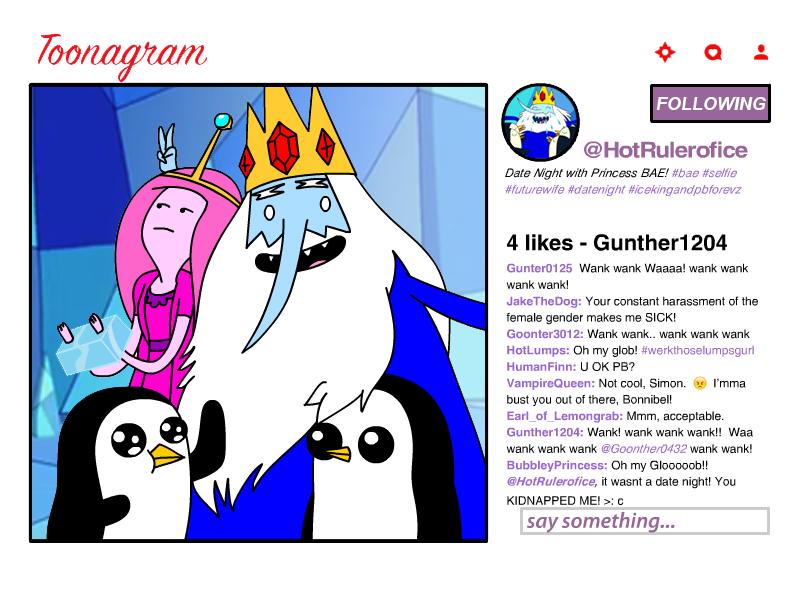 Ice King – Adventure Time:
What looks at first glance like a super cool selfie between Ice King and PB looks much more grim on second glance. Bonnibel is clearly FUMING because she's been kidnapped by Ice King. Again. Obviously Lemongrab finds this acceptable, but Marcy definitely does not. Who do you think will get there to save the day first – Finn and Jake or Marceline? What's really got us curious is what the Gunters are quacking about. They're definitely up to something.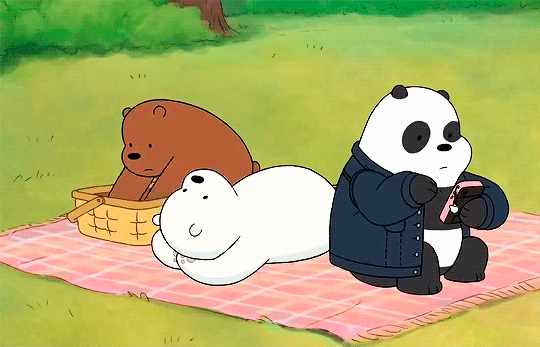 For even more of your fav cartoon characters doin' stuff, click here!