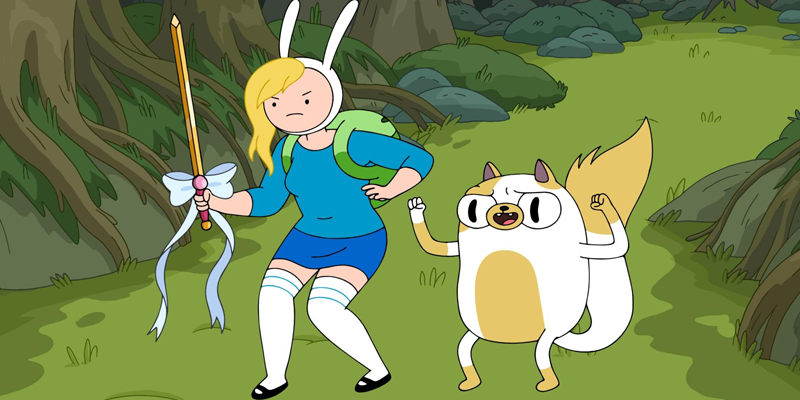 Adventure Time With Fionna & Cake: Card Wars Comic
Guess what?! Fionna and Cake are teaming up for an epic adventure once again – and this time – they're playing Card Wars! Adventure Time With Fionna & Cake: Card Wars is written by Jen Wang and illustrated by Britt Wilson and it hits comic store shelves (and digital comic shelves!) this July. Both the artist and the illustrator have worked on previous Adventure Time comics, so this one is sure to be totally mathematical! Like the usual Adventure Time comic mini series, the Fionna & Cake: Card Wars comic will be 6 issues, and will have lots of variant covers for you to collect.

Here's what the Card Wars comic is all about:
Fionna kinda stinks at Card Wars, but it turns out that Cake kicks total Card Wars butt. She just can't be beat! They head out on an adventure to find a challenger who is worthy of Cake's sweet skills. They run into some gamer slugs who are part of a special gaming club who they're excited to battle, but the slugs won't even play with them since they've never heard of Cake. Cake will have to prove her skills and show everyone just how awesome she is!
Here's a few preview pages of the comic and some of the cover art:

Comic Preview 1
Sounds like we're in for a fun 6 issues! Hopefully Fionna can improve her Card Wars skills on this big adventure. We're super excited to see Fionna and Cake in action once again, but we've still got our fingers crossed for a BMO Noire inspired mini series someday!
If you're currently collecting the Marceline Gone Adrift series, this new Card Wars comic begins right after the Marceline series ends. For the rest of you – July 15th is the day you'll wanna head to your nearby comic shop to pick up this book!