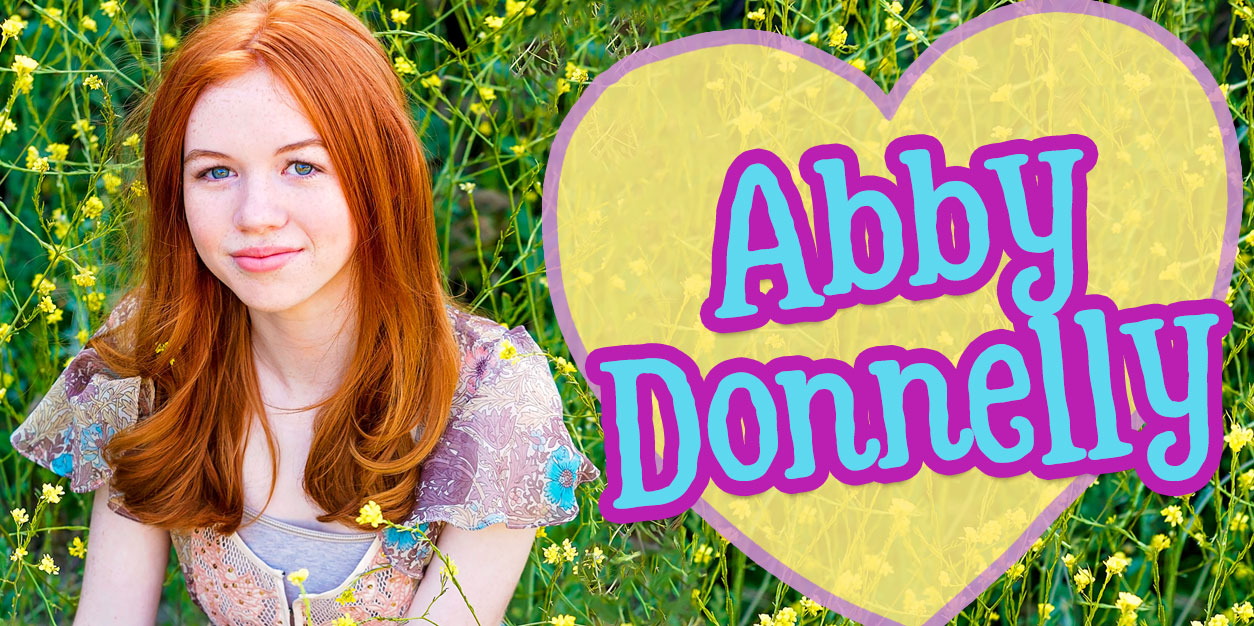 Abby Donnelly Chats Just Add Magic, her Female Inspirations, & More
You probably recognize Abby Donnelly as Darbie, one of the leading ladies on the Amazon Prime Video series, Just Add Magic. Her character is carefree, quirky, and a trustworthy friend who's always ready to whip up a magical recipe with BFFs Kelly and Hannah. She has appeared in shows like Suburgatory, American Horror Story, and Criminal Minds, but we think she truly shines in Just Add Magic. Abby has a passion for theater, a love of strong female characters, and an even deeper love of macaroni and cheese.
We were so excited to chat with Abby about Just Add Magic, her female inspirations, and a few things she just can't live without. Get to know her in our interview below!
Get to Know Abby Donnelly:
The second half of Just Add Magic Season 2 was recently released. Can you share a little about how things have changed and where they're headed?
ABBY DONNELLY: The newest season shows just how strong Kelly, Darbie, and Hannah's friendship really is. The girls discover that there are more protectors than they thought there were while trying to solve the mystery of why people's memories of magic are being erased.
Are there are any personal touches you've been able to add to your character, Darbie?
ABBY: Before we started filming this season, I had mentioned to the writers that I was actively involved in my school's theatre program, so I like to think I helped a little bit with Darbie's new found love for theatre!
If you could create a magical recipe of your own, what would it be called and what type of spell would you like to cast?
ABBY: I would love to cook an "Open your Mind Maple Syrup" to make people more open to new ideas and possibilities!
The series revolves around three girls who discover a magical cookbook. Are you into cooking and baking in real life?
ABBY: I love to make chocolate chip cookies with my mom, but aside from that I don't really bake or cook that much, mainly because I'm not very good at it! I do make a great microwaveable macaroni and cheese though!
What is your go-to comfort food?
ABBY: Definitely macaroni and cheese!
Who are some of your female inspirations/heroes?
ABBY: Right now, Emma Watson is my biggest inspiration. She is not only an amazing actress, but she also made her education a priority. I also love Phillipa Soo, who played Eliza Hamilton in Hamilton on Broadway! She is absolutely amazing! But I think my mom is my biggest hero. She works harder than anyone I know and always inspires me to work hard and be myself.



If you could dream up your own TV series and play the lead, what type of role would you want to play?
ABBY: I would love to play a strong female lead, like Lauren Graham in Gilmore Girls, who chases after her goals and is an amazing mom. I wouldn't mind playing a superhero too!
What are three things you can't live without?
ABBY: I can't live without my music, my phone, and lip gloss!
We hear you love Shakespeare! Tell us a little about what draws you to his work, and do you have a favorite?
ABBY: I started in a Shakespeare troupe in 5th grade which sparked my love for his work! My favorite play is probably Twelfth Night! We performed it in our troupe and I've seen movie and musical interpretations of it which I absolutely love!
What are a few goals you have for your future?
ABBY: I would like to continue my acting career, but I also want to travel around the world to visit new places and meet new people!
If you loved getting to know Abby Donnelly, we think you'll enjoy getting to know her Just Add Magic co-stars Olivia Sanabia, Aubrey Miller, and Laya DeLeon Hayes!