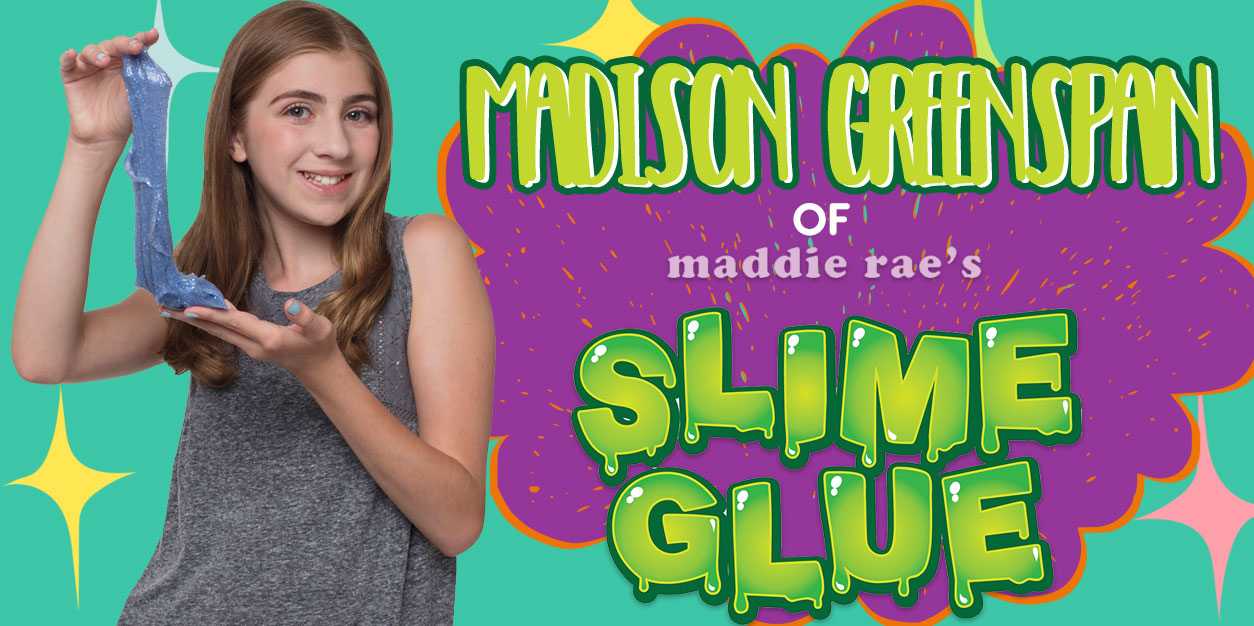 Meet Madison Greenspan of Maddie Rae's Slime Glue
As slime lovers, we all remember the great glue drought of 2017. As the slime craze went from "that weird thing I can't stop watching on Instagram" to "I'm beyond obsessed and have made like 50 slimes this week.", stores struggled to keep glue and other slime-related ingredients on the shelves. Slime was on the rise, but it was getting harder and harder for kids to break into this fun, sciencey, and totally slimy activity when they couldn't get their hands on the ingredients they needed. Some people got crafty, figuring out alternative recipes that eliminated hard to find items. 11-year-old Madison Greenspan had a better idea – create her own brand of glue made specifically with slime making in mind!
Over the last year Maddie Rae's Slime Glue and other slime making products have seen a ton of success. Madison has been featured in everything from Teen Boss Magazine to the local news, broken a world record, and inspired kids all around the world – all by the age of 12. She's got true entrepreneurial spirit, but when it comes down to it, she's still a kid at a heart. A kid with a big dream, a lot of drive, and a ton of new products about to hit shelves.
We chatted with Madison about her successes, challenges she's faced bringing this business to life, and what's to come for Maddie Rae's Slime Making Products.
Meet Madison Greenspan, Creator of Maddie Rae's Slime Glue:
How she turned her idea into a reality:
MADISON GREENSPAN: I really loved making slime for a long time before I launched my business last March. Due to the glue shortage last winter, everywhere I went to buy glue was sold out, even online. So, I asked my dad if we could make our own brand of glue for slime making and with my team, we actually did it!
On the new Maddie Rae product line and her personal favorite:
While Maddie Rae's Slime Glue, charms, dyes, and other items are still flying off the shelves, Madison knew that in order to keep things fresh and continue on the best path for her business, she'd have to add some new and exciting products to the line. While slime is still a major focus, she'll also be introducing around a dozen other crafting and DIY items to the Maddie Rae lineup early this year.
We asked Madison about what's to come, here's what she had to say: "I'm so excited about my DIY crafting products coming out in 2018! Some of them are puffy fabric paint, patterned duct tape, colored and glitter glues, iron on glitter, essential oil scents and a whole bunch more! I think my favorite crafting item would have to be the glitter glue. Not only can I use it to continue making slime, I can use it for so many other crafts too!"
Madison and her team are always innovating to bring their customers a ton of new and amazing ways to get their craft on!
What it was like to break the Guinness World Record for Largest Slime:
Back in November, Madison's dream of creating the world's largest slime was nothing more than a crazy dream. But thanks to her team, the amazing folks behind Play Fair, and a ton of excited kids – Madison was able to make this crazy dream come true. "Breaking the Guinness World Record for the largest slime at Play Fair was tough! There was so much to do for the project not only on the actual day of the event but planning for it too. Once we finally finished making the slime and weighed it, I was so excited to see that the scale read 13,820 pounds! With help from my team, my dream of being a Guinness World Record holder came true!", Madison shared.
Sounds like all the hard work really paid off! It's a reminder to everyone that no matter how out of reach your goals may seem, there's always a way to make them happen. Want a piece of the action? Madison is selling 5,000 jars of her record-breaking slime and donating all the proceeds to charity.
Her favorite type of slime to make:
MADISON: My favorite type of slime to make is Cloud Slime. It's just so fluffy and fun to squish and play with.
Challenges she's faced and how she's overcome them:
MADISON: There are many challenges when running a business, but I think my biggest challenge overall was my age. Being a 12-year-old entrepreneur isn't always easy because sometimes people don't take me seriously. But, after a lot of hard work and having much success, my age isn't an issue anymore. I'm more comfortable to make business decisions with my team.
What she likes to do for fun:
Just because she's achieved great things at such a young age doesn't mean that Madison is all work and no play. She's found a great balance between work, school, and fun that allows her to handle everything without getting overloaded. "I have to put school first no matter what. My team has been a huge help! I participate in meetings every week in my dad's office to go over new product development, social media and whatever else that may come up to make sure we are all on the same page.", Madison told YAYOMG!
What does she like to do for fun? Lots of the same things as a lot of you guys do. She said "I am on the basketball team at school as well as the scrabble team, so I really enjoy both of those. I also love playing with my bunnies when I have free time. I recently started hosting slime birthday parties in the charity section of my local toy store, called Giant Steps. I think its so much fun to teach other kids how to make slime." She loves sports, crafting, animals, and spreading her love of slime to kids everywhere! How cool is it that her school has a Scrabble team? If her Scrabble skills are anywhere near as good as her slime making skills, we're betting Madison is a fierce competitor!
Her biggest inspiration:
MADISON: Someone that inspires me to dream big is my dad. He supports me in everything I do and always encourages me to go the extra mile. I've learned so much from him about how to be a successful, strong entrepreneur and I can't thank him enough for that.
Where she's headed in the future:
MADISON: In the future, I hope to continue making slime and running my DIY crafting business. Crafting is something that I will always love so I hope that the people who buy my crafting products will enjoy it as much as I do.
Madison's advice for other budding entrepreneurs:
MADISON: The best advice I can give to other girls my age is to never give up on your dreams or ideas, even if they are silly! If you love something, then you have to go for it!
Love making slime? Be sure to follow @slimebymaddierae on Instagram to keep up with her latest slime creations and trades. For new product releases and slime recipes, visit her website!
If you loved getting to know Madison, meet Isabel and Caroline, the sisterpreneurs behind Da Bomb Bath Fizzers!