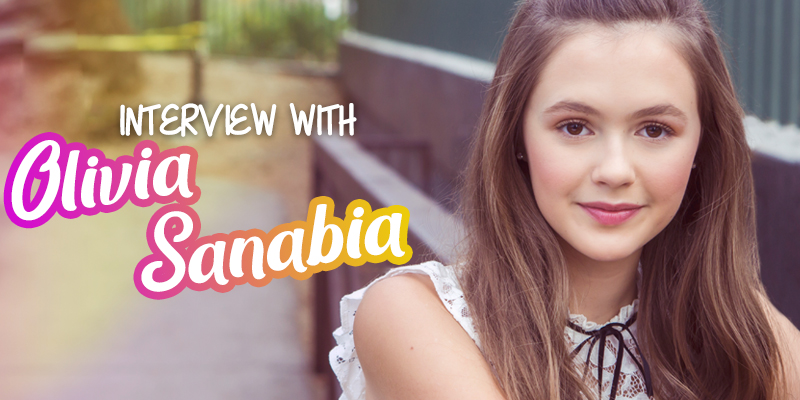 Get to Know "Just Add Magic" Star: Olivia Sanabia
If you're a kid living in the world today, you've probably heard of the whimsical Amazon Original Series "Just Add Magic". The series follows Kelly Quinn and her two BFFs as they stumble upon a mysterious cookbook in Kelly's attic. This isn't your ordinary cookbook though – it's filled with recipes that are actually spells! As the girls whip up these magical treats, they learn that the treats they conjure up don't always go as planned and that they must work together to unravel the mystery that's plaguing Saffron Falls. Season 2 just hit Amazon Prime in January and it's filled with even more magical recipes, wild adventure, and laugh out loud moments than the first.
We were lucky enough to score an interview (our first-ever YAYOMG celebrity interview, in fact!) with the incredibly talented Olivia Sanabia who stars as Kelly Quinn on the show. (You may also recognize her from her past work on the Nickelodeon series "Sam & Cat" and "Nicky, Ricky, Dicky, & Dawn".)
Keep on reading to learn more about Olivia's love for musicals, what it's like working on "Just Add Magic", and a cause that's close to her heart.
YAYOMG: You star as the awesome Kelly Quinn on the Amazon Original Series "Just Add Magic". Are you anything like your character in real life?
OLIVIA: I think I am like Kelly because she will do anything for her family. My family is the most important thing to me, so we relate in that aspect.
YAYOMG: Since the show is based around baking magical recipes, have you learned to cook or bake in real life? What's your favorite thing to make?
OLIVIA: I had to take cooking classes in preparation for the show! My teacher taught me how to chop properly so it would look good and be safe for camera. I was so excited to learn, I chopped up so many vegetables! During filming I would come home on weekends and bake! I absolutely fell in love with baking! I am so grateful to "Just Add Magic" for helping me find a new craft that I love!
YAYOMG: If you could create a magical recipe of your own, what kind of spell would you want to cast?
OLIVIA: I would create Cancer Curing Cake Pops! I am devastated for those who have to go through such a terrible thing. Unfortunately, we don't have that magic recipe, so I work with a company called Cookies for Kid's Cancer that does real life magic. They raise money for research on pediatric cancer. We are working to find a cure and help those in need. The best part about it is that everyone can get involved! If you want to help, just go to their website to see what you can do!
YAYOMG: We've seen your YouTube covers and you're kind of amazing at singing and playing the piano. Do you hope to put out an album one day?
OLIVIA: You're so sweet! Thank you!!! I would love to do that! I recently wrote a song that I can't wait to share with everyone! I love singing and I hope to continue pursuing it!
YAYOMG: What's your favorite song at the moment?
OLIVIA: My favorite song at the moment is from one of my favorite new Broadway Musicals- Waitress! I also love the soundtrack to another Broadway Musical- Dear Evan Hansen!
YAYOMG: It's clear you have a passion for Broadway. What's your dream musical role?
OLIVIA: My dream role is Elphaba in Wicked or Sylvia Llewelyn Davies in Finding Neverland.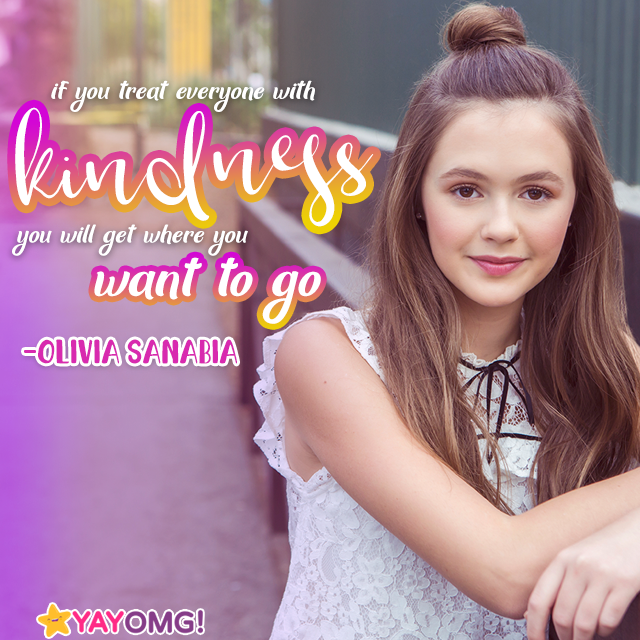 YAYOMG: When you're not on the set, what do you like to do in your free time?
OLIVIA: I love to be with my family. When I'm working I don't get to see my family much, so we take every opportunity to be together. I also love to bake, shop and decorate my room!
YAYOMG: What's your favorite subject at school?
OLIVIA: My favorite subject in school is constantly changing, but as of now it's Language Arts and Math!
YAYOMG: The "Pick-a-Date Dates" in "Just Add Magic" allowed Kelly, Darby, and Hannah to travel back in time. Where would you time travel to if given the chance?
OLIVIA: I would travel to the 40's! I am in love with the Jazz era! I am a huge fan of Louis Armstrong and Ella Fitzgerald. Their music is so timeless and puts me in a good mood!
YAYOMG: Which emoji(s) would you use to describe your co-stars Abby Donnelly and Aubrey Miller?
OLIVIA: ??
YAYOMG: In addition to being a talented actress and singer, there's also a cause that's very close to your heart. Can you tell us more about your work with Cookies for Kids' Cancer?
OLIVIA: Of course! Like I was saying, I love this foundation!! Children have always had a huge place in my heart and hearing what they have to go through is heartbreaking. I just want to use my voice to help in any way I can!
YAYOMG: You're living the dream being able to act at such a young age. Do you have any advice for our YAYOMG readers who hope to pursue a career in acting?
OLIVIA: I would just say to love what you do! If you truly love what you're doing, if you work hard, and if you treat everyone with kindness, you will get where you want to go!
Olivia is a serious inspiration and great role model for girls everywhere – she's pretty amazing at just 13 years old and we can't wait to see what she stars in next! If you haven't seen it yet – now's the time to get your binge-watch on! Seasons 1 and 2 of "Just Add Magic" are now available for your viewing pleasure on Amazon Prime.
Thanks so much to Olivia Sanabia for taking the time to chat with us and for being our first-ever celebrity interview! You're now a part of YAYOMG history!