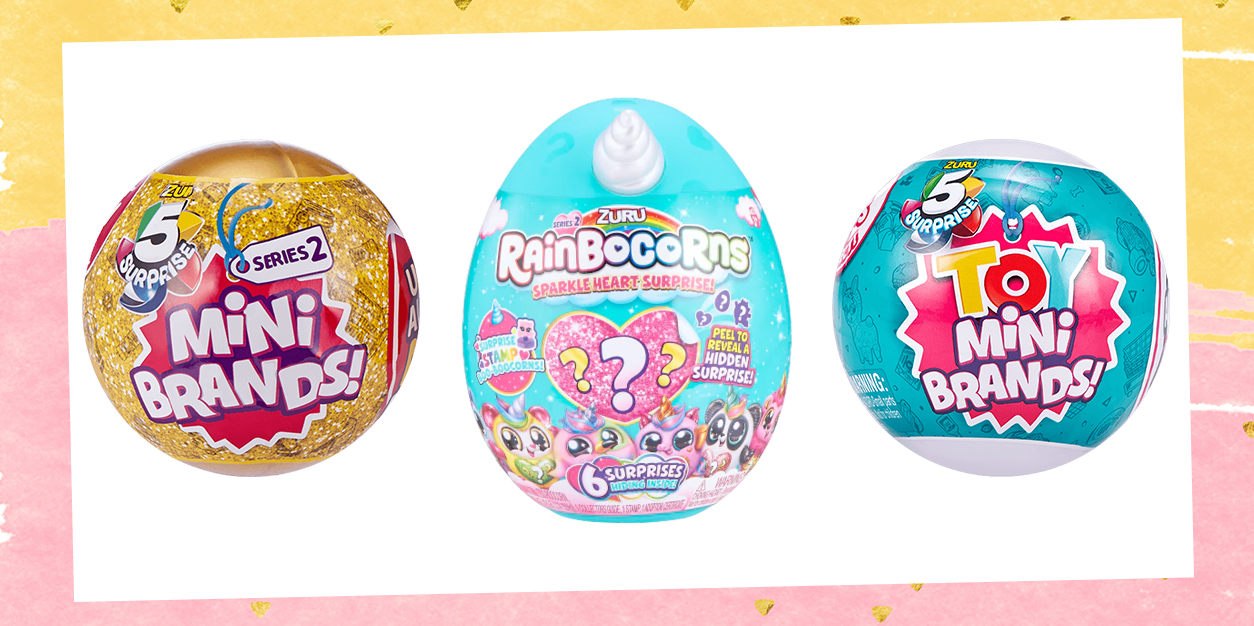 We're Celebrating Mini Toys With a Mega-Sized Spring GIVEAWAY!
NOTE: We teamed up with ZURU for this Mini Toys Spring Giveaway. All opinions are our own; we were under no obligation to give a positive review. Giveaway prizes provided by ZURU.
Is there anything cuter than tiny-sized things? From mini backpacks to tiny foods, we love everything miniature – especially when they come in the form of collectible toys! Surprise toys and capsules are even starting to become the new norm in Easter baskets, too! Sorry, candy!
That's why we teamed up with our friends at ZURU to help you celebrate your love of all things small! We're giving away a MEGA-sized prize pack filled with their latest tiny toys from Mini Brands to Rainbocorns and everything in between! Want to enter? Have an adult fill out the form below for your chance to WIN and keep on reading to see which toys we'll be collecting this Spring!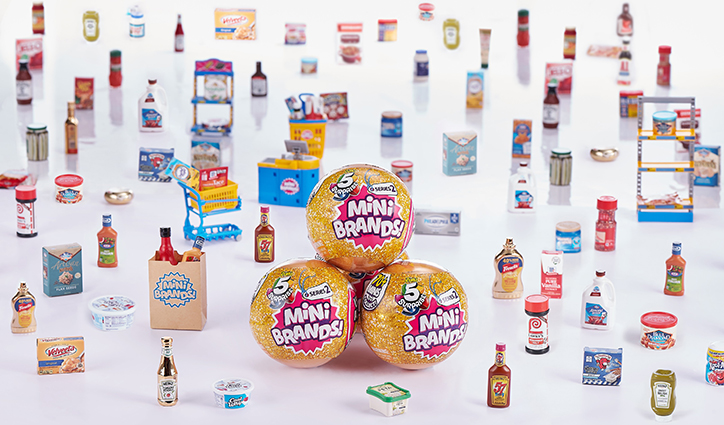 5 Surprise Mini Brands:
If you're somehow not in the know, Mini Brands are the hottest mini collectible! When they were first released, ZURU's 5 Surprise Mini Brands took the toy community by storm and then went on to become a TikTok sensation. With everyone from kid collectors to influencers like WeWearCute jumping on the Mini Brands craze, tiny collectibles are totally trending.
Wave 2 of Series 2 releases in April and features over 100 new brands to find! Hunt for realistic miniatures of notable grocery store items like Heinz Ketchup, Lunchables, and Bagel Bites to fill up your mini-mart. Be sure to keep an eye out for the super rare golden minis!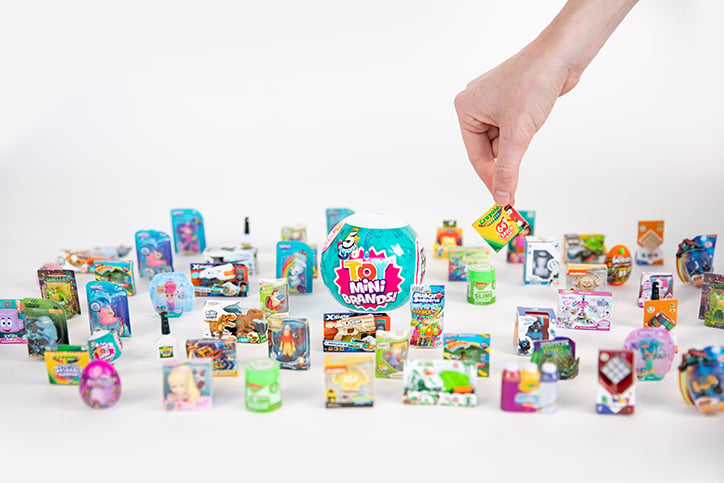 5 Surprise Toy Mini Brands:
Toy Mini Brands are even cuter than the original, transforming your favorite toys into mini-sized versions! Featuring everything from modern favs like Fingerlings to JoJo Siwa and classics like Crayola Markers and Rubik's Cubes, this line takes the most iconic toys and makes them mini! They even have their own unboxing series on the Nickelodeon YouTube channel featuring all of your fav Nick stars like Darci Lynne and Miya Cech!
Over 60 toys to collect and just like their grocery inspired counterpart, each capsule comes with 5 surprises to collect, including super exclusive glow in the dark, shimmery, and gold minis!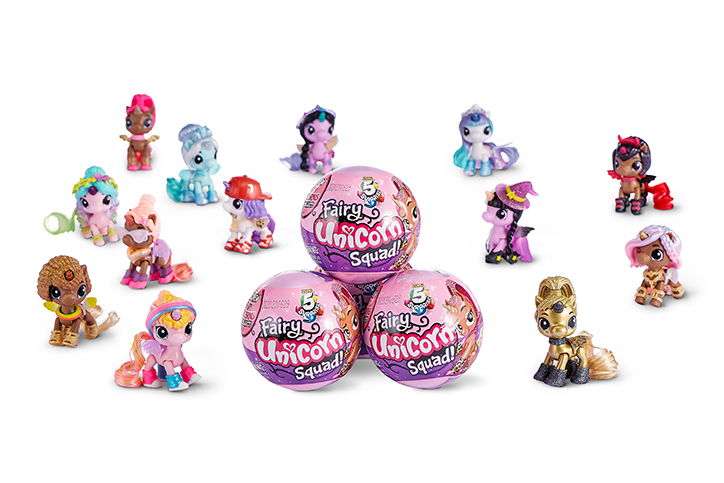 5 Surprise Fairy Unicorn Squad:
Looking for something with a bit more sparkle? The Unicorn Squad series is all about mythical fun, bringing the magic of unicorns to life in teeny-tiny form! Series 3 releases this Spring, and this time, the unicorns are headed to the fairy realm!
Fairy Unicorn Squad features 13 unicorn fairies to collect, each with long beautiful tails, magic wings, and unique personalities. They also come with scented, color-changing unicorn poop! With lots of super cute accessories, you can mix and match their styles to match your #OOTD or your mood anytime!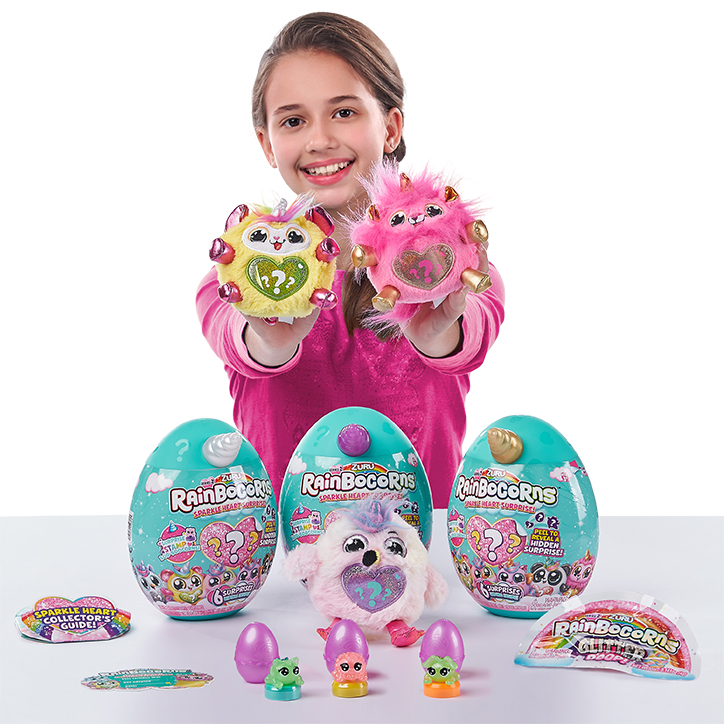 Rainbocorns Sparkle Heart Surprise:
Rainbocorns Sparkle Heart Surprise takes everything you love about the original Rainbocorns and make it mini! Series 2 has finally arrived and these adorably cuddly plush toys feature unicorn-ified versions of your favorite animals, like flamingos, pandas, owls, and more – each with a shimmery horn, fluffy hair, and sparkle heart reveal.
A surprise reveal means you don't know which one you're going to get, and there are lots of hidden goodies to find. In addition to your snuggly new friend, you'll find Rainbocorn glitter poop, a Boo-Boocorn stamp, an adoption certificate, and a collector's guide.
ZURU MEGA-Sized Spring Giveaway: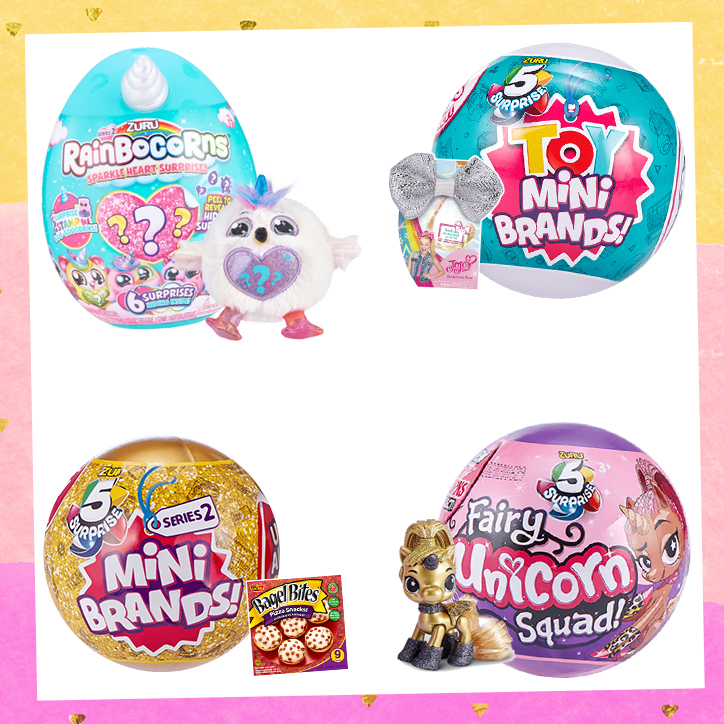 WHAT DO I WIN?:
ONE lucky winner will receive a ZURU Mini Toys Prize Pack that includes:
– TWO (2) 5 Surprise Mini Brands (Series 2, Wave 2)
– TWO (2) 5 Surprise Toy Mini Brands (Series 1)
– TWO (2) 5 Surprise Fairy Unicorn Squad (Series 3)
– TWO (2) Rainbocorns Sparkle Heart Surprise (Series 2)
Prizes generously provided by ZURU. Note: These items come blind-bagged and we cannot guarantee which variations you will receive.
HOW DO I ENTER?:
Grab a parent or guardian and have them fill out the form below by April 14, 2021 at 11:59pm ET.
Giveaway runs from 3/31/21 at 03:00 pm ET through 4/14/21 at 11:59 pm. Open to US residents ONLY. Be sure to read the fully detailed rules HERE before entering.
THIS GIVEAWAY HAS ENDED AND THE WINNER HAS BEEN CONTACTED.
You must be 18 or older to enter. Please, only ONE entry per person. If selected as a winner, we will provide your parent/guardian with an affidavit to confirm that you are a valid winner who has permission to win. They will be REQUIRED to sign and return the affidavit to YAYOMG! to claim your prize. Prizes will not be mailed out without signed parental consent.
On the hunt for even more awesome toys? Enter to WIN a set of ScrunchMiez or the adorable new Cutetitos Donutitos!