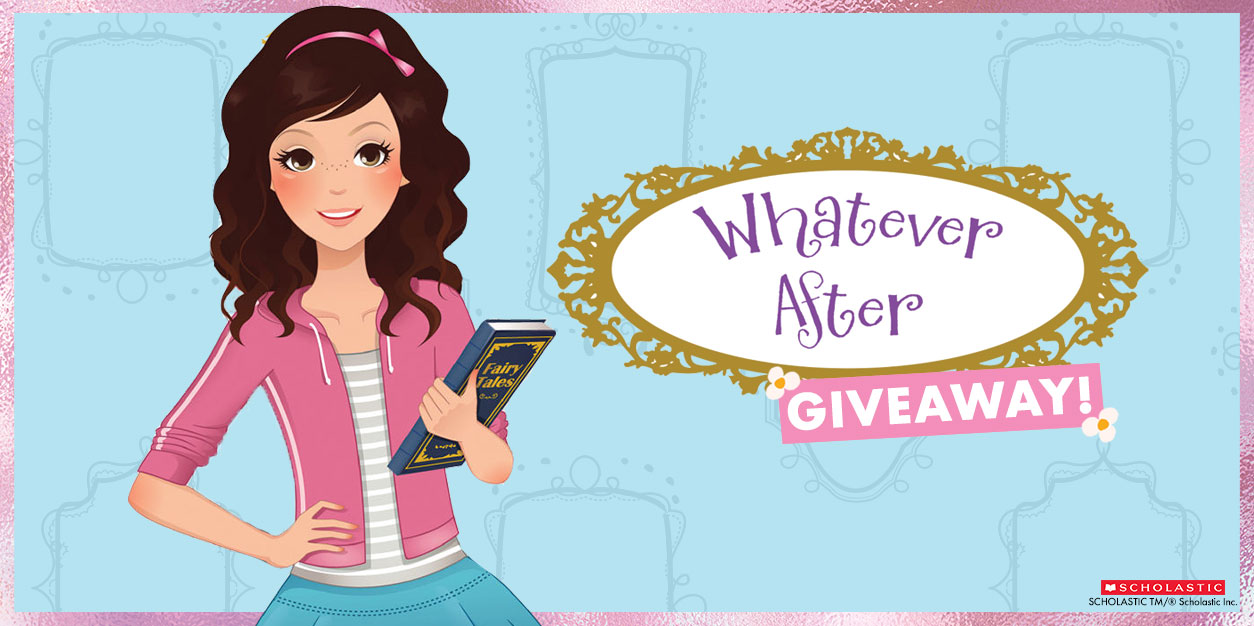 5 Reasons Abby from Whatever After is Totally Inspiring + GIVEAWAY!
NOTE: This post is sponsored by Scholastic.
If you've ever wished that the adventures that lie between "Once Upon a Time" and "Happily Ever After" featured strong girls saving the day rather than waiting around to be rescued, then the girl-power fueled Whatever After is the perfect book series for you!
In bestselling author Sarah Mlynowski's series of fractured fairy tales with a feminist twist, Abby and her younger brother Jonah have a magic mirror that transports them into well-known fairy tale worlds, like Snow White and Hansel and Gretel, but things aren't exactly the way they should be. Together, with their courage, creativity, and endless fairy tale knowledge, they'll have to set the stories right – or risk getting stuck there forever. Each enchanting book in the series is a ton of fun, filled with lots of hilarious mishaps, empowering moments, and twists and turns that will leave you guessing.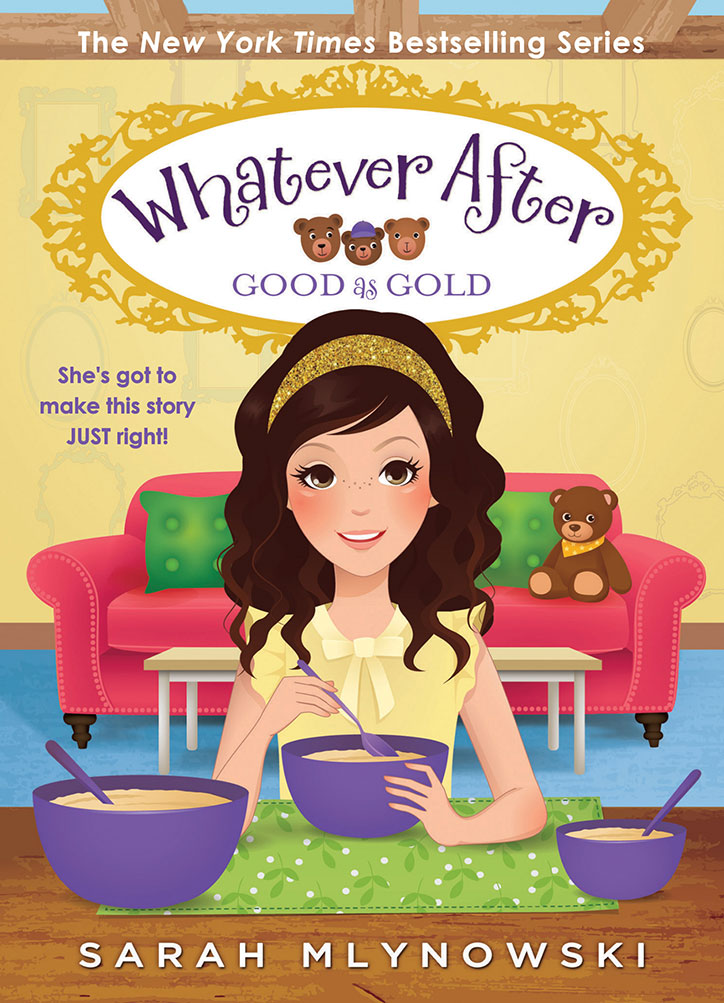 The fourteenth book in the New York Times and USA Today bestselling series featuring fractured fairy tales for fearless kids!
Guess where we are this time? The magic mirror has sent me and my brother, Jonah (plus our puppy, Prince), into the story of Goldilocks and the Three Bears. Fun! There's porridge to taste, chairs to sit on, and beds to nap in. But Goldilocks is in a LOT of trouble, and if we can't help her, we might get stuck here forever!
Now we have to:
– Skateboard down a mountain
– Convince the bear family NOT to eat us
– Get one hundred gold coins
– Escape the royal jail
…And find the one fairy tale character who can turn straw into gold… Wait… Rumpelstiltskin? What are YOU doing here?!
Whatever After: Good as Gold
AUTHOR: Sarah Mlynowski
PUBLISHER: Scholastic Press
DATE: April 6, 2021
The newest book in the series, Gold as Gold, is out today and Abby and Jonah find themselves in the world of Goldilocks and the Three Bears. This isn't your ordinary story about tasting porridge and napping in cozy beds, though. Goldilocks is in big trouble, and Abby needs to do whatever it takes to make things just right!
The Whatever After books always leave us feeling totally inspired, which is why we put together a list of all the reasons we heart Abby – and why we think she'll inspire you too! Plus, we teamed up with our friends at Scholastic to help three lucky winners kickstart their own fairy tale adventures with a Whatever After giveaway featuring the first book in the series, Fairest of All! Want to enter? Grab your favorite adult and have them fill out the form below!
5 Reasons Abby from Whatever After is Totally Inspiring:
Hero of Her Own Story:

The Whatever After series started with author Sarah Mlynowski's love of fracturing fairy tales and a wish that her daughters could grow up reading stories where girls take the lead. Now, the series is 14 books long, with Abby saving the day in each and every one.

Whether she's avoiding getting cursed by scary fairies, playing matchmaker to Beauty and the Beast, or escaping a royal jail, in the end, Abby is the hero of her own story. She's innovative, clever, and isn't afraid to ask for help.
Big Dreams and Aspirations:

Abby is the queen of fixing the fairy tale world, but did you know that back home in the real world, she has big aspirations?

She may only be 10 years old, but Abby is already dreaming of becoming a judge. She knows it will take a lot of hard work, determination, and years of law school, but she's not afraid to follow the yellow brick road to achieve her goals. We can totally see the honorable judge Abby in her judicial robes, using her voice to make a difference and change the world!
Fierce and Fearless:

Throughout the series Abby has faced everything from evil witches to poison apples, and she's taken on every single challenge that's thrown her way (even when it totally ruins her IRL plans to hang out with her besties).

As we adventure alongside Abby and watch her take bold risks, evade evil do-ers, and learn lessons about confidence, empathy, and happy endings not always turning out the way we expected, we're always left feeling empowered to become the heroes of our own stories IRL.
Relatable and Real:

Abby isn't perfect – she makes mistakes, she's sometimes a little stubborn, and she can occasionally be a little bossy towards Jonah, but that's what makes her totally relatable. No one is perfect, not even your favorite girl power icons, and it's our flaws and mistakes that help us learn and grow.

Abby may be able to skateboard down a mountain, empower little Red Riding Hood to stand up for herself, and fly a magic carpet, but in the end she's just a regular girl – and that's what always keeps us coming to the series over and over again! As much as we love seeing her save the day, we also love the moments where she's having sleepovers with her besties, taking on school bullies, and sharing sibling moments with her brother. 
Just Getting Started:

Whether this is your first time hearing about the Whatever After series or you've been obsessing the books for years, you'll be excited to know that Abby's fairy tale adventures are far from over!

Abby will be saving the day for years to come with new books on the way soon!
Whatever After Giveaway: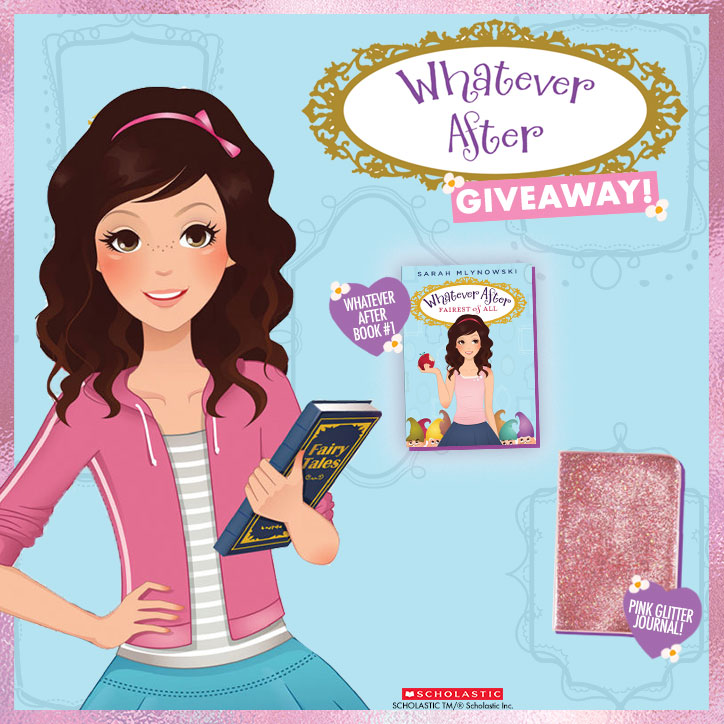 WHAT DO I WIN?:
THREE lucky winners will receive a Whatever After Prize Pack that includes:
– ONE (1) copy of Whatever After: Fairest of All by Sarah Mlynowski
– ONE (1) Pink Glitter Journal
*Prizes provided by Scholastic and YAYOMG!
HOW DO I ENTER?:
Grab a parent or guardian and have them fill out the form below by May 6, 2021 at 11:59pm ET.
Giveaway runs from 04/06/21 at 10:00 am ET through 05/06/21 at 11:59 pm. Open to US residents ONLY. Be sure to read the fully detailed rules HERE before entering.
THIS GIVEAWAY HAS ENDED AND THE WINNER HAS BEEN CONTACTED.
You must be 18 or older to enter. Please, only ONE entry per person. If selected as a winner, we will provide your parent/guardian with an affidavit to confirm that you are a valid winner who has permission to win. They will be REQUIRED to sign and return the affidavit to YAYOMG! to claim your prize. Prizes will not be mailed out without signed parental consent.
Check out Whatever After: Good as Gold, out today from Scholastic!