YAYOMG! Holiday 2019 Gift Guide
NOTE: Our YAYOMG! Holiday 2019 Gift Guide was curated by the YAYOMG! team. Some of our picks are items that we have received for free for review consideration. Our recommendations are based on items we think our readers will love. We do not use affiliate links. Opinions are our own.
The YAYOMG! Holiday 2019 Gift Guide has arrived, and this might be our best list yet!
We put a lot of time, heart, and soul into curating a list you'll love. Whether you're buying for your bestie or just on the hunt for ideas to add to your own wishlist, we hope our list inspires all your gift-giving this shopping season. This year's list is filled with picks for every personality, from gamers and beauty gurus to budding scientists and chefs, and everything in between. Our list is made up of some of our favorite products of the year, as well as new finds we just discovered. We hope you enjoy it!
Holiday 2019 Gift Guide:
Creative Crafter: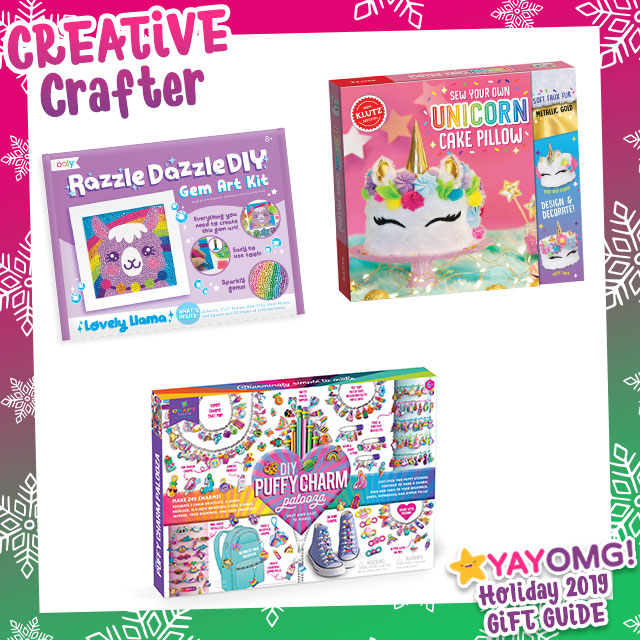 Razzle Dazzle DIY Gem Art Kit
Brand: Ooly
Price: $12.99
Why You'll Love It: Who wouldn't want to create a dazzling llama art piece? Using the included sparkly gems, you'll create an adorable framed masterpiece that will sparkle bright on your desk, on your wall, or as a gift for a friend. The kit comes in four styles – Lovely Llama, Friendly Fox, Unique Unicorn, and Lil' Lion, so choose your fav or collect them all!
Sew Your Own Unicorn Cake Pillow
Brand: Klutz
Price: $21.99
Why You'll Love It: Glam up your room unicorn style with this simple DIY! The kit comes with everything you need to stuff, sew, and decorate a pretty unicorn cake pillow. The faux fur is magically soft – perfect for snuggles on a cold winter day.
Craft-tastic DIY Puffy Charms Palooza
Brand: Ann Williams Group
Price: $29.99
Why You'll Love It: Create super cute shareable crafts quickly! Even DIYers who are just starting out will be able to express themselves through amazing bracelets, pins, backpack charms, and more!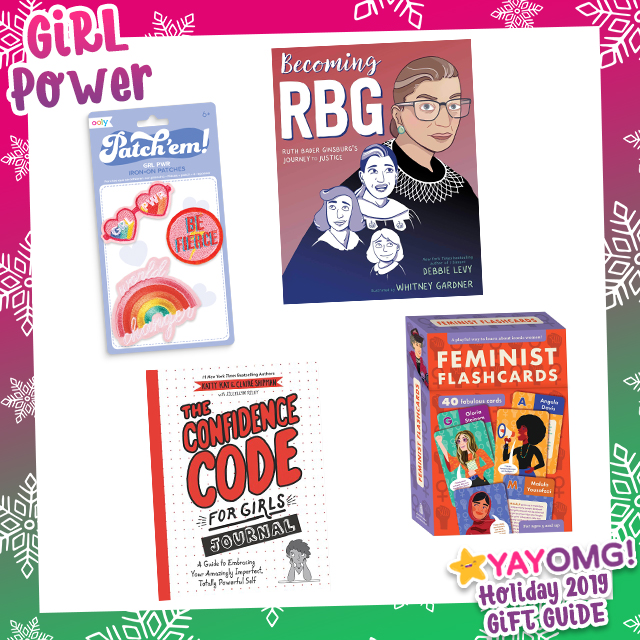 Girl Power:
Becoming RBG: Ruth Bader Ginsburg's Journey to Justice
Author: Debby Levy
Illustrator: Whitney Gardner
Price: $12.99
Why You'll Love It: What better way to get informed this winter break than curling up with some holiday cookies and reading a graphic novel about a celebrated Supreme Court Justice? Young feminists and activists will love reading this biographical graphic novel about Ruth Bader Ginsburg's life and accomplishments.
Feminist Flashcards
Brand: Downtown Bookworms
Price: $14.99
Why You'll Love It: This empowering flashcard set celebrates the iconic women who have pushed boundaries, challenged the status quo, and made the world a better place. Each flashcard features an illustrated portrait of each of these amazing changemakers, as well as inspiring quotes and details about their impressive accomplishments.

Patch 'Em GRL PWR Iron-On Patches
Brand: Ooly
Price: $7.99
Why You'll Love It: Wear your girl power on your sleeve with these adorable iron-on patches from Ooly. This 3-piece collection includes embroidered patches of a rainbow, heart-shaped sunglasses, and a reminder to be the fierce, world-changer you are! We're giving away a metallic Ooly gift set filled with sparkly desk essentials, so be sure to have a parent enter for your chance to win!
The Confidence Code for Girls Journal: A Guide to Embracing Your Amazingly Imperfect, Totally Powerful Self
Authors: Katty Kay and Claire Shipman
Price: $12.99
Why You'll Love It: This interactive journal is filled with writing prompts, confidence-boosting activities, and other interactive elements to inspire your most authentic self. It's a great companion to The Confidence Code for Girls book or on its own as an empowering way to live fearlessly and shine bright!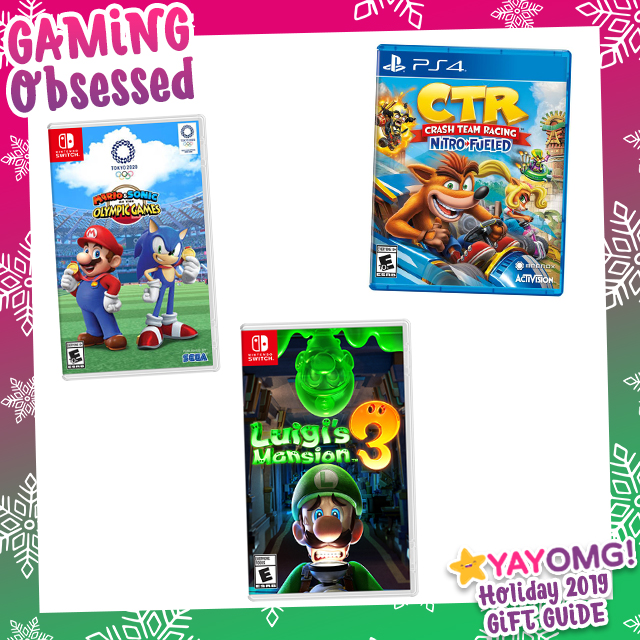 Gaming Obsessed:
Mario & Sonic at the Olympic Games Tokyo 2020
Brand: SEGA
Price: $59.99
Why You'll Love It: If you love getting competitive with friends and family, Mario & Sonic at the Olympic Games Tokyo 2020 is absolutely the game for you. Complete with a robust story mode and over 30 events to play, it'll keep you busy throughout every snowy, cold day this winter. We went hands-on with this Olympic-inspired game when it was released in November, so be sure to check out our definitive ranking of all the mini-games!
Luigi's Mansion 3
Brand: Nintendo
Price: $59.99
Why You'll Love It: Is this the best Luigi's Mansion game yet? We think so! It's perfect for couch co-op and filled with laugh out loud moments, ghastly antics, and tons of puzzles to solve. Plus, Gooigi exists, making for some unique gameplay moments that wouldn't be possible without Luigi's goopy green coffee-flavored doppelganger. Luigi's Mansion 3 is in our Top 5 games of the year, hands down!
Crash Team Racing: Nitro-Fueled
Brand: Activision
Price: $39.99
Why You'll Love It: If you're looking to add a racing game with attitude to your list this year, look no further than Crash Team Racing: Nitro-Fueled! Hop into the driver's seat and tear through retro-themed tracks like Crash Cove and Sewer Speedway, playing as Crash, Coco, and the rest of the gang! Plus, take on iconic baddies from the Crash Bandicoot universe. It's a remastered throwback to the original game that's full of spunk and sass, just like the bandicoot himself!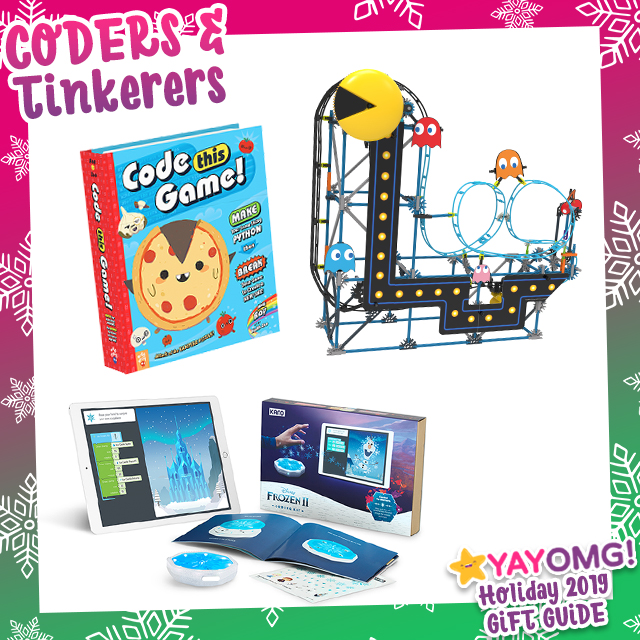 Coders and Tinkerers:
Frozen 2 Coding Kit
Brand: Kano
Price: $79.99
Why You'll Love It: If you loved Frozen 2 and you want to learn to make winter magic, Elsa-style, the Frozen 2 coding kit is the perfect addition to your holiday wishlist. A favorite of ours for 2019, this kit will have you hands-on building a motion sensor, playing through fun coding activities, and interacting with your Frozen favs using the palm of your hand! Feeling a bit more Baby Yoda than Olaf this holiday season? There's a Star Wars version as well!
K'NEX Pac-Man Roller Coaster Building Set
Brand: Basic Fun
Price: $29.99
Why You'll Love It: If you're like us, you probably thought K'NEX coasters couldn't get more awesome. But, like us, you'd be wrong! After you've built this awesome coaster, watch as Pac-Man soars through the track, takes on loops, and flies past ghosts, and gives off total retro gaming vibes!
Code This Game
Brand: Odd Dot
Price: $24.99
Why You'll Love It: Looking for a project to keep you busy over winter break? How about creating your very own video game about vampire pizzas? Code This Game from Odd Dot is an illustrated, informative, and easy to understand guide that'll take you from coding basics to playable action game in no time. Filled with tips and techniques that will stick with you, you'll be able to carry over your coding knowledge to future projects.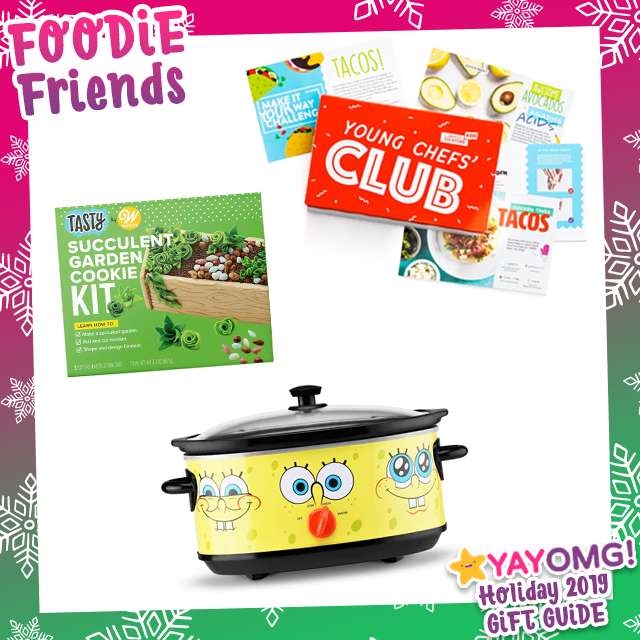 Foodie Friends:
Young Chefs' Club Subscription Box
Brand: America's Test Kitchen Kids
Price: $24.99/mo
Why You'll Love It: The Young Chefs' Club subscription box is a great way to improve your kitchen skills. Each month a themed box is delivered to your door complete with a recipe, ingredient list, information cards, and other activities to help you not just learn to cook, but expand your culinary knowledge.
SpongeBob Square Pants 7-Quart Slow Cooker
Brand: Nickelodeon
Price: $49.99
Why You'll Love It: Be the best chef at the Krusty Krab with this adorable (and useful) slow cooker. Slow cookers are the perfect go-to for cooking warm soups and chilis, hot cocoa creations, and other culinary creations that even someone as grumpy as Squidward will love!
Succulent Garden Cookie Kit
Brand: Tasty by Wilton
Price: $16.99
Why You'll Love It: Move over, gingerbread houses! This Succulent Garden Cookie Kit is what it's all about. Create your own edible succulent garden while learning how to roll and shape fondant and perfect your pastry decorating techniques. It's so cute you might not want to eat it!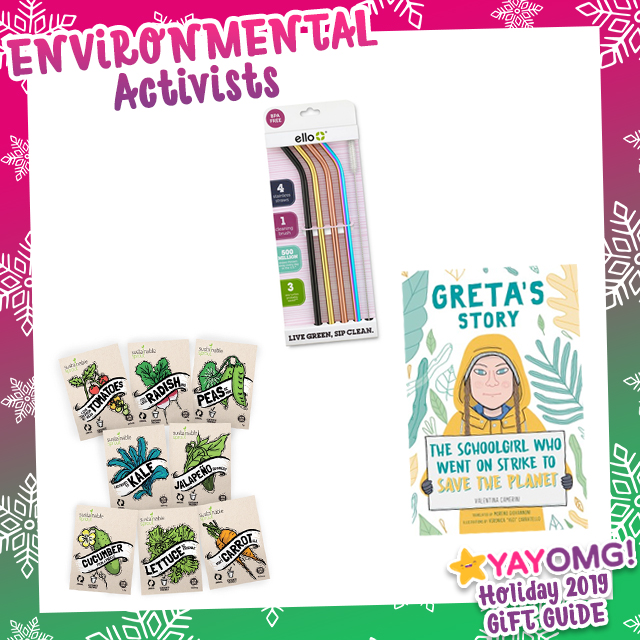 Environmental Activists:
Greta's Story: The Schoolgirl Who Went on Strike to Save the Planet
Author: Valentina Camerini
Price: $17.99
Why You'll Love It: From here on out, we're referring to 2019 as the Year of the Greta because the impact she has made on the world this year is simply incredible. This unofficial biography tells the story of Greta Thunberg's amazing accomplishment from her first solo protest to sparking a global movement for good. Whether you're an environmental crusader like Greta or just a kid looking to make a difference in your community, we know her story will inspire you.
Veggie Garden SillySeed Collection
Brand: Sustainable Sprout
Price: $15.95
Why You'll Love It: If you're passionate about the environment, one of the best places to start making your mark is in your own backyard! With this collection of vegetable seeds, you'll be able to plant, grow, and eat your way to sustainability.
Stainless Reusable Straws
Brand: Ello Products
Price: $9.99
Why You'll Love It: While it's going to take more than metal straws to reverse the effects of climate change, every little bit makes a difference. This set of colorful metal straws will have you looking cute while you sip your favorite drink and helping keep plastic out of the oceans!
Joyful Jetsetters:
Rainbow Hair Miss Gwen Duffle
Brand: OMG Accessories
Price: $58.00
Why You'll Love It: OMG Accessories is known for their cute purses and mini-backpacks, but it's this unicorn duffle bag that we can't stop swooning over. Shaped like the iconic Miss Gwen, she'll keep your stuff safe (and looking completely amazing) whether you're snuggled up at a sleepover or headed on a family road trip. Want to win an adorable collection of OMG Accessories bags? Grab a parent and have them enter here by 12/9!
Narwhal Fuzzy Sleep Mask
Brand: Iscream
Price: $13.00
Why You'll Love It: If you're all about hygge, you'll love this fuzzy narwhal sleep mask. There's no cuter way to catch some Zzz's and get your beauty sleep. Iscream makes a few fuzzy sleep masks, including unicorns and sloths, so pick up the one your bestie will love most!
Sherpa Instax Mini 9 Camera Bag
Brand: Urban Outfitters
Price: $24.00
Why You'll Love It: This chic sherpa camera bag is the coziest way to keep your Instax Mini 9 safe on the go. It's super soft and comes in a few different soft shades that match perfectly with the pastel vibes of the Instax Mini collection. The snap enclosure means your camera won't get dirty or scratched but keeps your camera easy to access for those must-capture moments!
PopGrip AirPods Holder
Brand: PopSockets
Price: $20.00
Why You'll Love It: Let's face it – whether you're about to board a plane to a faraway place or just headed to class, AirPods are pretty easy to misplace. That's the problem the PopSockets is hoping to solve with their new line of PopGrip AirPods Holders. Props to the genius who came up with this brilliant idea!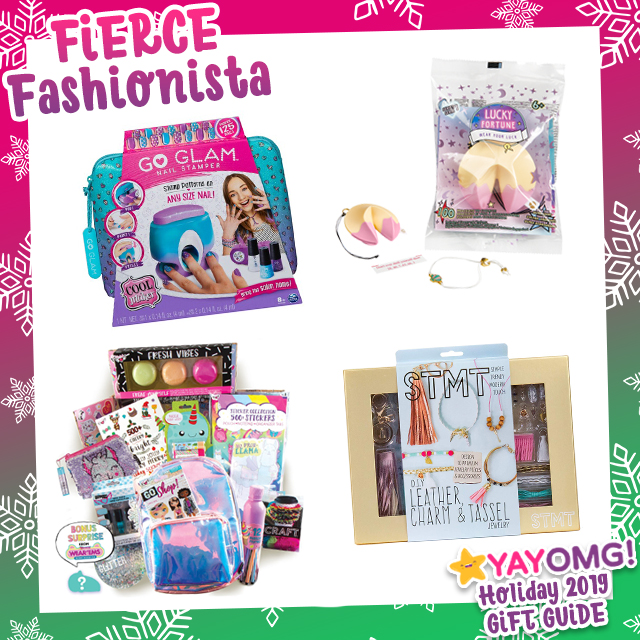 Fierce Fashionista:
Find Your Wings Subscription Box
Brand: Fashion Angels
Price: $30/month
Why You'll Love It: The Find Your Wings subscription box from Fashion Angels is our fav subscription box of the year, and it's easy to see why. Every month they deliver full-sized Fashion Angels products to your door, ranging from magic sequin pouches to adorable DIY craft kits and soothing bath products. It's our must-have pick for 2019 for sure! Want the December box? Have a parent enter here by 12/3 for your chance to win!
Lucky Fortune Collectible Bracelets
Brand: WowWee
Price: $
Why You'll Love It: Lucky Fortune bracelets are a collector's dream! With hundreds of adorable charms to find, you'll be able to amplify your style and wear your luck at the same time. Great for sharing, swapping, and trading, you and your squad will look great and have an infinite amount of charms to pair with your endless wardrobe combinations!
STMT DIY Leather Charm & Tassel Jewelry
Brand: Horizon Group USA
Price: $19.99
Why You'll Love It: Create chic leather tassels keychains and dazzling jewelry for you and the squad with this DIY kit. It comes with everything you need to create 10 different pieces, including cute metal charms that symbolize awareness, passion, power, and other meaningful mantras. It's the perfect way to wear and share good vibes in the new year!
Go Glam Nail Stamper
Brand: Spin Master
Price: $24.99
Why You'll Love It: From flamingos to cupcakes, your nail game will always be on point with the Go Glam Nail Stamper. Great for sharing with siblings or having a spa night with your BFFs, we love this kit as a way to spend time with the people you care about most! This kit comes with 5 adorable designs and 2 nail polish colors, but there are add-on packs available to help you build out your arsenal of glam mani designs!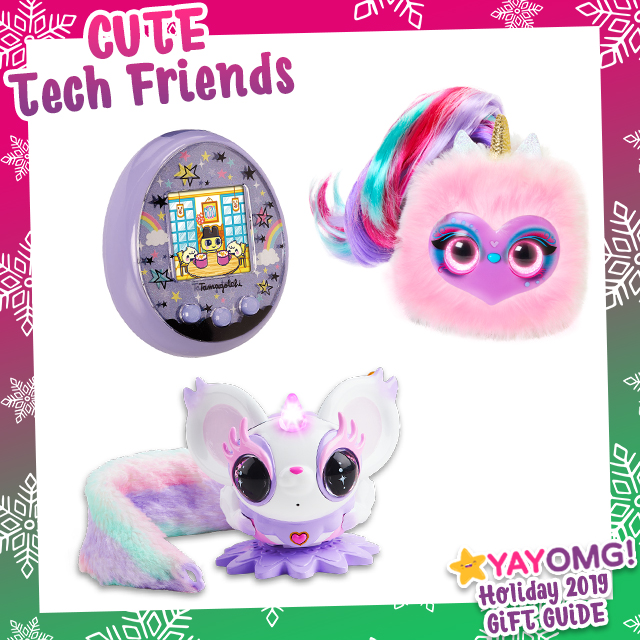 Cute Tech Friends:
Tamagotchi ON
Brand: Bandai America
Price: $59.99
Why You'll Love It: We've all got that friend in our lives who's all about 90's vibes, and Tamagotchi ON is the perfect way to give them a throwback gift that was given the ultimate glow up for your tech-savvy generation. Our review says it all, but we think you'll love caring for, breeding, and playing with these virtual pets!
Pomsies Lumies
Brand: Skyrocket LLC
Price: $12.99
Why You'll Love It: Pomsies Lumies are one of our fav interactive pets this year, and it isn't just because we helped create a secret code that is unlockable in every Lumie. It's because they're super cute and a lot of fun to play with, dance with, and mix beats with! The perfect gift for the friend in your life who lives for rainbow-charged fun!
Pixie Belles
Brand: WowWee
Price: $14.99
Why You'll Love It: Pixie Belles make a perfect gift for the person in your life who loves all things whimsical. Wear them on your shoulder and watch them spin, tie their pastel tails in your hair like a scrunchie, or bond with your Belle in nurture mode. Enchanting, interactive friends for life!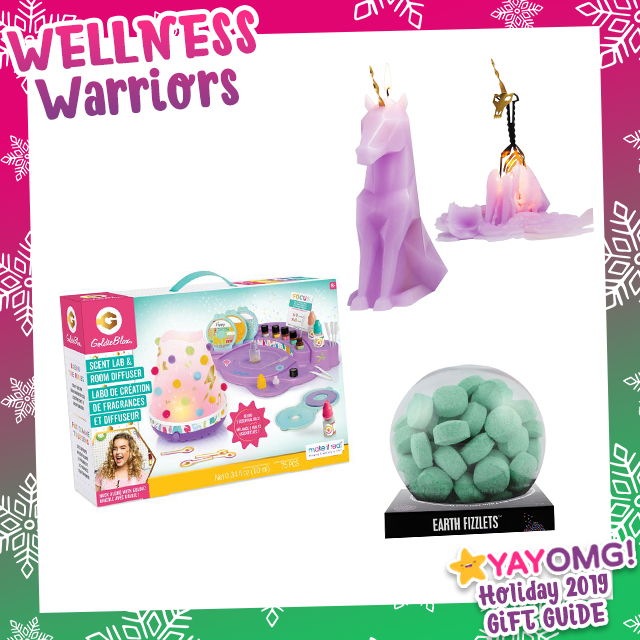 Wellness Warriors:
Scent Lab & Room Diffuser
Brand: GoldieBlox
Price: $29.99
Why You'll Love It: We love all the new GoldieBlox Maker Kits, but this DIY diffuser and scent lab is the perfect way to unwind and relax after the holiday rush. You'll learn about the science of aromatherapy while decorating your own diffuser and mixing your own soothing scents.
PyroPets Unicorn Candle
Brand: 54 Celcius
Price: $35.00
Why You'll Love It: We've been gifting PyroPets candles to our friends for years, but now that they have unicorn candles, we simply can't get enough. We love the feel-good lavender shade of this unicorn candle, and the keepsake skeleton you'll find inside once the wax has melted away.
Bath Fizzlets
Brand: Da Bomb Bath Fizzers
Price: $12.99
Why You'll Love It: Da Bomb Bath Fizzers is known for being a teen-founded bath bomb company, but this year they've added a ton of new products to their lineup, including these super fun fizzers. Just pop a few in your bathtub and watch as they fizzle and melt your stress away!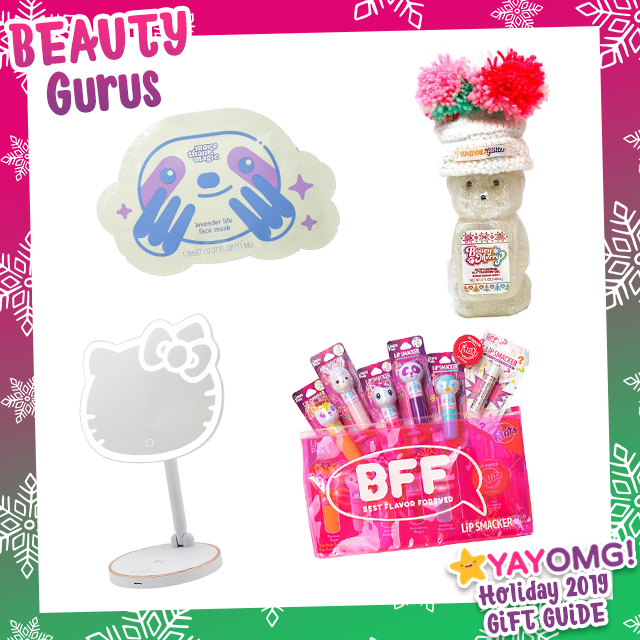 Beauty Gurus:
BFF Lip Balm Subscription
Brand: Lip Smacker
Price: $25.00/Quarterly
Why You'll Love It: Best Flavor Forever is Lip Smacker's new subscription that delivers delectable lip balms and glosses to your door every three months. Each delivery features a curated mix of the latest Lip Smacker goodies, a mystery flavor lip-balm, and an exclusive item you'll only find in this fabulous subscription. A must-have for lip balm lovers!
Beary Merry Moisturizing Glitter Body Gel
Brand: Sunshine & Glitter
Price: $18.00
Why You'll Love It: How stinkin' cute are these? We think these Berry Merry glitter bears are a great gift for the sparkliest person you know or a go-to for someone you might not know very well. Who wouldn't want a bear-shaped container of body glitter wearing a kit beanie? We love the sugar cookie scent best, but it also comes in a berry scent as well!
Hello Kitty LED Makeup Mirror
Brand: Impressions Vanity x Hello Kitty
Price: $99.99
Why You'll Love It: This adorable Hello Kitty vanity is one of the priciest items on our list, but for budding make-up artists and influencers, it's absolutely worth the price. Made by Impressions Vanity, the LED lights give off the perfect glow for shooting beauty vids and snapping selfies like the pros. The base features a wireless charger for charging up all your compatible devices.
More Than Magic Lavender Life Face Mask
Brand: Target
Price: $2.50
Why You'll Love It: Looking for an affordable gift to buy for all your besties? We're obsessed with the More Than Magic collection at Target! Whether you choose this soothing lavender mask, a set of colorful bath confetti, or a sparkly notebook, you can rest assured your BFFs will be filled with good vibes this holiday season.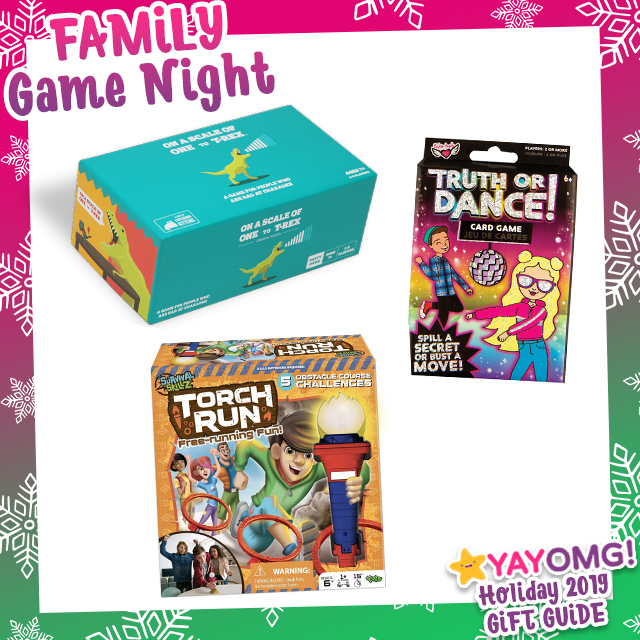 Family Game Night:
Torch Run
Brand: YULU
Price: $19.99
Why You'll Love It: Transform your living room into a mysterious temple and complete exciting challenges against your friends and family. This competitive adventure will have you passing the torch through hoops, balancing your body, and completing other obstacle course inspired challenges right in your own home. Don't drop the torch, though, or you'll have to start over!
Truth or Dance Card Game
Brand: Fashion Angels
Price: $3.99
Why You'll Love It: Spill a secret or bust a move in this Truth or Dance card game! Will you reveal your crush, or would you rather floss for 30 seconds? Share your most embarrassing story or shoot dance while singing the ABC's? Whether you decide to declare your truths or bust a move, this game will keep you laughing all night long!
On a Scale of One to T-Rex
Brand: Exploding Kittens
Price: $19.99
Why You'll Love It: Made for people who are bad at charades, On a Scale of One to T-Rex, takes the best parts of charades and mixes it with absurdity for a LOL-worthy game that everyone can play. Each person gets assigned an action and intensity level. Perform your actions, and try to figure out which players are performing at the same level as you to earn points. You'll all look completely ridiculous and have a blast, and even if you don't perfectly act out your action, as long as you do it with enthusiasm, you can still win!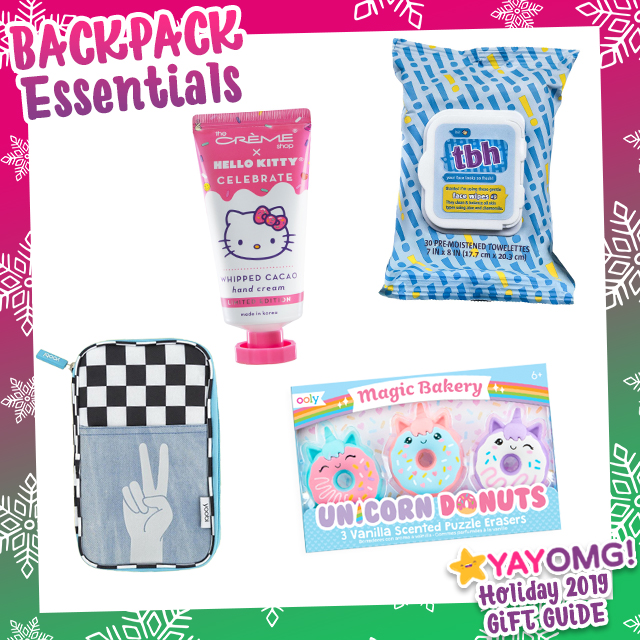 Backpack Essentials:
TBH Gentle Face Wipes
Brand: TBH
Price: $6.95
Why You'll Love It: We love TBH, and think their face wipes and spot wipes are backpack must-haves. Clean up your face after breaking a sweat in gym class or after a night of makeovers at a sleepover. With these all-natural, refreshing wipes, you can easily bring your skincare routine on the go.
Scented Unicorn Donut Puzzle Erasers
Brand: Ooly
Price: $2.99
Why You'll Love It: We all make mistakes, and these vanilla-scented unicorns will be excited to be by your side when you do. Stash them in your backpack for enchanting motivation to clean up your homework errors and take tests with the power of unicorn magic!
Hello Kitty Whipped Cacao Hand Cream
Brand: The Crème Shop
Price: $10
Why You'll Love It: The Sanrio collabs with The Créme Shop are all amazing, but for your on the go moisturizing needs, we're swooning over this limited edition whipped hand cream. Made with shea butter, vitamin E, and a hint of cacao, it's next-level cute AND will keep your skin soft!
Peace Hand Pencil Organizer
Brand: Yoobi
Price: $9.99
Why You'll Love It: You're probably ready to start 2020 with good vibes and big goals, which is why we love this peace sign hand organizer. It'll help you keep your backpack in order while reminding you to find your inner zen each time you use it.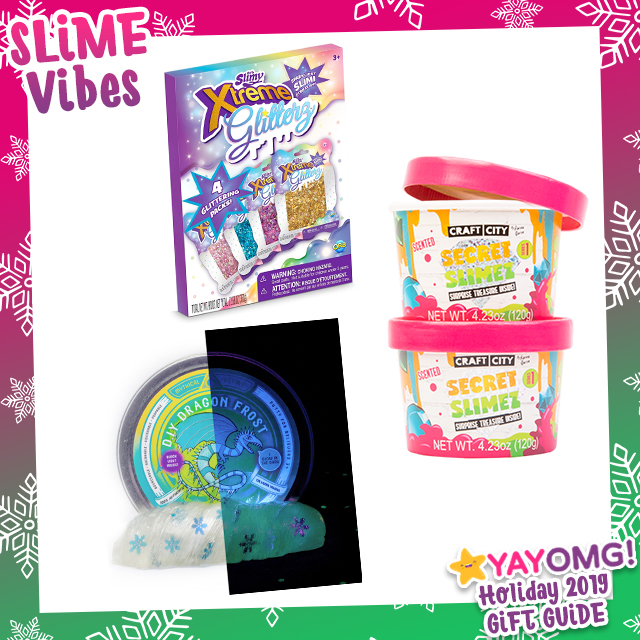 Slime Vibes:
Secret Slimez
Brand: Craft City
Price: $19.99
Why You'll Love It: Karina Garcia slime with a secret surprise inside? Does it get any better than that? These Craft City Secret Slimez are perfect for collectors with 16 different gems to find. Slime lovers will love stretching these scented slimes and hunting for the treasure inside. Plus, they're perfectly sized for stuffing stockings!
ORB Slimi Xtreme Glitterz
Brand: ORB Toys
Price: $19.99
Why You'll Love It: You can never have too much sparkle, which is why we're loving these stretchy, shimmery Extreme Glitterz slimes from ORB. This set comes with 4 different colors, perfect for pulling, mixing, sharing, and making a bold, slimi statement!
DIY Galaxy Glow Putties
Brand: Mythical Slyme
Price: $13.99
Why You'll Love It: Our buds at Mythical Slyme have outdone themselves with these super satisfying DIY Galaxy Glow Putties. Add your mix-ins and use the included blacklight flashlight to watch your magical creation glow in the dark! Want to win a set of these enchanting putties? Grab an adult and click here!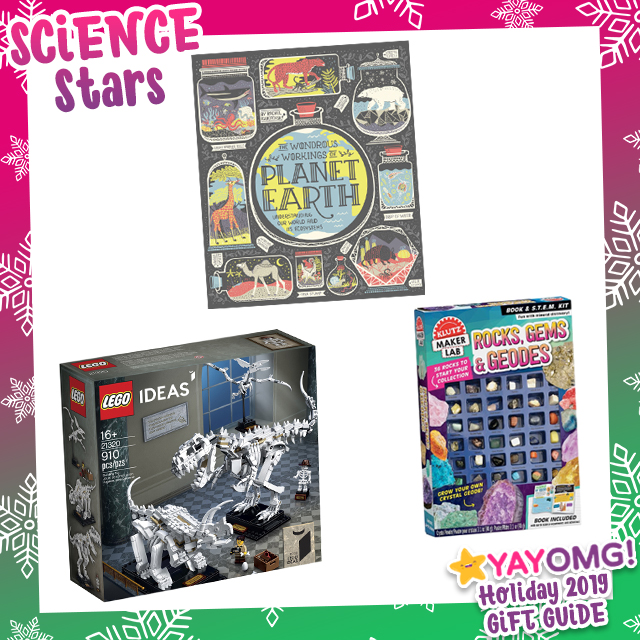 Science Stars:
LEGO Ideas Dinosaur Fossils
Brand: LEGO
Price: $59.99
Why You'll Love It: Dinosaur lovers, get excited! This might just be our favorite item on the entire list! Who wouldn't want to build dinosaur fossils out of LEGO bricks? This 910 piece set comes with all the bricks you need to create your own dinosaur museum exhibit complete with a Paleontologist minifig, as well as a display of Triceratops, T-Rex, and Pteranodon fossils.
Maker Lab: Rocks, Gems, and Geodes
Brand: Klutz
Price: $24.99
Why You'll Love It: Budding geologists, we have the perfect gift for your holiday wishlist. This Klutz kit comes with 36 rocks, gems, and geodes for you to examine as well as materials to grow your own geode. Plus, the included book is filled with Earth Science facts, a DIY rock tumbler project, and more!
The Wondrous Workings of Planet Earth: Understanding Our World and It's Ecosystems
Author: Rachel Ignotofsky
Price: $19.99
Why You'll Love It: A science book filled with gorgeous illustrations, maps, and informative infographics? Count us in! This charming and informative book is a dream come true for any kid or teen on an infinite quest for knowledge about the inner workings of our planet as well as how to protect it. This amazing guide is perfect for a rainy day readthrough or as an earth science project companion!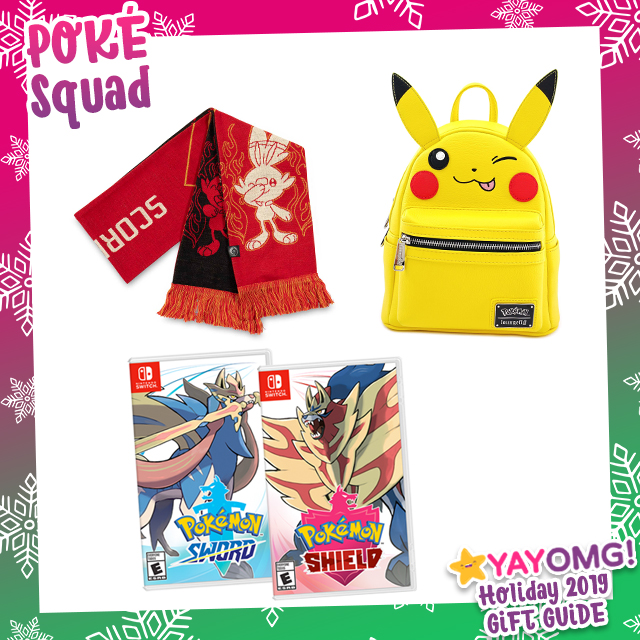 Poké Squad:
Pokémon Sword and Shield
Brand: Game Freak
Price: $59.99
Why You'll Love It: We've been traveling through the Galar region catching Pokémon, whipping up curries, and taking on gym leaders since the game released last month, and it's safe to say this is one of the best Pokémon games of all time. A must-have for any Poké-fan!
Pikachu Wink Mini Backpack
Brand: Loungefly
Price: $75.00
Why You'll Love It: Words aren't even necessary when it comes to this Pikachu mini-backpack, but we'll use some anyway. It's a winking Pikachu in backpack form, complete with adorable ears. It's absolutely the cutest way to stash your stuff. PIKA PIKAAA!
Galar First Partner Knit Scarf
Brand: Pokémon Center
Price: $20.00
Why You'll Love It: Choose Sobble, Grookey, or Scorbunny as your starter, and wrap this cozy knit scarf around your next for all your best winter adventures. It'll keep you warm through blustery walks to school, sledding trips, and every Pikachu shaped snowman you build this year.
We're celebrating the holidays in a BIG way this year – with our Holly Jolly Giveaways! Head to this link and have a parent enter for your chance to win one of 10 amazing prize packs!