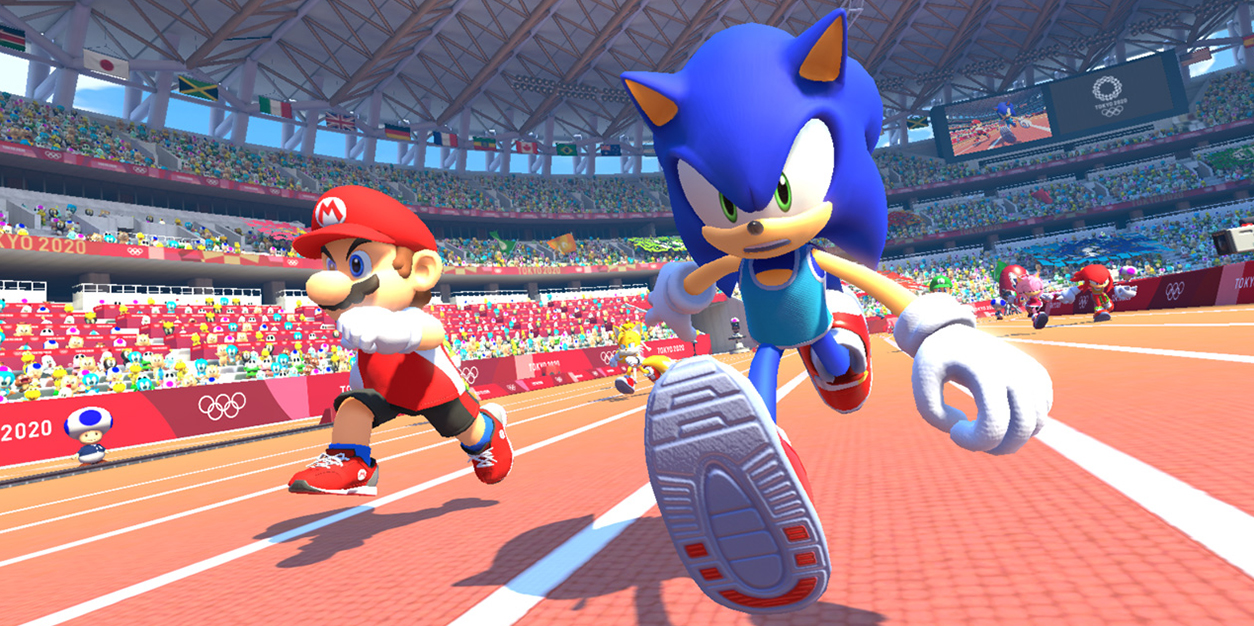 We Ranked All the Mario & Sonic at the Olympic Games Tokyo 2020 Mini-Games + GIVEAWAY!
NOTE: We received a complimentary review code for Mario & Sonic at the Olympic Games Tokyo 2020 from SEGA of America in exchange for a fair and honest review. All opinions are our own; we were under no obligation to give a positive review. Giveaway prizes provided by SEGA of America.
Mario & Sonic at the Olympic Games Tokyo 2020 is hands down the best game in the series. While it's always a great time, the newest installment, out today for Nintendo Switch, is hands-down our fav.
If you've never played a Mario & Sonic at the Olympic Games title before, here's what you need to know. Characters from the Super Mario and Sonic the Hedgehog universes come together to compete in the world's greatest sporting event – the Olympics! Each game in the series is based in a real-world Olympic city, this time focusing on Tokyo, the real location for the upcoming 2020 Summer Olympics.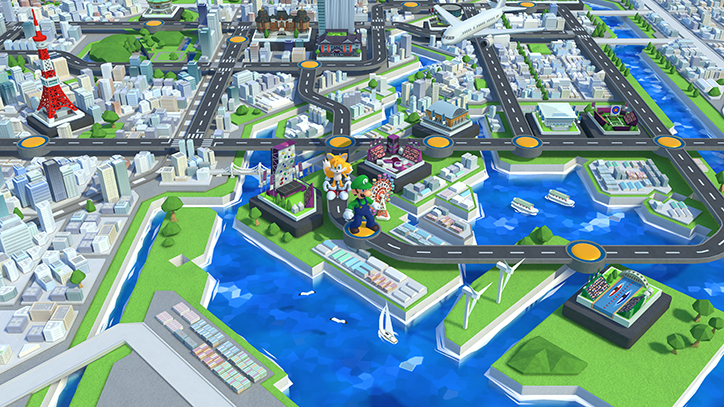 The game features a few different ways to play, each just as fun as the last. The Story Mode is excellent for solo-players looking for a more robust gaming experience. You'll play through a roughly four-hour story mode, competing in summer sporting events and touring Tokyo's most iconic locales and landmarks.
When Mario and Sonic find themselves trapped inside an old handheld gaming system by Bowser and Eggman, trusty sidekicks Luigi and Tails will have to team up to compete in mini-games to save the day. You'll switch between the real-world of Tokyo 2020 and the 2D inspired world of 1964, which makes for a totally charming experience.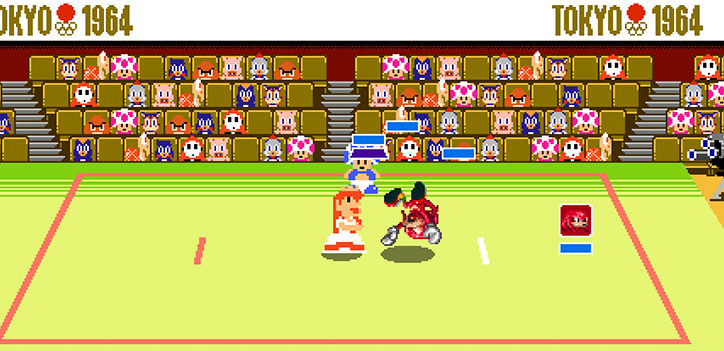 As fans of mini-game focused titles like Mario Party and Wario Ware, our favorite part of the game is the Quick Match Mode. In this mode, you can play alone or with up to 4 friends, picking and choosing which events you want to try. We love that most of the games are unlocked at the start, giving you 21 3D Events, 10 Dream Events, and 3 1964-inspired 2D Events to train for.
Sound fun? You're in luck! Our friends at SEGA have provided us with THREE digital download codes for Mario & Sonic at the Olympic Games Tokyo 2020 to give away! Fill out the form below for your chance to enter and win!
Our Mini-Game Ranking: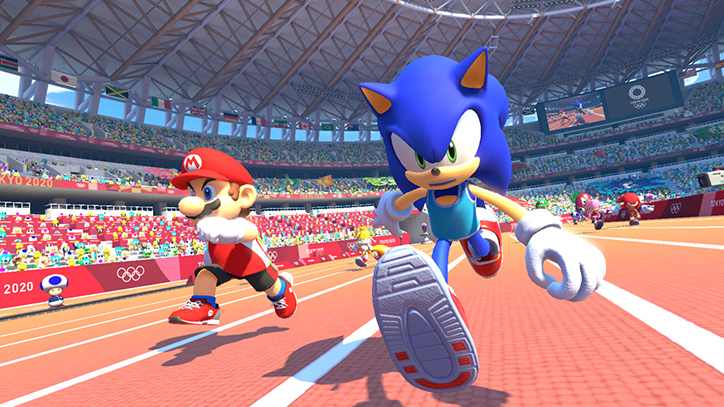 We loved the game so much, we decided to rank all the Tokyo 2020 Events! We left out the Dream Events (our fav is Dream Racing) and the 2D retro events (honestly, they're all pretty solid) and focused on the main 21 Summer sporting events Mario & Sonic is all about!
21. Discus Throw
Someone out there likely has the skills and the patience to pull off the Discus Throw perfectly every time. Those people are NOT us.
The concept seems simple. Like the real Discus Throw found in most track and field events, athletes spin, aim, and throw, launching your discus watching as it soars through the air, hopefully much farther than your competitors.
For us, it went a little more like this: spin, throw discus against the wall next to where our character was standing, and then shout in frustration as three grown adults failed over and over to make even one successful throw. Maybe one day we'll change our minds, but for now, we're holding a grudge.
20 & 19. Football and Rugby Sevens
We're grouping Rugby Sevens and Football (Soccer) together because the gameplay is mostly comparable. If you like one, you'll likely enjoy the other, but we preferred the freedom of Rugby.
Let us be clear, we're ranking these events low on the list not because they aren't fun, but because when it comes to mini-games, we're looking for a more fast-paced, quick-play experience. These took us a little while to fully grasp. That said, once you've played Rugby and Football a few times, these two events are actually a lot of fun, especially when working together as a team.
We can see these events being great for practicing solo to improve your skills, and then competing against friends, completely destroying the competition. Birdo as the Football goalie was a nice surprise that made us all laugh, and they're oddly good at it.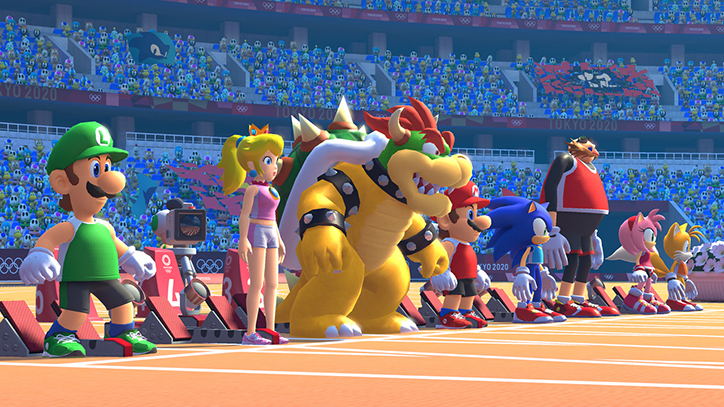 18. 100m Dash
The 100m Dash is simple, quick, competitive fun, and we think it's the best starter event to get new players acquainted with the game.
When choosing a character for this one, your best bet is to choose someone like Sonic, whose special skill is to go fast. It's still up to you to mash A as quickly as you can, but the character's abilities do give you a nice boost.
This one is low on our list for one reason only – the other Track & Field events simply provide a little more excitement and challenge.
16 & 17. Table Tennis and Badminton:
We had high hopes for Table Tennis and Badminton, especially as fans of Mario Tennis as the version of Tennis found in Wii Sports, but we just didn't love either of these.
We felt the controls on these two events were lacking. You couldn't move around the court as freely as it felt like you should be able to, and fair or not, we're deducting points for that. With a game as excellent as Mario Tennis out in the world, we expected better. We're not mad, Mario, we're just disappointed.
Badminton ranks slightly higher because you rarely see Badminton featured in a video game, and we were excited to see it here.
15. Swimming
Swimming is an all-around fun event, and another one we think is great for players of all skill types. Your pro-gamer level sister and your mom can easily compete against each other in this event and still have a good time. Count us in for another lap!
Bonus points absolutely added because seeing the characters in their bathing suits makes us laugh every time.
14. 4x 100m Relay
Story Time! When I was a kid on my elementary school track team, relays were always my favorite. Everyone else on the team loved running the fastest and competing against the other teams, but I always loved the teamwork of a relay race.
Running the 100m Relay in Mario & Sonic reminded me of the rush I used to feel passing off the baton. It's better than some of the other mini-games, not as fun as others, and is deserving of it's ranking near-ish the middle of the list.
13. Gymnastics
The Gymnastics event requires a lot of patience and dedication, just like a real gymnast. You'll need to press the correct sequence of buttons in order to pull off your routine, stick the landing, and win the gold medal.
As people who typically excel at events that require rhythm and precisely-timed button presses, we thought we'd end up ranking Gymnastics much higher on the list. Unfortunately, we found this one to be a little tricky.
We have a feeling this one will grow on us and climb up higher in the ranks, but we're definitely not going to be the next Simone Biles anytime soon.
Pro Tip: Choosing an agile character makes the most sense, but nothing beats watching Bowser or Eggman attempting to cartwheel and backflip his way across the mat.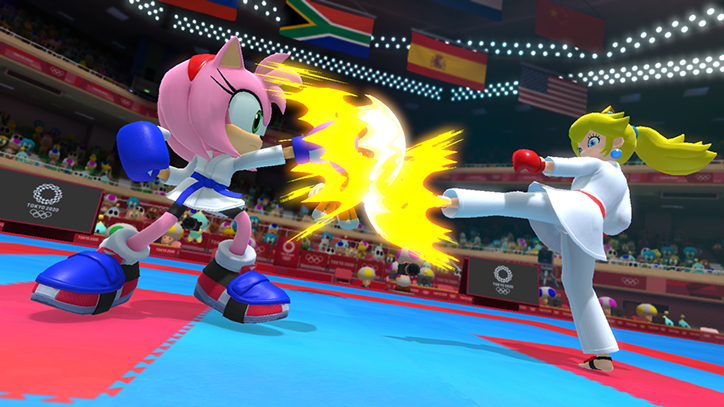 12 & 11. Boxing and Karate:
Karate and Boxing suffered from the same problem as Table Tennis and Badminton. The IRL versions of the games are vastly different, but in the world of Mario & Sonic, they're pretty similar.
Typically you might not think of Karate and Boxing as similar, but to over-simplify, Kumite, the version of Karate found in the game is essentially two competitors face to face in a ring trying to take each other down to the mat. It's MUCH more nuanced than that, especially in the real world, but we struggled to find enough reasons to rank them separately rather than together.
Karate ranks slightly higher for us because we enjoyed the fast-paced nature of the match and the fact that you have both kicks and punches in your arsenal. We know there are players out there who will find Boxing to be the best event in the game, so to each their own.
10. Fencing
En Garde! Fencing is awesome in real life, and it's just as awesome watching Baby Bowser completely destroy Shadow the Hedgehog as he lunges and parries with finesse. Give it a try, you won't be disappointed.
Somehow we forgot to share this until now, so we're instead of continuing to gush about our love of Fencing we're sharing the absolute best part of Mario & Sonic at the Olympic Games Tokyo 2020. The victory dances! Waluigi's is by far the funniest, mainly because it's completely on-brand for him to dab while the rest of the world has already moved on to bigger and better dance moves.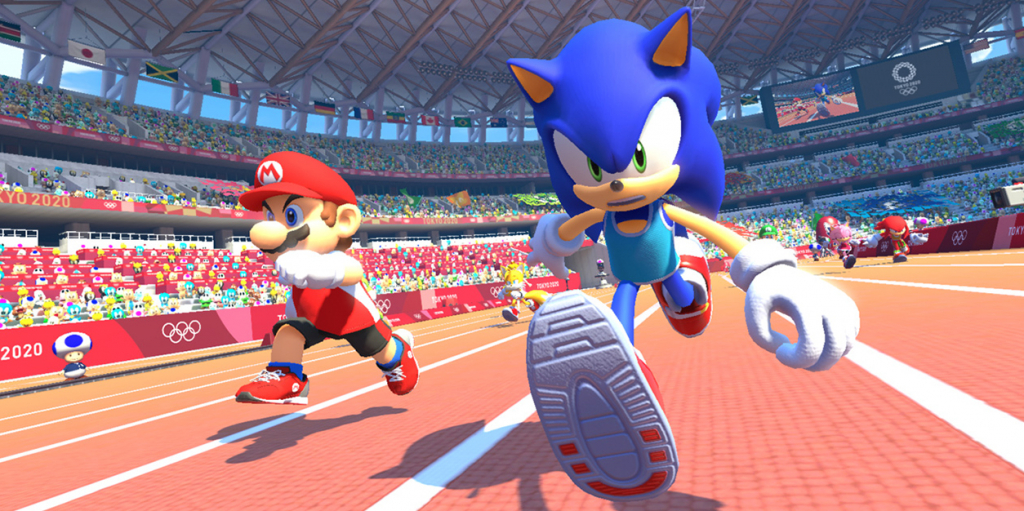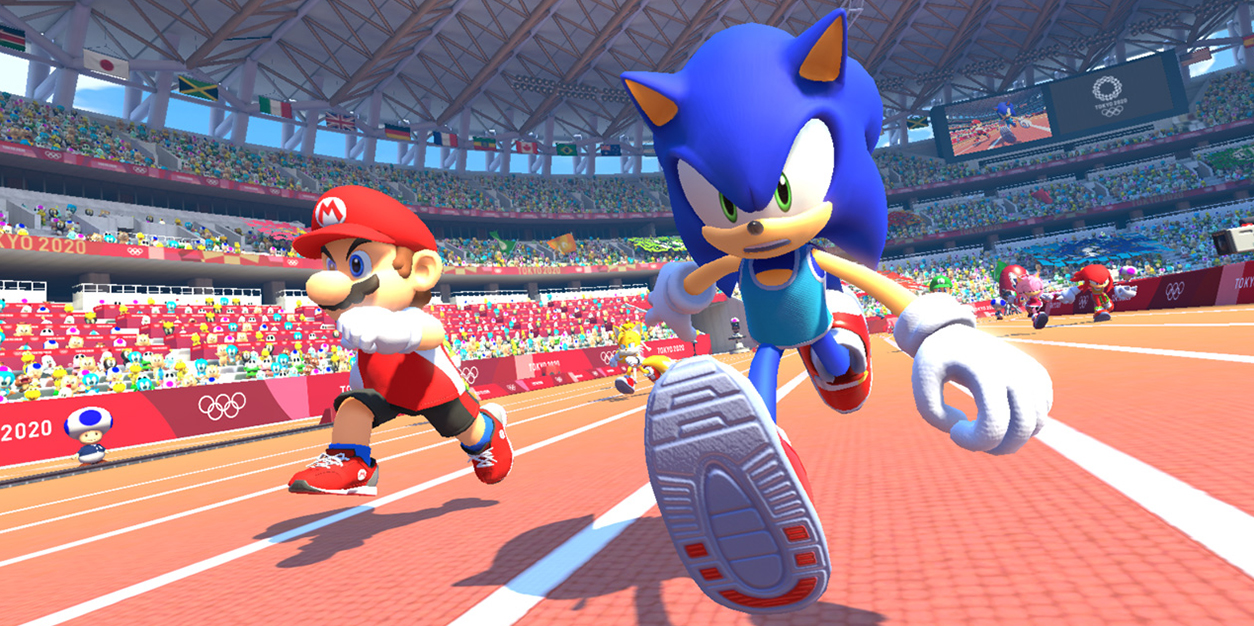 9 & 8: 110m Hurdles & Triple Jump
Someone out there is reading this list right now and judging us for ranking 110m Hurdles and Triple Jump this high on our list, but we like what we like, and we're not going to change for you.
That being said, while we'd never be coordinated enough to do more than fall on our butts attempting to hurdle or triple in real life, we tend to excel at video game versions of track-based events.
In the Hurdles event, you compete in 110m sprint, running as fast as you can, timing your jumps as perfectly as possible to leap over each of the hurdles. In Long Jump, which we like slightly more, you'll run and then pull off a series of 3 jumps, trying to gain as much distance as possible.
7. Equestrian
Riding a horse, whether in real life or in a video game, is pretty much a guaranteed good time. The Equestrian event in Mario & Sonic delivers in all regards, from the super cute riding uniforms (love that Wario's keep his signature pointy toed-style boots) to the satisfying feeling you get each time you successfully complete a jump.
In this event, riders mount their horse and gallop their way to the finish line, timing button presses to complete well-timed jumps. Don't forget to use your Super Dash when you have one available for an extra boost!
6. Surfing
Who wouldn't want to take on a huge wave, do tricks, and hang-ten without the real-world consequences of a wipeout? Surfing delivers on all fronts!
When we first played, some of us picked it up quickly, scoring upwards of 500 points, others barely managed to score 40. We were ready to dismiss this one, but after sitting down with it a second time, we realized just how fun it can be!
Let this stand as a reminder that these mini-games are totally worthy of replaying on your own where you can more carefully read the instructions and execute moves without the pressure of competition.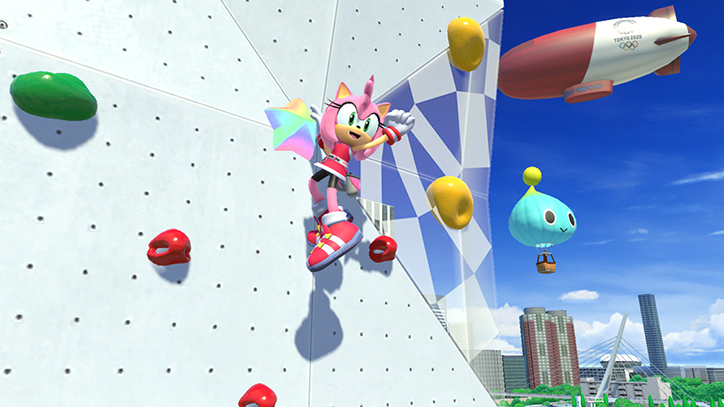 5. Sport Climbing
We're obsessed with Sport Climbing, and here's why. It takes a little getting used to, but once you've got the hang of it, you can really move. Bouldering IRL requires a lot of technique and strategy, which is how this climbing experience quickly goes from kind of tedious to utterly addictive, making you want to try over and over to beat your previous distance and time.
This event provided a well-balanced challenge. It wasn't so hard that you want to give up, but it wasn't immediately too easy. We enjoyed trying to master this one and it's absolutely an event that we'll come back to again and again.
4. Javelin Throw
Honestly, we're as surprised as you are to find Javelin Throw in our Top 5, and yet, here we are.
After each playthrough, at least two people in the room shouted, "Again! Again!", and the only thing that pulled us away from playing it all night long was the promise that we might love some of the other events just as much.
Give this one a try with motion controls, it's a lot of fun and makes excellent use of the Joy-Cons.
3. Archery
Archery is another event worthy of trying out motion controls. Pulling back the Joy-Con to use them like a real bow and arrow adds an extra layer of challenge, but one worthy of your time.
Whether you prefer motion controls or button controls, one thing is for sure, this event is a ton of fun!
2. Canoe
We're not sure exactly what it is about this event, but we were just instantly amazing it at? Perhaps we should try rowing for real because we're clearly destined for greatness.
In the Canoe event, you'll need to time your rowing perfectly with your boat-mate to speed your way through the water on the way to the finish line. While it's easy to pick up, it can be hard to master if you're not totally in-sync with your rowing partner, making it easy to get rowdy and competitive, the two most important markers of a solid mini-game experience!
1. Skateboarding
Maybe we'd prefer to see Mario & Sonic at the X-Games more than the Olympic Games because Skateboarding was easily our favorite event.
We loved speeding through the skatepark, grinding on ledges, performing different flips and tricks and figuring out different combos. It shares similarities with Surfing but shines brightly enough to land the top spot on our list!
Skateboarding a super well-balanced event, easy enough to pick up as a beginner, but addictive enough that you'll want to master it and aim for an impressively high score.
Mario & Sonic at the Olympic Games Tokyo 2020 Giveaway: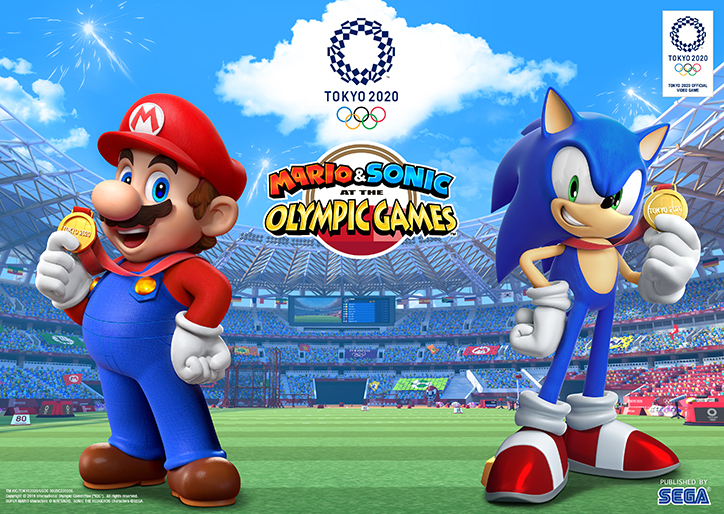 WHAT DO I WIN?
THREE (3) lucky winners will receive a digital download code for Mario & Sonic at the Olympic Games Tokyo 2020, generously provided by SEGA of America.
*NOTE: The code will only work in North American regions, and you MUST own a Nintendo Switch device in order to play. This giveaway is for a game code ONLY.
HOW DO I ENTER?:
Grab a parent or guardian and have them fill out the form below by November 12, 2019 at 11:59pm ET.
Giveaway runs from 11/05/19 at 04:30 pm ET through 11/12/19 at 11:59 pm. Open to North America. residents ONLY. Be sure to read the fully detailed rules HERE before entering.
THIS GIVEAWAY HAS ENDED AND THE WINNERS HAVE BEEN CONTACTED.
You must be 18 or older to enter. Please, only ONE entry per person. If selected as a winner, we will provide your parent/guardian with an affidavit to confirm that you are a valid winner who has permission to win. They will be REQUIRED to sign and return the affidavit to YAYOMG! to claim your prize. Prizes will not be mailed out without signed parental consent.
Want to win more free stuff? Check out our Revenge of the Red Club and Inspiring Study Space giveaways!