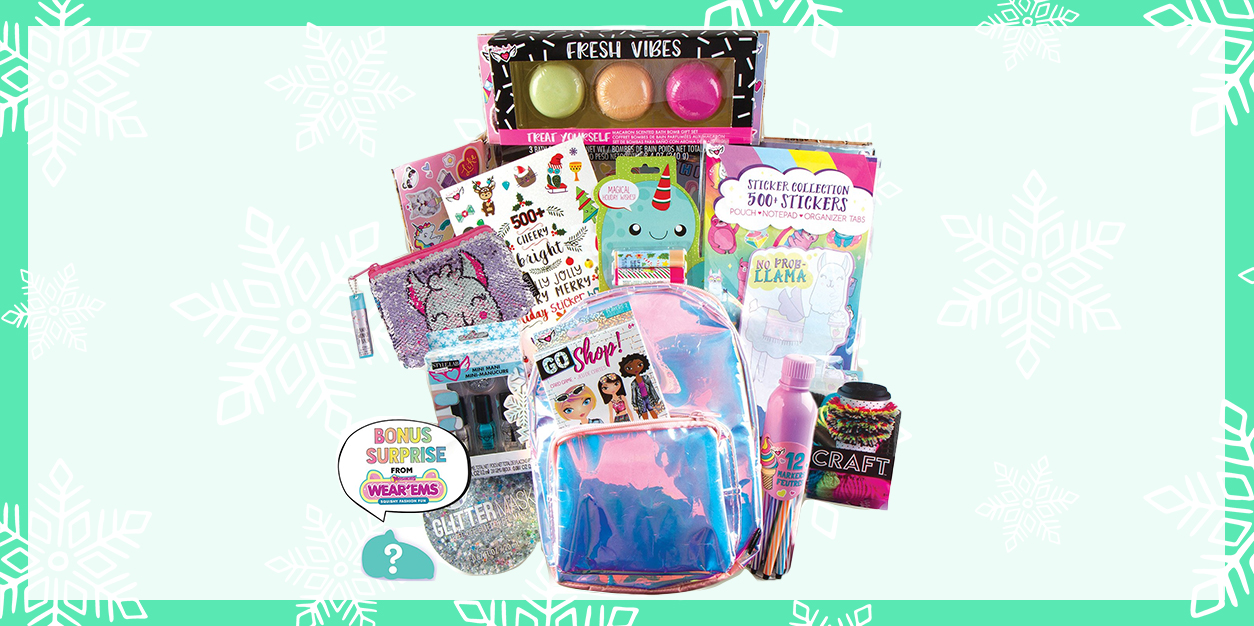 Holly Jolly Giveaway: Find Your Wings Subscription Box
NOTE: The Find Your Wings Subscription Box was provided by Fashion Angels for the purposes of our Holly Jolly Giveaways. No money was exchanged, and all opinions are our own. We reached out to these brands for this giveaway series because they create products we love.
Our Holly Jolly Giveaways continue with one of our absolute favorite products released this year – the Find Your Wings Subscription Box from Fashion Angels!
We've featured this box in the past, and it just keeps getting better! Each month, Fashion Angels curates the Find Your Wings Box with some of their most adorable must-have items from cute accessories to fun craft kits and delivers them to your door. Everything you'll find inside the Find Your Wings Box is a full-sized item, not a sample size, which makes it even better! Our favorite part is that everything is useful, wearable, or craftable, so you won't end up leaving anything stashed aside unused. The boxes come with a TON of stuff too, making it a great way to share with friends or siblings.
So what's in the December box? Fashion Angels is in the holiday spirit, so they've packed more fun than ever before into this month's box. For $30, you'll receive over $95 worth of stuff – their biggest box yet! Some of our favs from this month include a stylish iridescent mini-backpack, a soothing glitter face mask, a Magic Sequin llama pouch, and TONS of stickers! You'll also find bath bombs, a nail art kit, lip balm, scented markers, and a surprise from Wear 'Ems!
Want to get your hands on it? The Find Your Wings box is part of our Holly Jolly Giveaways, so grab your favorite adult and enter for your chance to win!
Signing up for a box of your own? Have a parent head to this link and use code DEC10 to get 10% off your order, but be sure to sign up by November 30th to receive this holiday-themed box!
Find Your Wings Subscription Box Giveaway: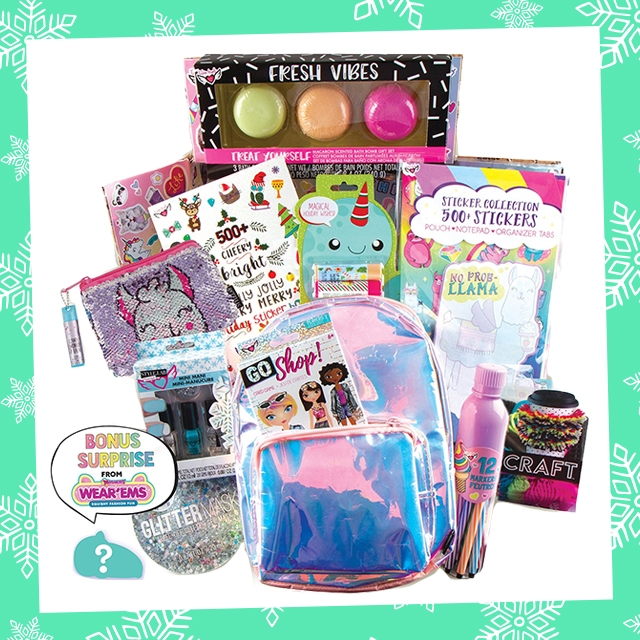 WHAT DO I WIN?:
ONE lucky winner will receive the DECEMBER Find Your Wings Box provided by Fashion Angels which includes:
– ONE (1) set of Fresh Vibes Treat Yourself Bath Bursts
– ONE (1) Peel Off Glitter Mask
– ONE (1) Go Shop! Match Outfits Card Game
– ONE (1) Chill Out & Craft Latch Hook Rug Cup Sleeve Kit
– ONE (1) Magic Sequin Llama Pouch with Lip Balm
– ONE (1) Magical Holiday Wishes Lip Balm 2-Pack
– ONE (1) Mini Manicure Kit
– ONE (1) Iridescent Mini Backpack
– ONE (1) Very Merry Holiday Sticker Book
– ONE (1) Soda Bottle Marker Set
– ONE (1) No Prob Llama Sticker Collection
– ONE (1) Surprise from Wear 'Ems
HOW DO I ENTER?:
Grab a parent or guardian and have them fill out the form below by December 3, 2019 at 11:59pm ET.
Giveaway runs from 11/26/19 at 12:00 pm ET through 12/03/19 at 11:59 pm. Open to US residents ONLY. Be sure to read the fully detailed rules HERE before entering.
THIS GIVEAWAY HAS ENDED AND THE WINNER HAS BEEN CONTACTED.
You must be 18 or older to enter. Please, only ONE entry per person. If selected as a winner, we will provide your parent/guardian with an affidavit to confirm that you are a valid winner who has permission to win. They will be REQUIRED to sign and return the affidavit to YAYOMG! to claim your prize. Prizes will not be mailed out without signed parental consent.
Need more holiday cheer (and free stuff!) in your life? Keep an eye on this link now through December 6th so you don't miss a single one of our Holly Jolly Giveaways!