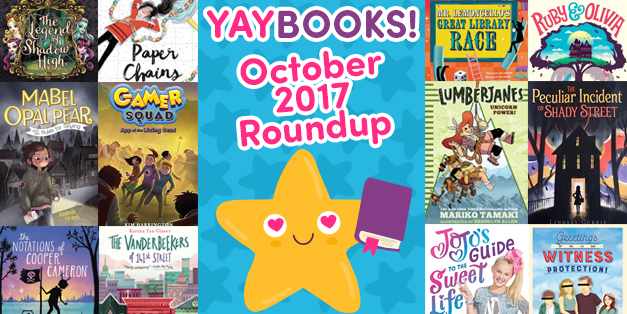 YAYBOOKS! October 2017 Roundup
Hellooo, fellow readers! October is a great month for books because the new releases are always sprinkled with spooky stories for Halloween alongside the regular bookish goodness. For our YAYBOOKS! October 2017 Roundup, we decided to only leave commentary for SOME of the books rather than all of them. We always want our YAYOMGers to use these lists to find their new favorite books or authors, so sometimes it's better for us to just step back and let the books do the talking!
This month's list features spooks and thrills, exciting adventure, and plenty of books by iconic teen favs like JoJo Siwa, Maddie Ziegler, and Sunny Kellar. There are over 40 books and graphic novels to fall in love with and scour the library for this time around. Plus – you can always use them to fill up your YAYOMG! Book Bingo card. Happy reading, everyone!
YAYBOOKS! October 2017 Roundup: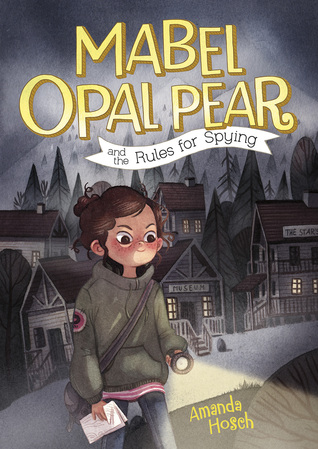 Mabel Opal Pear and the Rules for Spying
Author: Amanda Hosch
Publisher: Capstone Young Readers
Date: October 1
SYNOPSIS:
A young spy gets entangled in an action-filled, whodunit mystery! When Mabel's parents leave town without warning, she isn't worried. They're spies, after all. But when her beloved Aunt Gertie is arrested for leading a smuggling ring, then her obnoxious Uncle Frank and Aunt Stella show up, demanding to be let into the family's private museum things begin to look fishy. Especially since Mabel hasn't heard from her parents in days. Tackling a mystery like this one is what she has been training for her whole, short life. Using her self-authored spy handbook, will Mabel be able to find her parents and unmask the real criminal before it's too late?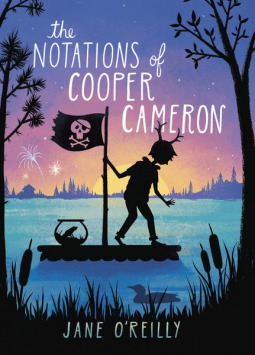 The Notations of Cooper Cameron
Author: Jane O'Reilly
Publisher: Carolrhoda Books
Date: October 1
SYNOPSIS:
Eleven-year-old Cooper Cameron likes things to be in order. When he eats, he chews every bite three times on each side. Sometimes he washes his hands in the air with invisible water. He invented these rituals after the death of his beloved grandfather to protect others he loves from terrible harm.
But when Cooper's strange behavior drives a wedge between his parents, and his relationship with his older sister, Caddie, begins to fray, his mother's only solution is to take Cooper and Caddie to the family cabin for the summer.
Armed with a collection of rocks, his pet frog, and his notebook, Cooper vows to cure himself and bring his damaged family back together.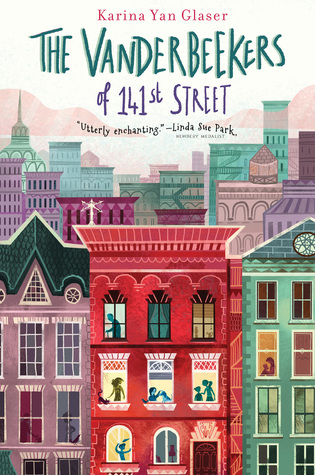 The Vanderbeekers of 141st Street
Author: Karina Yan Glaser
Publisher: HMH Books for Young Readers
Date: October 3
SYNOPSIS:
The Vanderbeekers have always lived in the brownstone on 141st Street. It's practically another member of the family. So when their reclusive, curmudgeonly landlord decides not to renew their lease, the five siblings have eleven days to do whatever it takes to stay in their beloved home and convince the dreaded Beiderman just how wonderful they are. And all is fair in love and war when it comes to keeping their home.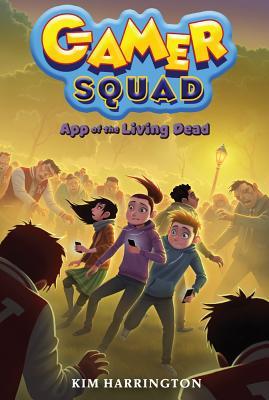 Gamer Squad: App of the Living Dead
Author: Kim Harrington
Publisher: Sterling Children's Books
Date: October 3
YAYOMG!:
Want to know more about the awesome Gamer Squad series? We chatted with author and fellow nerd Kim Harrington about writing the series, celebrating girls in STEM, and her favorite video games.
SYNOPSIS:
Monsters. Aliens. What's next? Use your BRAINS and figure it out!
In their third exciting adventure, Bex and Charlie battle the living dead—ZOMBIES.

After all they've gone through, Bex and Charlie have no intention of playing the new zombie game that Veratrum Games Corp just released. But everyone else in town is hooked, and when a flu sweeps the school, turning teachers and students into the undead, it turns out that only non-players are immune. Now, Charlie and Bex have to find a way to save their friends and neighbors—and stop the company from unleashing more of their deadly games.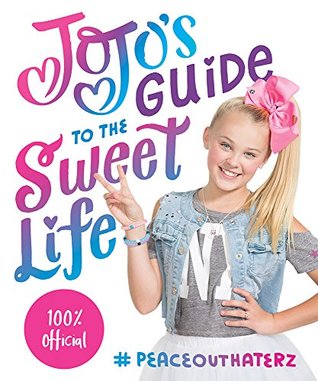 JoJo's Guide to the Sweet Life: #PEACEOUTHATERZ
Author: JoJo Siwa
Publisher: Amulet Books
Date: October 3
YAYOMG!:
We're giving away a copy of JoJo's book! Check back later this month for a super sweet JoJo Siwa giveaway! In the meantime, see what JoJo had to say about working hard and living her dream!
SYNOPSIS:
You might recognize firecracker JoJo Siwa from Abby's Ultimate Dance Competition, or maybe you fell in love with her on Dance Moms—Lifetime's #1 rated show. Chances are you even know a Siwanator—one of JoJo's fiercely devoted followers who pledge to have each other's backs and walk away from bullies. Or maybe you just can't get the lyrics to her hit single, "Boomerang," out of your head.
JoJo's nonfiction middle-grade debut is the next generation's version of a real-life Cinderella story: Nebraska girl becomes L.A.'s belle of the ball thanks to her spunky attitude and creative drive. At her core, JoJo is a fierce antibullying advocate who's had to deal with online bullying most of her life, and she strives to help others stand up for themselves. In this 100-percent official memoir, JoJo gives behind-the-scenes info on her journey to success and time in the limelight (including juicy, never-before-heard details from Dance Moms), as well as how she bounced back when haterz tried to get their way. Through the lens of her own personal anecdotes, JoJo talks about finding your passion, keeping strong in the face of adversity, appreciating your individualism, the importance of being loyal, and never giving up. This interactive story is meant to inspire girls everywhere to find the courage and confidence to go after their dreams. Go Siwanatorz!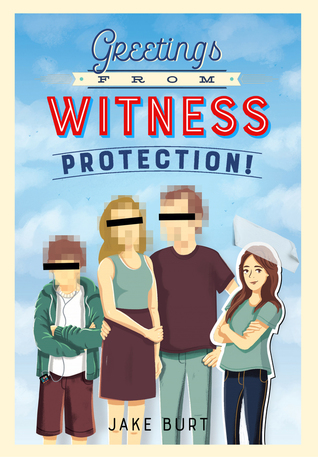 Greetings from Witness Protection!
Author: Jake Burt
Publisher: Feiwel & Friends
Date: October 3
SYNOPSIS:
A funny and poignant debut middle-grade novel about a foster-care girl who is placed with a family in the witness protection program, and finds that hiding in plain sight is complicated and dangerous.
Nicki Demere is an orphan and a pickpocket. She also happens to be the U.S. Marshals' best bet to keep a family alive. . . .
The marshals are looking for the perfect girl to join a mother, father, and son on the run from the nation's most notorious criminals. After all, the bad guys are searching for a family with one kid, not two, and adding a streetwise girl who knows a little something about hiding things may be just what the marshals need.
Nicki swears she can keep the Trevor family safe, but to do so she'll have to dodge hitmen, cyberbullies, and the specter of standardized testing, all while maintaining her marshal-mandated B-minus average. As she barely balances the responsibilities of her new identity, Nicki learns that the biggest threats to her family's security might not lurk on the road from New York to North Carolina, but rather in her own past.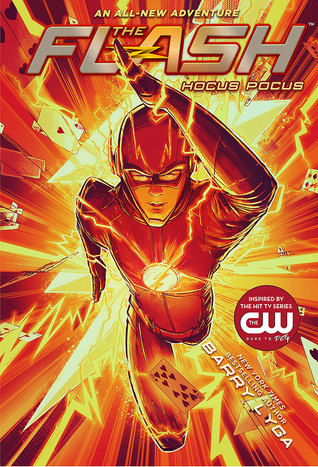 The Flash: Hocus Pocus
Author: Barry Lyga
Publisher: Harry N. Abrams
Date: October 3
SYNOPSIS:
Race into action in this all-new original adventure based on the hit CW TV series, The Flash!

In a timeline where Flashpoint never happened, The Flash (aka Barry Allen) must face a mysterious villain who can control the minds and actions of citizens. But when Hocus Pocus, as he calls himself, takes control of Barry, it's up to Team Flash to help the Scarlet Speedster before he's forced to do the unthinkable. Written by New York Times bestselling author Barry Lyga, this is one adventure fans of the TV series won't want to miss!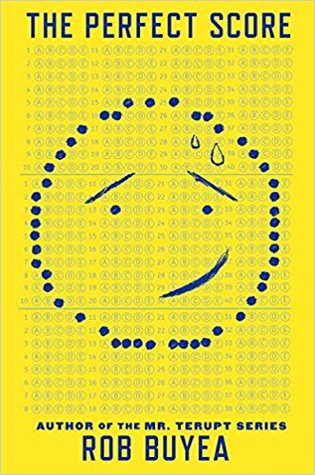 The Perfect Score
Author: Rob Buyea
Publisher: Delacorte Press
Date: October 3
SYNOPSIS:
No one likes or wants to take the statewide assessment tests. Not the students in Mrs. Woods's sixth-grade class, not even their teacher. It's not like the kids don't already have things to worry about. . . .
Under pressure to be the top gymnast her mother expects her to be, RANDI starts to wonder what her destiny truly holds. Football-crazy GAVIN has always struggled with reading and feels as dumb as his high school-dropout father. TREVOR acts tough and mean, but as much as he hates school, he hates being home even more. SCOTT's got a big brain and an even bigger heart, especially when it comes to his grandfather, but his good intentions always backfire in spectacular ways. NATALIE, know-it-all and aspiring lawyer, loves to follow the rules–only this year, she's about to break them all.
The whole school is in a frenzy with test time approaching–kids, teachers, the administration. Everyone is anxious. When one of the kids has a big idea for acing the tests, they're all in. But things get ugly before they get better, and in the end, the real meaning of the perfect score surprises them all.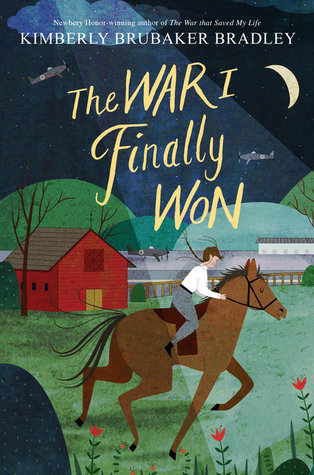 The War I Finally Won
Author: Kimberly Brubaker Bradley
Publisher: Dial Books for Young Readers
Date: October 3
SYNOPSIS:
When Ada's clubfoot is surgically fixed at last, she knows for certain that she's not what her mother said she was—damaged, deranged, crippled mentally as well as physically. She's not a daughter anymore, either. What is she?
World War II continues, and Ada and her brother, Jamie, are living with their loving legal guardian, Susan, in a borrowed cottage on the estate of the formidable Lady Thorton—along with Lady Thorton herself and her daughter, Maggie. Life in the crowded cottage is tense enough, and then, quite suddenly, Ruth, a Jewish girl from Germany, moves in. A German? The occupants of the house are horrified. But other impacts of the war become far more frightening. As death creeps closer to their door, life and morality during wartime grow more complex. Who is Ada now? How can she keep fighting? And who will she struggle to save?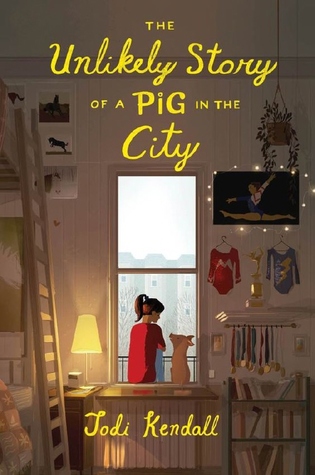 The Unlikely Story of a Pig in the City
Author: Jodi Kendall
Publisher: HarperCollins Kids
Date: October 3
SYNOPSIS:
In this modern-day homage to Charlotte's Web, a little pig in a big city leads to lots of trouble. Can eleven-year-old Josie Shilling save the day?
Josie Shilling's family is too big, their cramped city house is too small, and she feels like no one's ever on her side. Then, on Thanksgiving Day, her older brother, Tom, brings home a pink, squirmy bundle wrapped in an old football jersey—a piglet he rescued from a nearby farm. Her name is Hamlet.
The minute Josie holds Hamlet, she feels an instant connection. But there's no room for Hamlet in the crowded Shilling household. And whoever heard of keeping a pig in the city? So it's up to Josie to find her a forever home.
This modern-day homage to Charlotte's Web is a heartwarming tale of family, belonging, and growing bigger when you've always felt small—perfect for fans of Katherine Applegate and Cammie McGovern.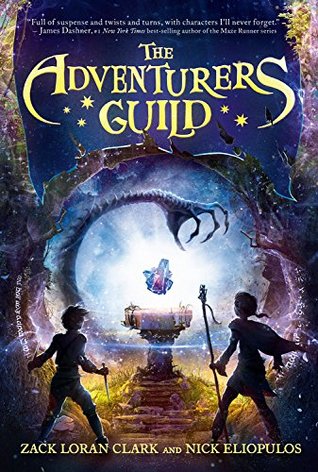 The Adventurer's Guild
Authors: Zack Loran Clark and Nick Eliopulos
Publisher: Disney-Hyperion
Date: October 3
SYNOPSIS:
Few ever asked to join the Adventurers Guild. . . . Their members often died young.
In one of the last cities standing after the world fell to monsters, best friends Zed Kagari and Brock Dunderfel have high hopes for the future. Zed desperately wishes to join the ranks of the Mages Guild, where his status as Freestone's only half elf might finally be an asset. Brock, the roguishly handsome son of merchants, is confident he'll be welcomed into the ranks of the Merchants Guild.
But just as it seems the boys' dreams have come true, their lives take a startling turn . . . and they find themselves members of the perilous Adventurers Guild.
Led by the fearsome Alabasel Frond, the guild acts as the last line of defense against the Dangers-hungry, unnatural beasts from otherworldly planes. And when the boys uncover a conspiracy that threatens all of Freestone, Zed, Brock, and their new allies-Liza, a fierce noble, and Jett, a brave dwarf-must prove their worth once and for all.
This start of a thrilling new series is sure to be a hit with readers who like their fantasies clever and action-packed, with tons of humor and heart.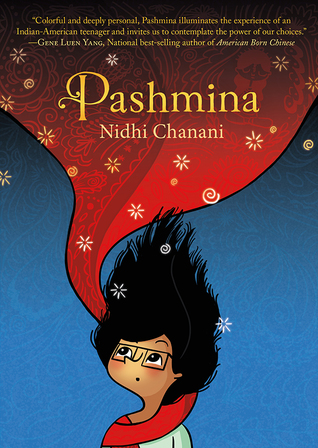 Pashmina
Author: Nidhi Chanani
Publisher: First Second
Date: October 3
YAYOMG!:
A graphic novel about an Indian American girl trying to discover more about her place in the world and the history of her family? It's lovely, personal, and a must-read – even for reluctant readers. The illustrations are wonderful and there's just so much heart.
SYNOPSIS:
Priyanka Das has so many unanswered questions: Why did her mother abandon her home in India years ago? What was it like there? And most importantly, who is her father, and why did her mom leave him behind? But Pri's mom avoids these questions–the topic of India is permanently closed.
For Pri, her mother's homeland can only exist in her imagination. That is, until she find a mysterious pashmina tucked away in a forgotten suitcase. When she wraps herself in it, she is transported to a place more vivid and colorful than any guidebook or Bollywood film. But is this the real India? And what is that shadow lurking in the background? To learn the truth, Pri must travel farther than she's ever dared and find the family she never knew.
In this heartwarming graphic novel debut, Nidhi Chanani weaves a tale about the hardship and self-discovery that is born from juggling two cultures and two worlds.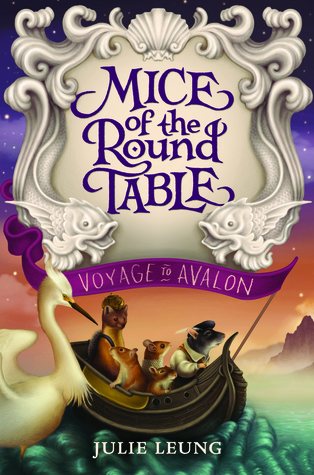 Mice of the Round Table: Voyage to Avalon
Author: Julie Leung
Publisher: HarperCollins Childrens
Date: October 3
SYNOPSIS:
A mysterious curse sparks a dangerous quest in book two of the epic middle grade series ALA Booklist called "a charming blend of Arthurian legend and Brian Jacques's Redwall series."
Young mouse Calib Christopher has nearly completed his training to become a squire to the Knights of Camelot when news of a deadly plague reaches the castle. Soon all of Camelot is showing signs of the illness, animals and humans alike. Desperate to find a cure, Calib and his friend Cecily set off on a voyage to find the healing land of Avalon. But even as their journey takes them over land and sea, back at home, Calib's human friend Galahad discovers that the true enemy may have already found a way inside the castle walls.…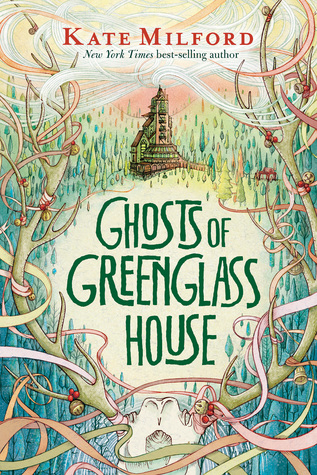 Ghosts of Greenglass House
Author: Kate Milford
Publisher: Clarion Books
Date: October 3
SYNOPSIS:
Welcome back to the irresistible world of Greenglass House where thirteen-year-old Milo is, once again, spending the winter holidays stuck in a house full of strange guests who are not what they seem. There are fresh clues to uncover as friends old and new join in his search for a mysterious map and a famous smuggler's lost haul.
This exciting sequel to a beloved book that was praised in a starred review as "an enchanting, empowering read" is sure to thrill both fans and newcomers. Like its predecessor, it's a smart, suspenseful tale that offers ghosts, friendships, and a cast of unforgettable characters, all wrapped up in a cozy mystery.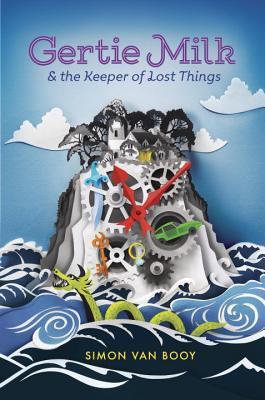 Gertie Milk and the Keeper of Lost Things
Author: Simon Van Booy
Publisher: Razorbill
Date: October 3
SYNOPSIS:
Award-winning author Simon Van Booy introduces readers to a magical, whimsical world, perfect for fans of Circus Mirandus and Serafina and the Black Cloak.
When twelve-year-old Gertie Milk washes up on the island of Skuldark, she finds that all of her memories are gone. Home to helpful Slug Lamps, delicious moonberries, and a ferocious Guard Worm, the island is full of oddities, including a cozy cottage containing artifacts from every corner of history.
It is there that Gertie discovers she has been chosen as the next Keeper of Lost Things, tasked with the mission of returning objects to history's most important figures right when they need them most. With the help of a time machine disguised as a vintage sports car and the guidance of her fellow Keeper, Kolt, Gertie dodges an elephant army in ancient Alexandria, crashes a 1920s flapper party, and battles a ruthless Zhou Dynasty king.
But soon, Gertie encounters an enemy that threatens everything the Keepers stand for: The Losers, villains who don't want to keep order but destroy it. Now, Gertie must uncover the truth of her own past if she wants to stop the Losers and set history back in place.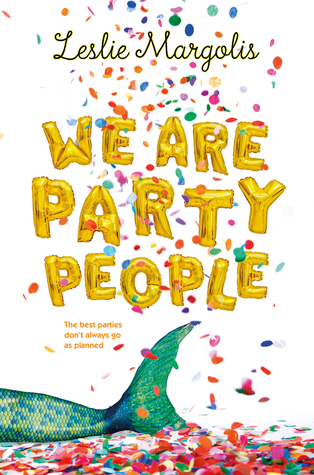 We Are Party People
Author: Leslie Margolis
Publisher: Farrar, Straus, and Giroux
Date: October 3
SYNOPSIS:
A funny and sweet middle-grade novel about friendship, family, and overcoming shyness, perfect for fans of Wendy Mass.
Shy twelve-year-old Pixie is the opposite of her gregarious parents, owners of the top party planning company in town. When Pixie's mom has to go away to support her ailing grandmother, it falls on Pixie to help out with the family business and step into the spotlight—and mermaid costume—her worst nightmare. Along the way she learns important life lessons, like maybe her family isn't so bad after all and that stepping out of her comfort zone might not be as scary as she thought. With a little help from her friends, she discovers her courage and faces her fears.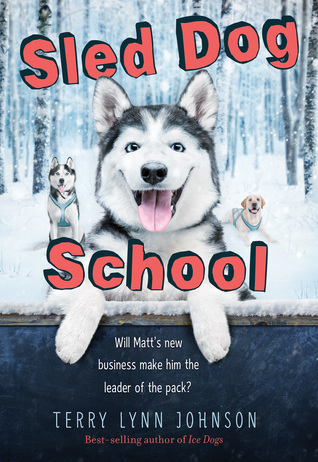 Sled Dog School
Author: Sled Dog School
Publisher: HMH Kids
Date: October 3
SYNOPSIS:
Eleven-year-old Matt is struggling in school and he has to set up his own business to save his failing math grade. But what is he even good at? The only thing he truly loves is his team of dogs, and so Matt's Sled Dog School is born. Teaching dogsledding should be easy, right? But people, just like dogs, can be unpredictable. And sometimes the bravest thing a person can do is admit they need help.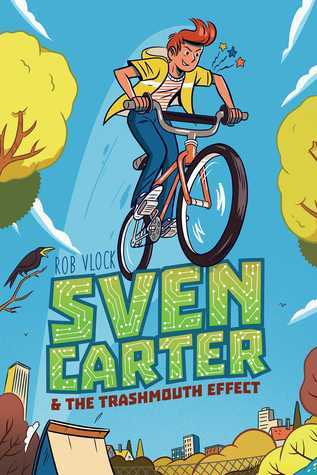 Sven Carter and the Trashmouth Effect
Author: Rob Vlock
Publisher: Aladdin
Date: October 3
SYNOPSIS:
Sven Carter—part boy, part robot—is on a mission to save himself from destroying the human race in this fun and funny MAX novel!
Ever since Sven Carter was caught eating a moldy blueberry muffin under the gym bleachers, earning himself the nickname "Trashmouth," he's been his school's biggest outcast.
But he soon discovers that having a lame nickname is the least of his worries. After a horrible wipeout involving a bike, a ramp, and a chocolate-anchovy-garlic-mint wedding cake (don't ask), his left arm just…well, it falls off. But before Sven can even remove the stray anchovy from his nostril, his arm drags itself across the pavement and reattaches itself to his shoulder!
That's when Sven learns he's not a kid at all, but a "Tick"—a high-tech synthetic humanoid created as part of an elaborate plot to destroy the human race. Now Sven, his best friend Will, and his tough-as-nails classmate Alicia must face down a host of horrors—killer clown-snakes, a giant Chihuahua, the stomach-churning Barf Bus, murderous roast chickens, and even Sven's own brain—to save humanity from permanent extinction.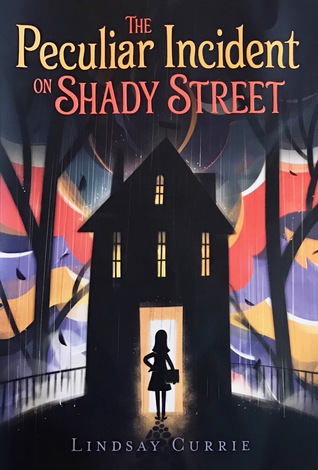 The Peculiar Incident on Shady Street
Author: Lindsay Currie
Publisher: Aladdin
Date: October 10
YAYOMG!:
It's hard to put into words exactly how much we loved this book. It's a ghost story but it's also a really fun adventure. Check out our interview with author Lindsay Currie for more about what inspired the her to write Tessa's story and her love of spooky things.
SYNOPSIS:
A girl unravels a centuries-old mystery after moving into a haunted house in this deliciously suspenseful mystery.
Tessa Woodward isn't exactly thrilled to move to rainy, cold Chicago from her home in sunny Florida. But homesickness turns to icy fear when unexplainable things start happening in her new house. Things like flickering lights, mysterious drawings appearing out of nowhere, and a crackling noise she can feel in her bones.
When her little brother's doll starts crying real tears, Tessa realizes that someone—or something—is trying to communicate with her. A secret that's been shrouded in mystery for more than one hundred years.
With the help of three new friends, Tessa begins unraveling the mystery of what happened in the house on Shady Street—and more importantly, what it has to do with her!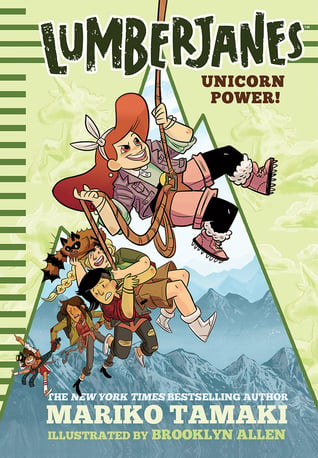 Lumberjanes: Unicorn Power!
Author: Mariko Tamaki
Illustrator: Brooklyn Allen
Publisher: Amulet Books
Date: October 10
YAYOMG!:
Everyone's favorite hardcore lady-types are back in action, this time in novel form! Just because it isn't a comic book doesn't mean it's any less fun. Fans of the Lumberjanes comics will absolutely love this new adventure, complete with unicorns, awesome illustrations, and the hilarious and fun characters you love. We're giving away a copy this month, so be sure to check back!
SYNOPSIS:
Welcome to Miss Qiunzella Thiskwin Penniquiqul Thistle Crumpet's Camp for Hardcore Lady Types. The five scouts of Roanoke cabin—Jo, April, Molly, Mal, and Ripley—love their summers at camp. They get to hang out with their best friends, earn Lumberjane scout badges, annoy their no-nonsense counselor Jen . . . and go on supernatural adventures. That last one? A pretty normal occurrence at Miss Qiunzella's, where the woods contain endless mysteries.
Today is no exception. When challenge-loving April leads the girls on a hike up the TALLEST mountain they've ever seen, things don't go quite as planned. For one, they didn't expect to trespass into the lands of the ancient Cloud People, and did anyone happen to read those ominous signs some unknown person posted at the bottom of the mountain? Also, unicorns.
This hilarious, rollicking adventure series brings the beloved Lumberjanes characters into a novel format with brand-new adventures.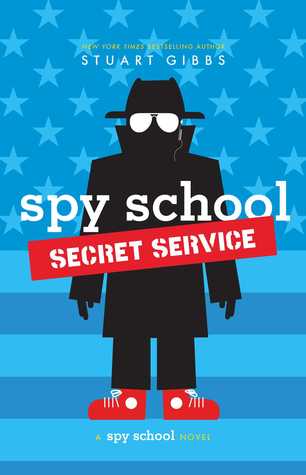 Spy School Secret Service
Author: Stuart Gibbs
Publisher: Simon and Schuster Books for Young Readers
Date: October 10
SYNOPSIS:
Ben goes undercover in the White House to take on a SPYDER operative determined to assassinate the president in this latest addition to the New York Times bestselling Spy School series.
Thirteen-year-old Ben Ripley has had a lot of field success despite only just beginning his second year at Spy School, something graduates rarely experience. But he'd never have survived without the help from experienced agents and his friends.
Now he's been called in on a solo mission—and the fate of the United States of America is on his shoulders alone.
The Mission: Prevent a presidential assassination by infiltrating the White House, and locating the enemy operative. But when the president's son is as helpful as a hamster, and a trained SPYDER agent would never appear to be up to something (they're far too clever for that), Ben may be in over his head this time.
And when everything goes wrong, Ben must rely on his Spy School friends to save his reputation…but even friends can double-cross or be swayed to the enemy's side.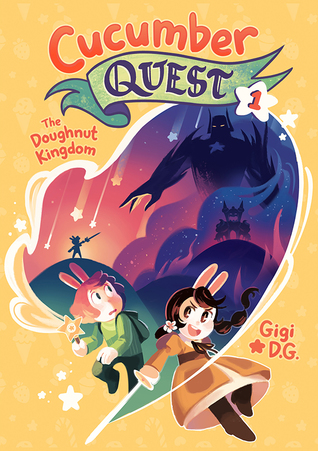 Cucumber Quest: The Doughnut Kingdom
Creator: Gigi D.G.
Publisher: First Second
Date: October 10
SYNOPSIS:
What happens when an evil queen gets her hands on an ancient force of destruction?
World domination, obviously.
The seven kingdoms of Dreamside need a legendary hero. Instead, they'll have to settle for Cucumber, a nerdy magician who just wants to go to school. As destiny would have it, he and his way more heroic sister, Almond, must now seek the Dream Sword, the only weapon powerful enough to defeat Queen Cordelia's Nightmare Knight.
Can these bunny siblings really save the world in its darkest hour?
Sure, why not?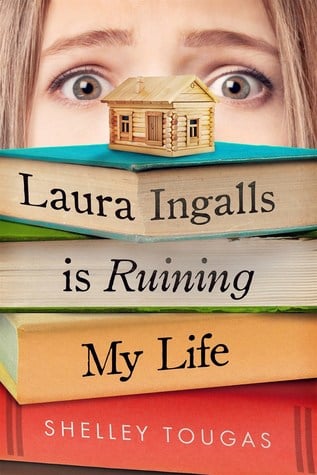 Laura Ingalls is Ruining My Life
Author: Shelley Tougas
Publisher: Roaring Brook Press
Date: October 10
SYNOPSIS:
A life on the prairie is not all it's cracked up to be in this middle-grade novel where one girl's mom takes her love of the Little House series just a bit too far.
Charlotte's mom has just moved the family across the country to live in Walnut Grove, "childhood home of pioneer author Laura Ingalls Wilder." Mom's idea is that the spirit of Laura Ingalls will help her write a bestselling book. But Charlotte knows better: Walnut Grove is just another town where Mom can avoid responsibility. And this place is worse than everywhere else the family has lived—it's freezing in the winter, it's small with nothing to do, and the people talk about Laura Ingalls all the time. Charlotte's convinced her family will not be able to make a life on the prairie—until the spirit of Laura Ingalls starts getting to her, too.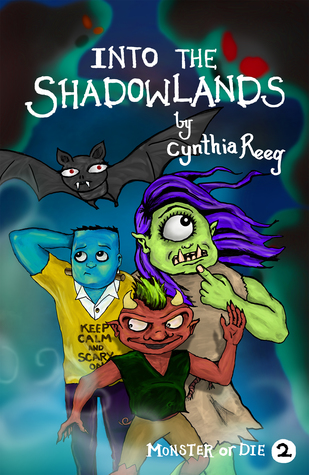 Monster or Die: Into the Shadowlands
Author: Cynthia Reeg
Publisher: Jolly Fish Press
Date: October 10
SYNOPSIS:
In this tale of two monsters, seventh-grade troll Malcolm McNastee is on a mission to rid Uggarland of misfits, especially Frankenstein (Frank) Frightface Gordon. Much to Malcolm's horror, Frank rescued Malcolm's disgraced dad from exile. This unspeakable act could tarnish Malcolm's true-blood troll reputation. On the other claw, Frank–a neat freak who's never fit the normal monster mode–must quickly reform under a new Uggarland law. If he doesn't, he could face exile–or worse. Malcolm decides to regain his good-monster standing by leading Frank and a band of misfits into the dangerous Shadowlands–where many enter and few emerge unscathed. Frank and Malcolm must brave the Shadowlands' perils, realizing that even if they make it out alive, their lives will never be the same.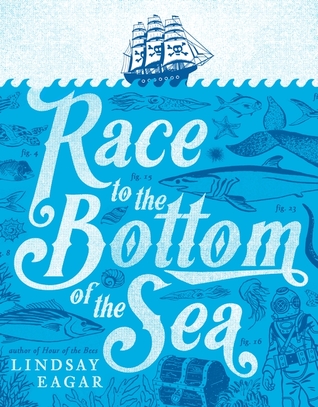 Race to the Bottom of the Sea
Author: Lindsay Eagar
Publisher: Candlewick Press
Date: October 10
SYNOPSIS:
Can a clever young inventor uncover a ruthless pirate's heart of gold?
Thrilling sea adventure takes on a hint of steampunk in the second book by the author of the acclaimed Hour of the Bees.
When her parents, the great marine scientists Dr. and Dr. Quail, are killed in a tragic accident, eleven-year-old Fidelia Quail is racked by grief — and guilt. It was a submarine of Fidelia's invention that her parents were in when they died, and it was she who pressed them to stay out longer when the raging Undertow was looming. But Fidelia is forced out of her mourning when she's kidnapped by Merrick the Monstrous, a pirate whose list of treasons stretches longer than a ribbon eel. Her task? Use her marine know-how to retrieve his treasure, lost on the ocean floor. But as Fidelia and the pirates close in on the prize, with the navy hot on their heels, she realizes that Merrick doesn't expect to live long enough to enjoy his loot. Could something other than black-hearted greed be driving him? Will Fidelia be able to master the perils of the ocean without her parents — and piece together the mystery of Merrick the Monstrous before it's too late?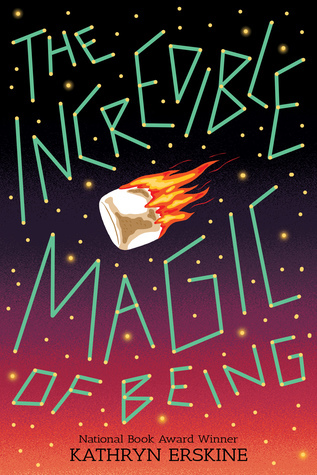 The Incredible Magic of Being
Author: Kathryn Erskine
Publisher: Scholastic
Date: October 10
SYNOPSIS:
Some might say Julian is sheltered. But he lives large, and his eternal optimism allows him to see infinite possibilities wherever he looks.
Despite his optimism, he is anxious about his stressed family falling apart. Even his ability to "uni-sense" what's happening with his sister is gone. If he can make his family focus on the magic in the universe, surely they'll appreciate life again. Now that they are moving from Washington, DC, to rural Maine, Julian can use his beloved telescope without any light pollution. He can discover a comet, name it for himself, and show his family how they're all truly connected.
As Julian searches the night sky, he encounters a force that may drive his plan apart. His neighbor, Mr. X, could bring an end to his parents' dream of opening their B&B. Could one negative force unravel everything? An avid student of science, Julian understands that there is much about the universe that we don't yet know. Who is to say what's possible and what's not?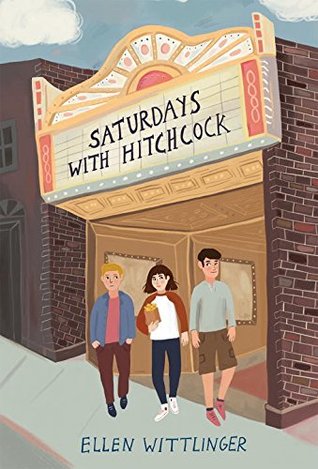 Saturdays with Hitchcock
Author: Ellen Wittlinger
Publisher: Charlesbridge
Date: October 10
SYNOPSIS:
Twelve-year-old movie-loving Maisie is in need of a distraction from her current romantic dilemma when her Uncle Walt comes to stay with her family after being hurt on the set of the movie he's filming in Hollywood.
Maisie's best friend, Cyrus, has been hanging out a lot with Gary Hackett, whose last-name sounds to Maisie like a cat barfing up a hairball. When it seems as if Hackett might like Maisie romantically, she's none too pleased, and Cyrus is even less impressed.
Uncle Walt has a way of pointing Maisie in the right direction, and Maisie's love of movies also keeps her centered. Heading to the local independent theater on Saturdays to see old movies helps Maisie stay grounded as she struggles with growing up, family tensions, a grandma who seems to be losing her memory, and a love triangle she never expected.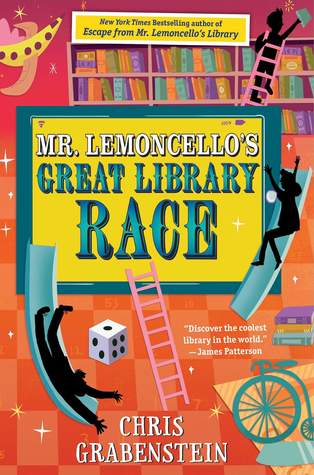 Mr. Lemoncello's Great Library Race
Author: Chris Grabenstein
Publisher: Random House Books for Young Readers
Date: October 10
SYNOPSIS:
#1 New York Times bestselling author Chris Grabenstein is back with the third fantastically fun, puzzle-packed MR. LEMONCELLO adventure!
On your marks. Get set. Lemon, cello, GO!
Everyone's favorite game maker, Mr. Lemoncello, is testing out his new FABULOUS FACT-FINDING FRENZY game! If Kyle can make it through the first round, he and the other lucky finalists will go on a great race–by bicycle, bookmobile, and even Mr. Lemoncello's corporate banana jet!–to find fascinating facts about famous Americans. The first to bring their facts back to the library will win spectacular prizes! But when a few surprising "facts" surface about Mr. Lemoncello, it might be GO TO JAIL and LOSE A TURN all at once! Could Kyle's hero be a fraud? It's winner take all, so Kyle and the other kids will have to dig deep to find out the truth before the GAME is OVER for Mr. Lemoncello and his entire fantastic empire!
Filled with brand-new puzzles and games (including a hidden bonus puzzle!), this fast-paced read will have gamers and readers alike racing to the finish line because, like Mr. Lemoncello's commercials say, IS IT FUN? . . . HELLO! IT'S A LEMONCELLO!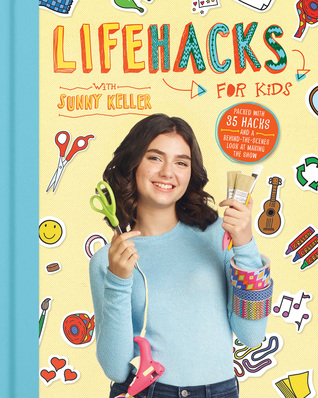 Life Hacks for Kids
Author: Sunny Keller
Publisher: HMH Books for Young Readers
Date: October 10
SYNOPSIS:
Life Hacks for Kids, a top-rated YouTube show starring Sunny Keller, comes alive in the pages of this completely original and unique book. Packed with 35 popular "hacks" from the show, plenty of original photographs, and behind-the-scenes glimpses of the creation of the show, this book is sure to be a hit with fans of the show as well as kids who love to make something out of nothing. Hacks include purrrfect pet hacks, delicious snack hacks, awesome room hacks, ridiculous rainy-day hacks, and much, much more!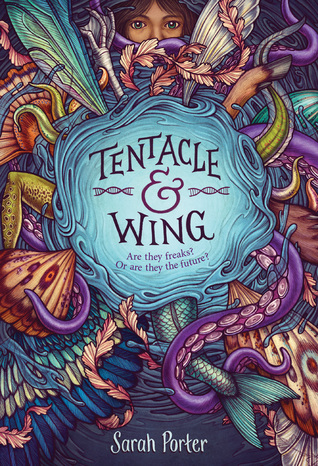 Tentacle and Wing
Author: Sarah Porter
Publisher: HMH Books for Young Readers
Date: October 10
SYNOPSIS:
Twelve-year-old Ada is a Chimera, born with human and animal DNA thanks to a genetic experiment gone wrong. Because being a "kime" is believed to be contagious, she has kept her condition—complete with infrared vision—hidden. But a surprise test outs her, and Ada is shipped off to a quarantined school for kimes.
There Ada meets kids of many different shapes, stripes, and appendages, such as a girl with dragonfly wings and a seal-boy. As she adjusts to her new life, Ada senses that the facility is keeping a secret that could upend everything the world knows about Chimeras. But will someone put a stop to her efforts to uncover the truth?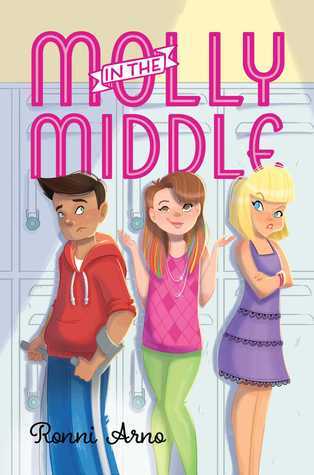 Molly in the Middle
Author: Ronni Arno
Publisher: Aladdin
Date: October 10
SYNOPSIS:
A girl finds herself in the middle of a big decision—follow the crowd or follow her heart—in this hilarious M!X novel.
Twelve-year-old Molly Mahoney is in the middle of everything. She's in the middle of her parent's impending divorce. She's in the middle of her rebellious older sister and her lazy younger sister. She's in the middle of her class, ranked at exactly 143 out of 286. Even her name (first and last!) places her right in the middle of the alphabet. And after a morning where her parents forget to drive her to school, and the field trip she was supposed to be on leaves without her, Molly decides it's time to figure out how she can finally be in the spotlight—and stop being invisible.
But her new, outlandish ways put her in a different middle altogether. She now finds herself in the middle of her new, popular group of friends, who think the New Molly is amazing and bold, while her old BFF, Kellan thinks the New Molly is mean and aloof and headed for trouble. What's worse, Kellan doesn't hide his feelings. Faced with a probable future in a wheelchair, Kellan doesn't understand why Molly would risk getting in trouble just to be popular. So when Molly has to choose between going to the year's biggest party with her new pals, or participating in the Muscular Dystrophy Walk with Kellan, she's stuck in the middle once again. Can Molly reconcile the Old Molly with New Molly—and figure out the best way to make her mark?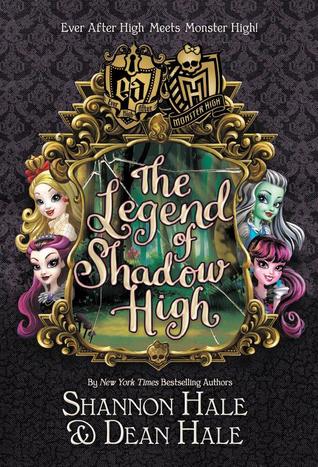 Monster High/Ever After High: The Legend of Shadow High
Author: Shannon & Dean Hale
Publisher: Little, Brown Books for Young Readers
Date: October 17
YAYOMG!:
Monster High and Ever After High fans, this is the spelltacular moment you've been waiting for! The Legend of Shadow High shows the connection between Monster High, Ever After High, and other parts of the World of Stories.
SYNOPSIS:
A dangerous story is bubbling and almost all the Narrators are scared to tell it. Cracks in the World of Stories are spreading, and the ominous Shadow High is gaining power. Only one young, brave Narrator, Brooke Page, is ready to tell this tale.
As the first cracks show, Frankie and Draculaura are accidentally transported to Ever After High, where they meet Raven Queen and Apple White. After the girls recover from the shock of learning that fairytales and monsters are real, they discover that the Evil Queen has escaped her mirror prison in search of the ultimate power, hidden in Shadow High. Frankie, Raven, Draculaura, Apple, and Brooke must stop the Evil Queen and save the World of Stories from the evil that lurks in Shadow High!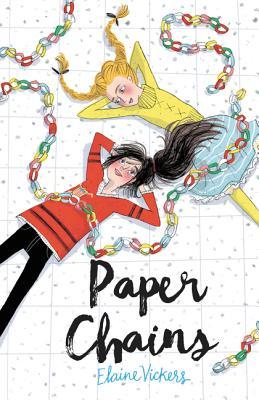 Paper Chains
Author: Elaine Vickers
Illustrator: Sara Not
Publisher: HarperCollins Childrens
Date: October 17
SYNOPSIS:
From the author of critically acclaimed Like Magic comes another sweet middle grade story about friendship, family, and discovering where you fit in the world.
Katie and Ana are the kind of friends who share everything with each other. But there are some things you can't even share with your best friend.
Katie has always known she was adopted, but recently she's been wondering about her birth parents and her birthplace. She worries that saying this out loud—even to her best friend—could mess up the perfect family she has now.
Ana's family has been falling apart ever since her dad left, and it's up to her to hold it together. But Ana fears no matter how hard she tries, her family may never be whole again.
At a time when they need each other the most, the links between the girls are beginning to break. Before they lose each other, they must work through the tangles of secrets to the shining truth underneath: friendship, just like family, is worth fighting for.

Munchem Academy: The Girl Who Knew Even More
Author: Commander S.T. Bolivar III
Publisher: Disney-Hyperion
Date: October 17
SYNOPSIS:
Spring has come to Munchem Academy. The snow is melting, the roof is leaking, and Mr. Larimore is now in charge. Mattie is worried, though. Mr. Larimore is taking the whole "let's help Headmaster Rooney get back on his feet" thing seriously, and he's whispering all sorts of suggestions to the highly suggestible Rooney.
Then there's the matter of the school's weather. It's getting . . . strange. Mini-tornados sweep up out of nowhere. Rain pours inside. And there was that snowstorm-that yellow snowstorm-that lasted for two days.
Once Mattie, Caroline, and Eliot figure out what's causing the chaos (the Weather-matic 9000), who's causing the chaos (Mr. Larimore), and why it's a chaotic an idea (weather weapons!), they need to act. Fast.
There's only one thing to do: save Mr. Larimore-and the world-from Mr. Larimore. It's a tall order for a short kid, but Mattie has a plan. After all, what's a little breaking and entering among friends?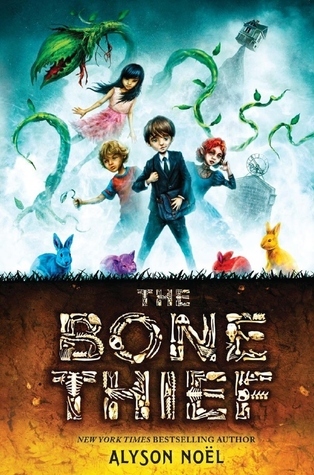 The Bone Thief
Author: Alyson Noel
Publisher: Delacorte Books for Young Readers
Date: October 17
SYNOPSIS:
A ragtag team of eleven-year olds with otherworldly abilities set out to solve the mystery behind the sudden onset of ordinary events plaguing their very unusual town.
Compared to other more ordinary towns, Quiver Hollows is a very strange, very curious place. It is also home to longtime friends Grimsly, Ollie, Ming, and Penelope. In a town where everyone is spectacularly abnormal, Grimsly feels bad about being terribly, unforgivably normal, as the town's pet funeral director. So when a series of strange and disturbing mundane occurrences begins plaguing Quiver Hollows, well, Grimsly fears his growing celebrity just might be to blame since everyone knows that the things you focus on the most have an uncanny way of shaping your world.
The group of friends also learn that the bones in the pet cemetery are thought to be the source of the strange magic that binds the town of Quiver Hollows. With the bones now gone, the town's magic is quickly dissipating. Will it ultimately become as common and ordinary as everywhere else?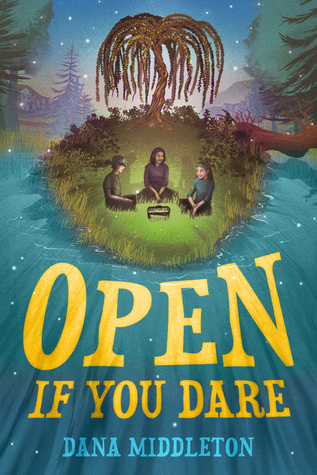 Open If You Dare
Author: Dana Middleton
Publisher: Feiwel & Friends
Date: October 17
SYNOPSIS:
Like Birdie Adams didn't have enough problems this summer. But Birdie's Birdie. And if a long-buried box has "Open if you dare" written on its lid, then Birdie and her best friends, Ally and Rose, are going to open it.
And now, along with everything else that's going on–Ally's pitching slump, Rose's banishment to Britain, and Birdie's annoying younger sister being, you know, annoying–the best friends are caught up in solving a mystery planted by a dead girl forty years ago.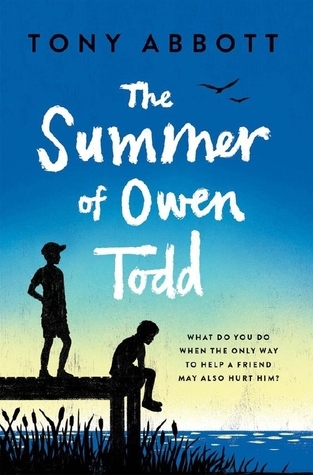 The Summer of Owen Todd
Author: Tony Abbott
Publisher: Farrar, Straus, and Giroux
Date: October 17
YAYOMG!:
We haven't read this one yet, but we just wanted to make a note that this book might be best for more mature readers or as a family read-along. There are sensitive topics that may be unsettling for younger readers such as abuse, suicide, and loss. While our suggestions on YAYOMG! are generally for the traditional 9-12 "middle grade" audience, this one falls a bit older on the scale, somewhere between middle grade and YA, being targeted at readers ages 10-14.
SYNOPSIS:
Owen and his best friend, Sean, are both eleven years old. They've lived on Cape Cod all their lives, and now that they're a little older, they'll finally be free to spend some time on their own. But Sean's mother has a different idea–she hires a babysitter to look after Sean. Paul is in his twenties, and a well-liked guy from church.
Paul starts doing things that just feel wrong. Because they've always been as close as brothers, Sean tells Owen, and no one else. What's not certain to Owen is what he should do. Sean warns him not to tell anyone what is happening. But if Owen doesn't tell, could something even worse happen to Sean?
This harrowing and sensitively told tale of child abuse is a must-read for anyone who might ever be called upon to help a friend in need.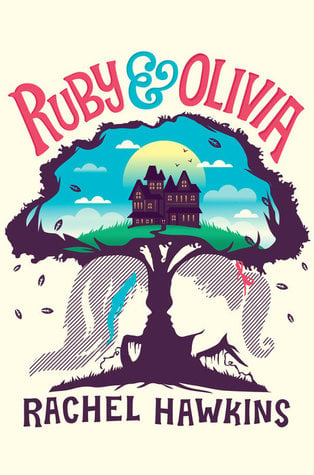 Ruby and Olivia
Author: Rachel Hawkins
Publisher: G.P. Putnam's Sons Books for Young Readers
Date: October 24
SYNOPSIS:
A spooky middle-grade story that's full of fun, friendship, and humor–perfect for fans of Ingrid Law and Lisa Graff.

Ruby is best friends with Emma, but she and Emma's twin sister Olivia are definitely not friends. Unfortunately, Emma will be away for the summer, while Ruby and Olivia are going to be stuck at a community service day camp for troublemakers–together.
To kick off the spirit of service, the campers are outfitted with bright pink polka-dotted t-shirts with smiley faces on the front, then tasked with cataloging the contents of an abandoned mansion. Sorting through objects in an old house sounds boring, and working with each other is that last thing the girls want to do, but the stuff is actually pretty cool. There's everything from mink stoles to golf clubs to stuffed deer heads . . . and . . . wait . . . is that stuffed deer head watching them?
When the taps run freezing cold and doors slam inexplicably, Ruby and Olivia wonder if the other campers are having a bit of fun, or if the abandoned mansion is looking for new residents. To solve the mystery, Ruby and Olivia will have to put their grudges aside and figure out how to be a team with or without Emma.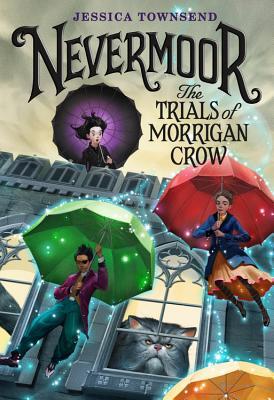 Nevermoor: The Trials of Morrigan Crow
Author: Jessica Townsend
Publisher: Little, Brown Books for Young Readers
Date: October 31
SYNOPSIS:
A breathtaking, enchanting new series by debut author Jessica Townsend, about a cursed girl who escapes death and finds herself in a magical world–but is then tested beyond her wildest imagination
Morrigan Crow is cursed. Having been born on Eventide, the unluckiest day for any child to be born, she's blamed for all local misfortunes, from hailstorms to heart attacks–and, worst of all, the curse means that Morrigan is doomed to die at midnight on her eleventh birthday.
But as Morrigan awaits her fate, a strange and remarkable man named Jupiter North appears. Chased by black-smoke hounds and shadowy hunters on horseback, he whisks her away into the safety of a secret, magical city called Nevermoor.
It's then that Morrigan discovers Jupiter has chosen her to contend for a place in the city's most prestigious organization: the Wundrous Society. In order to join, she must compete in four difficult and dangerous trials against hundreds of other children, each boasting an extraordinary talent that sets them apart–an extraordinary talent that Morrigan insists she does not have. To stay in the safety of Nevermoor for good, Morrigan will need to find a way to pass the tests–or she'll have to leave the city to confront her deadly fate.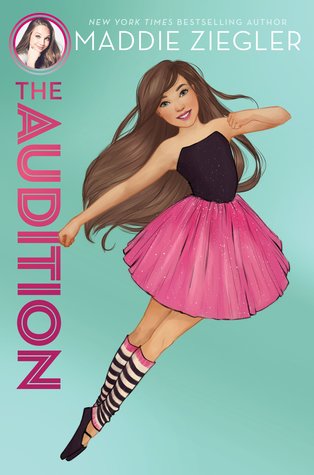 The Audition
Author: Maddie Ziegler
Publisher: Aladdin
Date: October 31
SYNOPSIS:
From Dance Moms star and So You Think You Can Dance: The Next Generation judge Maddie Ziegler comes the first novel in a brand-new middle grade trilogy about friendship, dance, and going after your dreams.
Twelve-year-old Harper has been dancing practically since she learned to walk. She loves her dance studio and team, and just won her first ever top junior solo in a regional competition. But right before the school year starts, Harper's parents drop a bombshell—the family has to relocate from their cozy town in Connecticut to sunny Florida for their jobs. That means saying goodbye to her friends, dance team, trips to see shows in NYC—and did she mentioned dance team?
While her parents reassure her that they will find her a new studio as soon as they move, Harper is not happy. When she arrives, she realizes that the competition in Florida will be fierce and it doesn't matter how talented she is—she is the new girl and will have to prove herself. During her very first class, Harper finds it harder than she thought it would be. Even though they are all the same age and have been dancing for roughly the same amount of time, it feels like everyone has better feet, quicker turns, and faster taps than Harper. And it doesn't help that a group of girls, who nicknamed themselves The Bunheads, wonder how she made the team if she can't even do a simple turn sequence in front of the class.
Thankfully, Harper befriends Lily, a fellow newbie in the studio who is just as eager to make her mark and find a friendly face. With a big competition coming up for the dance team, Harper is determined to show everyone—especially those Bunheads—what she's made of! And when a very badly timed sprained ankle threatens all of the work they have done, the Bunheads, Lily, and Harper must learn to truly work together to give them their best shot at the top spot!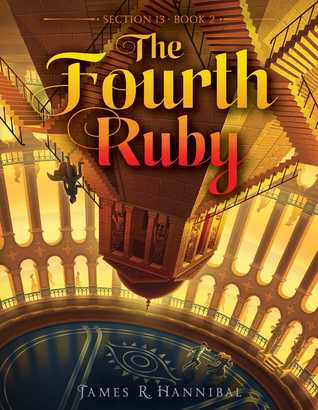 The Fourth Ruby
Author: James R. Hannibal
Publisher: Simon & Schuster Books for Young Readers
Date: October 31
YAYOMG!:
The exciting sequel to The Lost Property Office is almost here! We have an interview lined up with James R. Hannibal for later this month, so be sure to check back!
SYNOPSIS:
Jack and Gwen are back in this dynamic follow-up to The Lost Property Office.
It's been a year since Jack Buckles discovered the Keep beneath Baker Street, an underground tower no Section Thirteen was ever supposed to see; a year since his dad fell into a coma. Nothing has been the same since. Jack's tracker abilities are on the fritz, Gwen's not speaking to him and, what's worse, there's a pounding voice in his head calling for "the flame."
Jack and Gwen are framed for the theft of a historic crown jewel—the Black Prince's Ruby, one of three cursed rubies said to bring knowledge, loyalty, and the command of nations to whomever wields them all. Now, they must retrieve the other jewels before the true thief does, or risk unleashing a reign of terror unlike anything history's ever seen.

Better Off Undead
Author: James Preller
Publisher: Feiwel & Friends
Date: October 31
SYNOPSIS:
Adrian Lazarus has met with a curious fate. He's returned from the dead (after a bad bike accident, no helmet), yet not a lot has changed. He's always been an outcast. But it's not just being a zombie that makes Adrian feel different. He notices the world has changed, too: bees are vanishing, forest fires are burning, super-flus are spreading. The holographic advertisements in the night sky assure people that all is well. Adrian and his friends – a beekeeping boy, a mysterious new girl, and a seventh-grade sleuth – aren't so sure.
When they discover a birdlike drone has been spying on Adrian, the clues lead to two powerful corporate moguls. What do they really want?
James Preller brings his singular humor to Better Off Undead, a middle-grade zombie story that's about fitting in as much as it's about the end of the world.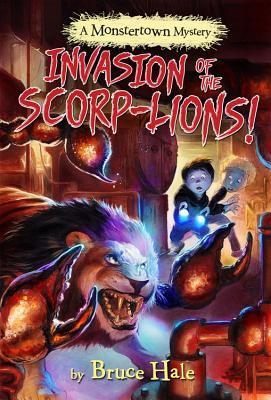 Monstertown Mysteries: Invasion of the Scorp-lions
Author: Bruce Hale
Publisher: Disney-Hyperion
Date: October 31
SYNOPSIS:
Something is very wrong at Monterrosa Elementary–again. Weird noises and funky smells are coming through the classroom vents. Could the school be haunted? When one of their classmates falls into a coma, best friends Carlos and Benny know it's time to call in the best monster hunters they know: each other. This may well be their wackiest extermination challenge yet! In his third Monstertown Mystery, Bruce Hale delivers another silly, strange, and spooky tale for readers who like their chills with a side of chuckles.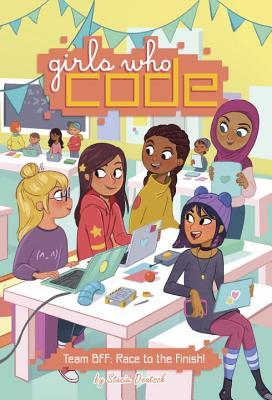 Girls Who Code: Team BFF: Race to the Finish
Author: Stacia Deutsch
Publisher: Penguin Workshop
Date: October 31
SYNOPSIS:
Perfect for fans of The Babysitters Club and anyone interested in computer science, this series is published in partnership with the organization Girls Who Code!
Sophia and her coding club BFFs have the best time together. Sure, they work on coding projects, but mostly they gossip about crushes, eat cookies, and do totally silly impersonations. Now they're about to participate in their first hackathon–a full day of coding and meeting other coders–so it's time to step up their game!
Just when Sophia and her friends think their hackathon project is ready for the big time, a change of plans threatens to tear their group apart. Will they have each other's backs, or are they destined for an epic fail? They know that coding is all about teamwork and problem-solving–maybe friendship is, too!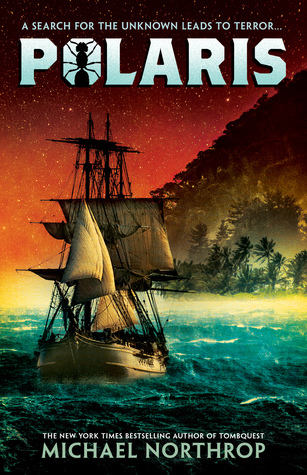 Polaris
Author: Michael Northrop
Publisher: Scholastic Press
Date: October 31
SYNOPSIS:
Alone at sea, with only the stars to guide them…
The proud sailing ship Polaris is on a mission to explore new lands, and its crew is eager to bring their discoveries back home. But when half the landing party fails to return from the Amazon jungle, the tensions lead to a bloody mutiny. The remaining adults abandon ship, leaving behind a cabin boy, a botanist's assistant, and a handful of deckhands — none of them older than twelve. Troubled by whispers of a strange tropical illness and rumors of a wild beast lurking onshore, the young sailors are desperate to steer the vessel to safety. When one of their own already missing and a strange smell drifting up from belowdecks, the novice crew begins to suspect that someone — or something — else is onboard. Having steeled themselves for the treacherous journey home, they now have more to fear than the raging waters of the Atlantic…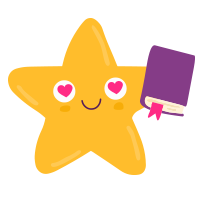 So many exciting new books to choose from! Don't know where to start? Try a quiz instead!