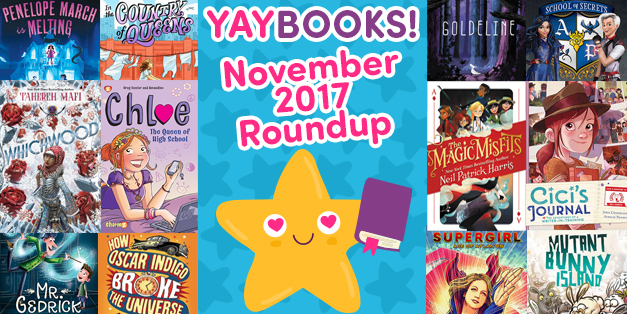 YAYBOOKS! November 2017 Roundup
Our November list doesn't have quite as many new releases as the past few, but that certainly doesn't mean that they're lacking in quality. Some of the books releasing this month are ones we've been looking forward to all year!
Less new books may seem like a bad thing, but honestly, it's a good thing! It means more time to catch up on any books you may have missed throughout the year, more time to finalize your YAYOMG! Book Bingo card before the year is up, and most importantly, more time to spend with your families as the holidays start to roll in. These 17 books and graphic novels are about embracing yourself for exactly who you are, the importance of friendship, and discovering magic in the little things.
YAYBOOKS! November 2017 Roundup: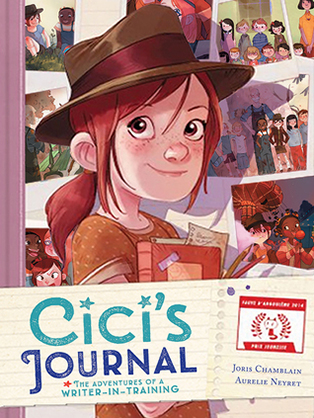 Cici's Journal: The Adventures of a Writer-in-Training
Author: Joris Chamblain
Illustrator: Aurélie Neyret
Publisher: First Second
Date: November 7
YAYOMG!:
So excited that this special graphic novel has finally arrived! A young girl who dreams of writing novels, observing adults, and taking notes about the people and world around her? She's like Harriet the Spy for the modern age. Sprinkle in a little mystery in the form of a strange old man who appears in the forest every Sunday and Cici's journal scribbles, doodles, and observation notes and you've got yourself one totally amazing read.
SYNOPSIS:
Cici dreams of being a novelist. Her favorite subject: people, especially adults. She's been watching them and taking notes. Everybody has one special secret, Cici figures, and if you want to write about people, you need to understand what's hiding inside them. But now she's discovered something truly strange: an old man who disappears into the forest every Sunday with huge pots of paint in all sorts of colors. What is he up to? Why does he look so sad when he comes back?
In a graphic novel interwoven with journal notes, scrapbook pieces, and doodles, Cici assembles clues about the odd and wonderful people she's uncovered, even as she struggles to understand the mundane: her family and friends.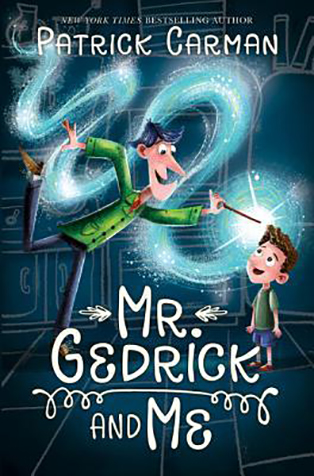 Mr. Gedrick and Me
Author: Patrick Carman
Publisher: Katherine Tegan Books
Date: November 7
SYNOPSIS:
New York Times bestselling author Patrick Carman delivers a modern reimagining of the classic Mary Poppins tale in this story about family, grief, and healing—with a dash of magic!
Stanley Darrow isn't sure what to expect when the mysterious Mr. Gedrick appears on his doorstep. He is certain, however, that his family could use Mr. Gedrick's help: Their lives—and their house—have been a mess since Stanley's dad died.
The strange new nanny quickly helps them transform their cluttered home into a sparkling and spotless version of its former self, but it's going to take more than a clean house to help the Darrow family learn to live and love again.
Can Mr. Gedrick help Stanley, his brother, Fergus, his sister, Amelia, and his mom find their way back to each other? And what secrets of his own is Mr. Gedrick hiding behind his crooked grin?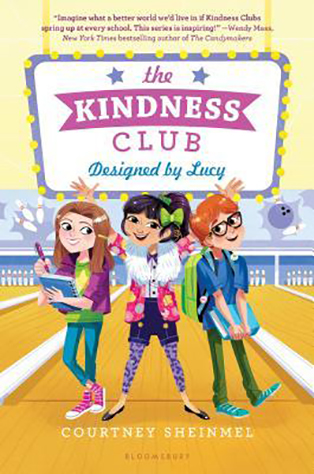 The Kindness Club: Designed by Lucy
Author: Courtney Sheinmel
Publisher: Bloomsbury Children's Books
Date: November 7
SYNOPSIS:
Creative and fashion-forward Lucy Tanaka was thrilled when Chloe Silver moved to town. Together with Theo Barnes, they formed The Kindness Club, testing different acts of kindness on their friends, neighbors, and siblings. One day, Lucy learns that their classmate, Serena, recently lost her mother. On top of that, it's Serena's birthday next weekend. Lucy is determined to lift Serena's spirits, and she knows the perfect way to do it–rallying the Kindness Club to throw Serena the best birthday party ever at her family's bowling alley.
But as unexpected complications arise that threaten to ruin the party, can Lucy find another way to help her new friend during this hard time?
Inspired by kindness projects and anti-bullying campaigns across the country, award-winning author Courtney Sheinmel's delightful series will have all readers thinking kind!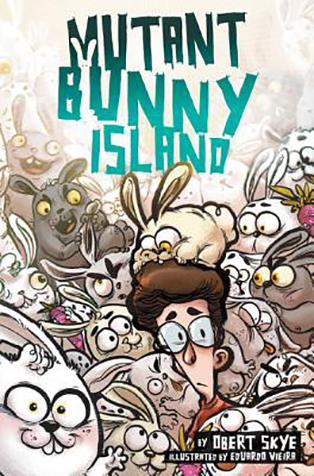 Mutant Bunny Island
Author: Obert Skye
Illustrator: Eduardo Vieira
Publisher: HarperCollins Children's Books
Date: November 7
SYNOPSIS:
Obert Skye, author of the bestselling Leven Thumps series, delivers a delightful mixture of offbeat mystery and laugh-out-loud humor in this thoroughly inventive adventure complete with comic-style illustrations, the first in a trilogy.
Ten-year-old Perry Owens has learned everything he needs to know from comic books. So when Perry receives a troubling message from his favorite uncle, Zeke, he knows exactly what's wrong. Obviously, evil newts wearing trench coats must have kidnapped Zeke. Now they're holding him hostage somewhere on Bunny Island, the remote vacation destination that Zeke calls home.
On his own, Perry travels to Bunny Island, where dozens of bunnies are running wild. One in particular doesn't seem quite right. A creature this cute shouldn't exist in nature. Are there truly evil newts on the loose, or something much stranger…and more disturbingly adorable?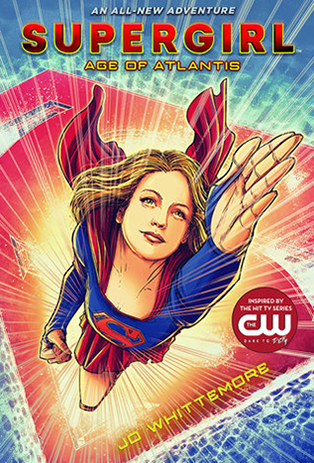 Supergirl: Age of Atlantis
Author: Jo Whittemore
Publisher: Harry N. Abrams
Date: November 7
SYNOPSIS:
Soar into action in this all-new original adventure based on the hit CW TV series, Supergirl!

Supergirl (aka Kara Danvers) has been running across average citizens performing amazing feats all over National City. But that's not even the weirdest thing going on. The Department of Extranormal Operations has captured a mysterious humanoid sea creature. Supergirl must find out what has drawn him to National City, and his connection to this surge of super-citizens. Written by celebrated author Jo Whittemore, this is one adventure fans of the TV series won't want to miss!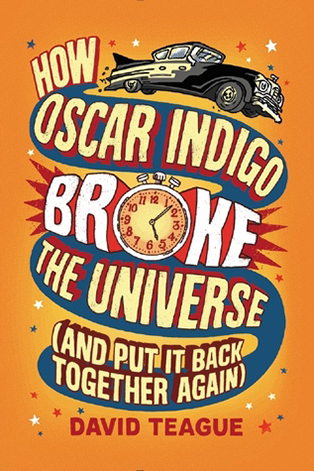 How Oscar Indigo Broke the Universe (And Put it Back Together Again)
Author: David Teague
Publisher: HarperCollins Children's Books
Date: November 7
SYNOPSIS:
From David Teague, the coauthor of the critically acclaimed Saving Lucas Biggs, comes a funny and sweet story about learning to have courage even when it feels like the world is ending.
Oscar Indigo has never been good at baseball, so naturally he's nervous when he has to fill in for his team's injured All-Star, Lourdes. Luckily, Oscar has a mysterious gold watch that can stop time, which he uses to fake a game-winning home run. Now Oscar's the underdog hero of his town and even Lourdes wants to be his friend.
But the universe is a precarious place, and you can't just steal time without any consequences. If Oscar doesn't find a way to return the time he stole, the universe will unwind completely.
Oscar wants nothing more than to ask Lourdes for help, but what would a baseball star like her think of a guy whose fake home run actually destroyed the universe? But as he and Lourdes grow closer, Oscar understands that it isn't always what you do that makes you special—but who you are. And that confidence just might be the key to fixing the universe.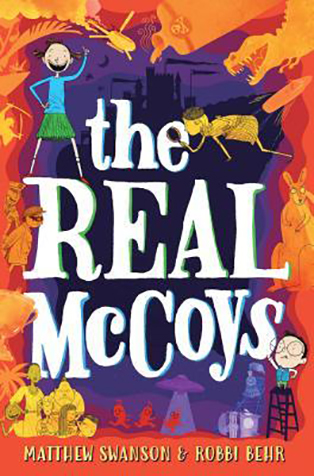 The Real McCoys
Author: Matthew Swanson
Illustrator: Robbi Behr
Publisher: Imprint
Date: November 7
SYNOPSIS:
Her name's Moxie. Moxie McCoy.
Bold, opinionated, and haplessly self-confident, the world's greatest fourth-grade detective faces her biggest challenge! When someone kidnaps beloved school mascot Eddie the Owl, Moxie is on the case–but she's forced to fly solo now that her best friend (and crime-solving partner) has moved away.
Moxie must interview her classmates–both as potential new best friends and as possible suspects. She finds clues and points fingers but can't save the owl on her own. Enter Moxie's little brother, Milton. Quiet, cautious, and boring as a butter knife, he's a good listener.
Can the Real McCoys form an unlikely alliance and solve the crime of the century?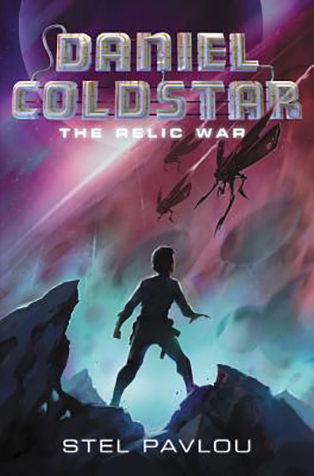 Daniel Coldstar: The Relic War
Author: Stel Pavlou
Publisher: HarperCollins Children's Books
Date: November 7
SYNOPSIS:
An epic and funny outer space adventure from acclaimed science fiction author and screenwriter Stel Pavlou!
Bestselling author of Artemis Fowl Eoin Colfer says of Daniel Coldstar: The Relic War: "Sci-fi has never been so much fun. I loved it!"
Below the surface on a forgotten planet, Daniel Coldstar searches for relics from a lost civilization. Daniel has no memory of his past. All he knows is to do his job and fear the masters of the mines.
Until he unearths a relic more powerful than anything he has ever seen. A relic that might help him escape…
What follows is an epic outer space adventure filled with Truth Seekers, anatoms, Leechers, and the evil Sinja who seek to control the universe.
All that stands in their way is a boy named Daniel Coldstar, whose journey will change the galaxy forever.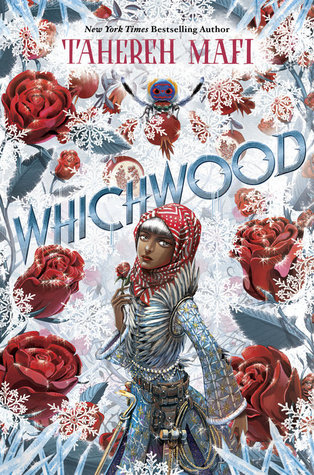 Whichwood
Author: Tahereh Mafi
Publisher: Dutton Books for Young Readers
Date: November 14
YAYOMG!:
When Furthermore came out last year, we went to see Tahereh Mafi speak about the book, and we were simply dazzled before we even read a single page. So when she announced at that very event that she was working on Whichwood, a follow-up companion novel to Futhermore, we nearly lost it with excitement. Futhermore was one of our favorite books of last year, it's incredible detail and uniquely beautiful writing is just out of this world. Now that Whichwood is finally here, we simply can't wait to dive into this dark, magical story rich with Persian fantasy, magic, and friendship. Tahereh Mafi could write nutrition facts on the back of a box of Pop-Tarts and we'd still fangirl over her for all eternity.
SYNOPSIS:
A new adventure about a girl who is fated to wash the bodies of the dead in this companion to Furthermore.
Our story begins on a frosty night…
Laylee can barely remember the happier times before her beloved mother died. Before her father, driven by grief, lost his wits (and his way). Before she was left as the sole remaining mordeshoor in the village of Whichwood, destined to spend her days washing the bodies of the dead and preparing their souls for the afterlife. It's become easy to forget and easier still to ignore the way her hands are stiffening and turning silver, just like her hair, and her own ever-increasing loneliness and fear.
But soon, a pair of familiar strangers appears, and Laylee's world is turned upside down as she rediscovers color, magic, and the healing power of friendship.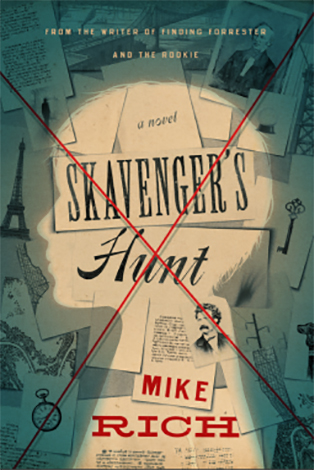 Skavenger's Hunt
Author: Mike Rich
Publisher: Inkshares
Date: November 14
SYNOPSIS:
After young Henry Babbitt tragically loses his father, he can't help but remember the promises of the great adventures they would now never take. Then, on a snowy Christmas Eve, his grandfather reveals that he's tracked down a series of mysterious century-old clues left by Hunter S. Skavenger, the eccentric magnate who launched the first and greatest scavenger hunt.
Hours later, on Christmas Day, Henry finds himself magically transported back to 1885, where he teams up with a ragtag band of youngsters in a quest to solve Skavenger's elaborate puzzle. From New York to the Mississippi riverboats to the streets of old Paris, Henry and his new friends face off not only against brilliant competing teams, but also Skavenger's own dark and elusive nemesis: Hiram Doubt.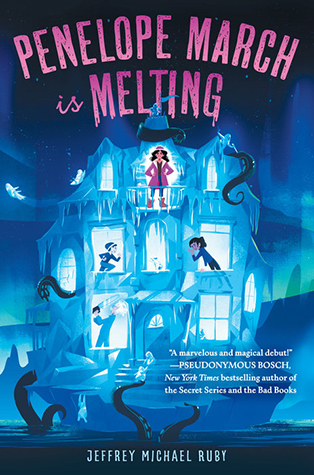 Penelope March is Melting
Author: Jeffrey Michael Ruby
Publisher: Delacorte Books for Young Readers
Date: November 14
SYNOPSIS:
"A marvelous and magical debut!" –Pseudonymous Bosch, New York Times bestselling author of the Secret Series and the Bad Books
An icy-cold mystery adventure to warm your heart—perfect for fans of The Mysterious Benedict Society and Escape from Mr. Lemoncello's Library!
Something sinister has come to Glacier Cove, an icy-cold town that sits on top of an iceberg. Nothing bad ever happens here. Until now. And it's up to Penelope March to stop it.
Mmm-hmm, that Penelope–the bookworm who lives in the ramshackle house with her brother, Miles. The girl with the mom who–poof!–disappeared. The one everyone ignores . . . except strange Coral Wanamaker, a tiny thing with raven-black hair and a black coat.
When Penelope meets someone who seems to know secrets not only about Glacier Cove but about Penelope herself, she and Miles are pulled into an ancient mystery. Together, they'll face the coldest, cruelest enemy ever known. Looks like the girl who only reads about adventures is going to start living one.
Magic cookies! Volcanoes! Penguins! Sea monsters! And a girl hero with the strength and imagination to spring into action.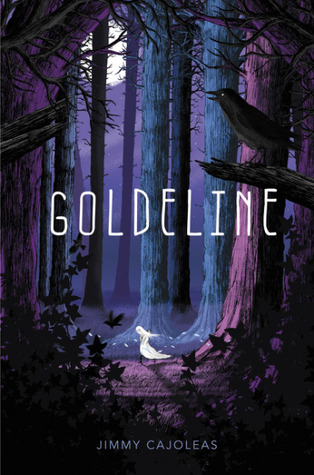 Goldeline
Author: Jimmy Cajoleas
Publisher: HarperCollins Children's Books
Date: November 14
SYNOPSIS:
In this gorgeously written middle-grade debut reminiscent of the work of David Almond and The Thickety, a young girl embarks on an unforgettable journey through a Southern-infused fairy-tale forest filled with dark and wondrous magic.
In the wild, free woods of the Hinterlands, where magic is as real as stories are, there lives a girl named Goldeline. Goldeline has hair as white as summer snow and gold-flecked eyes, and she travels from camp to camp with Gruff and his bandits, getting by on the things they steal from carriages that pass through the woods.
But someone is after Goldeline. The Preacher—the man who wants to cleanse the Hinterlands of anyone who's different, the man who turned the Townies against Goldeline's momma for being a witch—thinks that Goldeline must be a witch, too.
Now Goldeline will have to summon all the courage and magic she got from her momma to escape the Preacher, save her friends, and, maybe, if she's lucky, find a place to call home.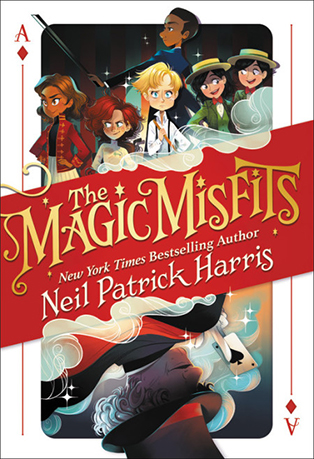 The Magic Misfits
Author: Neil Patrick Harris
Publisher: Little, Brown Books For Young Readers
Date: November 21
SYNOPSIS:
From beloved award-winning actor, Neil Patrick Harris, comes the magical first book in a new series with plenty of tricks up its sleeve.
When street magician Carter runs away, he never expects to find friends and magic in a sleepy New England town. But like any good trick, things change instantly as greedy B.B. Bosso and his crew of crooked carnies arrive to steal anything and everything they can get their sticky fingers on.
After a fateful encounter with the local purveyor of illusion, Dante Vernon, Carter teams up with five other like-minded kids. Together, using both teamwork and magic, they'll set out to save the town of Mineral Wells from Bosso's villainous clutches. These six Magic Misfits will soon discover adventure, friendship, and their own self-worth in this delightful new series.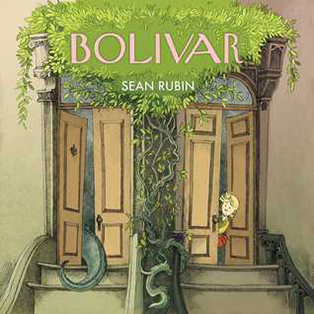 Bolivar
Author and Illustrator: Sean Rubin
Publisher: Archaia
Date: November 21
YAYOMG!:
Bolivar is a picture book/graphic novel aimed at a younger audience, but the story is so sweet and fantastic, we just couldn't resist. If you're looking for a reminder to stop and appreciate the little things in life or something to read to your younger sibling, Bolivar is a wonderful choice. This story will make you believe that anything is possible and have you looking around every corner for an incognito dinosaur everywhere you go.
SYNOPSIS:
What would you do if your neighbor was a dinosaur?
Going extinct isn't for everyone.
Sybil knows that there is something off about her next door neighbor, but she can't seem to get anyone to believe her. Everyone is so busy going about their days in the busy streets of New York City that they don't notice Bolivar. They don't notice his odd height, his tiny arms, or his long tail. No one but Sybil sees that Bolivar is a dinosaur.
When an unlikely parking ticket pulls Bolivar into an adventure from City Hall to New York's Natural History Museum, he must finally make a choice: continue to live unnoticed, or let the city see who he really is.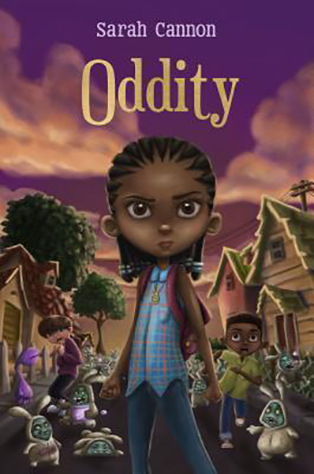 Oddity
Author: Sarah Cannon
Publisher: Feiwel and Friends
Date: November 28
SYNOPSIS:
Welcome to Oddity, New Mexico, where normal is odd and odd is normal.
Ada Roundtree is no stranger to dodging carnivorous dumpsters, distracting zombie rabbits with marshmallows, and instigating games of alien punkball. But things haven't been the same since her twin sister, Pearl, won the town's yearly Sweepstakes and disappeared . . .
Along with her best friend, Raymond, and new-kid-from-Chicago Cayden (who's inability to accept being locked in the gym with live leopards is honestly quite laughable), Ada leads a self-given quest to discover Oddity's secrets, even evading the invisible Blurmonster terrorizing the outskirts of town.
But one of their missions goes sideways, revealing something hinky with the Sweepstakes . . . and Ada can't let it go. Because, if the Sweepstakes is bad, then what happened to Pearl?
Join a tough eleven-year-old as she faces down zombie rabbits, alien mobs, and Puppet Cartels while trying to find her missing twin in Sarah Cannon's imaginative middle-grade debut, Oddity.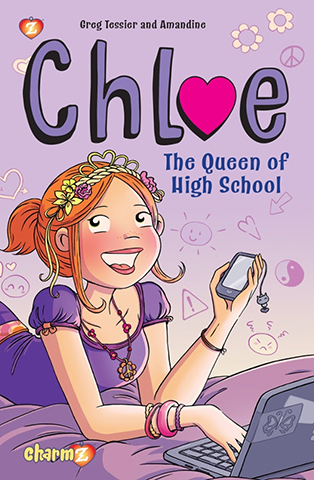 Chloe: The Queen of High School
Author: Greg Tessier
Illustrator: Amandine
Publisher: Charmz
Date: November 28
YAYOMG!:
Loving the second issue of Chloe? Check out our style guide for tips on how to work Chloe's fabulous fashion sense into your everyday life.
SYNOPSIS:
The adventures of Little Missy Chloe continue! Whether it's starting up her own blog, or being whisked away for a family ski vacation, Chloe is always finding new friends and worrying about how to hold on to old ones. Will Alex stay true even when he's at another school?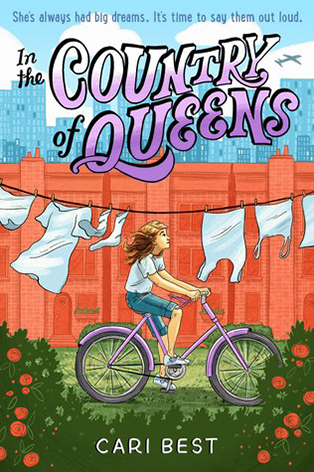 In the Country of Queens
Author: Cari Best
Publisher: Farrar Straus, and Giroux
Date: November 28
SYNOPSIS:
Eleven-year-old Shirley Alice Burns lives with her domineering mother, Hurricane Anna, and loving Grandmother. One day she unexpectedly discovers that her beloved father isn't in Absentia as her family would have her believe, but dead. And she understands all too well why they haven't told her; she's always been shy and quiet, and Anna has always been protective of her. But if Shirley doesn't start speaking up, she isn't going to be able to do the things she wants to do: go on vacation to Lake Winnipesaukee with her cousins, stop taking ballet lessons, and talk about her father. Through the help of a mouse, her hero Pippi Lockstocking, and her cousin Phillie, Shirley finds the strength to give her dreams a voice and convince everyone, even Hurricane Anna, that she doesn't need to be sheltered, especially from the truth.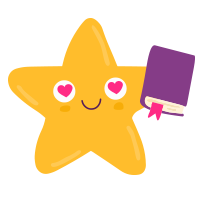 With the year coming to an end, we're excited to put together our picks for the 2nd Annual YAYOMG! Super Duper Official Book Awards. Definitely check back for that in the next few weeks, but in the meantime, why not enter our giveaway for a copy of the Garfield: The Thing in the Fridge graphic novel?