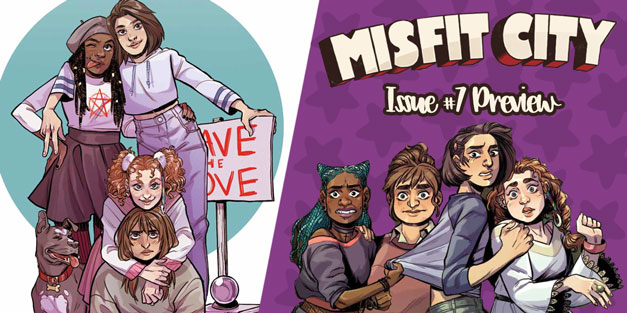 Misfit City #7 – Costumes, Curses, and the Return of Black Mary
Misfit City #7 is out today and we can't say enough good things about it. There's never a dull moment – the action will have you on the edge of your seats and the jokes are totally on point. We laughed out loud for real and not just the way you sometimes say LOL even though you're not really laughing.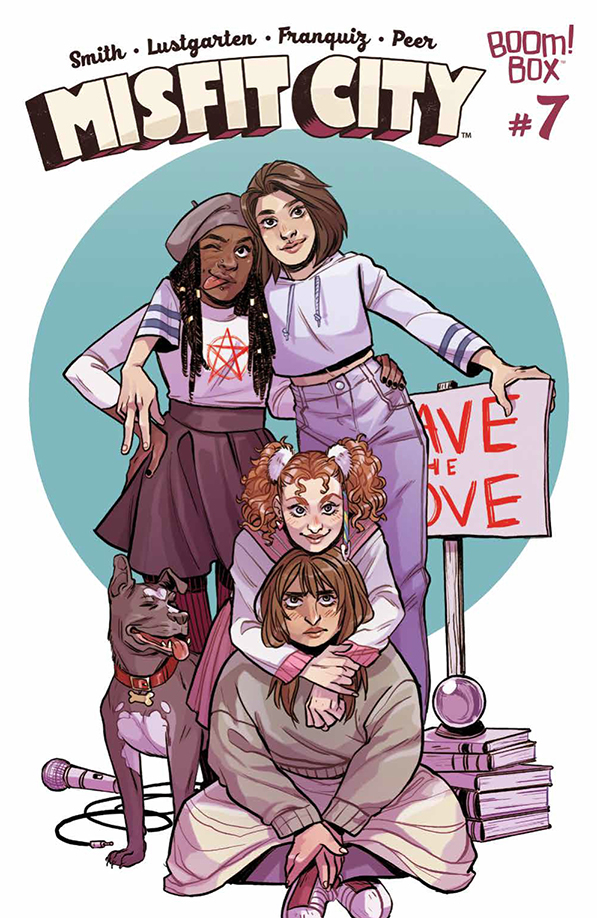 In this intense issue, the girls race around town in Halloween costumes trying to stop the Denby twins, locking themselves in car trunks, and searching for Buoy 15. Black Mary returns, a strange person in a mask argues with Horace, and Wilder's mom ends up cursed. SPOILER: Pippin wears bat wings and it is very good and cute!
Intrigued? We've got a preview of the first few pages of the issue below.
PREVIEW – Misfit City #7:
Is anything better than Karma wearing a Glinda costume and yelling at a bunch of dudes to not to smash pumpkins because they're destroying locally sourced vegetables? We think not. The adventure and mystery in this series make it exciting, but it's these moments of character development, girl power, and friendship that always leave us wanting more. Oh and cliffhangers, like the one you'll find at the end of this issue.
Can anyone see into the future? Because we need issue #8 immediately.
Misfit City #7
Publisher: BOOM! Box, an imprint of BOOM! Studios
Writer: Kiwi Smith and Kurt Lustgarten
Artist: Naomi Franquiz
Colorist: Brittany Peer
Letterer: Jim Campbell
Cover Artist: Naomi Franquiz
Synopsis: Wilder, Macy, Karma, and Dot are struggling to keep from attracting any more unwanted attention on their search for the Captain's would-be killer, not to mention the fortune he'd promised to help them uncover.
If you know someone who'd totally love this series, Misfit City Volume 1 hits stores on December 19th. It's a soft cover book that collects the first four issues of the series and we think it would make a great gift for your BFF or anyone in your life who loves adventure!
Love comics? We're giving away THREE copies of the latest Garfield OGN, The Thing in the Fridge. Don't miss your chance to enter!