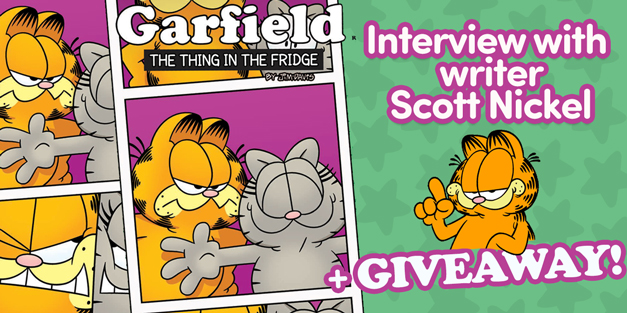 Garfield: The Thing in the Fridge – Interview with Scott Nickel + GIVEAWAY!
NOTE: An advanced copy of Garfield: The Thing in the Fridge was provided to us by BOOM! Studios for review and they have partnered with YAYOMG! for a giveaway. Giveaway details below.
The latest Garfield OGN has arrived from KaBOOM!, an imprint of BOOM! Studios, and we've got a super fun interview AND a giveaway to share with you guys! Garfield: The Thing in the Fridge features three hilarious culinary-themed stories that are sure to thrill, spook, and scare you into a fit of uncontrollable laughter. With something weird lurking in the fridge, Garfield's usual lazing around and love of midnight snacks is put on hold as he figures out what's going on.
We chatted with writer Scott Nickel, one of the writers of these new Garfield stories, about why he loves writing for Jim Davis' iconic fat cat Garfield and how he feels about naps and lasagna. Read the interview below, preview the issue, and enter below for your chance to win one of THREE copies of the graphic novel.
Garfield: The Thing in the Fridge – Interview with Scott Nickel: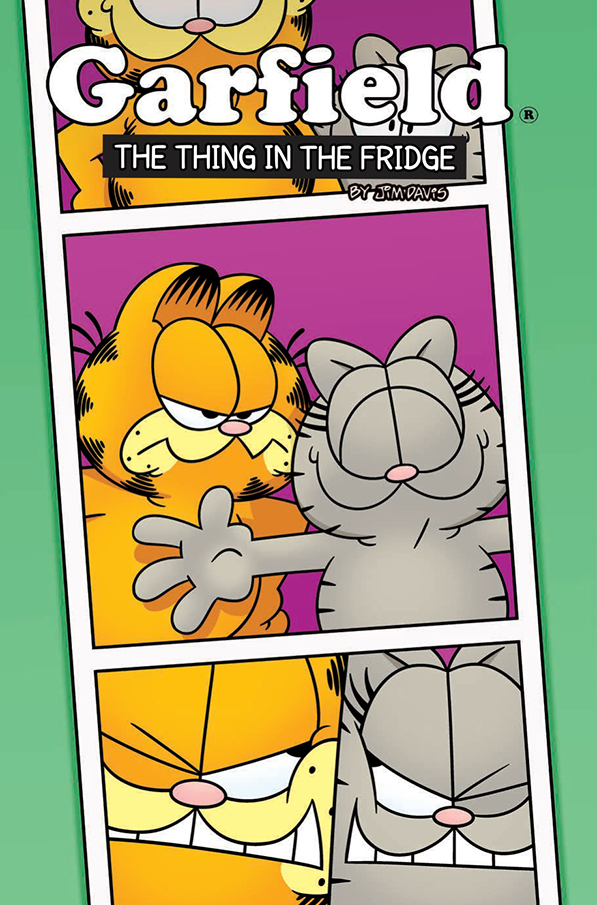 YAYOMG!:

You've worked on quite a few Garfield books and stories over the years. What's the most important part of writing Garfield for a new generation of fans? How do you balance modern ideas with Jim Davis' classic voice?
SCOTT NICKEL: Garfield is a great character to write for. He's got a strong personality, and his likes—eating and sleeping—are universal. Plus, he's really sarcastic, which I love. I think fans of all ages can relate to Garfield, but we do try to keep him contemporary. Garfield's attitude is perfect for memes.
YAYOMG!:

What would you do if a meatloaf monster leaped out of your fridge?
SCOTT: I would grab the biggest bottle of ketchup I could find!
YAYOMG!:

How do you feel about naps and lasagna?
SCOTT: I enjoy them both! I have a lasagna recipe that I make for my family. The secret is cream cheese.
YAYOMG!:

Were you a fan of the Garfield comics or cartoons growing up?
SCOTT: Who didn't like Garfield in the '80s? He was an icon! I read the comic strip faithfully, and my favorite TV special was "Garfield's Halloween Adventure." I like pirates and candy!
YAYOMG!:

If you could revive another classic comic or cartoon, which would you want to work on?
SCOTT: Don't tell Garfield, but I'd pick PEANUTS. I would love to write for Snoopy and Charlie Brown.
YAYOMG!:

What is the biggest challenge you face when writing comics?
SCOTT: I think the biggest challenge is coming up with stories that combine humor and action. But that's also the fun part.
Now that you've got the inside scoop, take a peek inside the issue below, and then enter to win your very own copy!
Garfield: The Thing in the Fridge Giveaway:
WHAT DO I WIN?:
– THREE (3) lucky winners will receive a copy of the Garfield: The Thing in the Fridge original graphic novel, courtesy of BOOM! Studios.
HOW DO I ENTER?:
Get permission from your parent/guardian and fill out the form below by 11/27/17. Giveaway begins on November 13, 2017, at 4:30 pm ET and ends on November 27, 2017, at 11:59 pm ET. Open to US entrants only.
You must be 18 or older to enter. If you are under 18, you'll need to get permission from your parent/guardian to enter and again if you win. Please provide THEIR email address when entering below. If chosen as a winner, you'll need to provide contact info where we can reach your parent/guardian if you win. They'll need to sign an affidavit permitting us to send your prize. Be sure to read the fully detailed rules HERE before entering.
THIS GIVEAWAY HAS ENDED AND THE PRIZE HAS BEEN CLAIMED.
Garfield: The Thing in the Fridge OGN SC
Publisher: KaBOOM!, an imprint of BOOM! Studios
Writers: Scott Nickel, Mark Evanier
Artists: Antonio Alfaro, Aatmaja Pandya
Cover Artist: Andy Hirsch
Price: $9.99
Synopsis: Something's in the kitchen with Garfield…and it's serving up a scary surprise for the Fat Cat's midnight snack! Garfield and Odie encounter thrills, chills, and some decidedly freaky food in this full-length tale of culinary craziness. Bon appetit!
Good luck to everyone who enters! Need more spooky reads in your life while you wait to find out if you've won? Check out our list of 12 reads to get you in the spooky spirit!