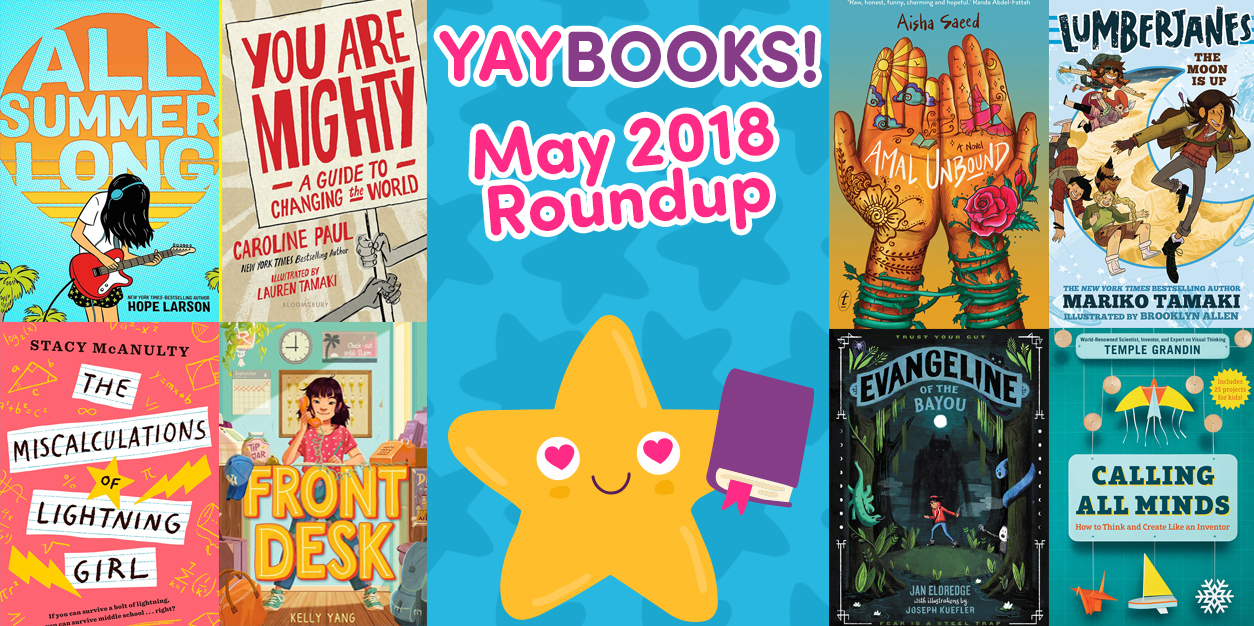 YAYBOOKS! May 2018 Roundup
It's officially May and our YAYBOOKS! Roundup for this month is jam-packed with over 40 exciting new reads for all you bookworms out there! From books to inspire your inner inventor to graphic novels that'll ignite your love of comics to thrilling fantasy adventures, there's something for all types of readers on this month's list.
We have a ton of fun author interviews, fun facts, and book giveaways lined up throughout the month, so be sure to check back each week to go beyond the pages of all your favorite new reads.
YAYBOOKS! May 2018 Roundup: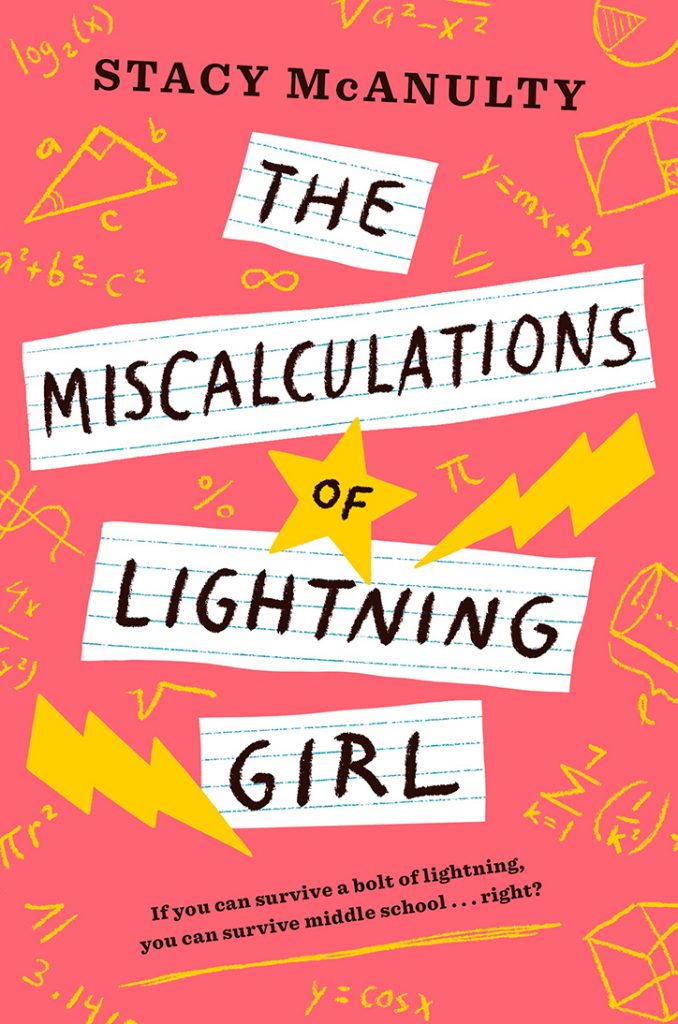 The Miscalculations of Lightning Girl
Author: Stacy McAnulty
Publisher: Random House Books for Young Readers
Date: May 1
YAYOMG!:
We're SO excited to feature this amazing book on YAYOMG! this month! Author Stacy McAnulty shared a bunch of mathematical facts about the book and we're hosting a two book GIVEAWAY!
SYNOPSIS:
Middle school is the one problem Lucy Callahan can't solve in this middle-grade novel perfect for fans of The Fourteenth Goldfish, Rain Reign, and Counting by 7s.
Lucy Callahan was struck by lightning. She doesn't remember it, but it changed her life forever. The zap gave her genius-level math skills, and ever since, Lucy has been homeschooled. Now, at 12 years old, she's technically ready for college. She just has to pass 1 more test–middle school!
Lucy's grandma insists: Go to middle school for 1 year. Make 1 friend. Join 1 activity. And read 1 book (that's not a math textbook!). Lucy's not sure what a girl who does calculus homework for fun can possibly learn in 7th grade. She has everything she needs at home, where nobody can make fun of her rigid routines or her superpowered brain. The equation of Lucy's life has already been solved. Unless there's been a miscalculation?
A celebration of friendship, Stacy McAnulty's smart and thoughtful middle-grade debut reminds us all to get out of our comfort zones and embrace what makes us different.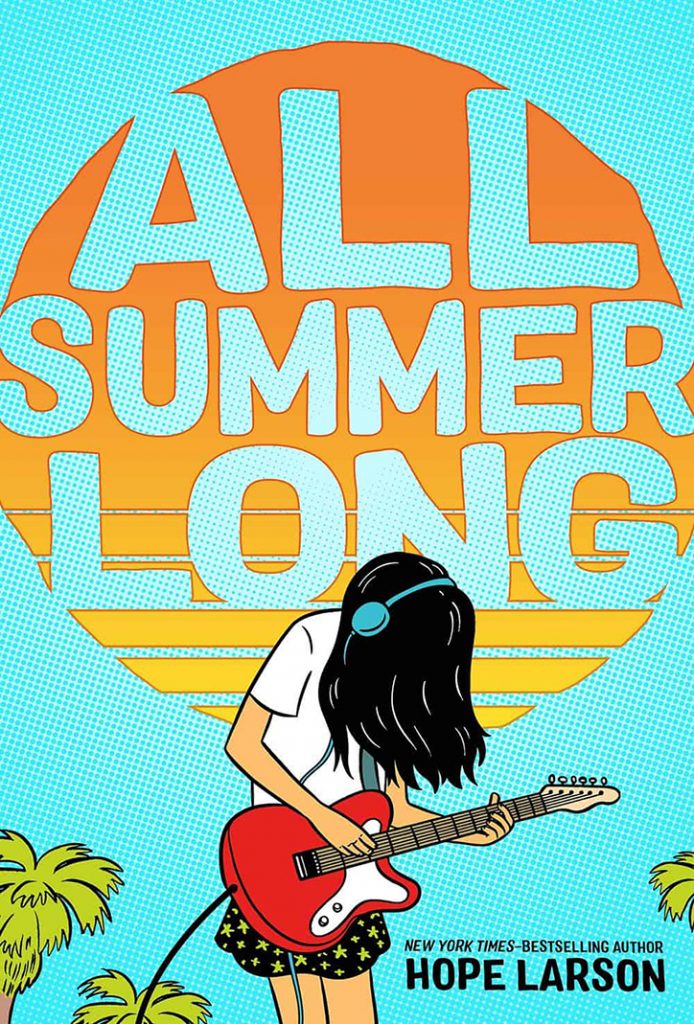 All Summer Long
Creator: Hope Larson
Publisher: Farrar, Straus, and Giroux Books for Young Readers
Date: May 1
SYNOPSIS:
A coming-of-age middle-grade graphic novel about summer and friendships, written and illustrated by the Eisner Award-winning and New York Times–bestselling Hope Larson.
Thirteen-year-old Bina has a long summer ahead of her. She and her best friend, Austin, usually do everything together, but he's off to soccer camp for a month, and he's been acting kind of weird lately anyway. So it's up to Bina to see how much fun she can have on her own. At first, it's a lot of guitar playing, boredom, and bad TV, but things look up when she finds an unlikely companion in Austin's older sister, who enjoys music just as much as Bina. But then Austin comes home from camp, and he's acting even weirder than when he left. How Bina and Austin rise above their growing pains and reestablish their friendship and respect for their differences makes for a touching and funny coming-of-age story.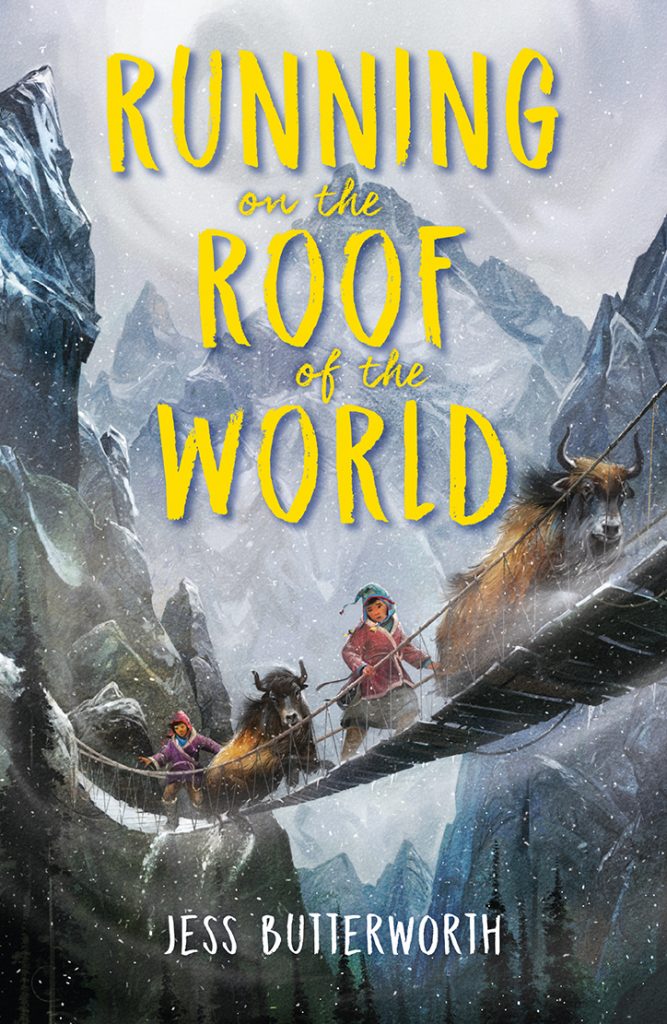 Running on the Roof of the World
Author: Jess Butterworth
Publisher: Algonquin Young Readers
Date: May 1
SYNOPSIS:
Josie and Alec both live at 444 Sparrow Street. They sleep in the same room, but they've never laid eyes on each other. They are twelve years old but a hundred years apart.
The children meet through a handpainted spirit board—Josie in 1915, Alec in 2015—and form a friendship across the century that separates them. But a chain of events leave Josie and her little sister Cass trapped in the house and afraid for their safety, and Alec must find out what's going to happen to them. Can he help them change their future when it's already past?
The Boy from Tomorrow is a tribute to classic English fantasy novels like Tom's Midnight Garden and A Traveller in Time. Through their impossible friendship, Alec and Josie learn that life can offer only what they ask of it.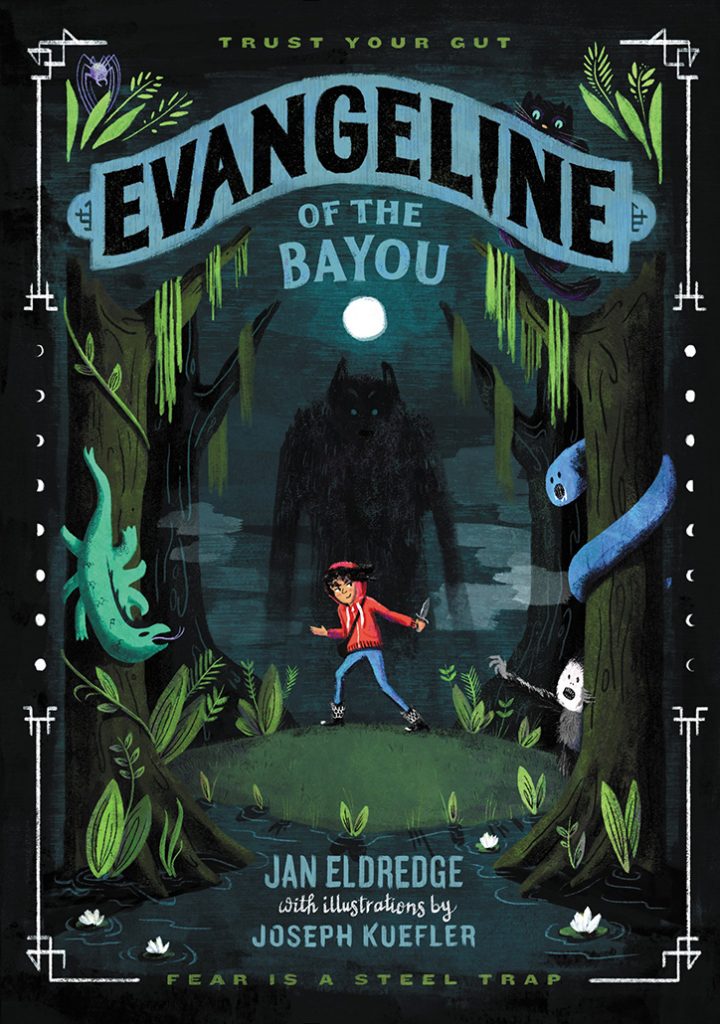 Evangeline of the Bayou
Author: Jan Eldredge
Illustrations: Joseph Kuefler
Publisher: Balzer + Bray
Date: May 1
YAYOMG!:
We have an interview with author Jan Eldredge lined up for later this month to help celebrate this book! Be sure to check back so you can learn more about Evangeline's incredible story.
SYNOPSIS:
A standout middle grade adventure with a sassy, memorable heroine and a charming Southern feel, perfect for fans of Kate DiCamillo and Natalie Lloyd.
Twelve-year-old haunt huntress apprentice Evangeline Clement spends her days and nights studying the ways of folk magic, honing her monster-hunting skills while pursuing local bayou banshees and Johnny revenants.
With her animal familiar sure to make itself known any day now, the only thing left to do is prove to the council she has heart. Then she will finally be declared a true haunt huntress, worthy of following in the footsteps of her long line of female ancestors.
But when Evangeline and her grandmother are called to New Orleans to resolve an unusual case, she uncovers a secret that will shake her to the soles of her silver-tipped alligator-skin boots.
Set in the evocative Louisiana bayou and the vibrant streets of New Orleans, Evangeline's is a tale of loyalty and determination, the powerful bonds of friendship and family, and the courage to trust your gut no matter how terrifying that might be.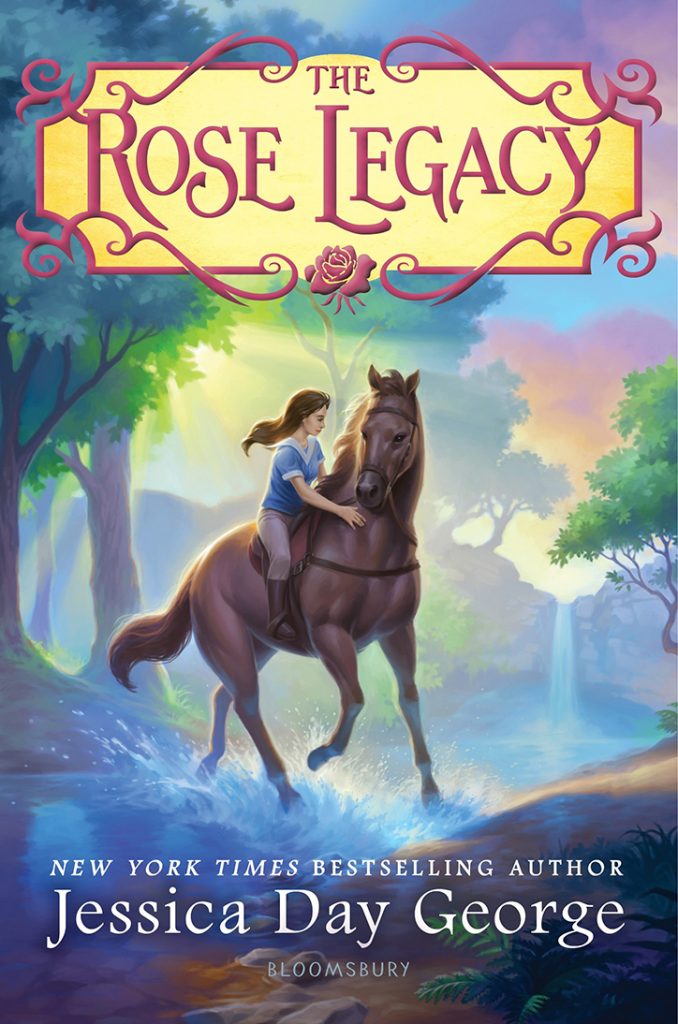 The Rose Legacy
Author: Jessica Day George
Publisher: Bloomsbury Children's Books
Date: May 1
SYNOPSIS:
When orphaned Anthea Cross-Thornley receives a letter from a long-lost uncle, she wonders if she will finally find a true home. But she is shocked to learn that her uncle secretly breeds horses–animals that have been forbidden in her kingdom for centuries. More alarming is Anthea's strange ability to sense the horses' thoughts and feelings, an ancient gift called The Way. Confused and terrified, Anthea is desperate to leave, but when her family and kingdom are put at risk, can she embrace The Way and the exciting future it might bring her?
This sweeping, emotionally-resonant fantasy from beloved author Jessica Day George is perfect for fans of Princess Academy and Black Beauty.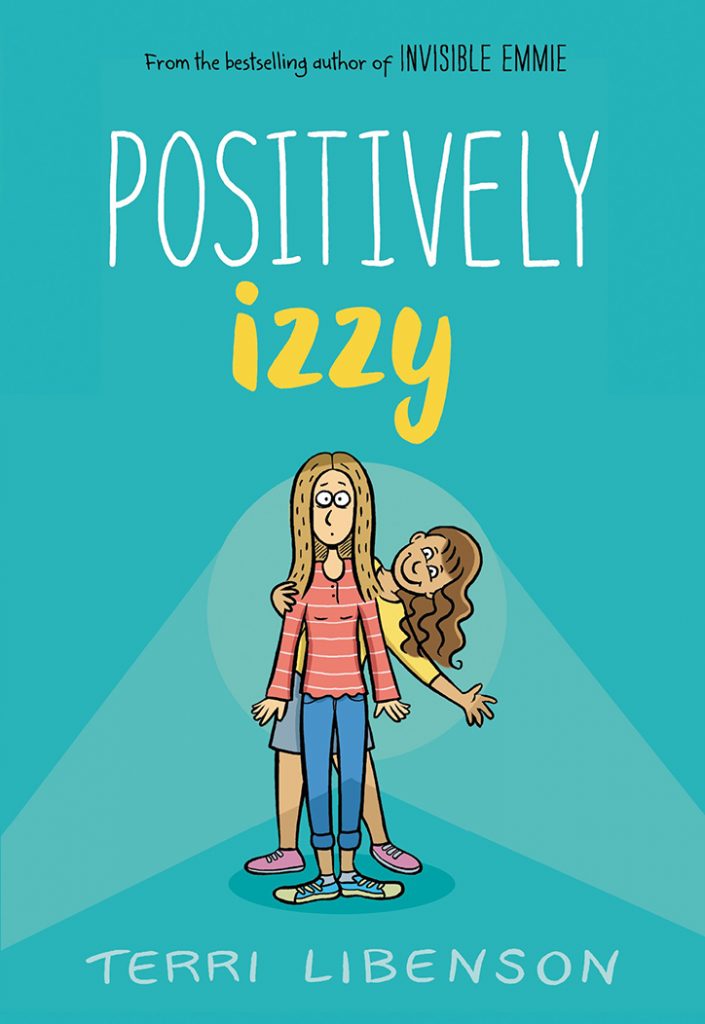 Positively Izzy
Creator: Terri Libenson
Publisher: Balzer + Bray
Date: May 1
SYNOPSIS:
Award-winning comics creator and author of the bestselling Invisible Emmie Terri Libenson returns with a companion graphic novel that captures the drama, angst, and humor of middle-school life. Perfect for fans of Raina Telgemeier, Jennifer Holm, and Victoria Jamieson.
Middle school is all about labels.
Izzy is the dreamer. There's nothing Izzy loves more than acting in skits and making up funny stories. The downside? She can never quite focus enough to get her schoolwork done.
Bri is the brain. But she wants people to see there's more to her than just a report card full of As. At the same time, she wishes her mom would accept her the way she is and stop bugging her to "break out of her shell" and join drama club.
The girls' lives converge in unexpected ways on the day of a school talent show, which turns out to be even more dramatic than either Bri or Izzy could have imagined.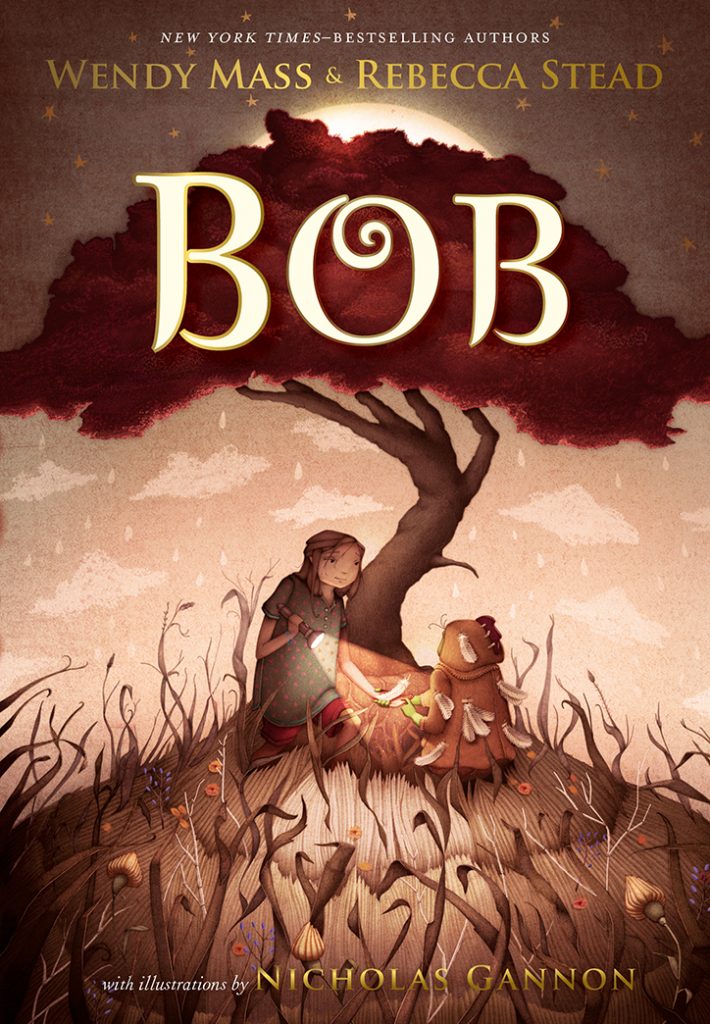 Bob
Authors: Wendy Mass and Rebecca Stead
Publisher: Feiwel and Friends
Date: May 1
SYNOPSIS:
A classic middle-grade tale of magic and friendship, about a girl who helps an old friend find home, by two New York Times–bestselling authors Wendy Mass and Rebecca Stead.
It's been five years since Livy and her family have visited Livy's grandmother in Australia. Now that she's back, Livy has the feeling she's forgotten something really, really important about Gran's house.
It turns out she's right.
Bob, a short, greenish creature dressed in a chicken suit, didn't forget Livy, or her promise. He's been waiting five years for her to come back, hiding in a closet like she told him to. He can't remember who—or what—he is, where he came from, or if he even has a family. But five years ago Livy promised she would help him find his way back home. Now it's time to keep that promise.
Clue by clue, Livy and Bob will unravel the mystery of where Bob comes from, and discover the kind of magic that lasts forever.
Wendy Mass and Rebecca Stead, two masterminds of classic, middle-grade fiction come together to craft this magical story about the enduring power of friendship.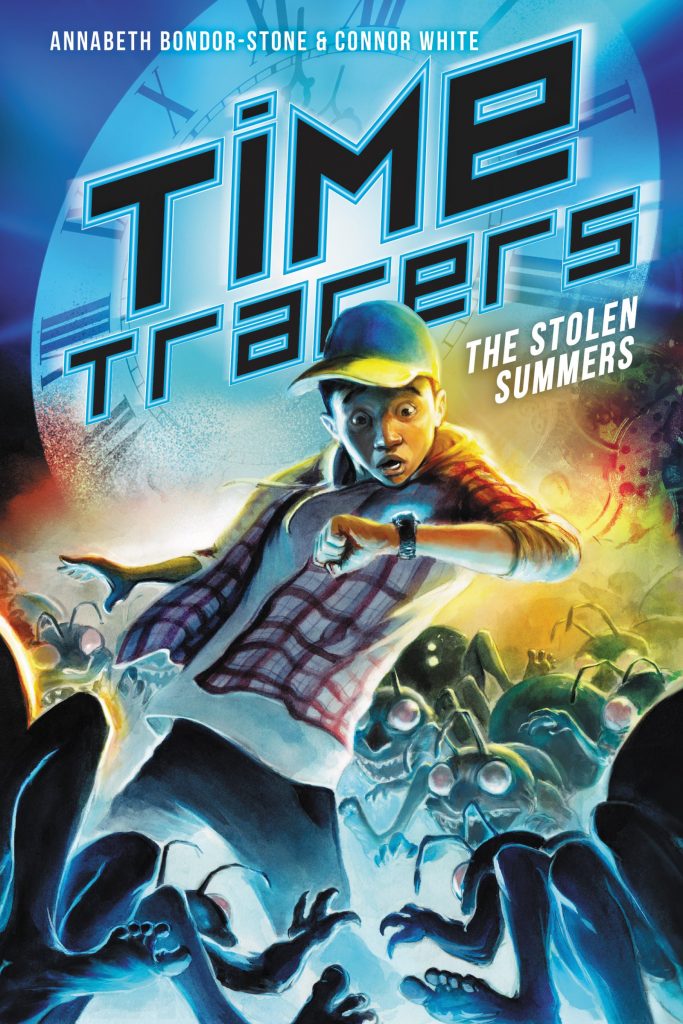 Time Tracers: The Stolen Summers
Authors: Annabeth Bondor-Stone and Connor White
Publisher: HarperCollins Children's Books
Date: May 1
SYNOPSIS:
Twelve-year-old Taj Carter is on a high-stakes mission to track down the time thieves who stole his entire summer vacation—before they steal all the fun on earth! It's an all-new action-packed series by the authors of the critically acclaimed Shivers! series, Annabeth Bondor-Stone and Connor White.
Taj Carter is the kind of kid who has a good time, all the time. He's the class clown. The best friend. The cool big brother. That is, until he wakes up on what's supposed to be the first day of vacation only to find that his entire summer is gone!
But if that seems like a total nightmare, it's actually the least of Taj's worries. He discovers that the time didn't just fly by, it was stolen. By time thieves! And now they're after way more than just one kid's summer break. They're after all the fun on earth, and it turns out Taj is the key to getting it. He has a target on his back and not a moment more to lose. It's up to Taj to find a way to get back his summer—and to save the world from falling completely off the clock.
Authors of the Shivers! series Annabeth Bondor-Stone and Connor White fiercely defend the right to have fun in the first book of their all-new action-adventure series, Time Tracers.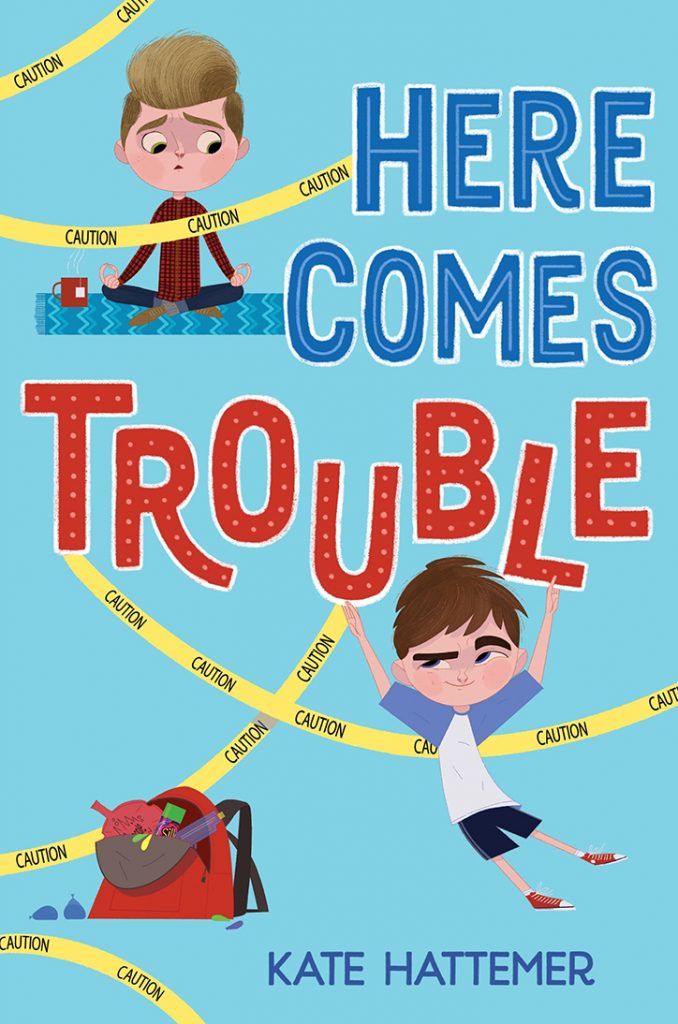 Here Comes Trouble
Author: Kate Hattemer
Publisher: Knopf Books for Young Readers
Date: May 1
SYNOPSIS:
Soren Skaar is a notorious prankster. After his partner-in-pranking-crime moves away, Soren's ready to leave his life of causing trouble behind. But when his hipster Brooklynite cousin comes to "study abroad" with his family in small-town Minnesota, Soren's plans for reform fall by the wayside.
Soon all Soren can see are opportunities to prank, and his shenanigans have done nothing to win over his cousin. It isn't long before he's in over his head, and Soren can't help but wonder who he'll be if he loses this part of himself. Can he give up his life as a jokester, or is the joke on him?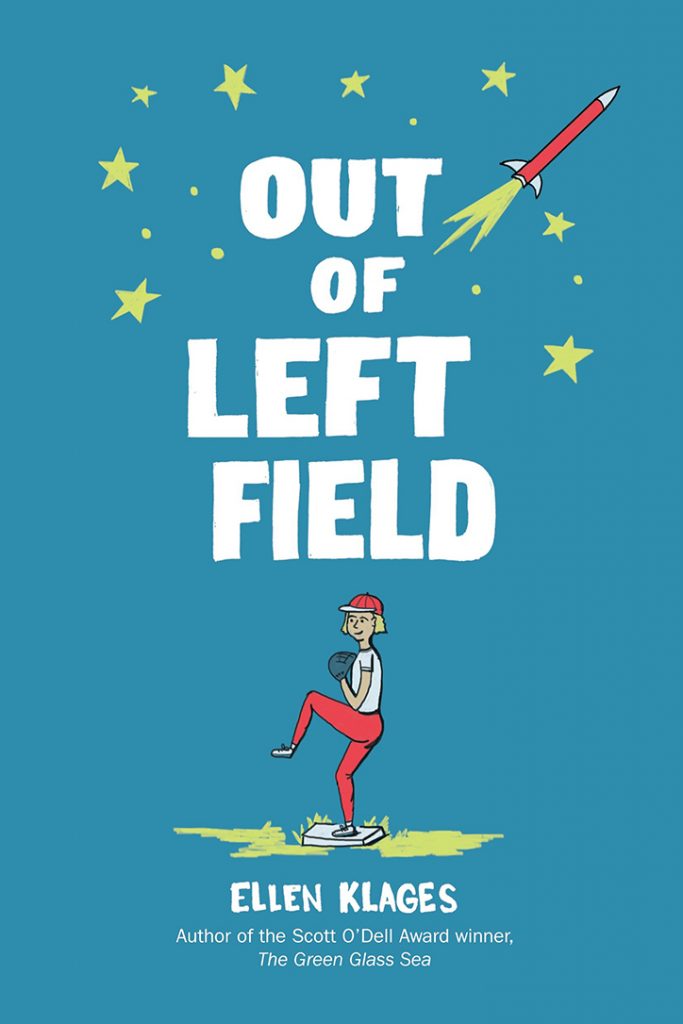 Out of Left Field
Author: Ellen Klages
Publisher: Viking Books for Young Readers
Date: May 1
SYNOPSIS:
A story about the fight for equal rights in America's favorite arena: the baseball field!

Every boy in the neighborhood knows Katy Gordon is their best pitcher, even though she's a girl. But when she tries out for Little League, it's a whole different story. Girls are not eligible, period. It is a boy's game and always has been. It's not fair, and Katy's going to fight back. Inspired by what she's learning about civil rights in school, she sets out to prove that she's not the only girl who plays baseball. With the help of friendly librarians and some tenacious research skills, Katy discovers the forgotten history of female ball players. Why does no one know about them? Where are they now? And how can one ten-year-old change people's minds about what girls can do?
Set in 1957–the world of Sputnik and Leave It to Beaver, saddle shoes and "Heartbreak Hotel"–Out of Left Field is both a detailed picture of a fascinating historic period and a timelessly inspiring story about standing up for equality at any age.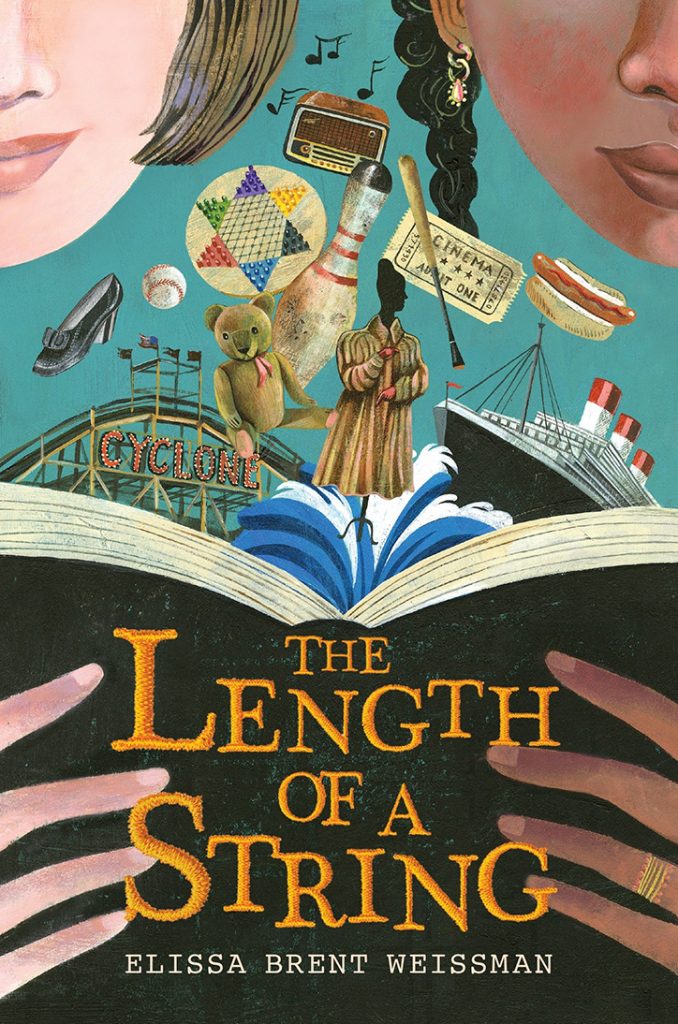 The Length of a String
Author: Elissa Brent Weissmanf
Publisher: HarperCollins Children's Books
Date: May 1
SYNOPSIS:
Imani is adopted, and she's ready to search for her birth parents. But when she discovers the diary her Jewish great-grandmother wrote chronicling her escape from Holocaust-era Europe, Imani begins to see family in a new way.
Imani knows exactly what she wants as her big bat mitzvah gift: to meet her birth parents. She loves her family and her Jewish community in Baltimore, but she has always wondered where she came from, especially since she's black and almost everyone she knows is white. When her mom's grandmother–Imani's great-grandma Anna–passes away, Imani discovers an old diary among her books. It's Anna's diary from 1941, the year she was twelve–the year she fled Nazi-occupied Luxembourg alone, sent by her parents to seek refuge in Brooklyn. Written as a series of letters to the twin sister she had to leave behind, Anna's diary records her journey to America and her new life with an adopted family. Anna's diary and Imani's birthparent search intertwine to tell the story of two girls, each searching for family and identity in her own time and in her own way.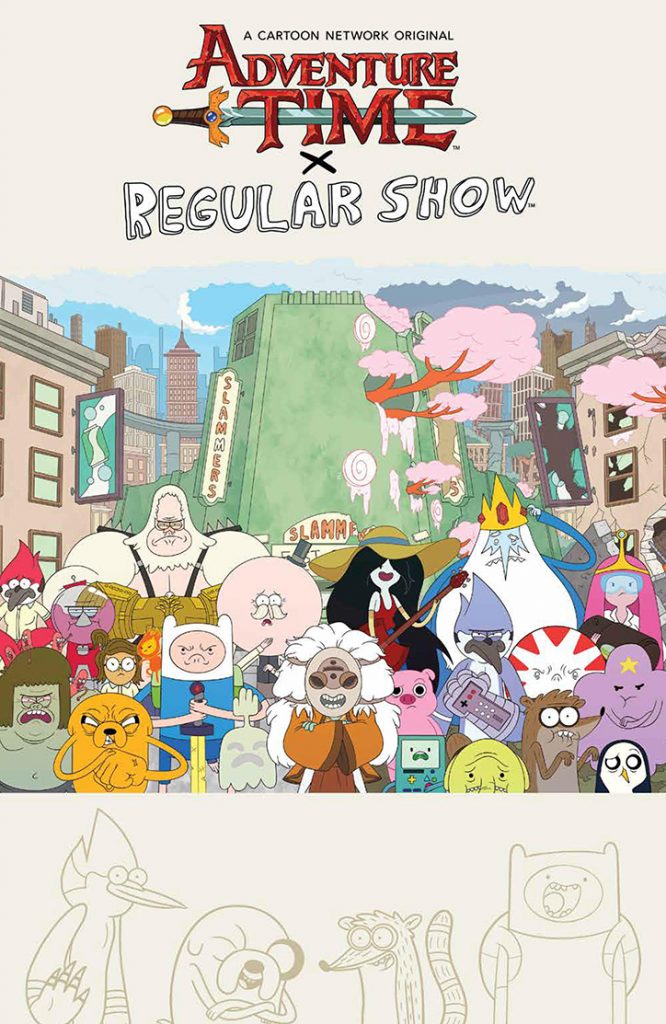 Adventure Time/Regular Show
Writer: Conor McCreery
Artist: Mattia di Meo
Publisher: BOOM! Studios
Date: May 2
YAYOMG!:
What's even better than your favorite cartoon? Your TWO favorite cartoons crossed over in an epic comic adventure! Want a peek into the story? Check out our previews of the first three issues, here, here, and here!
SYNOPSIS:
Collects the 6 issue limited series. Harvey and Joe Shuster Award-nominated writer Conor McCreery (Kill Shakespeare) and newcomer illustrator Mattia di Meo present a crossover for the ages in this mash-up of two of our favorite Cartoon Network show! When a powerful new villain threatens to conquer Adventure Time's Ooo, Princess Bubblegum sends Finn and Jake on a desperate quest to find The Power that can save the land—a power that Skips from Regular Show just happens to be hiding! Finn and Jake's arrival only exacerbates an existing tension between Mordecai and Rigby, and the trip back to Ooo threatens to tear two sets of bros apart…forever.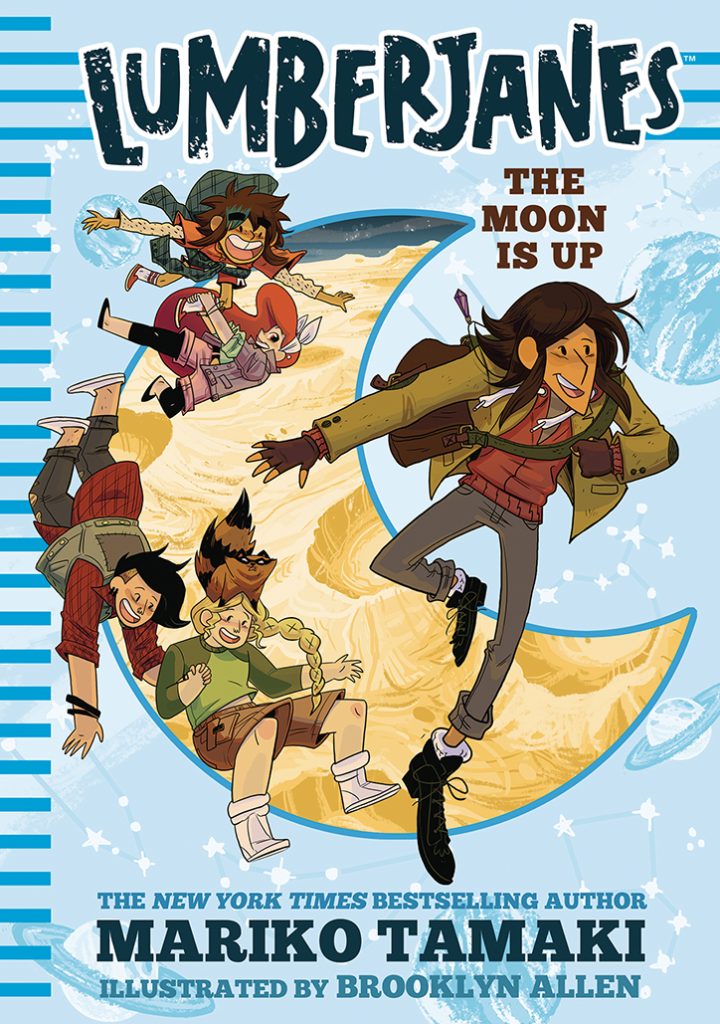 Lumberjanes: The Moon is Up
Authors: Mariko Tamaki and Brooklyn Allen
Publisher: Amulet Books
Date: May 8
SYNOPSIS:
Welcome to Miss Qiunzella Thiskwin Penniquiqul Thistle Crumpet's Camp for Hardcore Lady Types. The five scouts of Roanoke cabin—Jo, April, Molly, Mal, and Ripley—love their summers at camp. They get to hang out with their best friends, earn Lumberjane scout badges, annoy their no-nonsense counselor Jen . . . and go on supernatural adventures. That last one? A pretty normal occurrence at Miss Qiunzella's, where the woods contain endless mysteries.
As the camp gears up for the big Galaxy Wars competition, Jo and the gang get some help from an unexpected visitor—a Moon Pirate!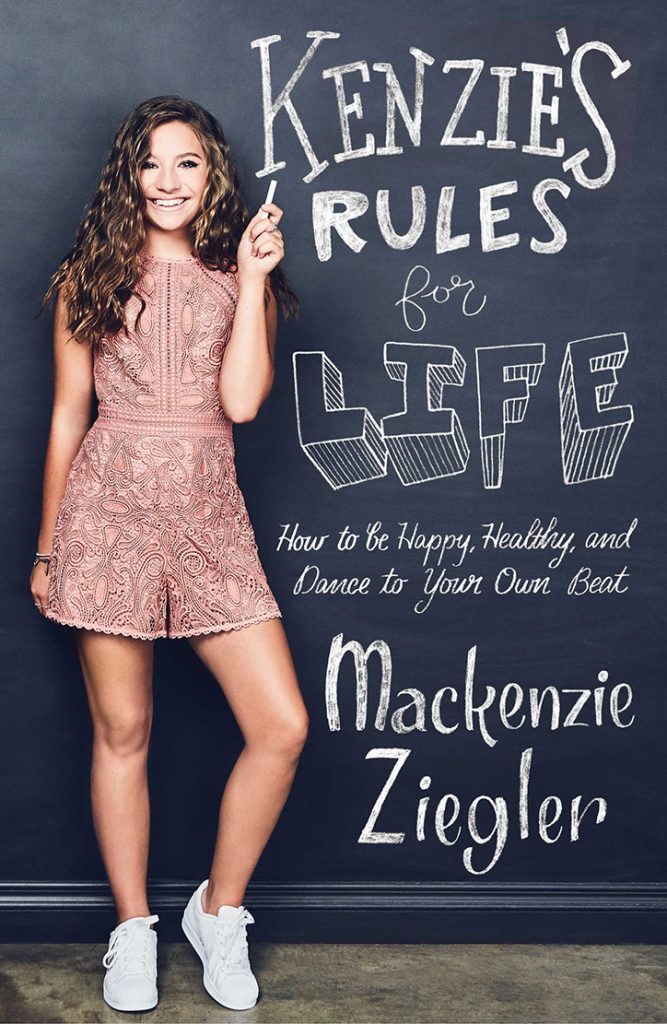 Kenzie's Rules for Life: How to be Happy, Healthy, and Dance to Your Own Beat
Author: Mackenzie Ziegler
Publisher: Gallery Books
Date: May 8
SYNOPSIS:

An inspirational, upbeat collection of relatable lessons from the teen sensation, Mackenzie Ziegler—an award-winning dancer, singer/songwriter, and actress.
Growing up is hard, but growing up in the spotlight is even harder. However, Mackenzie Ziegler is taking it all in stride, thanks to her positive attitude on life. From getting her start on Dance Moms, to her sold-out tour alongside Johnny Orlando, there's nothing that she can't do.
In Kenzie's Rules for Life, the dance prodigy, singer/songwriter, actress, and model offers her advice on friendship, family, fitness, style, and positivity. She shares lessons drawn from her own experiences for those navigating through their tween years on how to be happy, healthy, and confident in all aspects of their lives.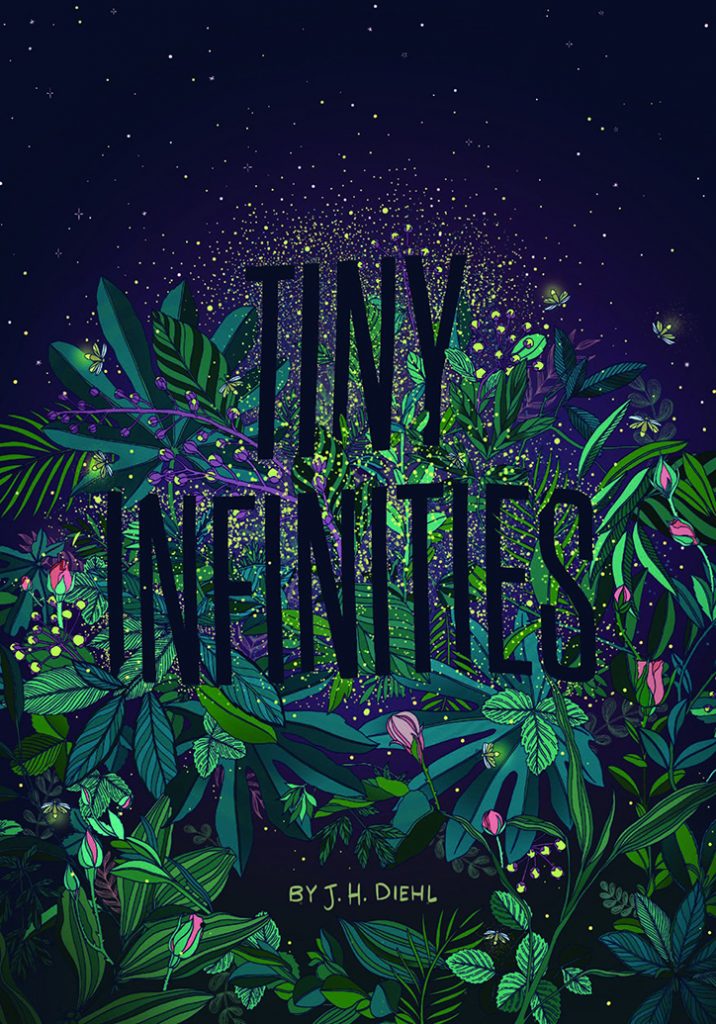 Tiny Infinities
Author: J.H. Diehl
Publisher: Chronicle Books
Date: May 8
SYNOPSIS:
When Alice's dad moves out, leaving her with her troubled mother, she does the only thing that feels right: she retreats to her family's old Renaissance tent in the backyard, determined to live there until her dad comes home. In an attempt to keep at least one part of her summer from changing, Alice focuses on her quest to swim freestyle fast enough to get on her swim team's record board. But summers contain multitudes, and soon Alice meets an odd new friend, Harriet, whose obsession with the school's science fair is equal only to her conviction that Alice's best stroke is backstroke, not freestyle. Most unexpected of all is an unusual babysitting charge, Piper, who is mute—until Alice hears her speak. A funny and honest middle-grade novel, this sharply observed depiction of family, friendship, and Alice's determination to prove herself—as a babysitter, as a friend, as a daughter, as a person—rings loud and true.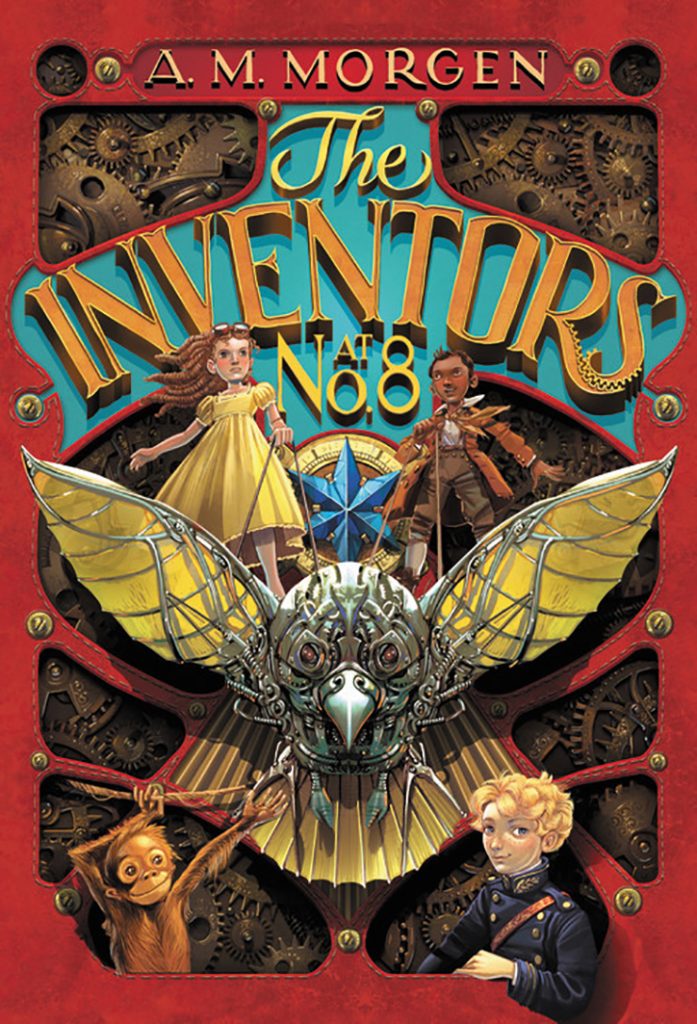 The Inventors at No. 8
Author: A.M. Morgan
Publisher: Little, Brown Books for Young Readers
Date: May 8
SYNOPSIS:
Brimming with mystery and treasure, this action-packed tale sends a boy in need of luck and girl in need of a friend on an adventure that will change their lives forever. Meet George, the third Lord of Devonshire and the unluckiest boy in London. Why is George so unlucky? First, he's an orphan. Second, unless he sells everything, he's about to lose his house. So when his family's last heirloom, a priceless map to the Star of Victory (a unique gem said to bring its owner success in any battle) is stolen by a nefarious group of criminals, George knows that there is no one less lucky-or more alone-than he is.
That is until Ada Byron, the future Countess of Lovelace, bursts into his life. She promises to help George recover his family legacy, and is determined to find her own father along the way–all in a flying machine she built herself. Joined by a mischievous orangutan and the long-lost son of an infamous pirate, Ada and George take off on a cross-continent journey through the skies that will change their lives, and perhaps the world, forever.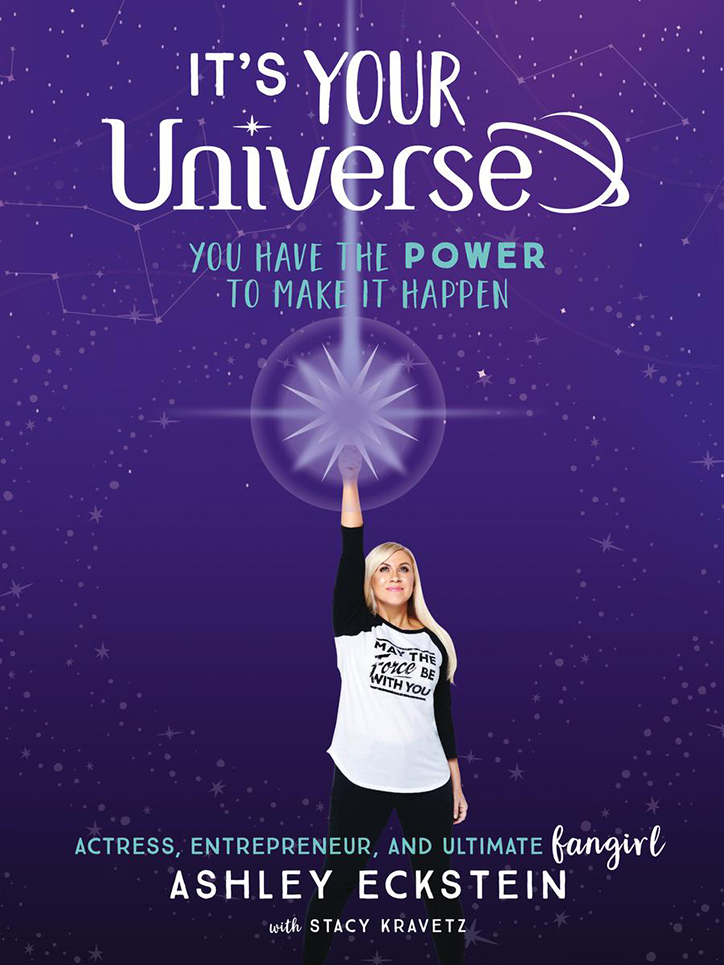 It's Your Universe: You Have the Power to Make it Happen
Author: Ashley Eckstein
Publisher: Disney Editions
Date: May 8
YAYOMG!:
We're so excited to announce that we'll be celebrating the release of this inspiring book with an author interview and book giveaway! Ashley Eckstein will share insight into her book and her real-life experiences that inspired her to write it!
SYNOPSIS:
Ashley Eckstein grew up inspired by all things Disney. She launched Her Universe, an apparel company catering to fangirls, which has become a preferred partner for Disney and their girl power initiative.
In IT'S YOUR UNIVERSE, Ashley shares her own life lessons, as well as lessons from iconic Disney characters, as a way to inspire girls to create big dreams and work to make them a reality.
Ashley tells her story of being a little girl dreaming of being on a Disney stage, voicing the first female Jedi, Ahsoka Tano, and starting Her Universe, a blockbuster clothing line, and community for fangirls.
With space for readers to make journal entries and quotes from iconic Disney characters, Ashley shows how princesses, Jedis, and superheroes were great role models for choosing her own path.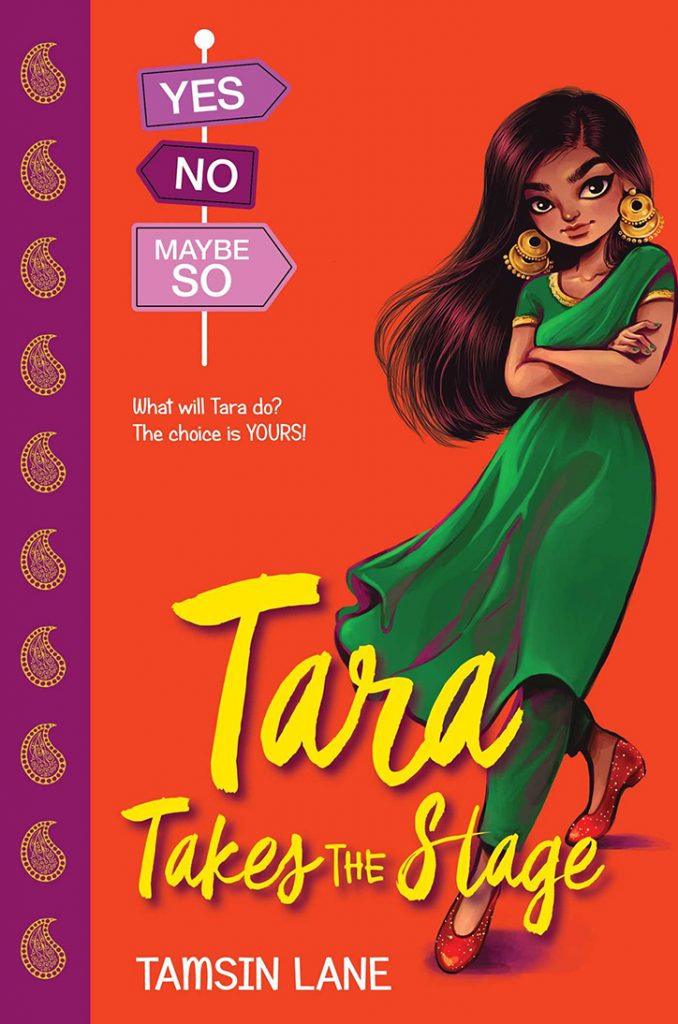 YES NO MAYBE SO: Tara Takes the Stage
Author: Tamsin Lane
Publisher: Simon and Schuster
Date: May 8
SYNOPSIS:
There are many ways this story can go. YOU decide what happens next. And if you don't like how it ends? Just start again! The Yes No Maybe So series is an interactive reading experience about friendships, family, and all the feelings.
Every day before and after school, Tara Singh helps her parents at their Indian sweet shop, but the only business Tara is interested in is show business. When a local theater announces a casting call for The Wizard of Oz, Tara is determined to wear the ruby slippers.
As she prepares for the audition, Tara is distracted by some unexpected drama: There is Rohan, the delivery boy her parents hired. Hiro, her forever crush, who wants to rehearse with her. And Desmond, a shy theater nerd who has started lighting up her heart. Can Tara win the part and get the guy?
You have the power to choose what happens…and the chance to choose differently next time!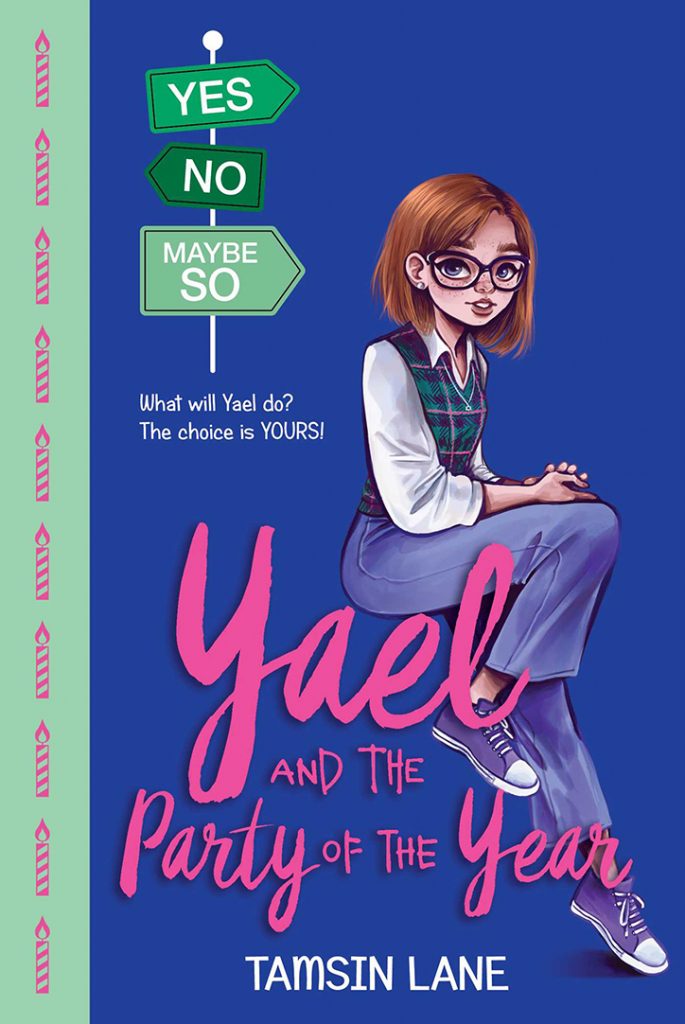 YES NO MAYBE SO: Yael and the Party of the Year
Author: Tamsin Lane
Publisher: Simon and Schuster
Date: May 8
SYNOPSIS:
There are many ways this story can go. YOU decide what happens next. And if you don't like how it ends? Just start again! The Yes No Maybe So series is an interactive reading experience about friendships, family, and all the feelings.
Yael Lewis is dreading her bat mitzvah. Her loving but clueless mother insists on throwing an epic birthday extravaganza, even though Yael hates the spotlight.
Despite herself, Yael is excited when her crush Cam accepts the invitation. But then she meets Gabriel, the emcee's son, whose chill attitude makes her rethink the party plans. Thank goodness her old friend Eli will be there to keep her steady, even though he's returned from camping a little bit different. Will Yael's party be the best…or a bust?
You have the power to choose what happens…and the chance to choose differently next time!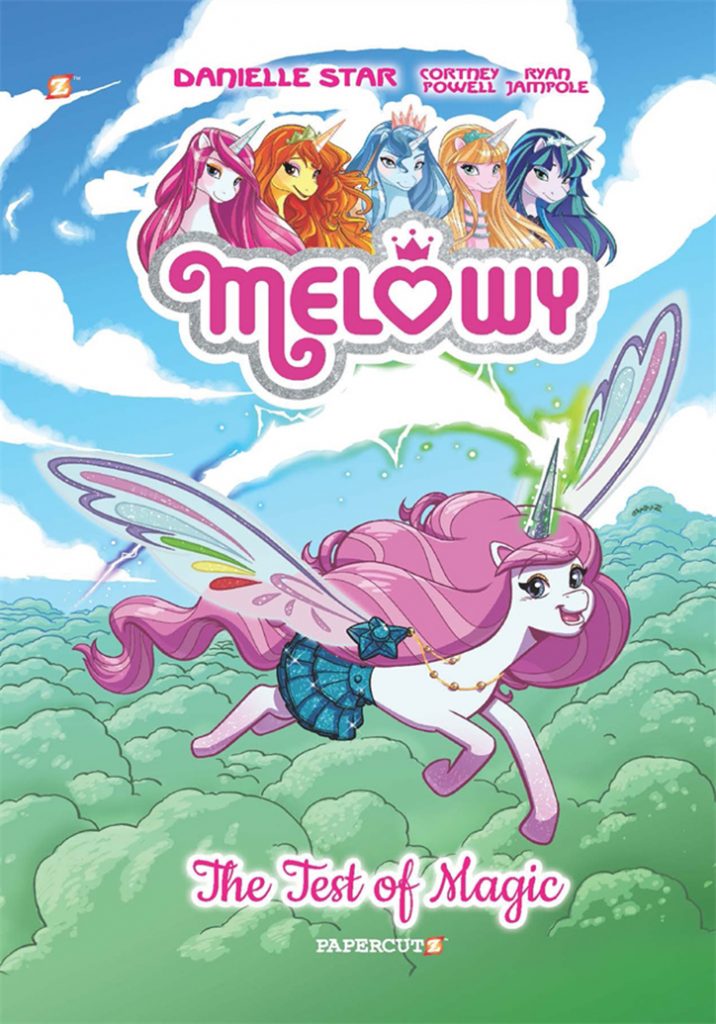 Melowy: The Test of Magic
Author: Cortney Faye Powell
Artist: Ryan Jampole
Publisher: Papercutz
Date: May 8
SYNOPSIS:
When flying unicorns called Melowies turn fourteen they go to school at Destiny, a legendary castle hidden somewhere in the clouds. Here they develop their special power, which lies dormant in them until they finish school and discover their place in the world. What lies ahead for the impressive group of Electra, Selene, Cora, Maya, and Cleo, each destined for their own paths? Dreams, adventure, and friendship around every corner!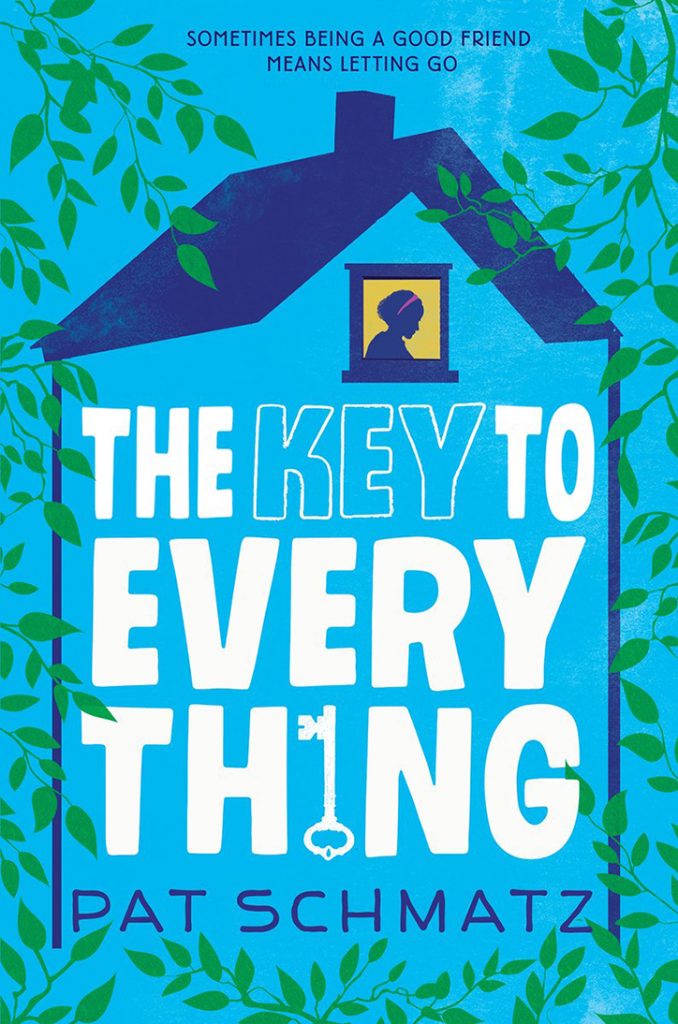 The Key to Every Thing
Author: Pat Schmatz
Publisher: Candlewick Press
Date: May 8
SYNOPSIS:
For eleven-year-old Tash, Cap'n Jackie isn't just the elderly next-door neighbor — she's family. When she disappears, only Tash holds the key that might bring her back.
Tash didn't want to go to camp, didn't want to spend the summer with a bunch of strangers, didn't want to be separated from the only two people she has ever been able to count on: her uncle Kevin, who saved her from foster care, and Cap'n Jackie, who lives next door. Camp turns out to be pretty fun, actually, but when Tash returns home, Cap'n Jackie is gone. And Tash needs her — the made-up stories of dolphin-dragons, the warm cookies that made everything all right after a fight, the key Cap'n Jackie always insisted had magic in it. The Captain always said all Tash had to do was hold it tight and the magic would come. Was it true? Could the key bring Cap'n Jackie back? In a heartfelt and stunningly written story, Pat Schmatz introduces readers to a tenacious, fiercely loyal girl struggling to let go of the fantasies and fears of her childhood . . . and say yes to everything that lies ahead.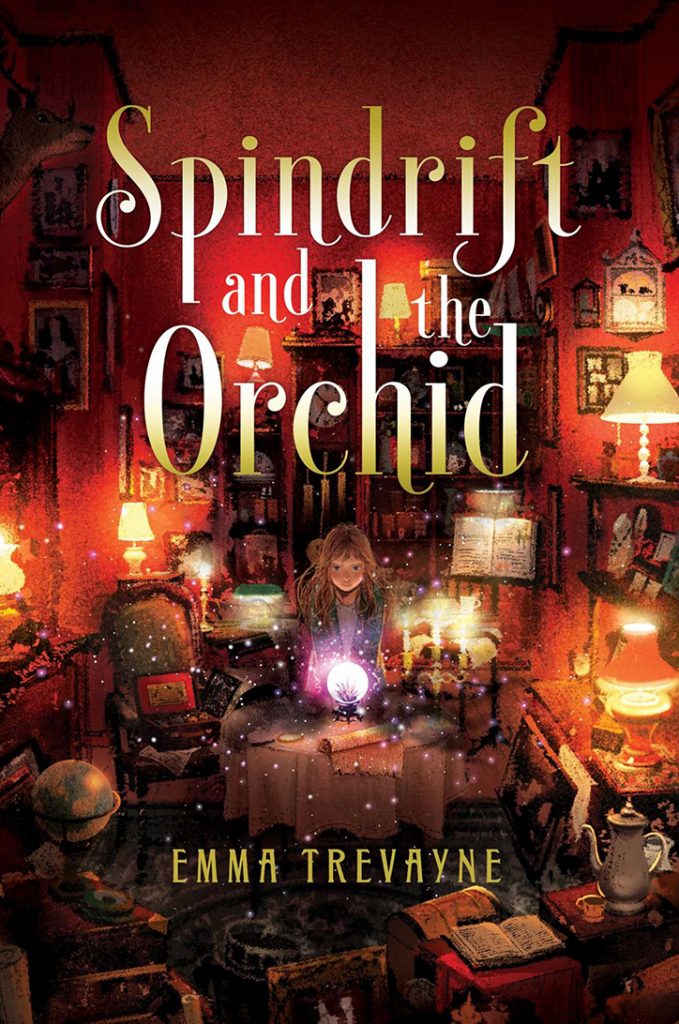 Spindrift and the Orchid
Author: Emma Trevayne
Publisher: Simon and Schuster Books for Young Readers
Date: May 8
SYNOPSIS:
A girl finds herself entrenched in a dark mystery after the deaths of her parents in this fantastical novel from the author of The House of Months and Years.
When a man walks into her grandfather's curiosity shop and asks about a black orchid, Spindrift turns him away. She's never seen such a thing.
Until one night it appears. Spindrift, an orphan, has one keepsake from her parents…a clear glass orb. Except it's not quite clear anymore. She watches as a black orchid forms inside the crystal. Then the flower blooms into a towering woman in a dress of midnight silk and air, a woman with the power to grant wishes.
It's fun, at first.
But having everything you want is hard to hide. And soon, Spindrift—and her orchid—are being hunted.
Left running for her life, Spindrift must ask herself who her parents really were, and whether a wish is really just a curse in disguise.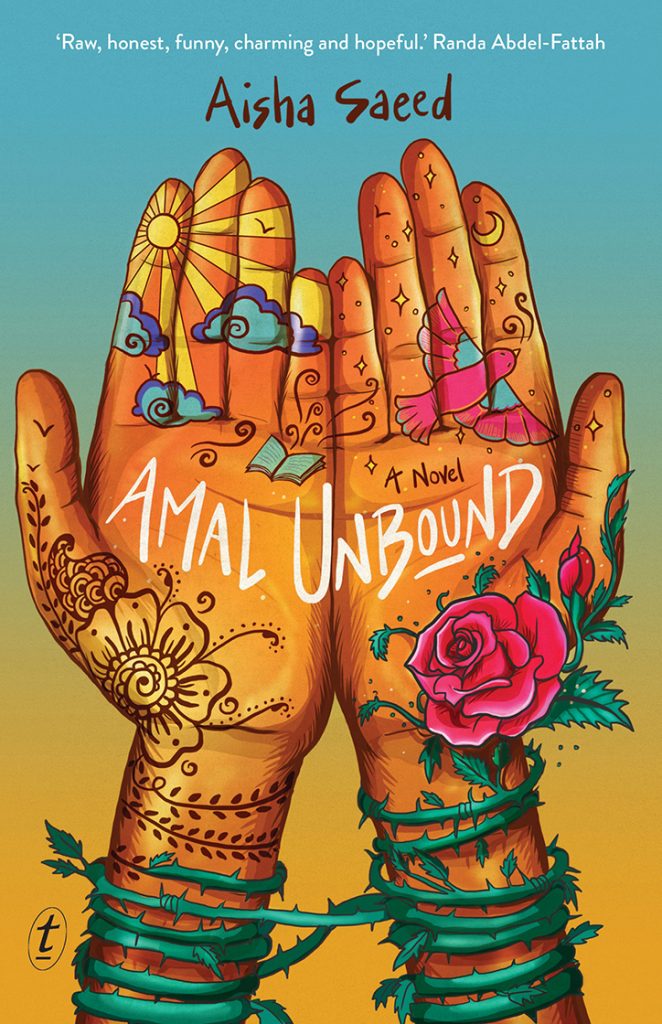 Amal Unbound
Author: Aisha Saeed
Publisher: Nancy Paulsen Books
Date: May 8
SYNOPSIS:
Life is quiet and ordinary in Amal's Pakistani village, but she had no complaints, and besides, she's busy pursuing her dream of becoming a teacher one day. Her dreams are temporarily dashed when–as the eldest daughter–she must stay home from school to take care of her siblings. Amal is upset, but she doesn't lose hope and finds ways to continue learning. Then the unimaginable happens–after an accidental run-in with the son of her village's corrupt landlord, Amal must work as his family's servant to pay off her own family's debt.
Life at the opulent Khan estate is full of heartbreak and struggle for Amal–especially when she inadvertently makes an enemy of a girl named Nabila. Most troubling, though, is Amal's growing awareness of the Khans' nefarious dealings. When it becomes clear just how far they will go to protect their interests, Amal realizes she will have to find a way to work with others if they are ever to exact change in a cruel status quo, and if Amal is ever to achieve her dreams.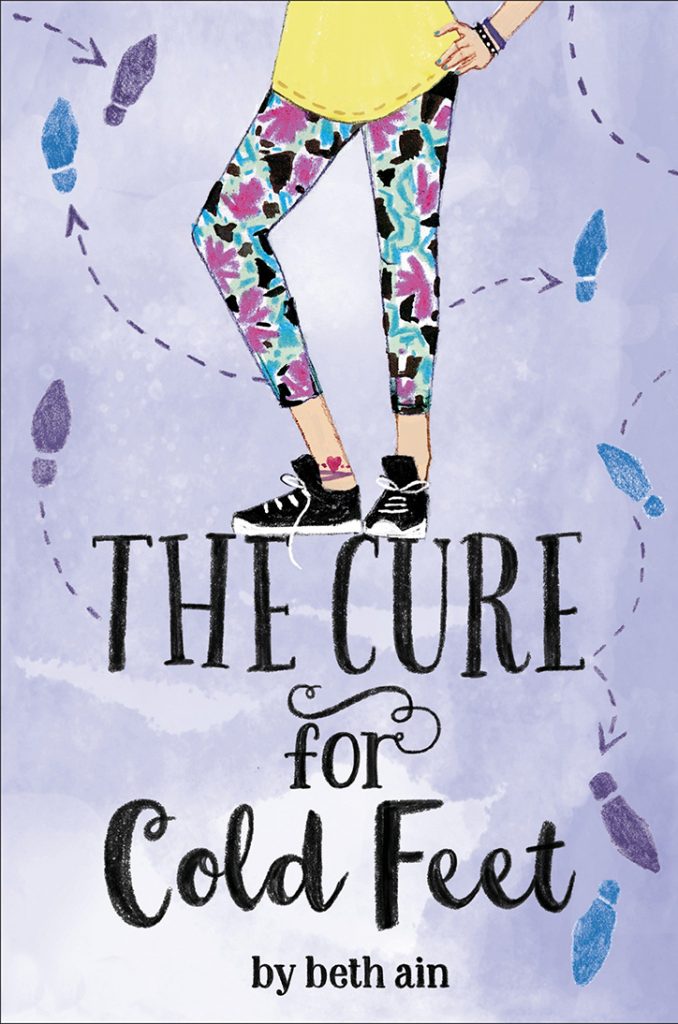 The Cure for Cold Feet
Author: Beth Ain
Publisher: Random House Books for Young Readers
Date: May 8
SYNOPSIS:
Junior high school girls, meet your new BFF! Izzy Kline faces all the drama of middle school with total honesty and deep heart.
Hiding out in the girls' bathroom . . .
FaceTiming one friend while group chatting two others . . .
Forced to ballroom dance with a boy for a social studies unit . . .
There is a LOT going on in middle school.
New experiences and shifting dynamics are around every turn. And it's not just her friends–Izzy's family is shifting as well. It's anxiety-inducing but also thrilling as Izzy learns to stake her claim.
For fans of Fish in a Tree and verse novels like Brown Girl Dreaming, Beth Ain's books perfectly capture the drama of adolescence with a ton of light humor and deep heart.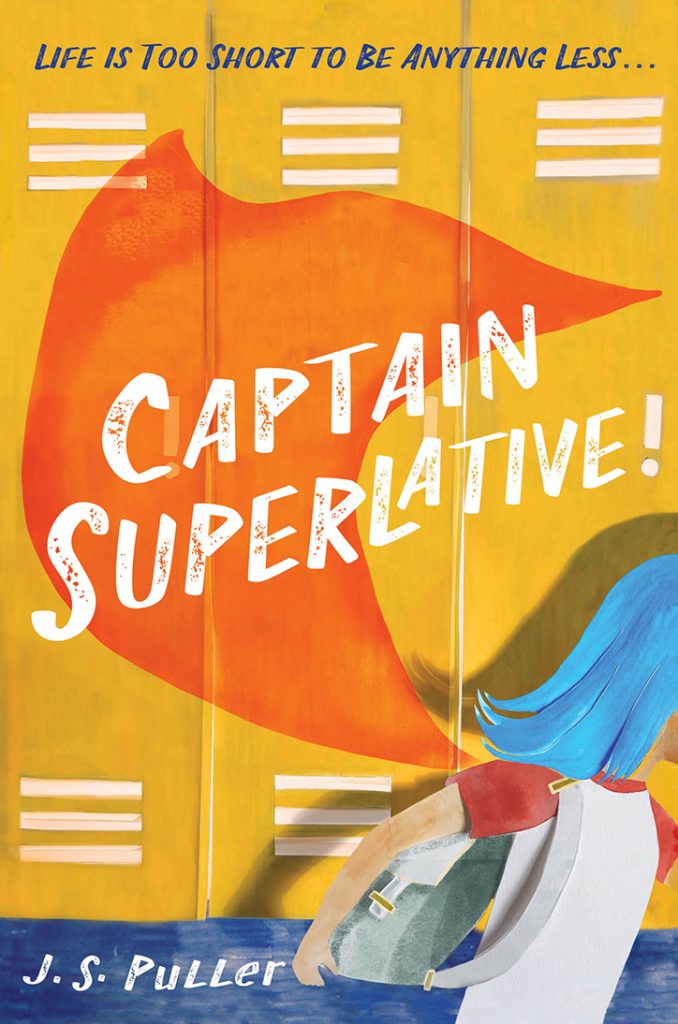 Captain Superlative
Author: J.S. Puller
Publisher: Disney Hyperion
Date: May 8
SYNOPSIS:
"Have no fear, citizens! Captain Superlative is here to make all troubles disappear!"
Red mask, blue wig, silver swimsuit, rubber gloves, torn tights, high top sneakers and . . . a cape? Who would run through the halls of Deerwood Park Middle School dressed like this? And why?
Janey – quick to stay in the shadows – can't resist the urge to uncover the truth behind the mask. The answer pulls invisible Janey into the spotlight and leads her to an unexpected friendship with a superhero like no other. Fearless even in the face of school bully extraordinaire, Dagmar Hagen, no good deed is too small for the incomparable Captain Superlative and her new sidekick, Janey.
But superheroes hold secrets and Captain Superlative is no exception. When Janey unearths what's truly at stake, she's forced to face her own dark secrets and discover what it truly means to be a hero . . . and a friend.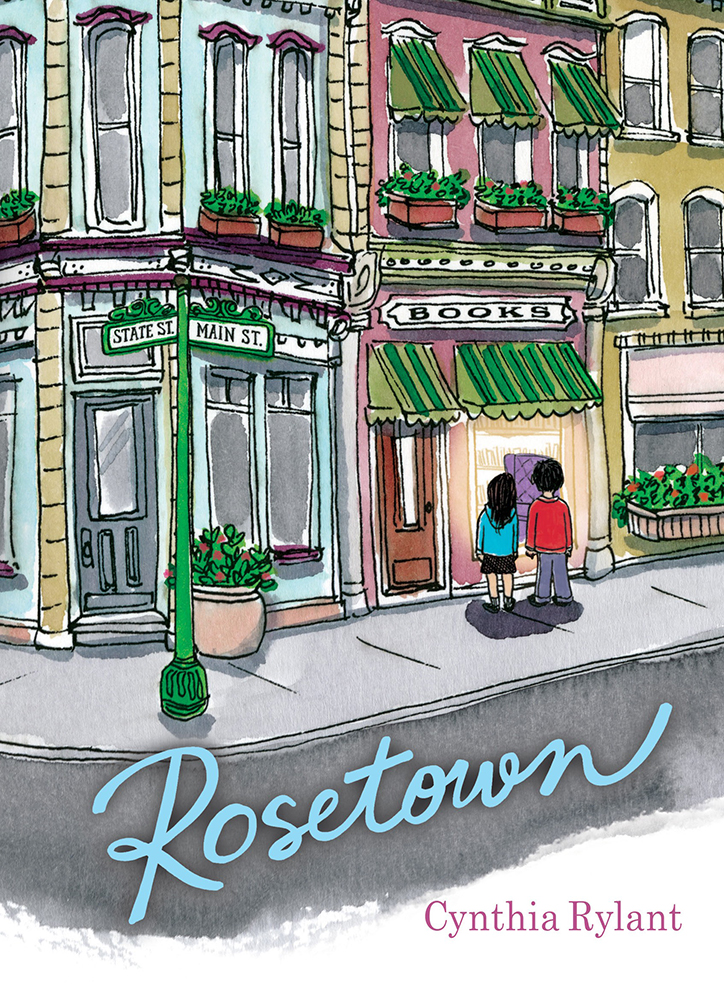 Rosetown
Author: Cynthia Rylant
Publisher: Beach Lane Books
Date: May 8
SYNOPSIS:
From Newbery Medalist Cynthia Rylant comes the charming story of nine-year-old Flora Smallwood and the eventful year she spends in the quiet community of Rosetown, Indiana.
For nine-year-old Flora Smallwood, Rosetown, Indiana, is full of surprises, many of the best of which happen at the Wing and a Chair Used Book Shop, where she loves to read vintage children's books after school in the faded purple chair by the window.
But lately, those surprises haven't been so good. Her dear old dog, Laurence, recently passed away. Not long after, her parents decided to take a breather from their marriage, and now Flora has to move back and forth between their two houses. Plus, she's just begun fourth grade, and it is so much different than third.
Luckily Flora has two wonderful friends—one old and one new. And with them around to share thoughts and laughs and adventures big and small, life in Rosetown still has many sweet moments—and even some very happy surprises!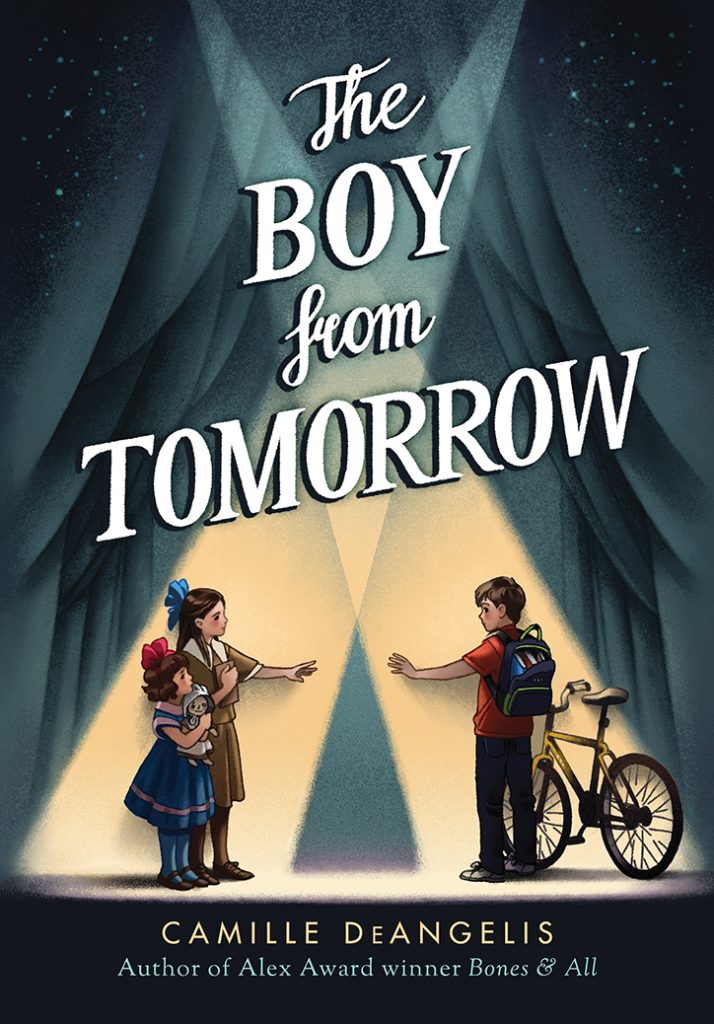 The Boy From Tomorrow
Author: Camille DeAngelis
Publisher: Amberjack Publishing
Date: May 8
SYNOPSIS:
Josie and Alec both live at 444 Sparrow Street. They sleep in the same room, but they've never laid eyes on each other. They are twelve years old but a hundred years apart.
The children meet through a handpainted spirit board—Josie in 1915, Alec in 2015—and form a friendship across the century that separates them. But a chain of events leave Josie and her little sister Cass trapped in the house and afraid for their safety, and Alec must find out what's going to happen to them. Can he help them change their future when it's already past?
The Boy from Tomorrow is a tribute to classic English fantasy novels like Tom's Midnight Garden and A Traveller in Time. Through their impossible friendship, Alec and Josie learn that life can offer only what they ask of it.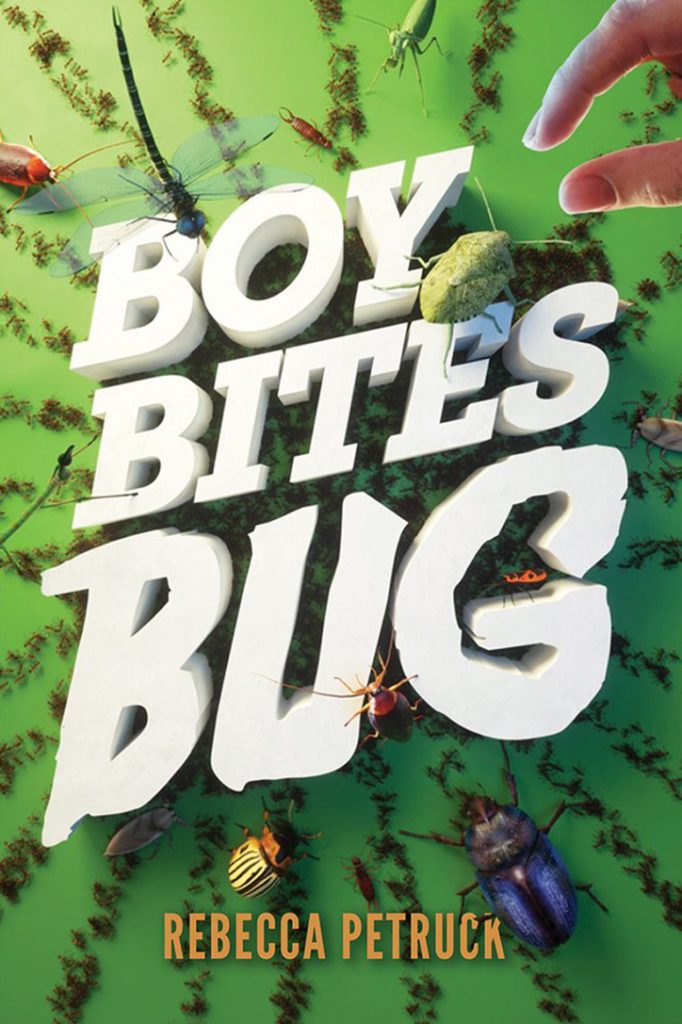 Boy Bites Bug
Author: Rebecca Petruck
Publisher: Amulet Books
Date: May 8
SYNOPSIS:
Will didn't plan to eat a stinkbug. But when his friend Darryl called new kid Eloy Herrera a racial slur, Will did it as a diversion. Now Will is Bug Boy, and everyone is cracking up inventing insect meals for him, like French flies and maggot-aroni and fleas.
Turns out eating bugs for food is a real thing, called entomophagy. Deciding that means he can use a class project to feed everyone grasshoppers, Will bargains for Eloy's help in exchange for helping him with wrestling, but their growing friendship only ticks off Darryl more.
Will may have bitten off more than he can chew as crickets, earthworm jerky—even a scorpion—end up on his plate, but insects are the least of his problems. When things with Darryl and Eloy heat up, Will wrestles with questions of loyalty, honor—and that maybe not all friendships are worth fighting for.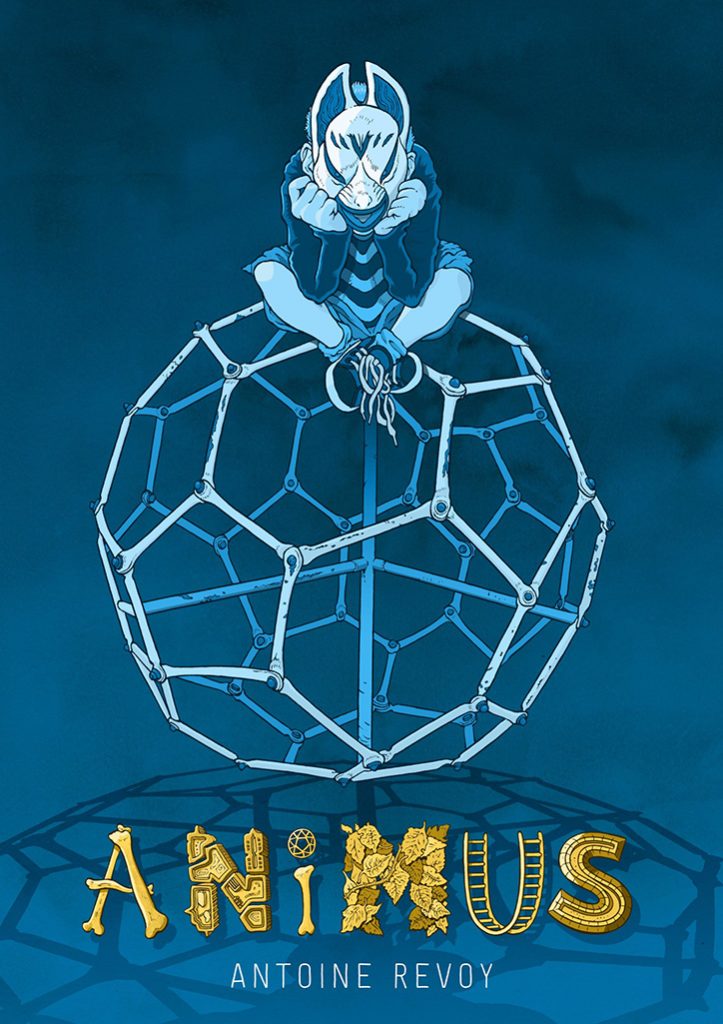 ANIMUS
Creator: Antoine Revoy
Publisher: First Second
Date: May 8
SYNOPSIS:
The residents of a quiet Kyoto neighborhood have slowly come to realize that inauspicious, paranormal forces are at play in the most unlikely of places: the local playground.
Two friends, a young girl, and boy, resolve to exorcise the evils that inhabit it, including a snaggle-toothed monster.
Beautiful and eerie, ANIMUS weaves an entrancing spell out of childish curiosity, folklore, friendship, and fears that lie deep in the human heart.

You Are Mighty: A Guide to Changing the World
Author: Caroline Paul
Publisher: Bloomsbury Children's Books
Date: May 15
YAYOMG!:
Have we ever been more excited for a book? I don't think so! Perfect for those of you who enjoyed The Confidence Code for Girls or are just looking for new ways to make a difference in the world, this is the book for you.
SYNOPSIS:
Passionate about politics? Dedicated to saving the environment? Outspoken about animal rights? No matter the cause, kids can make a difference! This guide features change-maker tips as well as anecdotes of young activists around the globe and throughout history. The suggested activist tactics covered range from tweaking everyday habits–like the sisters who call themselves the Plastic Patrol and convinced their family to stop using grocery bags and straws–to stretching to achieve something extraordinary–like the teen who used food waste to invent a water purification system. Told in Caroline Paul's trademark breezy voice and including Lauren Tamaki's delightful spot illustrations and tons of DIY activities, this is the ultimate practical–and fun!–manual for kids looking to change the world.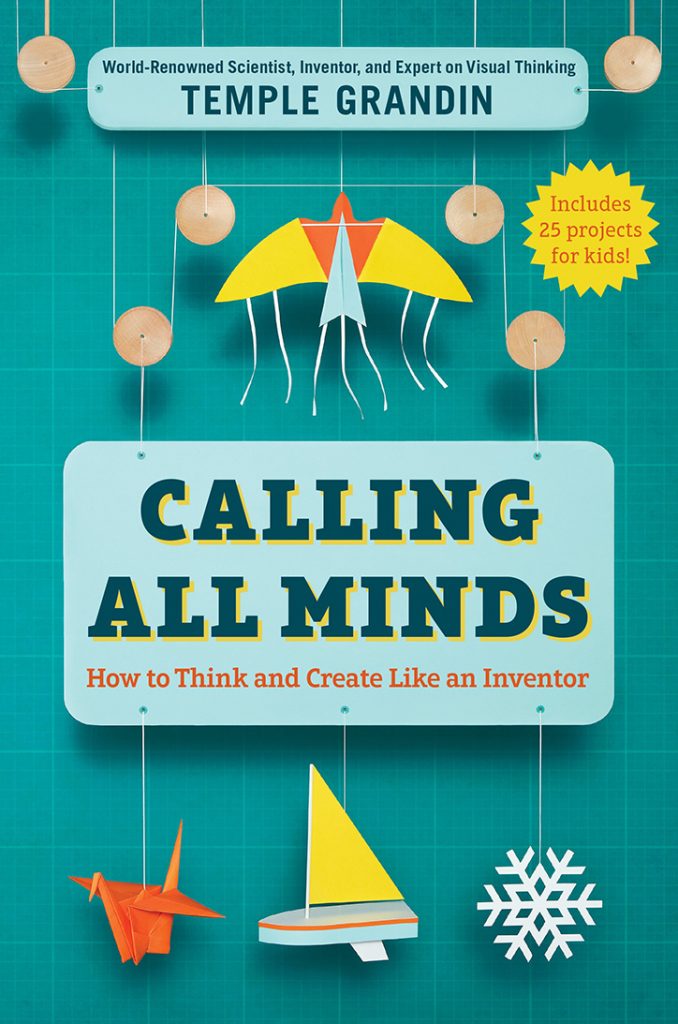 Calling All Minds: How to Think and Create Like an Inventor
Author: Temple Grandin
Publisher: Philomel Books
Date: May 15
SYNOPSIS:
Have you ever wondered what makes a kite fly or a boat float? Have you ever thought about why snowflakes are symmetrical, or why golf balls have dimples? Have you ever tried to make a kaleidoscope or build a pair of stilts?
In Calling All Minds, Temple Grandin explores the ideas behind all of those questions and more. She delves into the science behind inventions, the steps various people took to create and improve upon ideas as they evolved, and the ways in which young inventors can continue to think about and understand what it means to tinker, to fiddle, and to innovate. And laced throughout it all, Temple gives us glimpses into her own childhood tinkering, building, and inventing.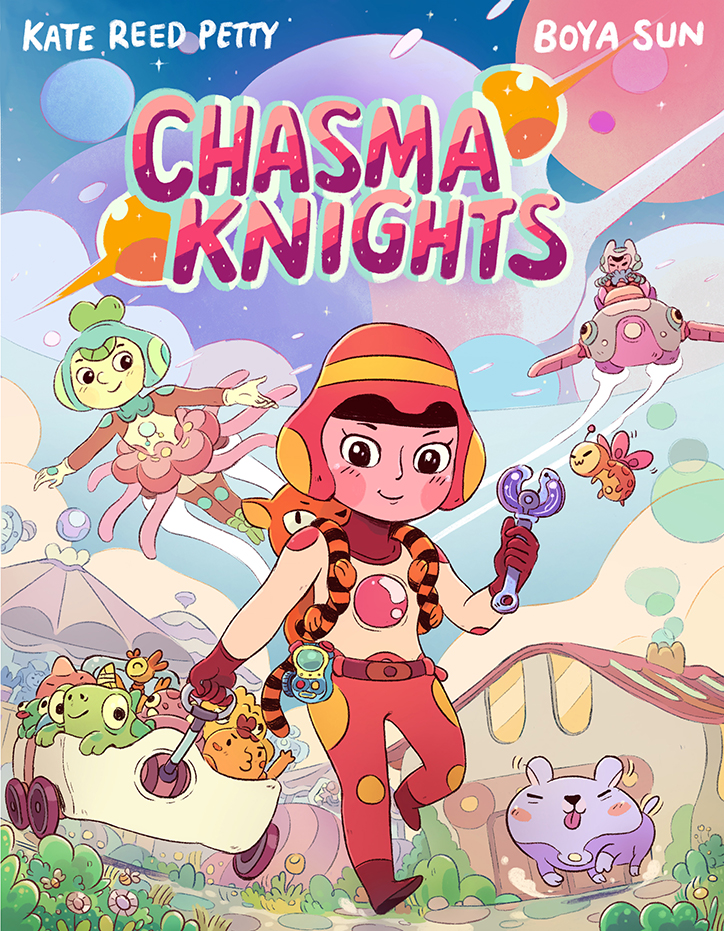 Chasma Knights
Creators: Boya Sun and Kate Reed Petty
Publisher: First Second
Date: May 8
SYNOPSIS:
Beryl lives in a world full of toys. But these aren't your ordinary toys—they're mechanical marvels that almost seem alive! And at the slightest touch, these toys "catalyze," that is, they merge with their owner and give them special abilities.
But not Beryl. She's a Neon Knight, and Neon Knights can't catalyze.
Beryl does have a special ability that no one knows about—she's an inventor who can turn a broken toy into an amazing, new creation. When a powerful Oxygen Knight named Coro discovers Beryl's secret workshop, she wants in on the fun. But can a Neon Knight and an Oxygen Knight ever get along?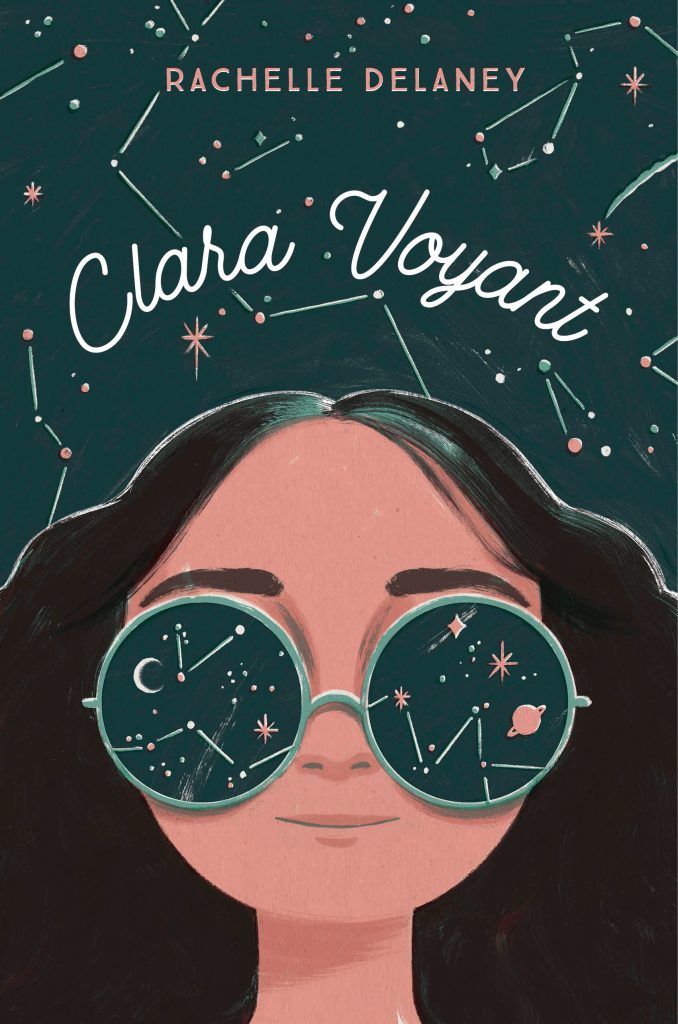 Clara Voyant
Author: Rachelle Delaney
Publisher: Puffin Canada
Date: May 15
SYNOPSIS:
Clara can't believe her no-nonsense grandmother has just up and moved to Florida, leaving Clara and her mother on their own for the first time. This means her mother can finally "follow her bliss," which involves moving to a tiny apartment in Kensington Market, working at a herbal remedy shop and trying to develop her so-called mystical powers. Clara tries to make the best of a bad situation by joining the newspaper staff at her new middle school, where she can sharpen her investigative journalistic skills and tell the kind of hard-news stories her grandmother appreciated. But the editor relegates her to boring news stories and worse . . . the horoscopes.
Worse yet, her horoscopes come true, and soon everyone at school is talking about Clara Voyant, the talented fortune-teller. Clara is horrified–horoscopes and clairvoyance aren't real, she insists, just like her grandmother always told her. But when a mystery unfolds at school, she finds herself in a strange situation: having an opportunity to prove herself as an investigative journalist . . . with the help of her own mystical powers.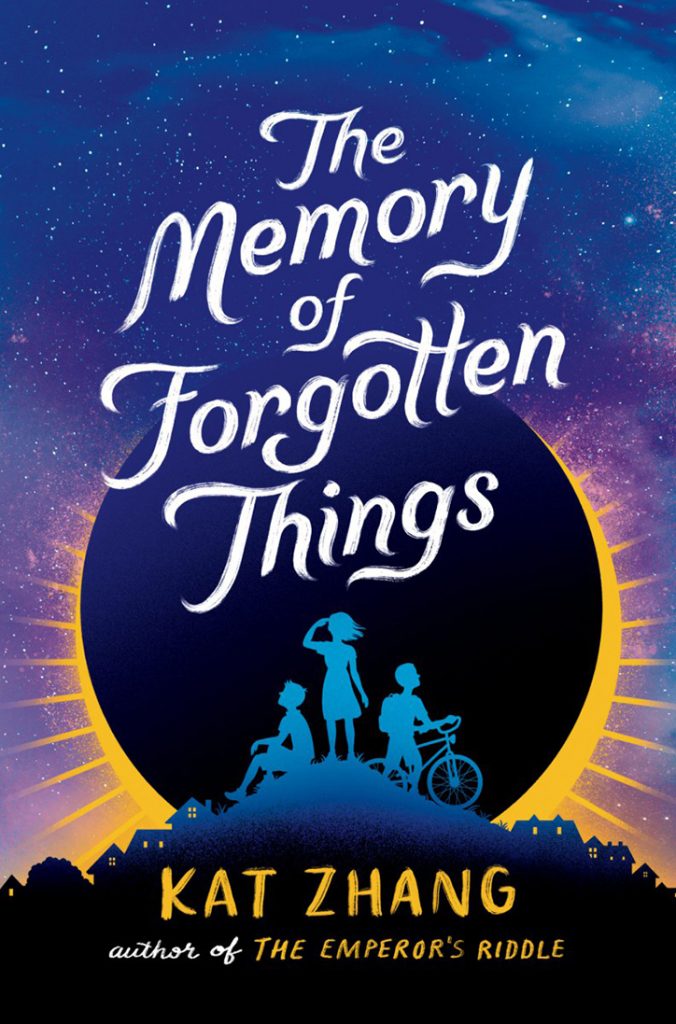 The Memory of Forgotten Things
Author: Kat Zhang
Publisher: Aladdin
Date: May 15
SYNOPSIS:
One of the happiest memories twelve-year-old Sophia Wallace has is of her tenth birthday. Her mother made her a cake that year—and not a cake from a box-mix but from scratch. She remembers the way the frosting tasted, the way the pink sugar roses dissolved on her tongue.
This memory, and a scant few others like it, is all Sophia has of her mother, so she keeps them close. She keeps them secret, too. Because as paltry as these memories are, she shouldn't have them at all.
The truth is, Sophia Wallace's mother died when she was six years old. But that isn't how she remembers it. Not always.
Sophia has never told anyone about her unusual memories—snapshots of a past that never happened. But everything changes when Sophia gets assigned a school research project on solar eclipses. She becomes convinced that the upcoming solar eclipse will grant her the opportunity to make her alternate life come true, to enter a world where her mother never died.
With the help of two misfit boys, she must figure out a way to bring her mother back to her—before the opportunity is lost forever.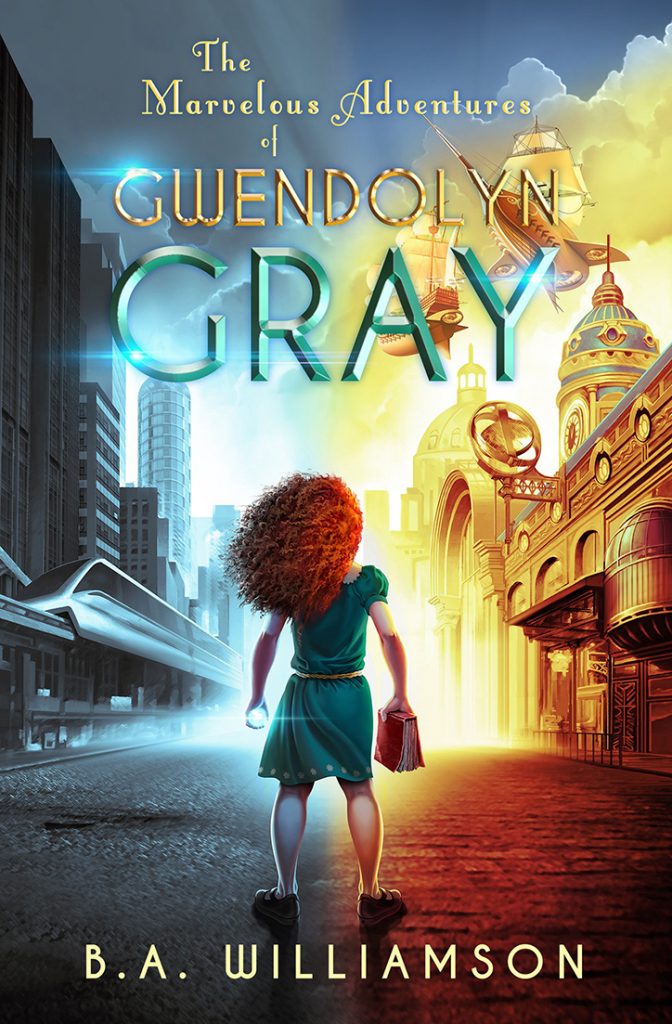 The Marvelous Adventures of Gwendolyn Gray
Author: B.A. Williamson
Publisher: Jolly Fish Press
Date: May 15
SYNOPSIS:
Gwendolyn Gray faces an overwhelming battle every day: keeping her imagination under control. It's a struggle for a dreamer like Gwendolyn, in a city of identical gray skyscrapers, clouds that never clear, and grown-ups who never understand.
But when her daydreams come alive and run amok in The City, the struggle to control them becomes as real as the furry creatures infesting her bedroom. Worse yet, she's drawn the attention of the Faceless Gentlemen, who want to preserve order in The City by erasing Gwendolyn and her troublesome creations.
With the help of two explorers from another world, Gwendolyn escapes and finds herself in a land of clockwork inventions and colorful creations. Now Gwendolyn must harness her powers and, with a gang of airship pirates, stop the Faceless Gentlemen from destroying the new world she loves and the home that never wanted her—before every world becomes gray and dull.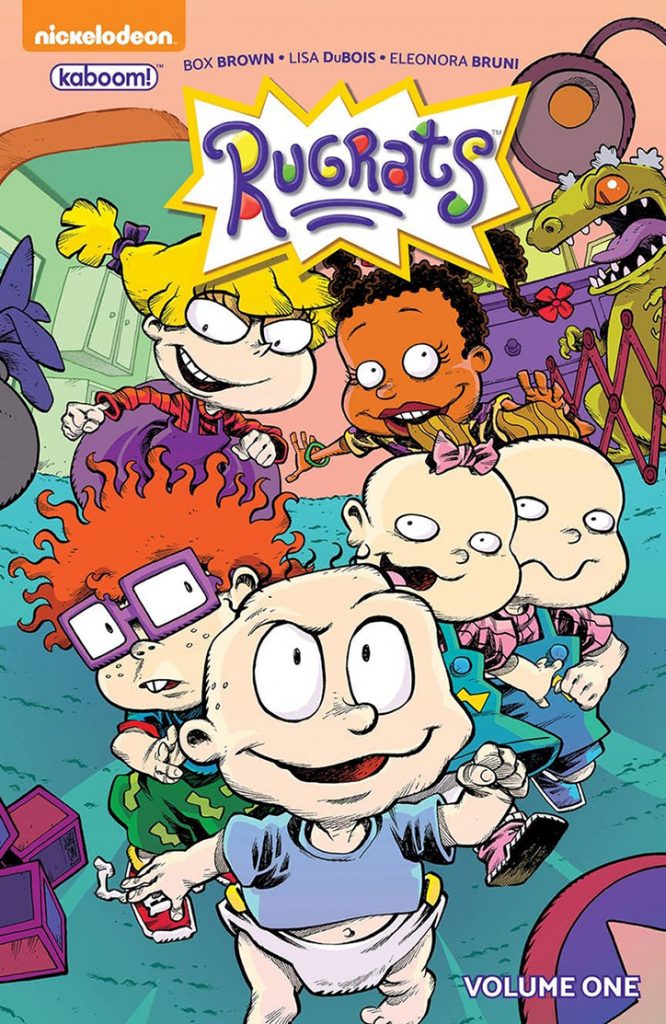 Rugrats: Volume 1
Writers: Box Brown, Pranas T. Naujokaitis
Artist: Lisa DuBois
Publisher: BOOM! Studios
Date: May 16
YAYOMG!:
Catch the first four issues of the Rugrats comic, collected in one easy to read paperback volume! Want to know more about what the babies are up to? Check out our interview with creators Lisa DuBois and Box Brown!
SYNOPSIS:
Hang on to your diapies, babies! BOOM! Studio teams up with Nickelodeon to present all-new Rugrats adventures with the most intrepid toddlers to ever bust out of a playpen.Tommy, Chuckie, Phil, and Lil have noticed something – they are being watched. Somehow their parents can see every little thing they can do. They're going to have to find a way to have fun while avoiding the electronic eyes of the babycam! Features a world-war-Cynthia story by Pranas Naujokaitis (Laffy Meal, Adventure Time: Ice King). Collects issues #1-4.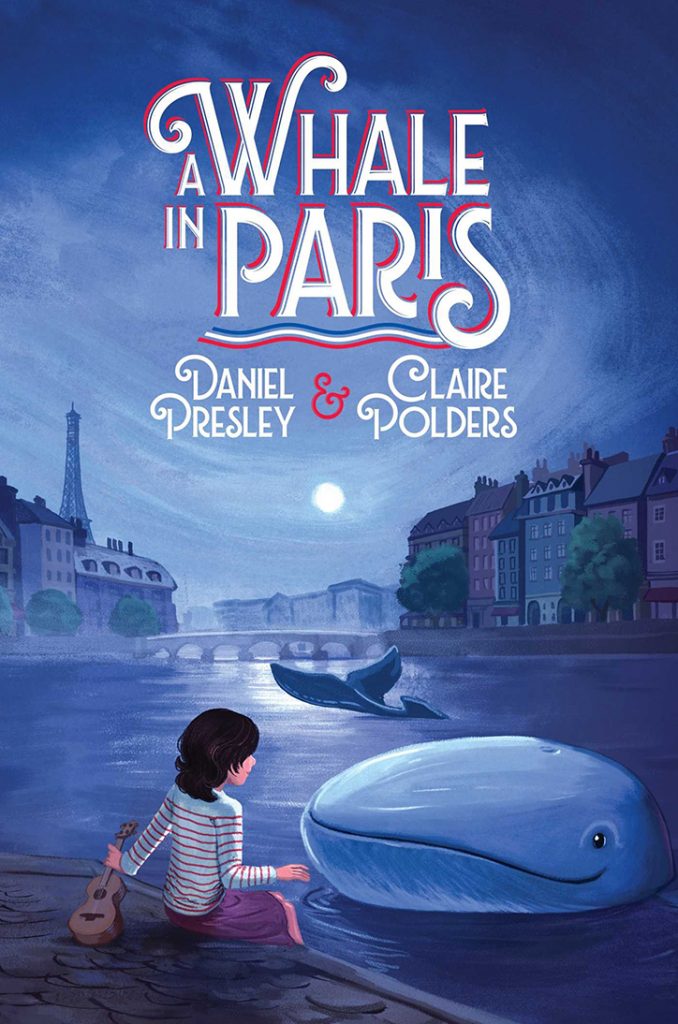 A Whale in Paris
Author: Daniel Presley and Claire Polders
Publisher: Atheneum Books for Young Readers
Date: May 22
SYNOPSIS:
A hopeful and heroic girl befriends a small, lost whale during World War II and together they embark on a journey to liberate France and find their families in this charming debut novel.
Ever since the Germans became the unwelcome "guests" of Paris in the early days of World War II, Papa and Chantal have gone out in the evenings to fish in the Seine. Tonight Chantal is hoping for a salmon, but instead, she spies something much more special: a whale!
Though small (for a whale) and lost, he seems friendly. Chantal soon opens her heart to the loveable creature and names him Franklin, after the American president who must surely be sending troops to rescue her country.
Yet Franklin is in danger: The Parisians are starving and would love to eat him, and the Nazis want to capture him as a gift to Hitler. In a desperate bid to liberate themselves and their city, Chantal and Franklin embark on a dangerous voyage. But can one small girl manage to return a whale to the ocean and reunite him with his parents? And will she ever see her own family again?

Front Desk
Author: Kelly Yang
Publisher: Arthur A. Levine
Date: May 29
YAYOMG!:
We've been intrigued by Front Desk since we first saw the cover a few months ago, and we're so excited to announce that we'll be featuring this wonderful read on YAYOMG! later this month. Be sure to check back on May 28th for our interview with author Kelly Yang.
SYNOPSIS:
Front Desk tells the story of 10-year-old Mia Tang. Every day, Mia manages the front desk of the Calivista Motel while her parents clean the rooms. She's proud of her job. She loves the guests and treats them like family. When one of the guests gets into trouble with the police, it shakes Mia to her core. Her parents, meanwhile, hide immigrants in the empty rooms at night. If the mean motel owner Mr. Yao finds out, they'll be doomed!
Based on the author's life, the story follows Mia—the daughter of first generation Chinese immigrants.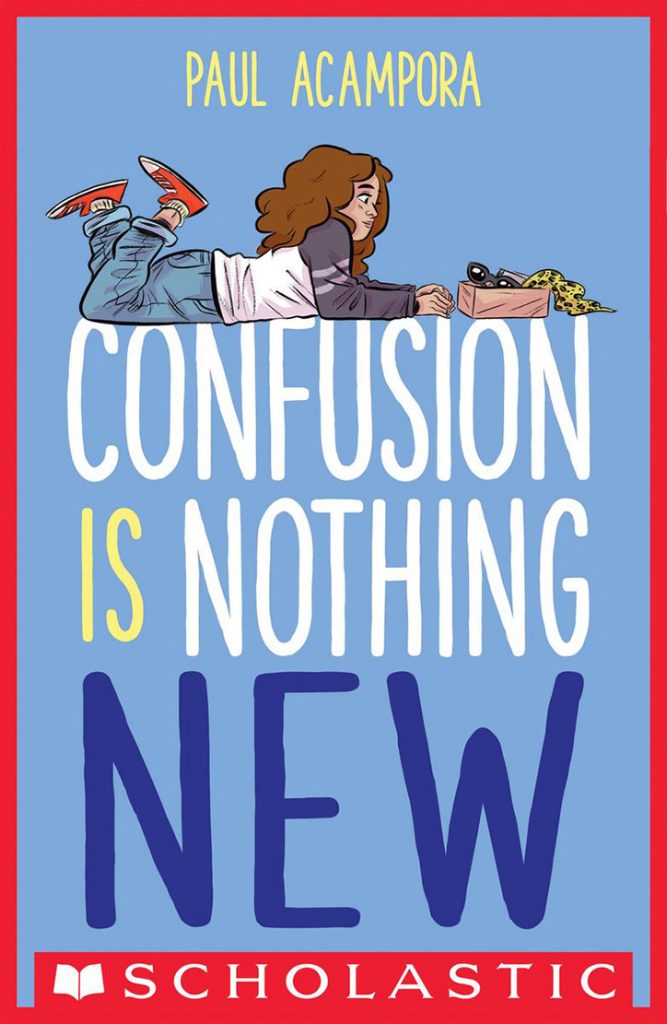 Confusion is Nothing New
Author: Paul Acampora
Publisher: Scholastic
Date: May 29
YAYOMG!:
Author Paul Acampora will be taking readers beyond the pages of his touching 80's inspired novel, Confusion is Nothing New! Be sure to check our site on May 29th to see what fun facts he shares about the book!
SYNOPSIS:
Ellie Magari is figuring out what it means to be a girl in the world today, especially when the one role model she could have had (her mother) was never around and she was raised by her hardworking single father who didn't exactly keep the lines of communication open. Exactly who was Ellie's mom? And now that she's gone forever, what does that mean for Ellie?
Fueled by the bighearted sounds of '80s rock and roll, plus large doses of Cyndi Lauper's girl-power joy, Confusion is Nothing New is a coming-of-age story about friendship, girls, and the tension between fathers and daughters. It's also a story about girls who understand that it's good to make things, but breaking things is okay too.
In fact, sometimes breaking things is required.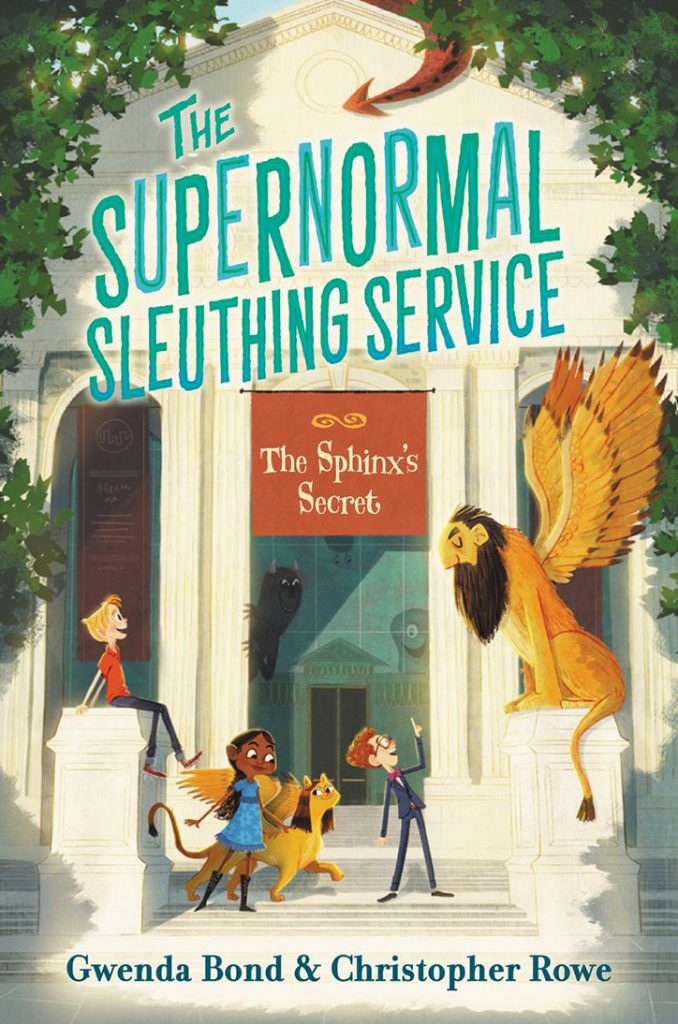 The Supernormal Sleuthing Service: The Sphinx's Secret
Authors: Gwenda Bond and Christopher Rowe
Publisher: Greenwillow Books
Date: May 29
YAYOMG!: Want to know more about this awesome series? Check out the interview we did with Gwenda Bond about the first book in the series, The Lost Legacy!
SYNOPSIS:
The action-packed sequel to The Lost Legacy, which Booklist called "Monstrous fun!"
Living in a hotel full of monsters isn't always easy. Stephen is trying to adapt as quickly as he can, but there's still a lot he doesn't know. When a sorcerer casts a spell on the hotel and all its inhabitants, Stephen and his friends must find a way to undo the magic before their home is changed forever. This mystery-adventure with a time-travel twist is Hotel Transylvania meets Escape from Mr. Lemoncello's Library.
It's only been a few weeks since Stephen started living at the New Harmonia—a hotel that caters to a supernormal clientele, including bigfeet, vampires, dragons, and talking gargoyles—and he still has a lot to learn. His latest discovery? The lions in front of the New York Public Library are actually sphinxes, guarding a secret treasure trove of magical objects.
When a mysterious wizard steals a powerful wand from the collection and casts a spell on the entire supernormal world, Stephen and his friends must find a way to reverse the magic before it becomes permanent. This inventive and accessible mystery-adventure is full of friendship, humor, and a curious cast of characters perfect for fans of Pseudonymous Bosch and R.L. Stine's Goosebumps series.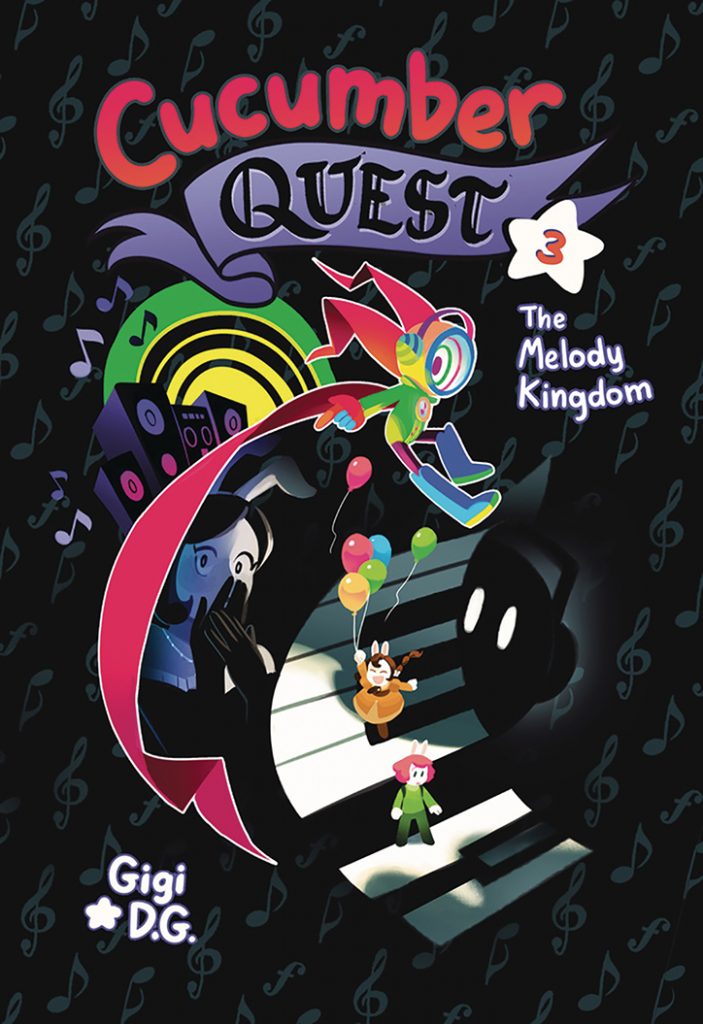 Cucumber Quest: The Melody Kingdom
Creator: Gigi D.G.
Publisher: First Second
Date: May 29
SYNOPSIS:
Now with Princess Nautilus as part of their entourage, Cucumber and Almond travel to Trebleopolis to warn Princess Piano that Noisemaster, second of the Nightmare Knight's minions, might be after her! Unfortunately, they arrive just in time for Queen Cymbal's birthday and the Queen refuses to stop the festivities . . . that is until Noisemaster succeeds in capturing Princess Piano and threatens to destroy the city.
Adapted from the popular webcomic series of the same name, Cucumber Quest: The Melody Kingdom is the third book of a clever, adorable, and hilarious four-volume heroic adventure that is sure to make you hungry for sweets and action.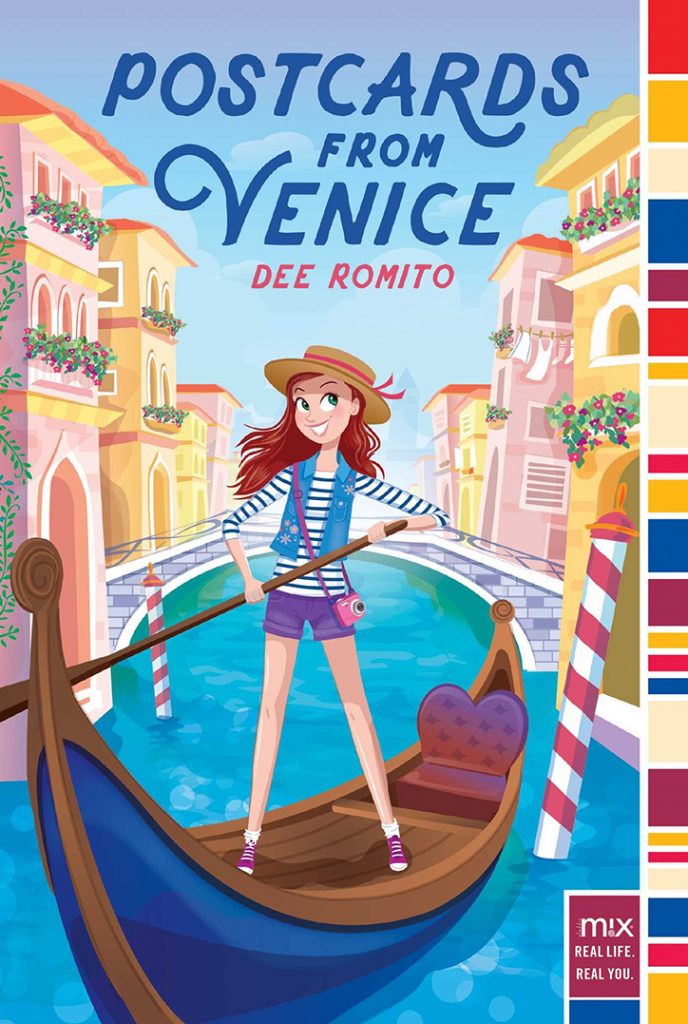 Postcards from Venice
Author: Dee Romito
Publisher: Aladdin
Date: May 29
SYNOPSIS:
Twelve-year-old Skyler is in for a summer of adventure in Venice, Italy, as she pursues a dream opportunity in this hilarious MIX novel that's a companion to The BFF Bucket List.
Skyler is about to go on the biggest adventure of her life. Her mother has been relocated to Venice, Italy, with the possibility of a long-term move. While there, Skyler takes on an informal internship and will be blogging about the city—a position that could lead to even bigger things if all goes well.
One of her fellow interns, Logan, is cool, cute, and Australian. But the other intern, Zara, seems determined to sabotage Skyler's chances. And with a big assignment coming up, Skyler is already stumped.
Wishing she had someone to talk to, the first person who comes to mind isn't even on the same continent. Skyler knows that her BFF, Ella, would have all the answers, especially how to solve the writer's block. But after a summer bucket list that went awry, they didn't leave on the best of terms. Thanks to technology, Skyler and Ella get a long-distance shot at mending things.
But when Skyler's writing mistakes start to pile up, she isn't sure if she's up to the task. With the help of some Italian magic and her oldest friend, can Skyler learn to love her new city and stay connected to what matters most?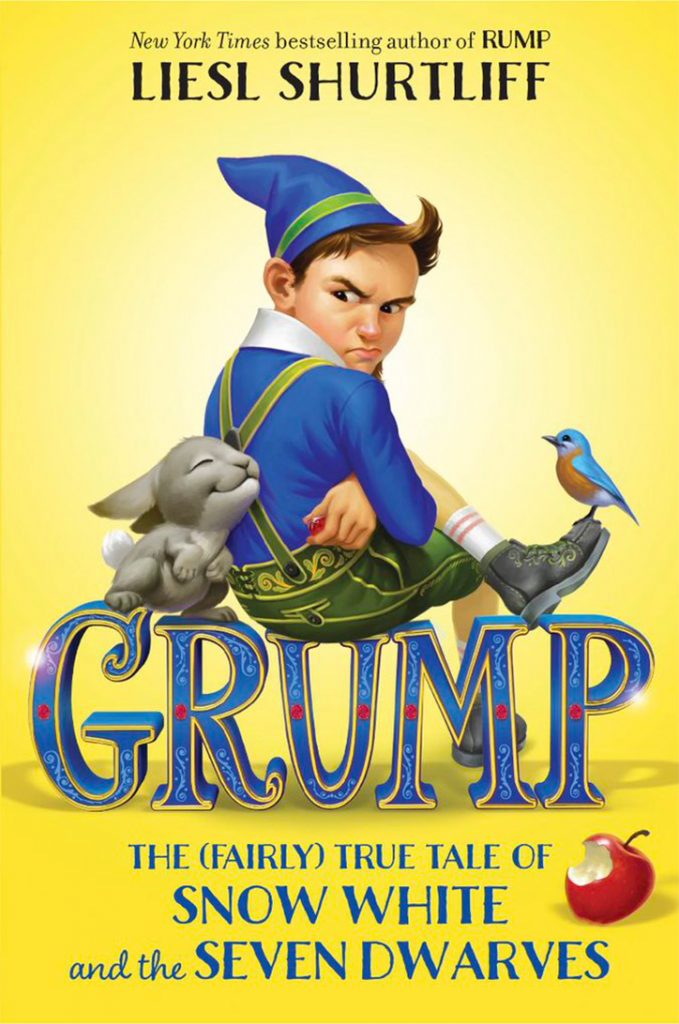 Grump: The (Fairly) True Tale of Snow White and the Seven Dwarves
Author: Liesl Shurtliff
Publisher: Knopf Books for Young Readers
Date: May 29
SYNOPSIS:
From the New York Times bestselling author of Rump, comes the true story behind another unlikely hero: a grumpy dwarf who gets tangled up in Snow White's feud with the wicked queen.
Ever since he was a dwarfling, Borlen (nicknamed "Grump") has dreamed of visiting The Surface, so when opportunity knocks, he leaves his cavern home behind.
At first, life aboveground is a dream come true. Queen Elfrieda Veronika Ingrid Lenore (E.V.I.L.) is the best friend Grump always wanted, feeding him all the rubies he can eat and allowing him to rule at her side in exchange for magic and information. But as time goes on, Grump starts to suspect that Queen E.V.I.L. may not be as nice as she seems. . . .
When the queen commands him to carry out a horrible task against her stepdaughter Snow White, Grump is in over his head. He's bound by magic to help the queen, but also to protect Snow White. As if that wasn't stressful enough, the queen keeps bugging him for updates through her magic mirror! He'll have to dig deep to find a way out of this pickle, and that's enough to make any dwarf Grumpy indeed.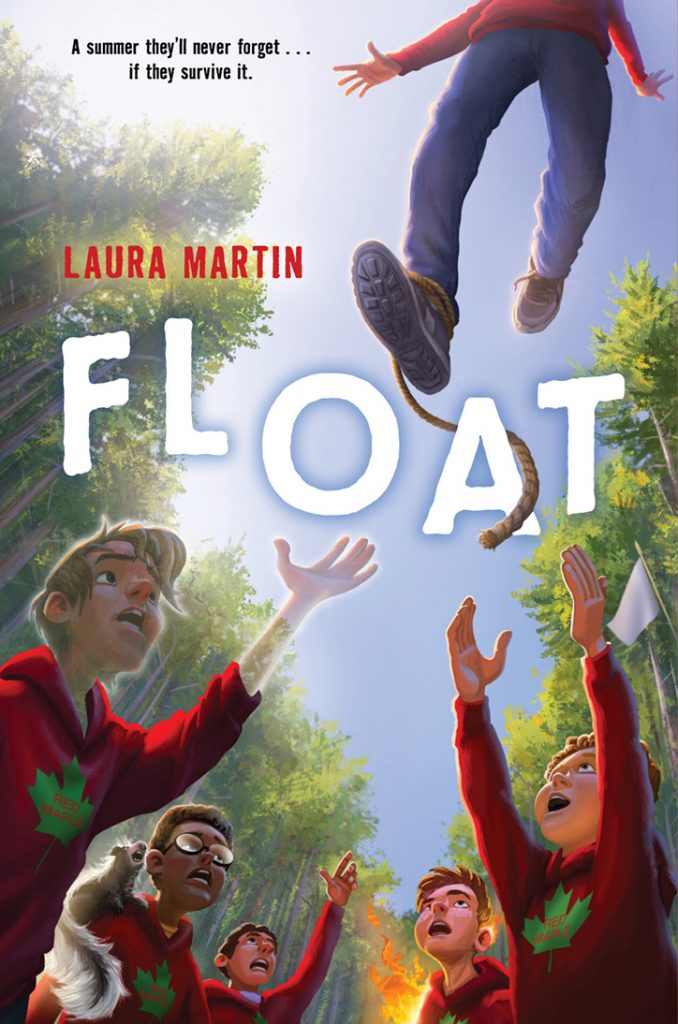 Float
Author: Laura Martin
Publisher: HarperCollins Children's Books
Date: May 29
SYNOPSIS:
From the critically acclaimed author of the Edge of Extinction series comes this fast-paced, action-packed, and heartfelt adventure about a group of kids with uncontrollable abilities, perfect for fans of Gordon Korman, Lisa McMann, and Dan Gutman!
Emerson can float…he just can't do it very well.
His uncontrollable floating is his RISK factor, which means that he deals with Reoccurring Incidents of the Strange Kind. The last place Emerson wants to be is at a government-mandated summer camp for RISK kids like him, so he's shocked when he actually starts having fun at camp—and he even makes some new friends.
But it's not all canoeing and capture the flag at Camp Outlier. The summer of fun takes a serious turn when Emerson and his friends discover that one of their own is hiding a deadly secret that puts all of their lives in danger.
It's up to the Red Maple boys to save themselves—and everyone like them.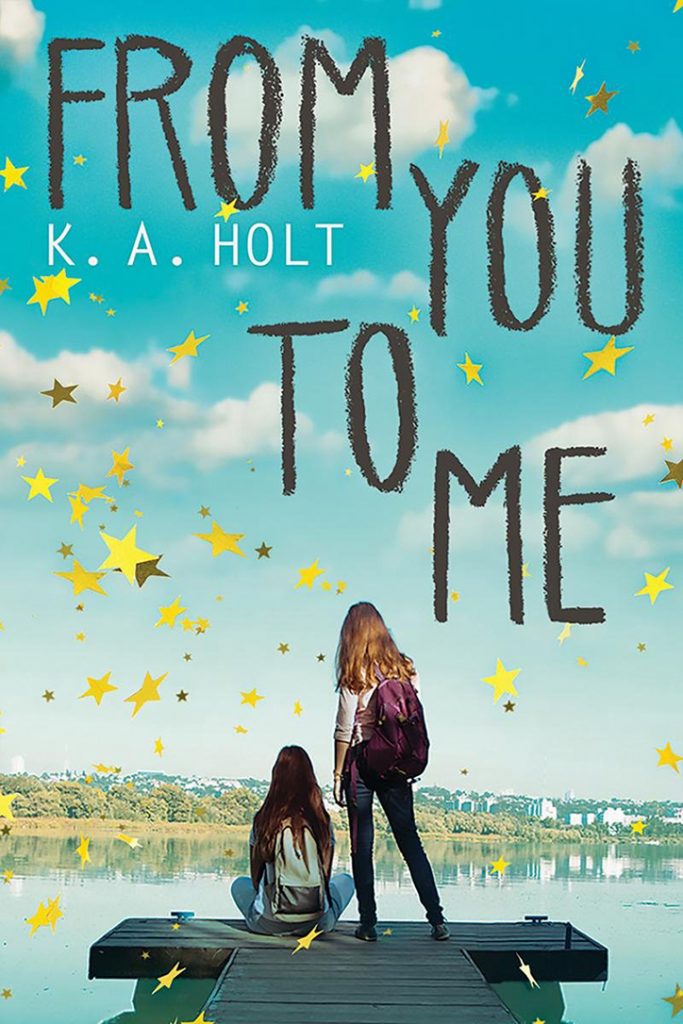 From You to Me
Author: K.A. Holt
Publisher: Scholastic
Date: May 29
SYNOPSIS:
Amelia Peabody lives in a small town where nothing changes. And that's just fine by her. After losing her big sister, Clara, a few years ago, Amelia can't handle any more change. But when she starts eighth grade, she accidentally receives a letter that Clara had written to herself. In it, there's a list of things she'd wanted to do before the end of middle school and never finished, like get on the softball team and throw an awesome birthday party on the lake.
Amelia wonders if it's a sign from Clara. Maybe if she completed the list, her heart would stop hurting so much, and she could go back to being her old self. But as she makes her way through, Amelia finds that there's no going back, only forward. And she realizes she'll have to put her own spin on Clara's list to grow and change in the ways she needs to.
K. A. Holt's beautiful new novel is about grieving and growing up, and the ripples loss creates for a girl, a family, and a community.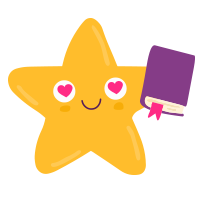 Always on the hunt for you new favorite book? We think you'll love OwlCrate Jr., a middle-grade subscription box that is delivered to your doorstep and jam-packed with bookish goodies every month!