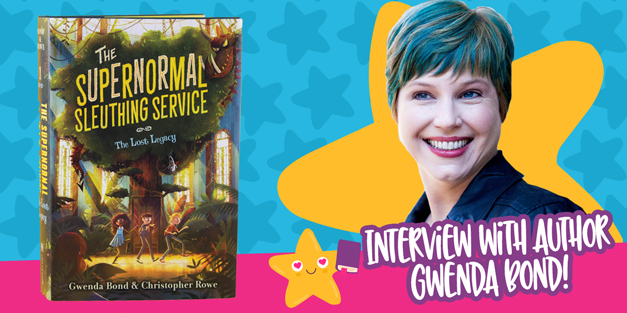 The Supernormal Sleuthing Service: Interview with Author Gwenda Bond
The Supernormal Sleuthing Service: The Lost Legacy is the first book in a thrilling new middle grade series that released in May. The story takes place in a big hotel in New York City, which seems pretty normal, right? However, the New Harmonia Hotel is anything but normal. In fact – you might call it supernormal!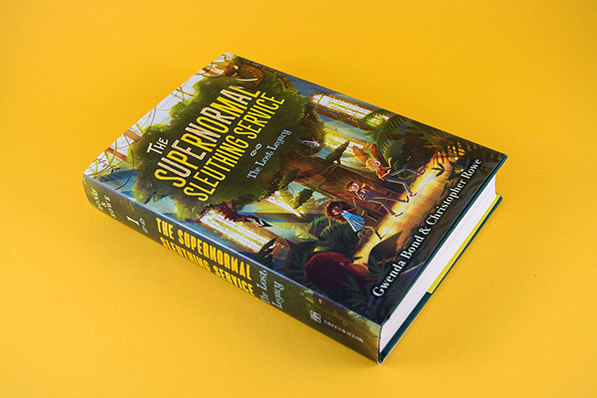 The hotel is home to all types of elite monsters and creatures including vampires, fae, dragons, and even a talking elevator. It's also about to be Stephen's new home. Stephen's grandmother, Chef Nana, worked at the hotel as the beloved resident chef until the day she passed away. Chef Nana would always write letters to Stephen about the unique clientele and wild goings-on of the hotel, but he never believed them until the day of her funeral when everything he knew was turned upside down. With Stephen's dad taking over the chef job, they packed up and moved from Chicago to New York, uprooting Stephen from his familiar life back home. From the moment he first stepped foot into his new home, Stephen begins to learn lots of intriguing secrets about his family history and that every story his grandmother shared was actually TRUE.
Adjusting to his new life is hard enough, but when an important family heirloom is stolen, Stephen must retrieve it. He knows he can't do it alone, so he teams up with two other kids, the witty and fierce Sofia and shy super-sleuth Ivan, to unravel the mystery and retrieve the ancient artifact that his fate depends on.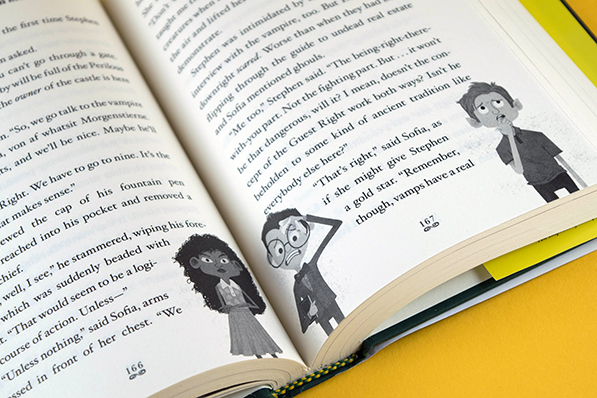 The Lost Legacy has been described as "Hotel Transylvania meets Escape From Mr. Lemoncello's Library", so if you're all about monsters, mysteries, adventures, and laughs, this is definitely the book for you. It's a non-stop adventure through the many strange floors of the hotel that's brimming with fun and unique characters and a few awesome illustrations mixed in. It's a great tale of being the new kid, growing up, and trying to figure out exactly where you fit in all wrapped up in a magical fantasy hotel filled with unusual creatures. Oh, and befriending a completely eccentric, over the top dragon who lives in the hotel basement.
We loved it so much we asked author Gwenda Bond to dish on what it was like to work on the book, what it was like to work with her husband Christopher Rowe as a writing partner, and what you guys can expect from the next book in the series!
The Supernormal Sleuthing Service – Interview with Author Gwenda Bond:
YAYOMG!: What inspired you to write the Supernormal Sleuthing Service series?
GWENDA: Would you believe goofing off on Twitter? But that's part of it — I had gotten a hilarious piece of spam for high end hotel chains and started joking on Twitter about wanting an army of hotel detectives. And, in fact, I've always loved hotel detectives, but it's difficult to figure out how to do that for kids or teens. I woke up a couple of weeks later and went, "DUH, it's a hotel for monsters and that's why it has hotel detectives!" When I told Christopher this, he immediately had a bunch of ideas that were just right and so we agreed to try writing it together.
YAYOMG!: What goes into transforming a story from just an idea to an actual published book? Can you share a little about the process for our readers?
GWENDA: It's a messy process, which I feel like is what makes it so hard not just when you're starting out (and thus convinced you're doing it wrong) and every time after (because you wish it got easier, but it doesn't). There's a lot of trial and error. A lot of throwing out okay ideas to get to the good/best ones. Getting to know your characters and your story. And then, of course, finding a great editor who believes in it and can help you see the parts you got wrong on your own and fix them and only after that shepherd the book through the rest of the publication process and help get it to the right audience.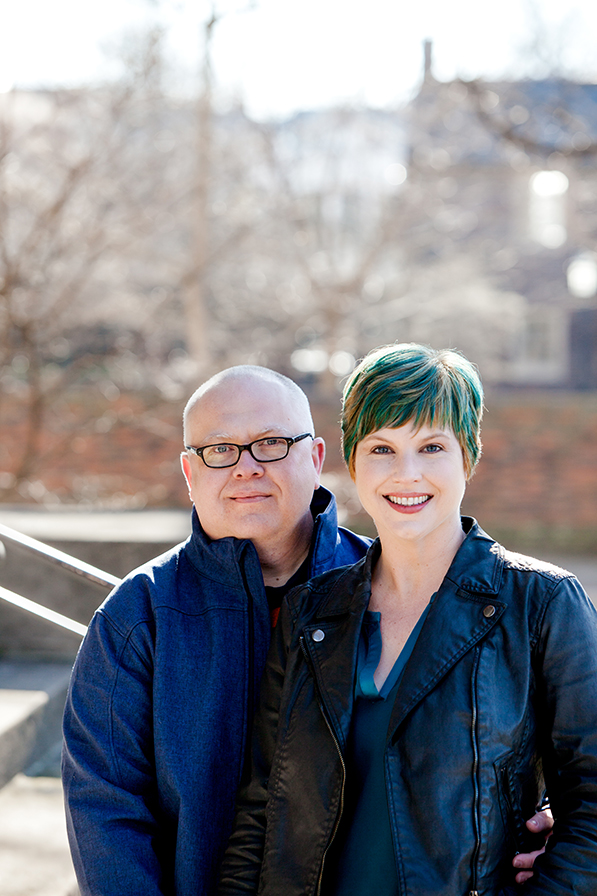 YAYOMG!: You and your husband Christopher Rowe wrote this book together. What was it like to write together and what different things do you each bring to the table when collaborating on a story?
GWENDA: It was a blast! Our writing processes are pretty polar opposite when we're on our own. For this, we talked a lot on dog walks and at dinners and everywhere. We'd plan out roughly what happened plotwise and then leave room for invention. I'd write 500 or 1,000 words before I got up to go to work at my then-day job and then Christopher would match with 500 or 1,000 more and read that day's work out loud when I got home.
He does the voices and everything, which is great. Christopher's better at drafting than I am–he turns out immediately polished prose–and I'm better at planning and revising. So we complement each other pretty well. And it's just fun to try to delight each other (and thus hopefully readers!) and make each other laugh or tear up with scenes.
YAYOMG!: The setting for the book, The New Harmonia Hotel, has so much charm and personality – it almost felt it's own character in the way it popped off the page. Was it important to you to make the hotel really stand out rather than being just the where the book takes place?
GWENDA: Yes! But it was a process. We took the first few chapters of the earliest draft of this book to a workshop with friends I go to most every year called Bat Cave (no really) and my friend Carrie Ryan had just co-written a middle grade with her husband (The Map to Everywhere series, which is great!) was there. She really impressed on us that we should push the setting as far as we could; to stop thinking like adults and think instead of what would be the most amazing things we could come up with that would have delighted us as kids. That next draft is the one where the setting truly came together for us. It was a piece of advice that simply clicked and helped us take it to the next level. I love The New Harmonia. I want to go there.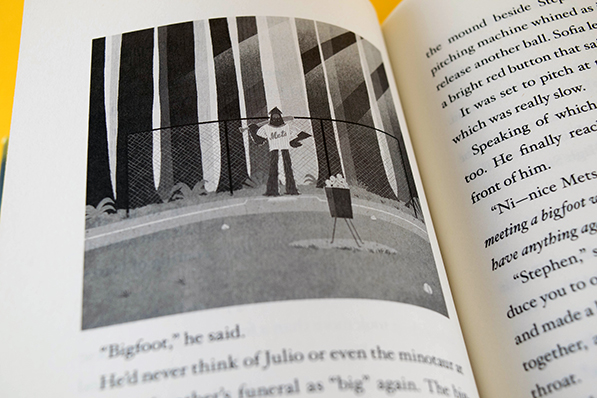 YAYOMG!: We can't decide who we love more – the unappreciated talking elevator or Cindermass. They're both such interesting characters. Did you have a character you loved writing most or maybe one who surprised you while writing this book?
GWENDA: Those are two of our favorites as well, and two of the most fun to write. The Elevator wasn't in the first draft, so it was a lovely surprise when it popped up in one of Christopher's scenes and wouldn't stop talking. We also have some Marina the mermaid/personal trainer scenes we had to cut for space but hope to use in a future book, because she's hilarious to write. I also personally love writing Sofia-heavy scenes.
YAYOMG!: The book features a variety of different Supernormals ranging from vampires to fae to Bigfoots (Bigfeet?). If you could be a Supernormal, which one would you want to be?
GWENDA: I think a member of the winged folk, so I could fly! And when we do school visits and talk about the Octagon and different types of supernormals, I joke that Christopher is a subterranean dweller. (He says he's a wizard and wears a cape.)
YAYOMG!: You and Christopher have built out an extraordinarily fun world with a truly fantastic cast of characters already, but is there a type of Supernormal or maybe a floor of the hotel you're hoping to bring to life next time around?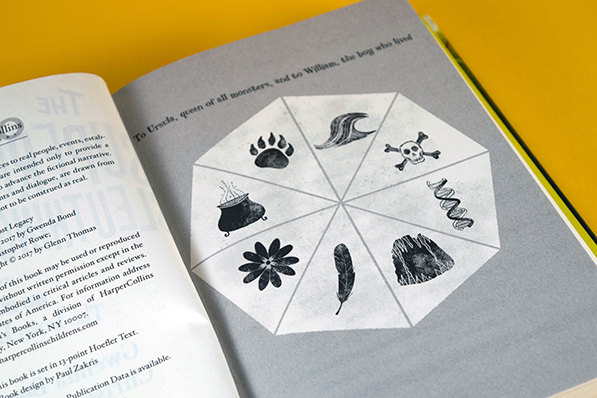 GWENDA: We've just finished the first draft of the next book and I can tell you that you're going to see a lot more of the Octagon and other types of creatures and go on a big adventure outside the hotel too. I don't think we'll ever run out of things to explore in this world and the hotel. The Manager can always just change things up. 😉
YAYOMG!: We heard you've been visiting schools to help promote the book. What is the most common question you get from kids?
GWENDA: Doing school visits together has been so fun. We get the best questions. Usually there are several of the ones you've asked here–how do you write a book? What Octagon faction is your favorite? Also pet questions. We love to talk about our pets.
YAYOMG!: Can you make 3 must-read Middle Grade book suggestions you think our readers should pick up?
GWENDA: Absolutely! Holly Black's Doll Bones, Megan Shepherd's The Secret Horses of Briar Hill, and Shannon Hale's Real Friends are a few of many, many favorites. And I already mentioned The Map to Everywhere series by Carrie Ryan and John Parke Davis, which is a complete fantasy delight. I can never keep recommendations to a minimum amount. It's a thing.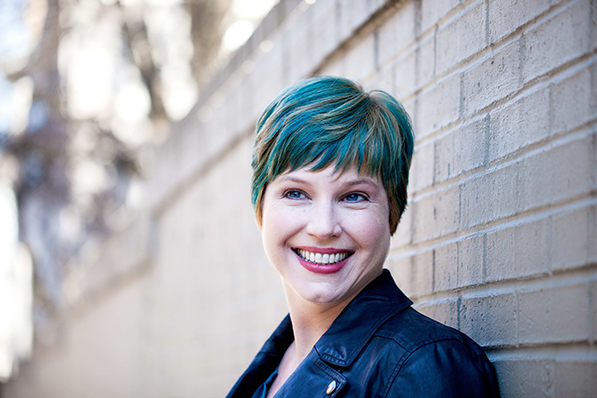 YAYOMG!: What advice do you have for our readers who dream of becoming authors in the future?
GWENDA: Read everything! And trust your instincts. Write the stories you want to tell and surround yourself with people who support your telling them.
YAYOMG!: Finally, our readers LOVE secrets. The Lost Legacy is the first book in the Supernormal Sleuthing Service series. Is there any top-secret info you're able to share about what readers can expect in Book #2?
GWENDA: Ooh, I also love secrets! We haven't done edits yet, so everything is fluid but as of right now the title of book two is The Sphinx's Secret. And our trio is going to face its most dangerous, difficult challenge yet. Mwahaha!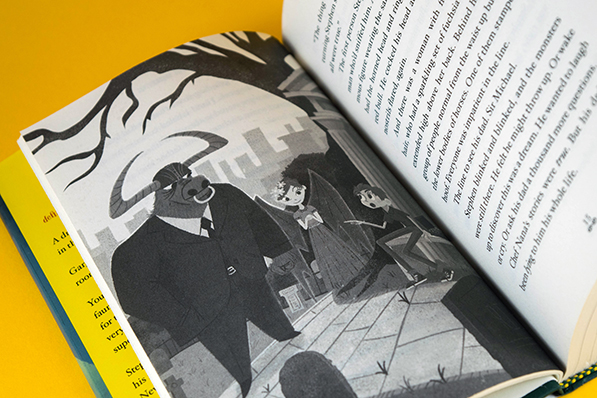 Isn't Gwenda Bond amazing? She's one of our favorite YA authors, so when we heard she was teaming up with her husband for a middle grade series, we were so excited for the chance to share her with our YAYOMGers. Thanks so much to Gwenda for taking the time to chat with us. Can't wait to see what's in store for Book #2!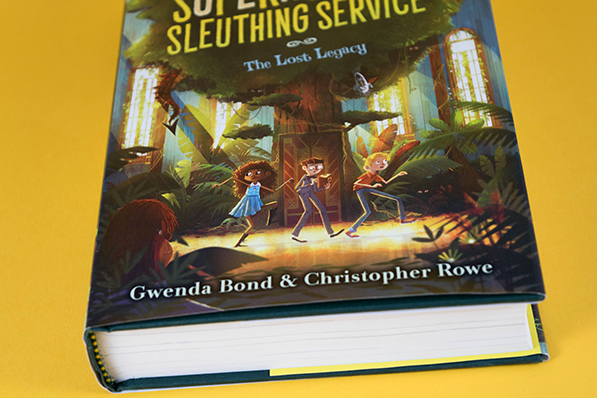 The Lost Legacy is now available, so if you're ready to step foot into this fantastical story, you can do so by hitting up your favorite bookstore or having a parent order you a copy. While you're waiting for the next book in the series, check out our YAYBOOKS! June Roundup for a list of 20 books releasing this month!
If you're playing YAYOMG! Book Bingo, reading this book will help you mark off squares like Mysterious or Magical, Female Author, and quite a few others that you might be missing.