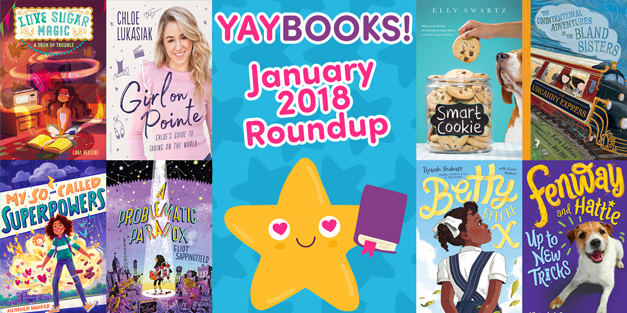 YAYBOOKS! January 2018 Roundup
What better way to ring in the New Year than with a fresh stack of brand new reads? For those of you who aren't familiar, YAYBOOKS! is our monthly roundup of new releases in books and graphic novels that keeps you up to date on what's coming out each month. This means you'll get a fresh list of books each month to pick up at your favorite bookstore, download to your trusty e-reader, or put on hold at your local library. With a new year brings lots of new reads, in fact, this list has 24 middle-grade reads that are hot off the presses and ready to become your next book companion.
We know you're not supposed to judge books by their covers, but middle-grade books are sporting some of the most gorgeous covers right now. They're totally having a moment and we're giving you full permission to drool over them. Just don't drool ON them. Eager to get your read on? Keep on scrolling and be dazzled by the magical, adventurous, STEM-fueled, funny, heartwarming, and all around wonderful books releasing this month.
YAYBOOKS! January 2018 Roundup: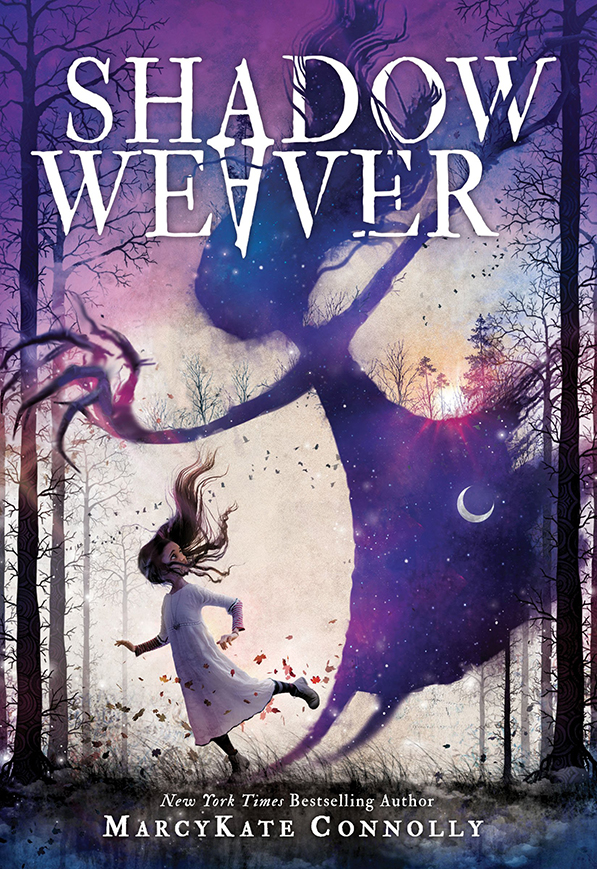 Shadow Weaver
Author: MarcyKate Connolly
Publisher: Sourcebooks Jabberwocky
Date: January 2
SYNOPSIS:
The shadows that surround us aren't always as they seem…
Emmeline has grown up with a gift. Since the time she was a baby she has been able to control shadows. And her only friend and companion is her own shadow, Dar.
Disaster strikes when a noble family visits their home and offers to take Emmeline away and cure her of magic. Desperate not to lose her shadows, she turns to Dar who proposes a deal: Dar will change the noble's mind, if Emmeline will help her become flesh as she once was. Emmeline agrees but the next morning the man in charge is in a coma and all that the witness saw was a long shadow with no one nearby to cast it. Scared to face punishment, Emmeline and Dar run away.
With the noble's guards on her trail, Emmeline's only hope of clearing her name is to escape capture and perform the ritual that will set Dar free. But Emmeline's not sure she can trust Dar anymore, and it's hard to keep secrets from someone who can never leave your side.
The first in a dark middle-grade fantasy duology, MarcyKate Connolly weaves a tale filled with shadows, danger, and magic that has the feel of a new classic.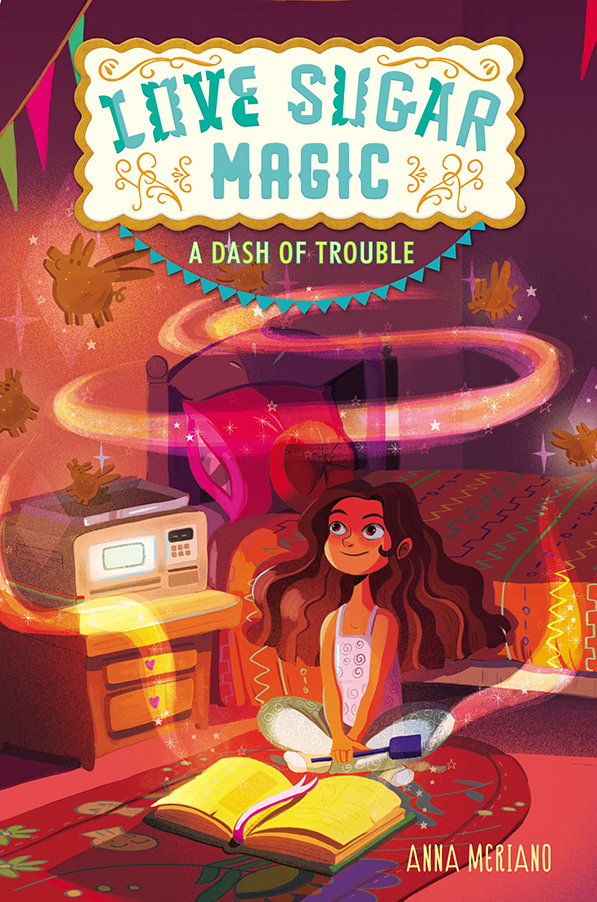 Love Sugar Magic: A Dash of Trouble
Author: Anna Meriano
Publisher: Walden Pond Press
Date: January 2
YAYOMG!:
SO. EXCITED. FOR. THIS. BOOK! If you're an aspiring baker or just someone looking to fill the Wizards of Waverly Place sized hole in your heart, this is the book for you. A family who channels their magic into their baking. An awesome female main character struggling to control her new abilities. A sprinkle of danger and a pinch Mexican culture – this new series is all that and more! Dig in!

SYNOPSIS:
Leonora Logroño's family owns the most beloved bakery in Rose Hill, Texas, spending their days conjuring delicious cookies and cakes for any occasion. And no occasion is more important than the annual Dia de los Muertos festival.
Leo hopes that this might be the year that she gets to help prepare for the big celebration—but, once again, she is told she's too young. Sneaking out of school and down to the bakery, she discovers that her mother, aunt, and four older sisters have in fact been keeping a big secret: they're brujas—witches of Mexican ancestry—who pour a little bit of sweet magic into everything that they bake.
Leo knows that she has magical ability as well and is more determined than ever to join the family business—even if she can't let her mama and hermanas know about it yet.
And when her best friend, Caroline, has a problem that needs solving, Leo has the perfect opportunity to try out her craft. It's just one little spell, after all…what could possibly go wrong?
Debut author Anna Meriano brings us the first book in a delightful new series filled to the brim with amor, azúcar, y magia.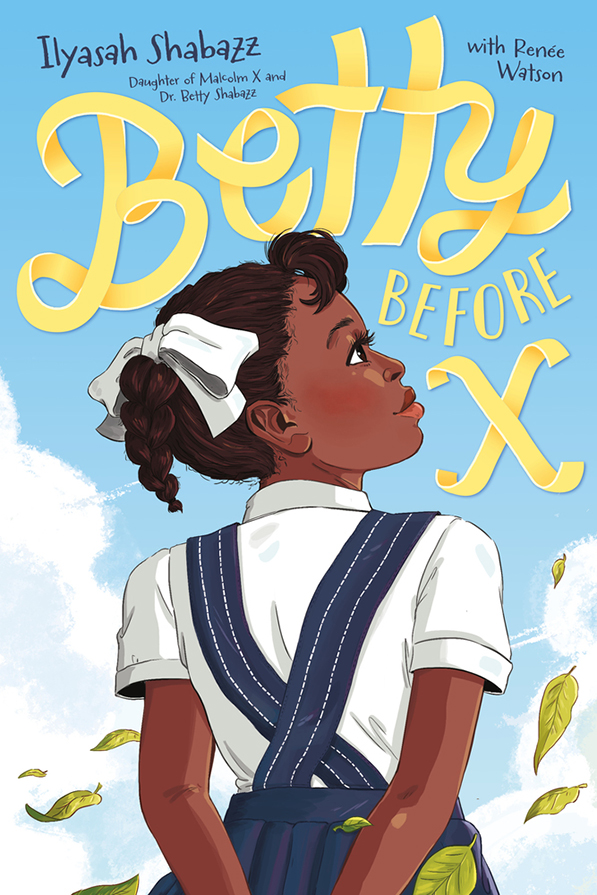 Betty Before X
Authors: Ilyasah Shabazz and Renée Watson
Publisher: Farrar, Straus, and Giroux
Date: January 2
SYNOPSIS:
A powerful middle-grade novel about the childhood activism of Betty Shabazz, Malcolm X's wife, written by their daughter.
In Detroit, 1945, eleven-year-old Betty's house doesn't quite feel like home. She believes her mother loves her, but she can't shake the feeling that her mother doesn't want her. Church helps those worries fade, if only for a little while. The singing, the preaching, the speeches from guest activists like Paul Robeson and Thurgood Marshall stir African Americans in her community to stand up for their rights. Betty quickly finds confidence and purpose in volunteering for the Housewives League, an organization that supports black-owned businesses. Soon, the American civil rights icon we now know as Dr. Betty Shabazz is born.
Collaborating with novelist Renée Watson, Ilyasah Shabazz illuminates four poignant years in her mother's childhood, painting a beautiful and inspiring portrait of a girl overcoming the challenges of self-acceptance and belonging that will resonate with young readers today.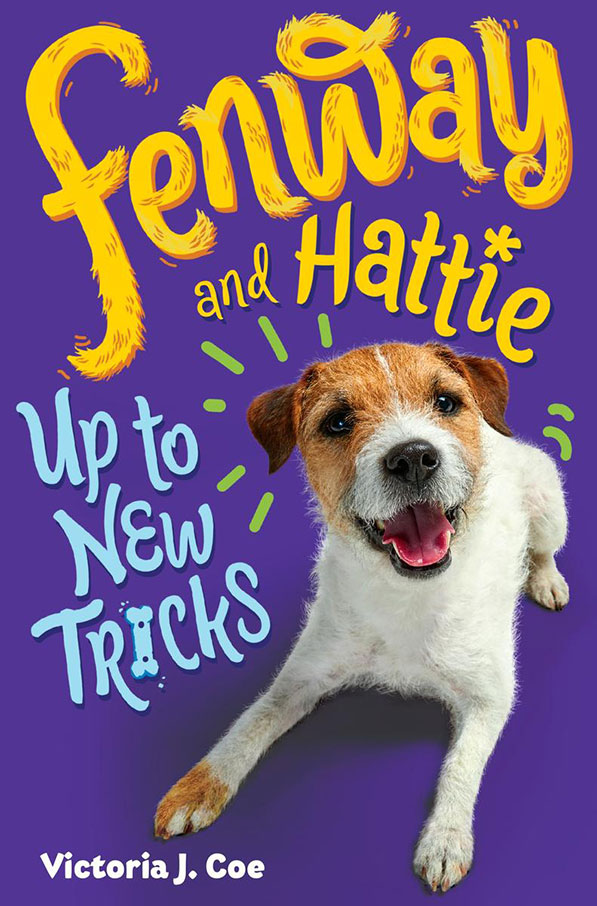 Fenway and Hattie: Up to New Tricks
Author: Victoria J. Coe
Publisher: G.P. Putnam's Sons Books for Young Readers
Date: January 2
YAYOMG!:
Pawsome news, Fenway and Hattie fans! Author Victoria J. Coe recently shared 10 fun facts you might not know about the Fenway and Hattie series!
SYNOPSIS:
Fenway's dog's-eye-view of the world is as enthusiastic as ever, but his favorite short human is not acting the way he expects–and he doesn't like it one bit!
Fenway's life is pretty great, except for the strange stripey chipmunks that have suddenly appeared in the Dog Park behind his house. He's determined to catch them, but one of their hiding places contains some stinging insects. Ouch! Fenway thinks he can take care of this injury himself, but his humans don't let him. They take him to the Place of Fear and then Hattie doesn't even help him take off the Cone of Doom!
Fenway never would have expected Hattie to do these things to him. Doesn't she love him anymore? But even though his family is acting weird, Fenway is determined to do whatever it takes to make them all happy again.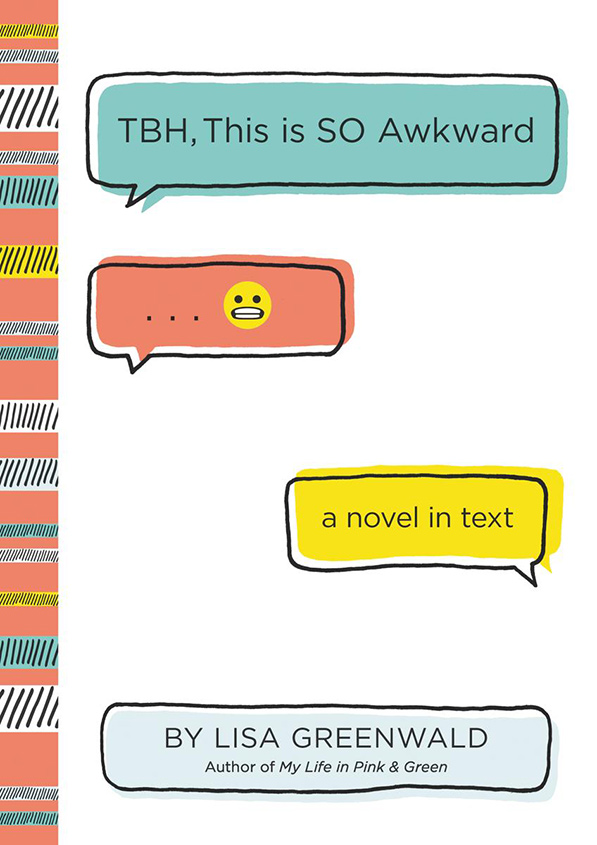 TBH, This Is So Awkward
Author: Lisa Greenwald
Publisher: Katherine Tegen Books
Date: January 2
SYNOPSIS:
Told entirely in text messages, this addictive new series from the acclaimed author of My Life in Pink & Green is perfect for fans of Lauren Myracle and Wendy Mass.
To be honest, middle school is rough! Cecily, Gabby, and Prianka have been BFFAE since pre-K, so it's totally natural when they don't include the new girl, Victoria, in their plans and group texts.
Between organizing the school Valentine's Day dance, prepping for their first boy-girl party, and trying to keep their texts so boring their moms won't use spy apps to read them, the friends only have time for each other.
But when Victoria is accidentally sent a hurtful text message, the entire sixth grade gets called out for bullying, cell phones are confiscated, and the trio known as CPG4Eva is forced to figure out just how strong their friendships are IRL.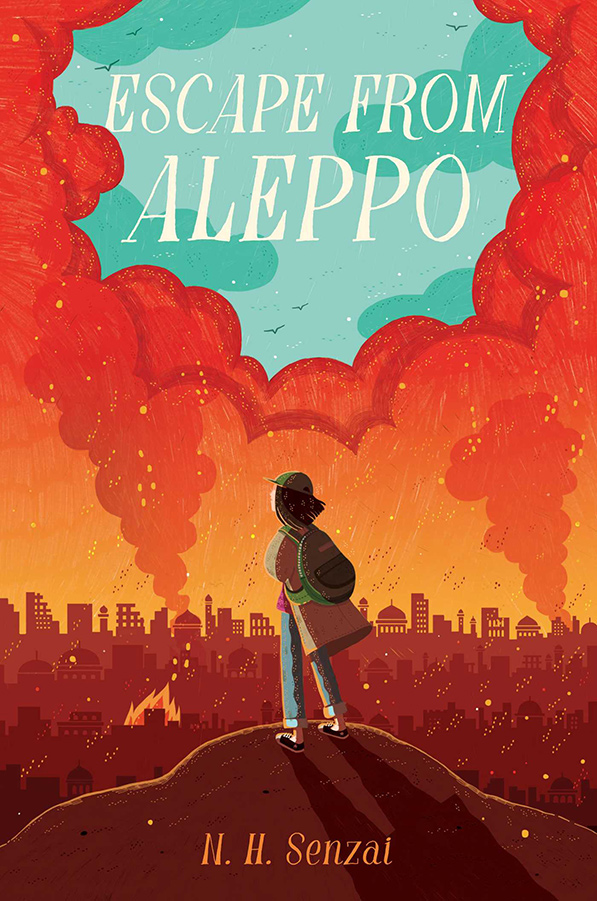 Escape From Aleppo
Author: N. H. Senzai
Publisher: Simon & Schuster/Paula Wiseman Books
Date: January 2
SYNOPSIS:
Nadia's family is forced to flee their home in Aleppo, Syria, when the Arab Spring sparks a civil war in this timely coming-of-age novel from award-winning author N.H. Senzai.
Silver and gold balloons. A birthday cake covered in pink roses. A new dress.
Nadia stands at the center of attention in her parents' elegant dining room. This is the best day of my life, she thinks. Everyone is about to sing "Happy Birthday," when her uncle calls from the living room, "Baba, brothers, you need to see this." Reluctantly, she follows her family into the other room. On TV, a reporter stands near an overturned vegetable cart on a dusty street. Beside it is a mound of smoldering ashes. The reporter explains that a vegetable vendor in the city of Tunis burned himself alive, protesting corrupt government officials who have been harassing his business. Nadia frowns.
It is December 17, 2010: Nadia's twelfth birthday and the beginning of the Arab Spring. Soon anti-government protests erupt across the Middle East and, one by one, countries are thrown into turmoil. As civil war flares in Syria and bombs fall across Nadia's home city of Aleppo, her family decides to flee to safety. Inspired by current events, this novel sheds light on the complicated situation in Syria that has led to an international refugee crisis, and tells the story of one girl's journey to safety.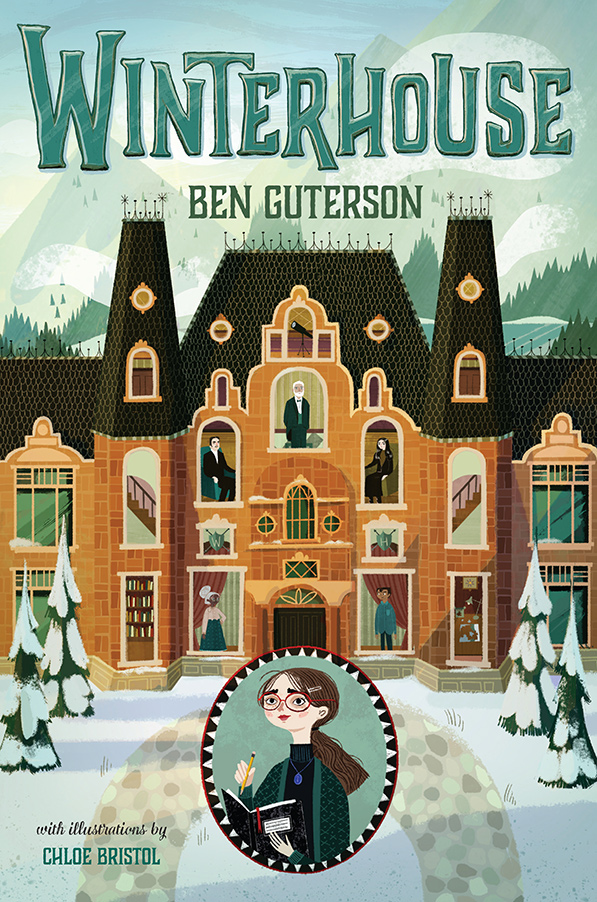 Winterhouse
Author: Ben Guterson
Illustrator: Chloe Bristol
Publisher: Henry Holt and Co. Books for Young Readers
Date: January 2
SYNOPSIS:
An enchanting urban fantasy middle-grade debut―the first book in a trilogy―set in a magical hotel full of secrets.
Orphan Elizabeth Somers's malevolent aunt and uncle ship her off to the ominous Winterhouse Hotel, owned by the peculiar Norbridge Falls. Upon arrival, Elizabeth quickly discovers that Winterhouse has many charms―most notably its massive library. It's not long before she locates a magical book of puzzles that will unlock a mystery involving Norbridge and his sinister family. But the deeper she delves into the hotel's secrets, the more Elizabeth starts to realize that she is somehow connected to Winterhouse. As fate would have it, Elizabeth is the only person who can break the hotel's curse and solve the mystery. But will it be at the cost of losing the people she has come to care for, and even Winterhouse itself?
Mystery, adventure, and beautiful writing combine in this exciting debut richly set in a hotel full of secrets.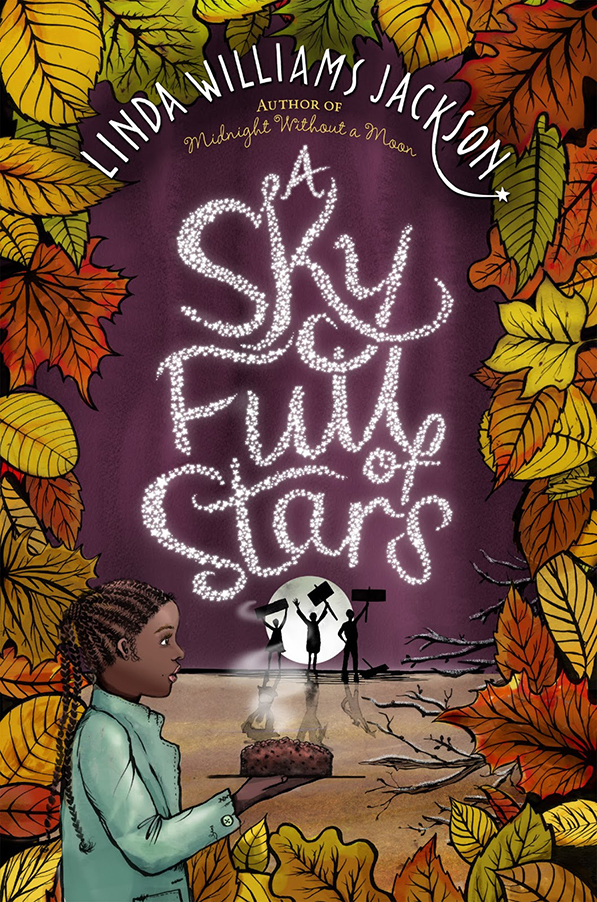 A Sky Full of Stars
Author: Linda Williams Jackson
Publisher: HMH Books for Young Readers
Date: January 2
SYNOPSIS:
After the murder of Emmett Till, thirteen-year-old Rose is struggling with her decision to stay in Mississippi. Torn between the opinions of Shorty, a boy who wants to meet violence with violence, and Hallelujah, her best friend who believes in the power of peaceful protests, Rose is scared of the mounting racial tension and is starting to lose hope. But when Rose helps Aunt Ruthie start her own business, she begins to see how she can make a difference in her community. Life might be easier in the North, but Mississippi is home and that's worth fighting for. Mid-Century Mississippi comes alive in this sequel to Midnight Without a Moon.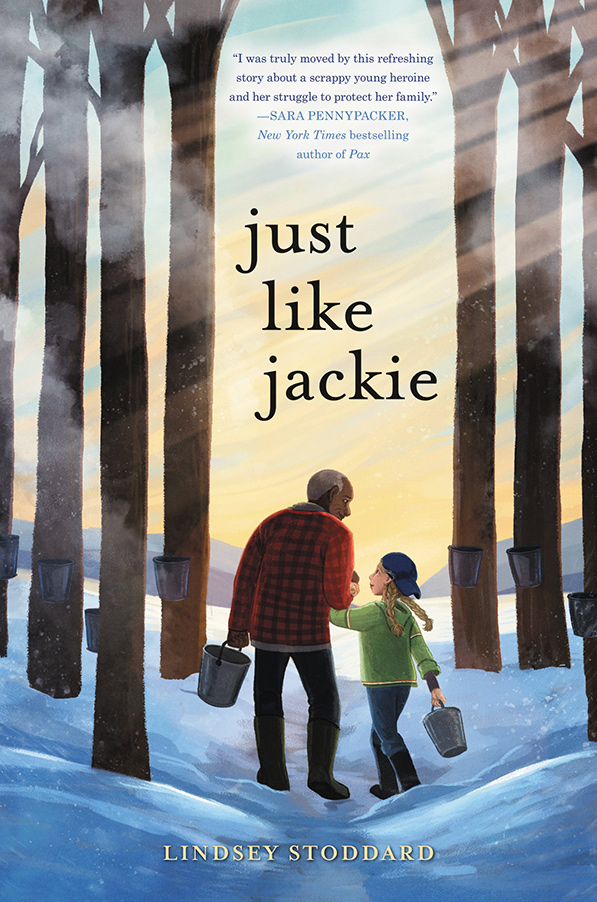 Just Like Jackie
Author: Lindsey Stoddard
Publisher: Harper Collins Children's Books
Date: January 2
SYNOPSIS:
For as long as Robinson Hart can remember, it's just been her and Grandpa. Robbie knows they look like an odd pair, because her blond hair and pale skin don't match his dark complexion—but those differences don't mean anything to her. And though she wishes Grandpa would tell her more about the rest of her family, she's learned over the years that he doesn't like to talk about the past.
But Grandpa's memory is starting to get bad, and Robbie's worried that soon he won't remember their family—including her—at all. She's sure that he would get better if she could stay out of trouble, but it's hard to keep her fists to herself when bullies like Alex Carter make fun of her for not having a mom or for looking so different from Grandpa. It's up to Robbie to learn how to deal with her anger and to keep her family together—no matter what.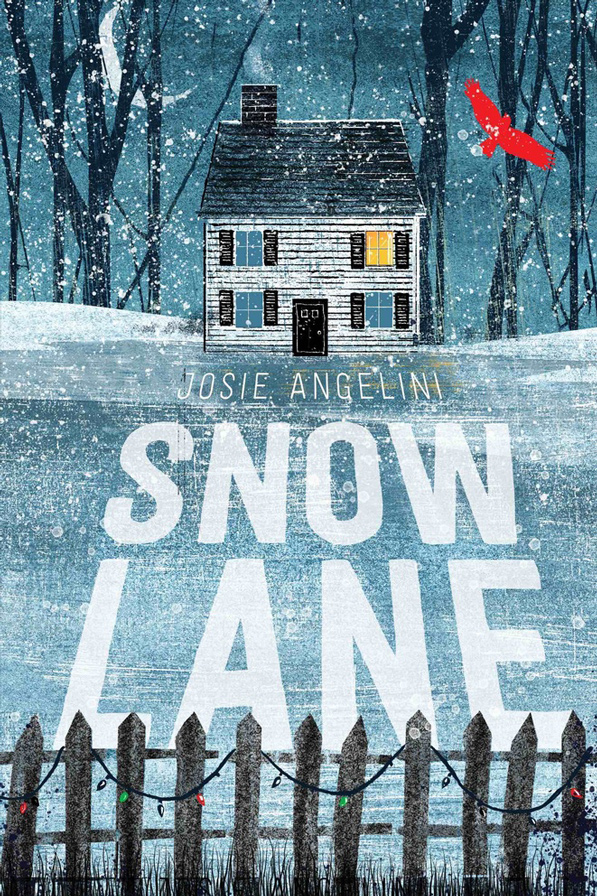 Snow Lane
Author: Josie Angelini
Publisher: Feiwel and Friends
Date: January 2
SYNOPSIS:
Fifth-grader Annie is just like every other girl in her small suburban town. Except she's starting to realize that she isn't.
Annie is the youngest of nine children. Instead of being considered the baby of the family, she wants to carve out place for herself in the world. But it's hard to find your destiny when the only thing you're good at is being cheerful. Annie is learning that it's difficult to be Annie, period, and not just because her clothes are worn-out hand-me-downs, and she suffers from a crippling case of dyslexia, but also because there are secrets in her life no one in her family is willing to face.
Josie Angelini presents a story about a resilient girl who, in spite of many hardships, can still find light in the darkest of places.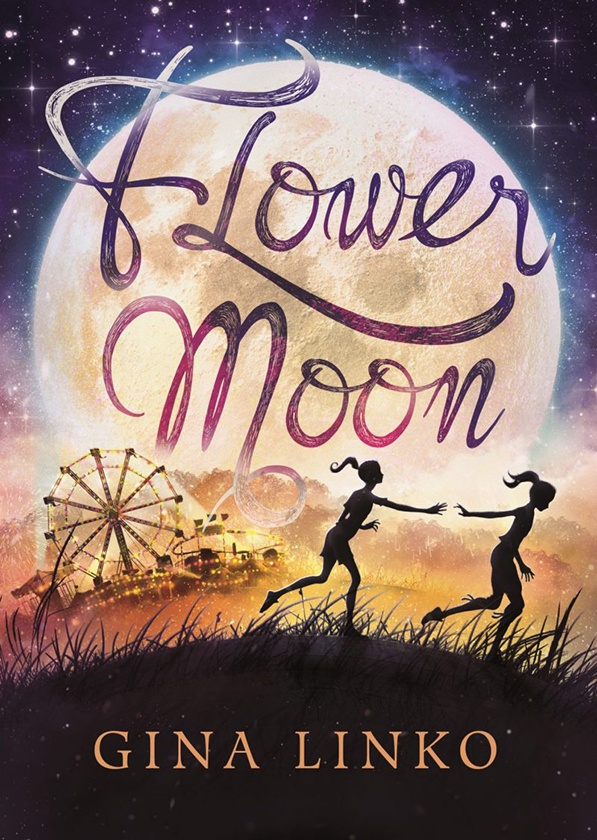 Flower Moon
Author: Gina Linko
Publisher: Sky Pony Press
Date: January 2
SYNOPSIS:
Tempest and Tally Jo Trimble are mirror twins—so alike they were almost born the same person—and they've been inseparable since birth. But it's the summer they turn thirteen, and it seems like everyone can tell something is changing between them.
Pa Charlie, whose traveling carnival is the best part of every summer, is watching them closer than ever. Digger, who sneaks poor kids onto the carnival rides for free and smiles faster than anyone, seems to be fixing for a fight. Even Mama is acting different, refusing to travel with the carnival this year even though her own twin, who she hasn't seen since childhood, will be there.
And Tally and Tempest are the most different of all. There's a strangeness between them, a thickness to the air, an unseen push and pull, and it's getting stronger. It starts as a feeling, but soon it's sputtering and sparking, hurling them backwards, threatening to explode.
When Tally learns that she and Tempest may not be the first twins in their family to be separated by whatever this force is, she realizes she'll have to find a way to stop it—or she might lose not only her sister, but everyone she loves.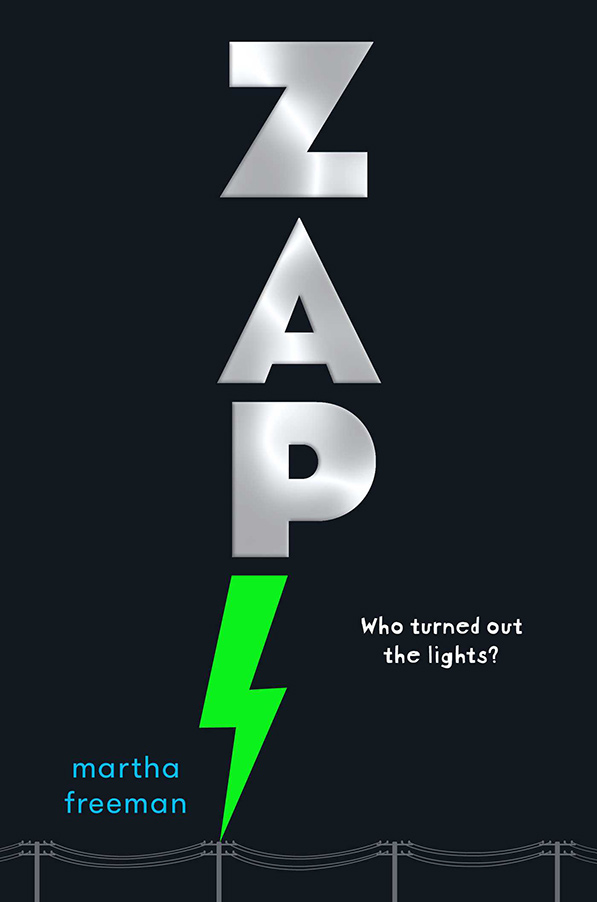 Zap!
Author: Martha Freeman
Publisher: Simon & Schuster/Paula Wiseman Books
Date: January 2
SYNOPSIS:
Eleven-year-old Luis is left looking for answers after a city-wide blackout leads him to an electrifying mystery in this edge-of-your-seat thriller from Martha Freeman.
Luis Cardenal is toasting a Pop-Tart when a power outage strikes Hampton, New Jersey. Elevators and gas pumps fail right away; soon cell phones die and grocery shelves empty. Cold and in the dark, people begin to get desperate.
Luis likes to know how things work, and the blackout gets him wondering: Where does the city's electricity come from? What would cause it to shut down?
No one seems to have answers, and rumors are flying. Then a slip of the tongue gives Luis and his ex-best friend Maura a clue. Brushed off by the busy police, the two sixth graders determine they are on their own. To get to the bottom of the mystery, they know they need to brave the abandoned houses of Luis's poor neighborhood and find the homeless teen legend known as Computer Genius. What they don't know is that someone suspects they know too much, someone who wants to keep Hampton in the dark.
In this electrifying mystery, two can-do sleuths embark on a high-tech urban adventure to answer an age-old question: Who turned out the lights?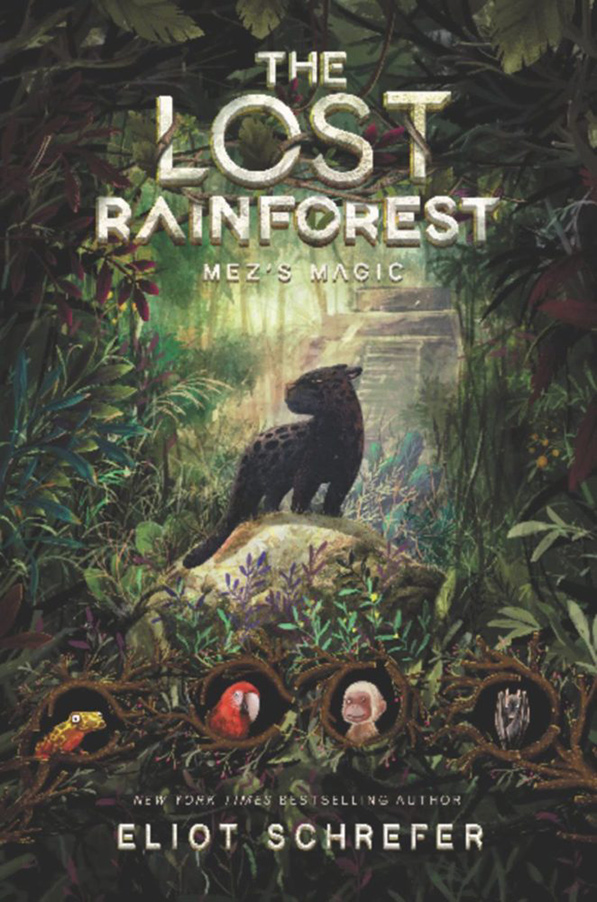 The Lost Rainforest: Mez's Magic
Author: Eliot Schrefer
Publisher: Katherine Tegen Books
Date: January 2
SYNOPSIS:
Wings of Fire meets The Lion King in this new middle-grade animal fantasy series set in a magical rainforest from two-time National Book Award finalist and New York Times bestselling author Eliot Schrefer.
The magical rainforest of Caldera has forever been divided into those animals who walk by night and those who walk by day. Nightwalker panthers, like young Mez and her beloved sister, have always feared daywalkers as creatures of myth and legend. Until the eclipse.
Now Mez has discovered that she can cross the Veil and enter the daylight world. Her magical power has unknown depths, but she must rush to discover it after a mysterious stranger arrives at her family's den, bearing warnings of a reawakened evil. Saving Caldera might mean leaving her sister—and everything else she has ever known—behind.
Award-winning and bestselling author Eliot Schrefer has spun an exciting fantasy adventure about unlikely animal friends—including a courageous bat, a scholarly tree frog, and an anxious monkey—who must unite to unravel an ancient mystery and save their rainforest home before it is too late.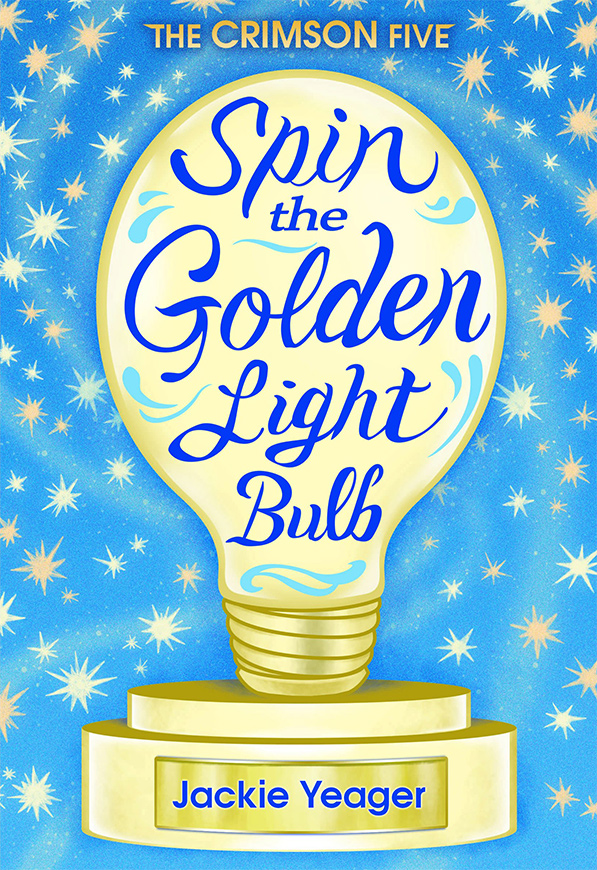 The Crimson Five: Spin the Golden Light Bulb
Author: Jackie Yeager
Publisher: Amberjack Publishing
Date: January 9
SYNOPSIS:
It's the year 2071 and eleven-year-old Kia Krumpet is determined to build her 67 inventions, but she won't have the opportunity to unless she earns a spot at PIPS, the Piedmont Inventor's Prep School. Kia, who has trouble making friends at school, has dreamed of winning the Piedmont Challenge and attending PIPS ever since she learned that her Grandma Kitty won the very first Piedmont Challenge. After she and four of her classmates are selected to compete for a spot at PIPS, they travel by aero-bus to Camp Piedmont to solve a task against forty-nine other state teams to earn their place at the best inventor's school in the country.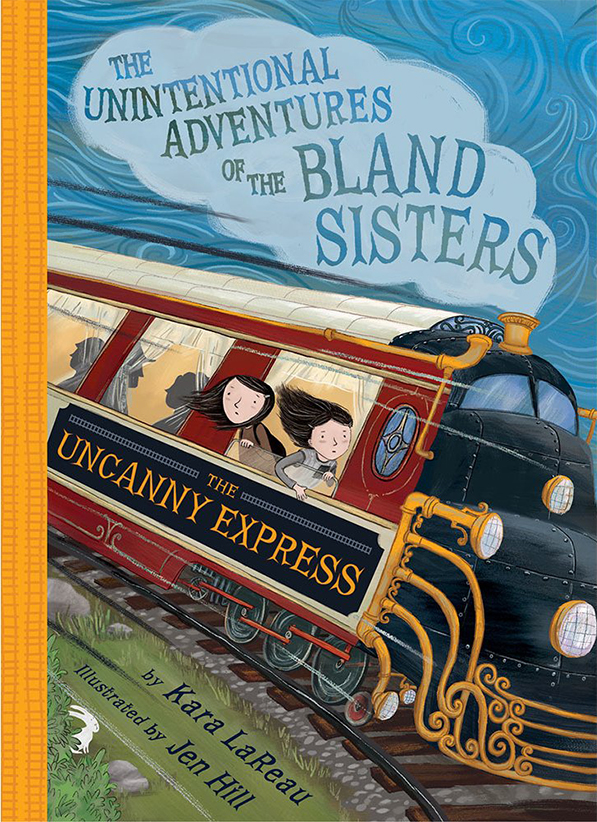 The Unintentional Adventures of the Bland Sisters: The Uncanny Express
Author: Kara LaReau
Illustrator: Jen Hill
Publisher: Amulet Books
Date: January 9
YAYOMG!:
The Bland Sisters are back and wittier, blander, and less than enthusiastic about being whisked away on yet another adventure! Stay tuned YAYOMG-ers! We've got an interview with the author giveaway lined up for later this month!
SYNOPSIS:
Jaundice and Kale are back from their adventure on the high seas, and they are settling back into a quiet life in Dullsville, just the way they like it. The tea is tepid, the oatmeal is tasteless, and the socks are ripe for darning . . . until Aunt Shallot shows up and reveals herself to be anything but the dull relation they were expecting. Instead, she tells her nieces she is Magique, Queen of Magic, and she's on her way to a big show and in need of two willing assistants. As Magique and the Bland sisters board the Uncanny Express, they meet a cast of mystifying characters. And when Magique goes missing, it's up to Jaundice and Kale to solve the mystery—with the help of famous detective Hugo Fromage.
An inventive story in the tradition of Agatha Christie's Murder on the Orient Express, The Unintentional Adventures of the Bland Sisters: The Uncanny Express has all the whimsy and humor that readers who are looking for an anything-but-bland adventure will love.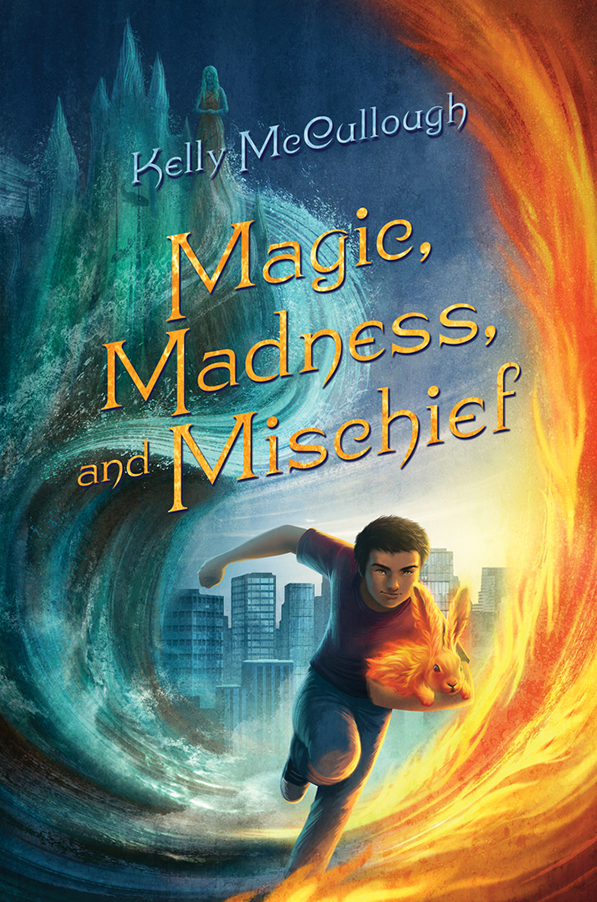 Magic, Madness, and Mischief
Author: Kelly McCullough
Publisher: Feiwel and Friends
Date: January 9
SYNOPSIS:
From the author of School for Sidekicks comes a witty and thoughtful middle-grade fantasy about the bonds of family and the strength of true friendship.
Kalvan Monroe is worried. Either he's going mad or he really did wake up with uncontrollable fire magic and accidentally summon a snarky talking fire hare. (Yes, that's right, a hare. Made of fire. That talks.) He's got to be going crazy, right?
But if he's not, then magic actually is real, and he's got even more problems to worry about. Because Kalvan isn't the only one with powers. The same fire magic that allows him to talk his way into and out of trouble burned too brightly in his mother, damaging her mind and leaving her vulnerable to the cold, manipulative spells of the Winter King.
Can Kalvan gain control of his power in time to save his mother, or will their fires be snuffed out forever?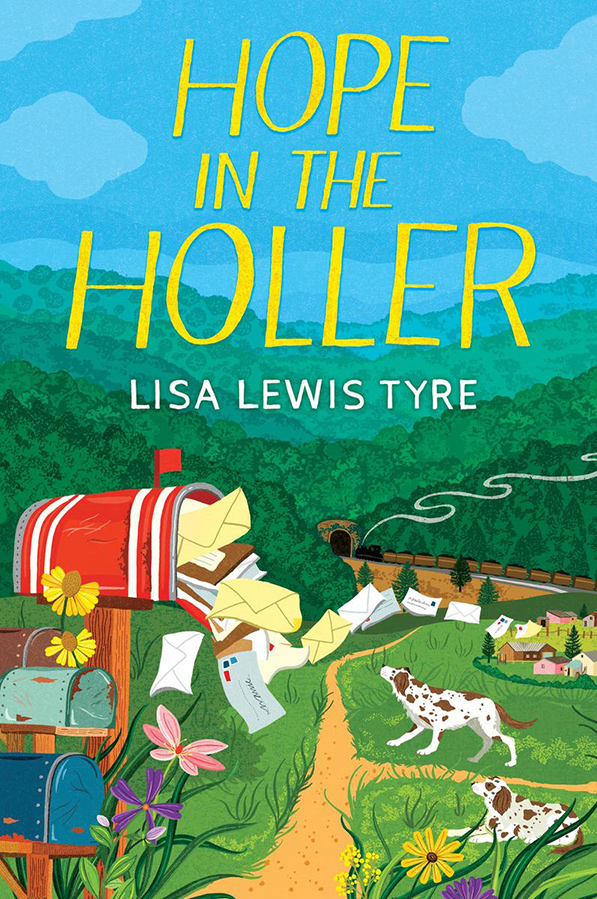 Hope in the Holler
Author: Lisa Lewis Tyre
Publisher: Nancy Paulsen Books
Date: January 9
SYNOPSIS:
The poignant–and funny–story of a girl trying to be brave and find her place in the world after she's sent to live with scheming relatives.
Right before Wavie's mother died, she gave Wavie a list of instructions to help her find her way in life, including this one: Be brave, Wavie B! You got as much right to a good life as anybody, so find it! But little did Wavie's mom know that events would conspire to bring Wavie back to Conley Hollow, the Appalachian hometown her mother tried to leave behind. Now Wavie's back in the Holler–and in the clutches of her Aunt Samantha Rose. Life with the devilish Samantha Rose and her revolting cousin Hoyt is no picnic, but there's real pleasure in sleeping in her own mother's old bed, and making friends with the funny, easygoing kids her aunt calls the "neighborhood-no-accounts." With their help, Wavie just might be able to prevent her aunt from becoming her legal guardian, and find her courage and place in the world.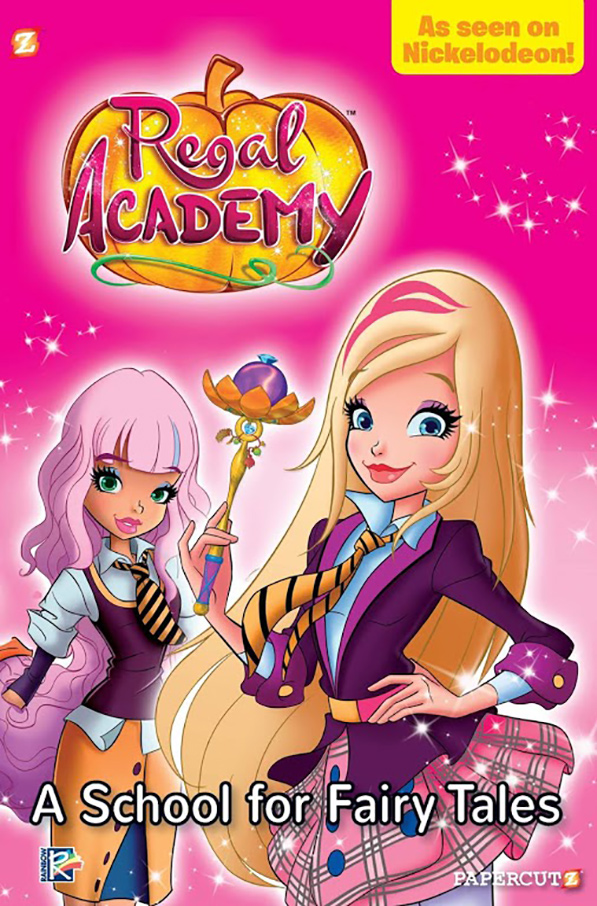 Regal Academy #1: A School for Fairy Tales
Author: Luana Vergari
Illustrator: Bendetta Barone
Publisher: Papercutz
Date: January 16
YAYOMG!:
The first TWO books in the new Regal Academy graphic novel series will be released on January 16th with more magical fairytale adventures to come! Curious which Regal Academy character is most like you? Find out in our Zodiac Quiz!
SYNOPSIS:
Everyone knows the great fairy tale heroes, but what people aren't familiar with is their other life-changing adventure: getting old. To pass their stories onto future generations, they joined together and built a school called Regal Academy. Now, their descendants must decide whether they're going to ride the coattails of their famous grandparents or set off on adventures of their own.
At the center of it all is Rose Cinderella, an ordinary girl from Earth who learns of her extraordinary heritage. She's joined by Travis Beast, the grandson of the nobleman-turned-monster-turned-gym-teacher; Astoria Rapunzel, whose long hair she has certainly inherited; and Joy LeFrog, whose grandfather was The Frog Prince and just happens to be Regal Academy's headmaster.
Looking for a magical adventure? Look no further than REGAL ACADEMY!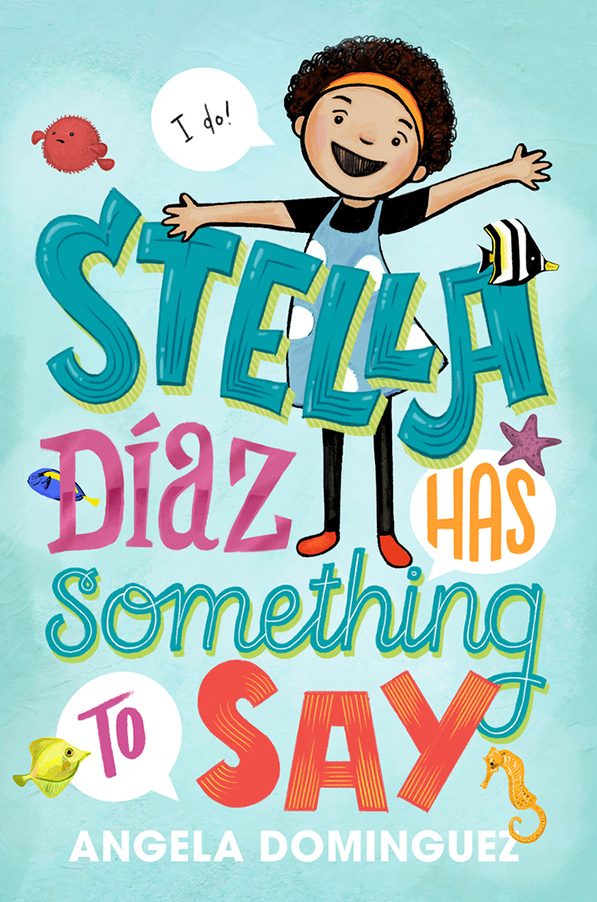 Stella Diaz Has Something to Say
Author: Angela Dominguez
Publisher: Roaring Brook Press
Date: January 16
SYNOPSIS:
In her first middle-grade novel, award-winning picture book author and illustrator Angela Dominguez tells a heartwarming story based on her own experiences growing up Mexican-American.
Stella Diaz loves marine animals, especially her betta fish, Pancho. But Stella Diaz is not a betta fish. Betta fish like to be alone, while Stella loves spending time with her mom and brother and her best friend Jenny. Trouble is, Jenny is in another class this year, and Stella feels very lonely.
When a new boy arrives in Stella's class, she really wants to be his friend, but sometimes Stella accidentally speaks Spanish instead of English and pronounces words wrong, which makes her turn roja. Plus, she has to speak in front of her whole class for a big presentation at school! But she better get over her fears soon, because Stella Díaz has something to say!
Stella Díaz Has Something to Say introduces an infectiously charming new character with relatable writing and adorable black-and-white art throughout. Simple Spanish vocabulary is also integrated within the text, providing a bilingual element.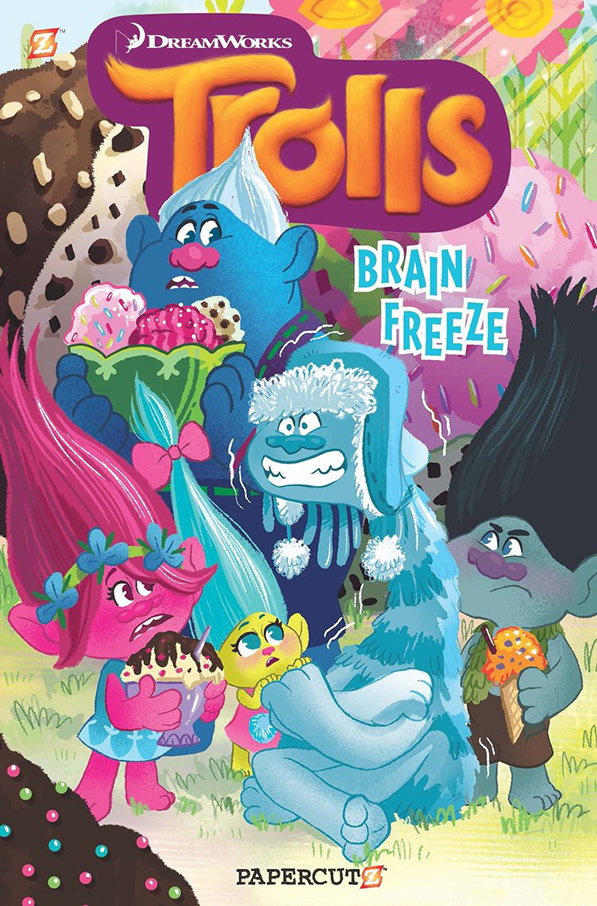 Trolls #4: Brain Freeze
Author: Dave Scheidt
Artist: Kathryn Hudson
Publisher: Papercutz
Date: January 16
SYNOPSIS:
On a quest to find a cure for "Brain Freeze," Cooper stops at nothing in order to eat as much ice cream as possible! Then the Trolls compete against the Bergens in a friendly "Rap Battle" to see who has the sickest rhymes! But Poppy feels bad that her "New Friends" feel out of place in Troll Town, so she and the Snack Pack shower them with new hairstyles and a new attitude! These and four more Troll tales await you in this all-new volume from Papercutz!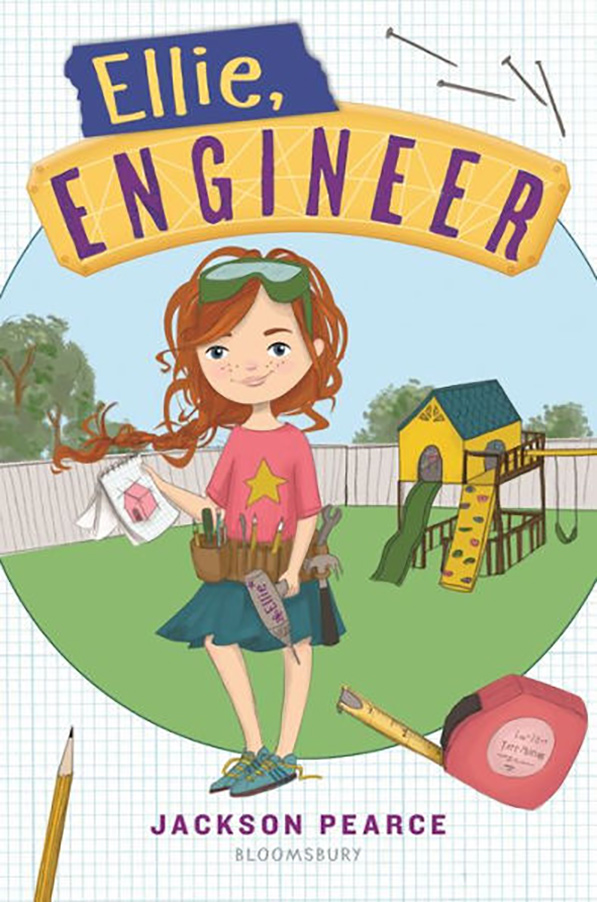 Ellie, Engineer
Author: Jackson Pearce
Publisher: Bloomsbury Children's Books
Date: January 16
SYNOPSIS:
The hilarious and smart start of a series about a girl who loves to build—STEM-powered, creative fun for girls.
Ellie is an engineer. With a tool belt strapped over her favorite skirt (who says you can't wear a dress and have two kinds of screwdrivers handy, just in case?), she invents and builds amazing creations in her backyard workshop. Together with her best friend Kit, Ellie can make anything. As Kit's birthday nears, Ellie doesn't know what gift to make until the girls overhear Kit's mom talking about her present—the dog Kit always wanted! Ellie plans to make an amazing doghouse, but her plans grow so elaborate that she has to enlist help from the neighbor boys and crafty girls, even though the two groups don't get along. Will Ellie be able to pull off her biggest project yet?
Illustrated with Ellie's sketches and plans, and including backmatter with how-tos, this is full of engineering fun!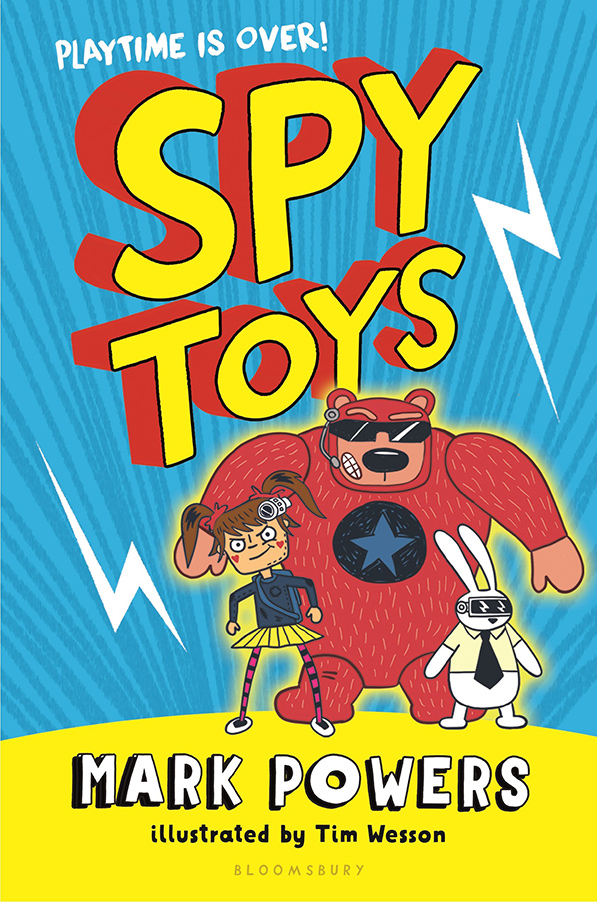 Spy Toys: Playtime is Over
Author: Mark Powers
Illustrator: Tim Wesson
Publisher: Bloomsbury Children's Books
Date: January 16
SYNOPSIS:
The world's leading toy manufacturer makes playthings for the rich and famous, and every toy they create contains a tiny computerized brain and a unique personality. These toys are seriously awesome! But every so often there's a faulty toy …
Dan is a Snugliffic Cuddlestar bear – he should be perfect for hugging. But because of a faulty chip, Dan is so strong he could crush a car. Thrown on to the rejects pile, he meets Arabella, a Loadsasmiles Sunshine Doll, who has a very short temper and is absolutely NOT good with children. Soon Dan, Arabella and Flax (a custom-made police robot rabbit gone AWOL) are recruited by Auntie Roz, the 'M' of the toy world, and together they make up THE SPY TOYS.
Their first mission: to protect the prime minister's eight-year-old son from being kidnapped …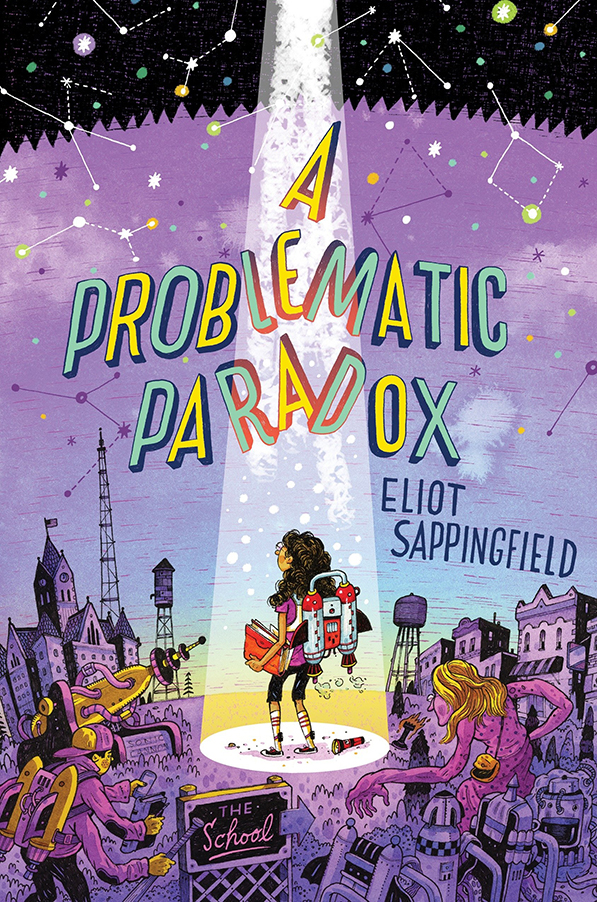 A Problematic Paradox
Author: Eliot Sappingfield
Publisher: G.P. Putnam's Sons Books for Young Readers
Date: January 23
YAYOMG!:
This cover. It's one of the most incredible covers we've ever seen. Just look at it. It's gorgeous. And the story? Don't even get us started. We're just dying to read it. It's one of our most anticipated reads of 2018, and we're glad it's only a few weeks, rather than months, away. Three cheers for girls who love Science!
SYNOPSIS:
Guardians of the Galaxy meets The Hitchhiker's Guide to the Galaxy in this wild, warm-hearted, and hilarious sci-fi debut about a brainy young girl who is recruited for a very special boarding school.
Nikola Kross has given up on living in harmony with classmates and exasperated teachers: she prefers dabbling in experimental chemistry to fitting in. But when her life is axially inverted by a gang of extraterrestrials who kidnap her dad and attempt to recruit her into their service, she discovers he's been keeping a world of secrets from her–including the school for geniuses where she's sent for refuge, a place where classes like Practical Quantum Mechanics are the norm and where students use wormholes to commute to class. For Nikola, the hard part isn't school, it's making friends, especially when the student body isn't (entirely) human. But the most puzzling paradox of all is Nikola herself, who has certain abilities that no one understands–abilities that put her whole school in greater danger than she could have imagined.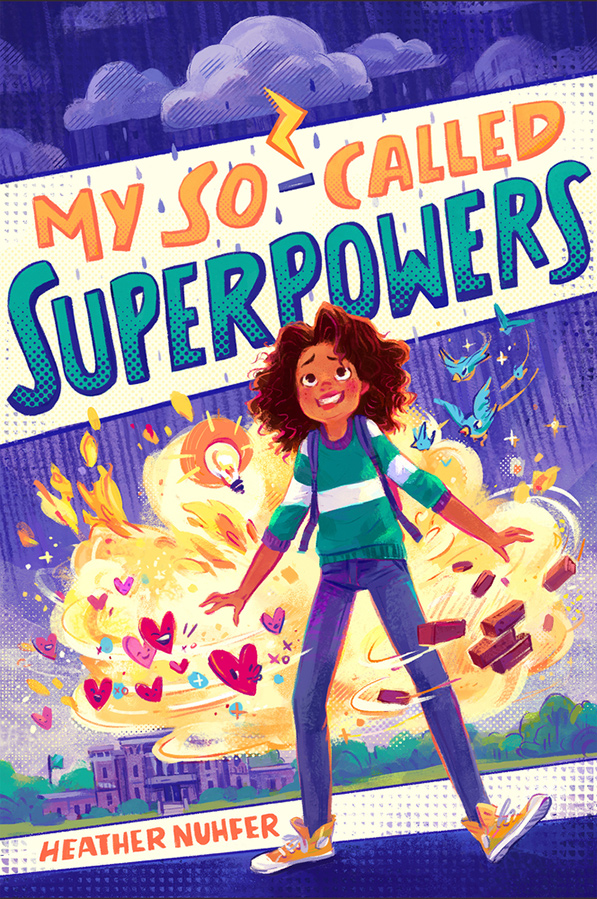 My So-Called Super Powers
Author: Heather Nuhfer
Publisher: Imprint
Date: January 23
SYNOPSIS:
The first book in a new middle-grade series, Heather Nuhfer's My So-Called Superpowers is a quirky and funny coming-of-age novel celebrating individuality.
More than anything, Veronica McGowan wants to fit in with the cool kids. There's just one problem: they barely know she exists. Veronica wishes for something, anything to fix her nobody status–and gets more than she bargained for when she wakes up with "stupidpowers."
Suddenly, her strongest emotions come to life for the whole school to see. She belches fire when she's angry, dark clouds rain on her when she's sad, and cutesy hearts pop up whenever she daydreams about her crush. She's broadcasting her feelings likes living emojis–it's a nightmare!
Veronica and her best friend Charlie must work together to solve the mystery before her powers totally humiliate her. Did she inherit these powers from her mom, who left long ago? What can she really do with them? And is that teacher at school really just a teacher or is she part of some secret government agency?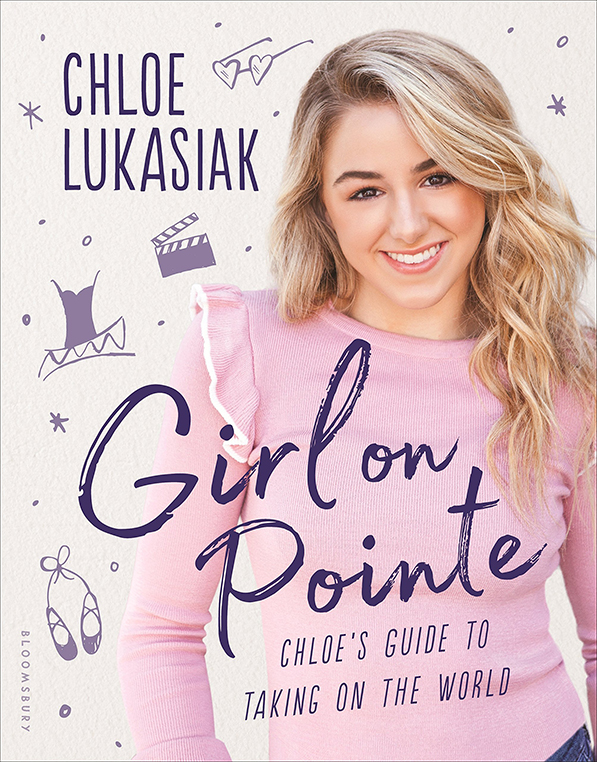 Girl on Pointe: Chloe's Guide to Taking on the World
Author: Chloe Lukasiak
Publisher: Bloomsbury Childrens Books
Date: January 23
SYNOPSIS:
Chloe Lukasiak is a big believer that things happen for a reason. She knows that life would be easier without disappointments, bullying, and medical issues-but sometimes it takes challenges to inspire you to achieve big things. From her status as fan favorite on the hit reality television show Dance Moms through her life as a social media star with millions of fans, Chloe has found that self-acceptance and kindness are the key to getting over the rough spots in life and realizing your passions. This full-color, heavily designed book featuring never-before-seen photos, inspirational quotes, and Chloe's own doodles offers exclusive insight into Chloe's world as well as a message that will inspire all readers to be their very best selves.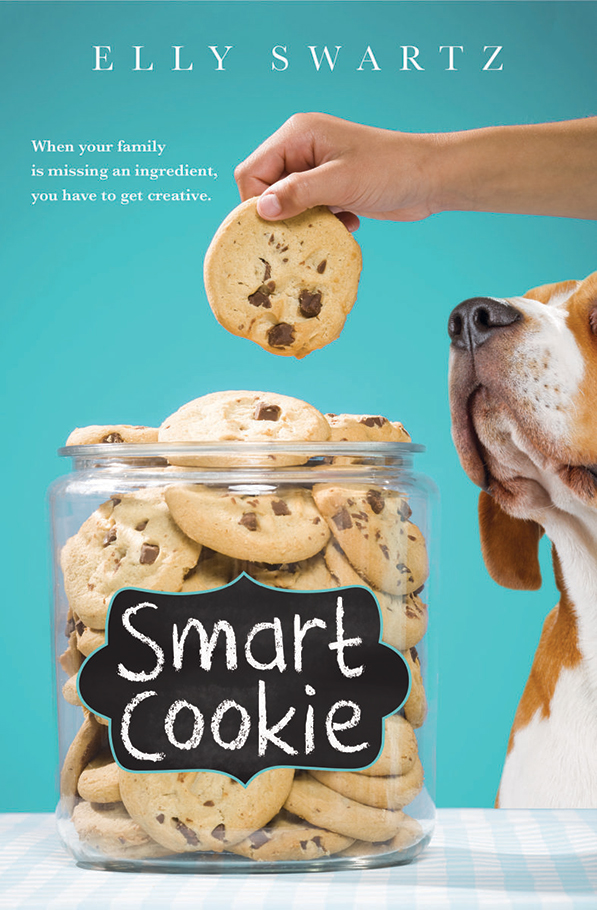 Smart Cookie
Author: Elly Swartz
Publisher: Scholastic
Date: January 30
YAYOMG!:
We had the pleasure of reading this one a bit early (thanks, Scholastic!) and we can safely say that this story is just as warm and perfect as a delicious cookie. In fact, it's filled with them. It's also filled with possible ghosts, great friendships, matchmaking, a mystery, and a girl who learns quite a lot about the meaning of family. We have an interview lined up with author Elly Swartz for later this month when the book is released, and we can safely say that you are going to LOVE getting to know more about her, Elly's story, and how Smart Cookie came to be!
SYNOPSIS:
SOMETIMES YOU NEED TO KEEP A FEW SECRETS.
Frankie knows she'll be in big trouble if Dad discovers she secretly posted a dating profile for him online. But she's determined to find him a wife, even if she ends up grounded for life. Frankie wants what she had before Mom died. A family of three. Two is a pair of socks or the wheels on a bicycle or a busy weekend at the B&B where Frankie and Dad live. Three is a family. And Frankie's is missing a piece.
But Operation Mom is harder to pull off than Frankie expects. None of the Possibles are very momish, the B&B's guests keep canceling, Frankie's getting the silent treatment from her once best friend, and there's a maybe-ghost hanging around. Worst of all, Gram and Dad are definitely hiding secrets of their own.
If a smart cookie like Frankie wants to save the B&B and find her missing piece, she's going to have to figure out what secrets are worth keeping and when it's time to let go.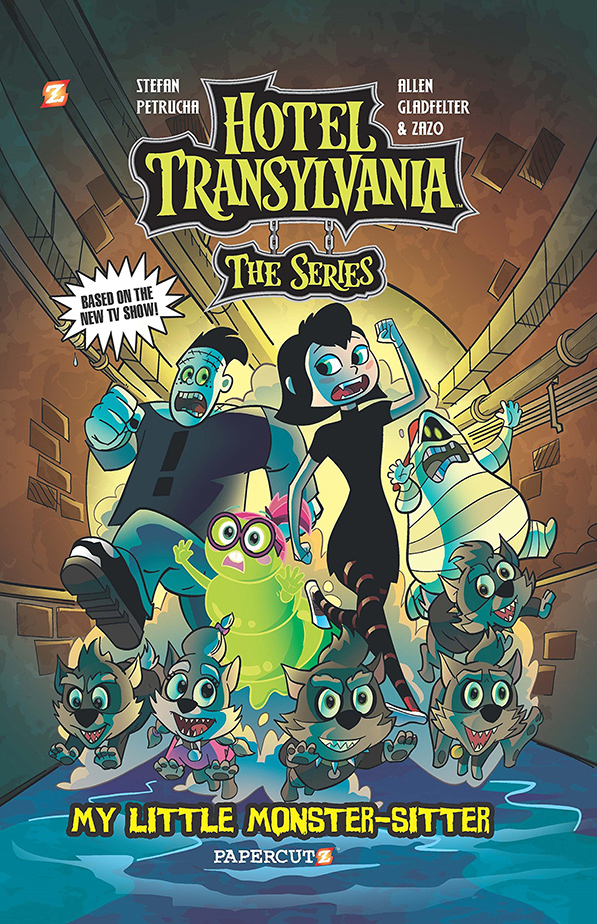 Hotel Transylvania #2: My Little Monster-Sitter
Author: Stefan Petrucha
Artist: Allen Gladfelter
Publisher: Papercutz
Date: January 30
SYNOPSIS:
Based on the all-new television series focusing on the earlier teenage years of Dracula's daughter Mavis and her three closest friends, Hank N. Stein, Pedro and Wendy Blob. With Dracula away on "Official Vampire Business," Mavis finally sees her chance to show her father what she can do. With the help of her friends, she decides to put her brilliant ideas of how to run the Hotel into motion, but—enter Aunt Lydia, Dracula's older and authoritarian sister. While Mavis and friends are ready to let loose and have fun, Aunt Lydia pushes for even more order and tradition at the Hotel.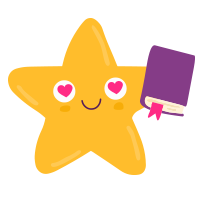 That's one seriously amazing list! Looking for another way to channel your inner-book lover? Here's 5 Reasons Star Wars Fans Will Love the Bounders Book Series!