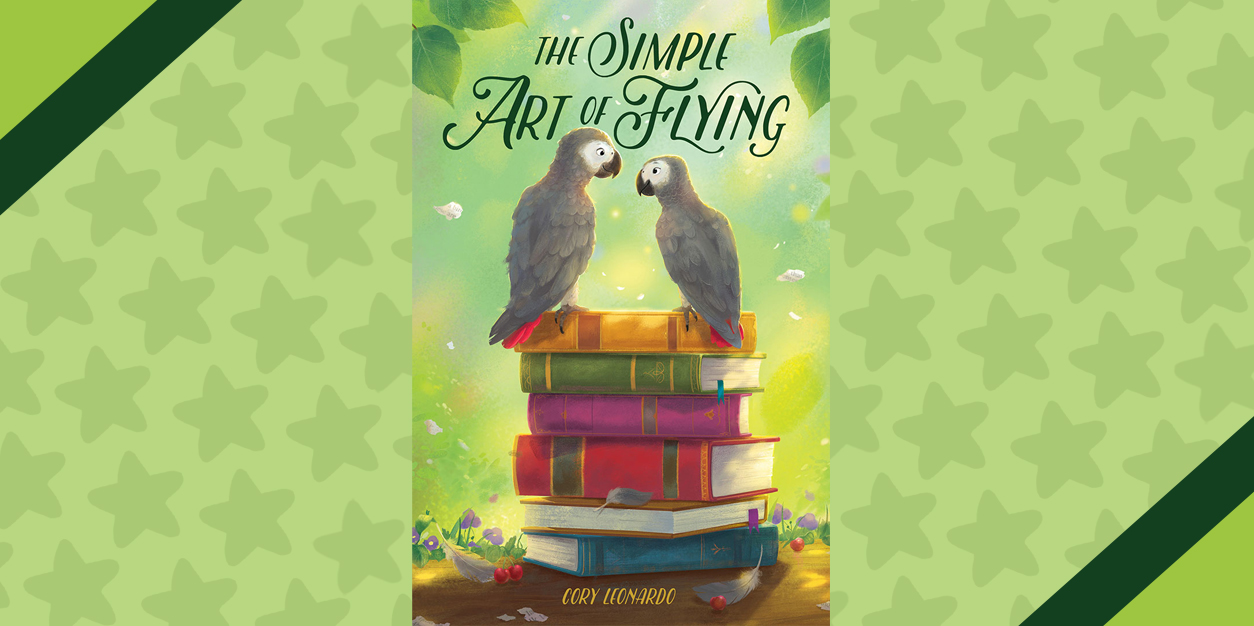 The Simple Art of Flying: Interview with Author Cory Leonardo
We knew from the first moment we laid eyes on The Simple Art of Flying that we were in for something special. Just look at that cover! From the beautiful parrots to the warm, inviting colors, it's impossible to walk past this book on the shelf without wondering about the story that awaits you inside. Thankfully, The Simple Art of Flying is just as fantastic as it's cover leads you to believe.
What do a grumpy parrot, a 12-year-old boy, and an eccentric elderly woman have in common? So much more than you might think! This hilariously heartwarming story is told through the perspectives of these three characters and all the ways their lives intertwine in unexpected ways. It's a charming story of finding your family, making mistakes, and self-discovery. There's so much more we want to share, but instead, we're going to leave it to the expert – author Cory Leonardo!
Go beyond the pages of The Simple Art of Flying as Cory shares the inspirations behind the story, her favorite treat, and the advice the characters have for YAYOMG! readers.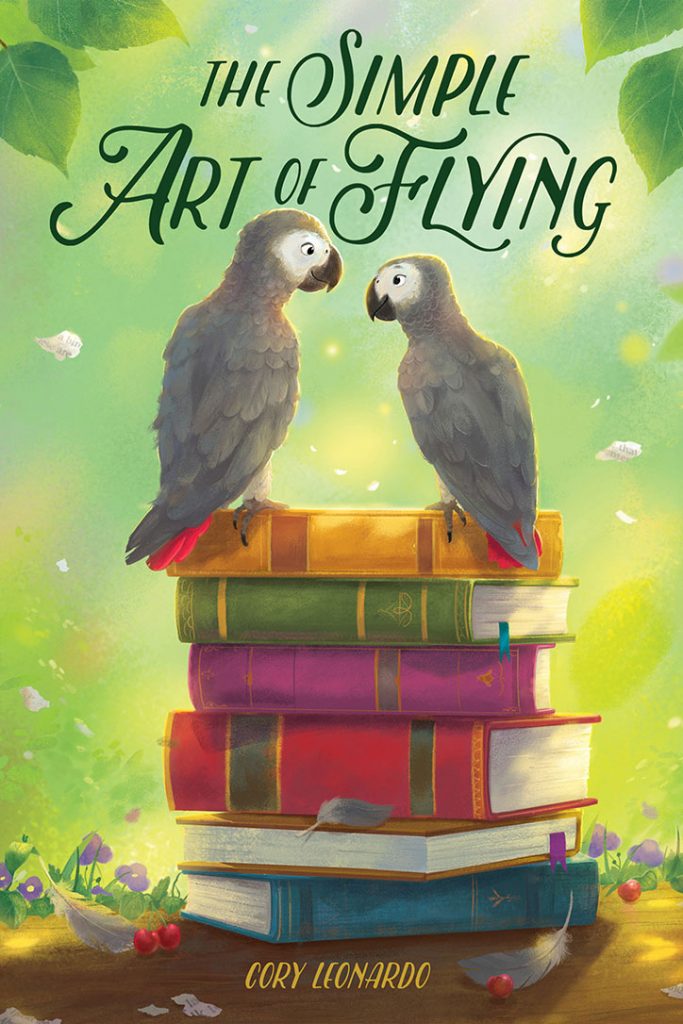 Quirky characters, plucky humor, and a heartwarming message come together in this big-hearted debut novel about friendship and the true meaning of family.
Sometimes flying means keeping your feet on the ground…
Born in a dismal room in a pet store, Alastair the African grey parrot dreams of escape to bluer skies. He'd like nothing more than to fly away to a palm tree with his beloved sister, Aggie. But when Aggie is purchased by twelve-year-old Fritz, and Alastair is adopted by elderly dance-enthusiast and pie-baker Albertina Plopky, the future looks ready to crash-land.
In-between anxiously plucking his feathers, eating a few books, and finding his own poetic voice, Alastair plots his way to a family reunion. But soon he's forced to choose between the life he's always dreamed of and admitting the truth: that sometimes, the bravest adventure is in letting go.
The Simple Art of Flying
AUTHOR: Cory Leonardo
PUBLISHER: Aladdin
DATE: February 12, 2019
The Simple Art of Flying: Interview With Author Cory Leonardo:
Tell us a little about The Simple Art of Flying and what inspired you to write this story.

CORY LEONARDO: The Simple Art of Flying is a story about Alastair, a persnickety parrot who's on a mission to break himself and his sister Aggie out of the pet shop they were born in. The only problem is, the young boy who works at the store happens to have fallen in love with Aggie, and then there's elderly-but-spry Bertie Plopky, who's got half a mind to adopt a bird of her own. It's a story about family, mostly—the ones we choose and the ones we don't.

The whole story came like a bolt of lightning early one morning as I was making a valiant attempt to ignore my alarm clock. Alastair's grouchy voice barreled into my head, and his sister Aggie, anxious Fritz, and stubborn old gal Bertie were right on his heels. I knew poetry would make an appearance, and I knew it had to be eaten and sort of regurgitated by that parrot. And there it was, almost the entire book, beginning to end. For someone who usually takes years to come up with a suitable plot, I knew right away this was no small miracle, and I raced my way through the writing of it.
The story is told through three character's perspectives, but also three styles. What drew you to tell the story through poetry, journal entries, and letters?

CORY: The book didn't start out that way actually! The first draft was told completely from Alastair's perspective, but a couple brilliant mentors of mine read through it and asked if I'd thought about telling the story from multiple points of view—I hadn't. But the more I thought about it, the more excited I became.

I knew that for the book to remain largely Alastair's story, I had to come up with a way to slip in these other characters without stealing the thunder of his tale. Having future-doctor Fritz practice his "medical logs" (which, let's be honest, they're more of a diary) and having lonely Bertie write letters to her husband seemed the perfect fit, and it's where these characters came alive.
Every character in The Simple Art of Flying pops off the page, each more unique and interesting than the last. Who was your favorite to write? Who was the most challenging?

CORY: Oh wow! Thank you! Since I have three main characters, I'll tell you that Alastair was the easiest to write—his voice is so strong and stubborn. Fritz was probably the most challenging. His character might seem simpler than the others, but being a pre-teen and teenager is hard, and I found it difficult to balance his sweetness with his struggles and still keep him real and true to the reader. Bertie was definitely the most fun. She's so spunky. Her feud with Delores kept me in constant giggles. I was always so excited to see what hilarious thing she'd do next.
If you had to select one quote from The Simple Art of Flying to dazzle a potential reader to pick up your book, which one would you choose?

CORY: Such a tough question! I think one of my favorite passages in the book is this one: "…who says bad things have to stay bad forever? Who says bad times can never get good? Yesterday isn't always, and neither is today, and if a little time and warmth and light can turn an ugly, old pit into a tree, who's to say a little time can't do the same for you? For me? I know what I'm betting on. I'm betting on trees."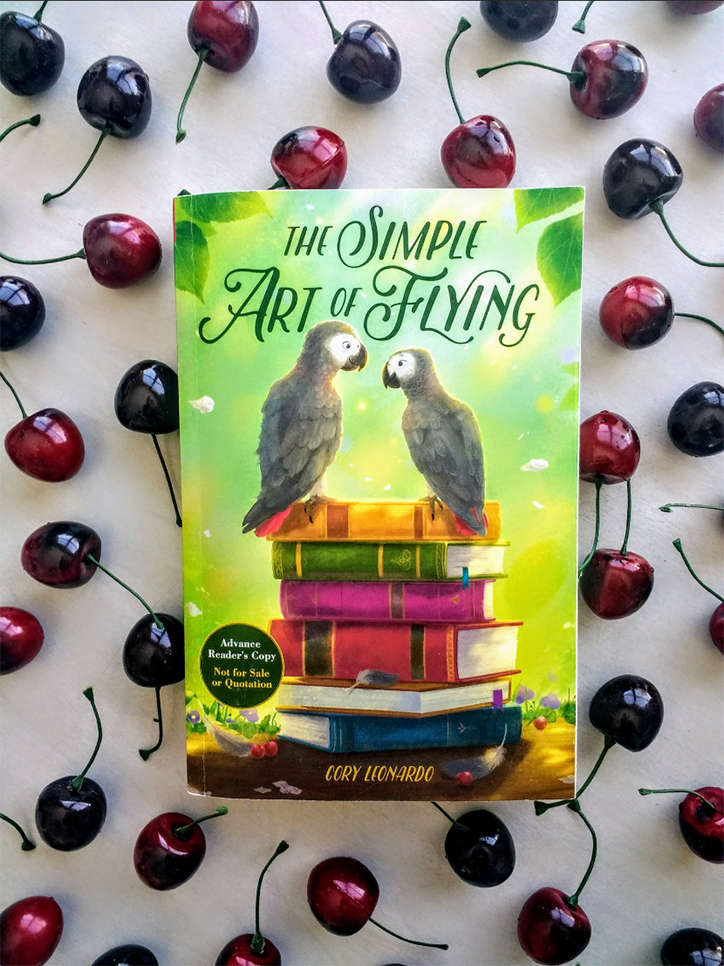 For Alastair, cherries are a treat that bring joy to his otherwise grouchy life. What treat can always turn your day around?

CORY: I love this question! But it's a hard one because I love treats of all kinds, and my mood is always changing. I will say that a cup of tea mid-day, alongside a freshly-baked muffin, slice of cake, scone (with frosting!), or doughnut is pretty hard to beat.
How are you hoping this story will resonate with young readers?

CORY: Hope is what I always want my readers to walk away with—hope in their hearts and joy while they're reading. And if they walk away feeling seen and loved? Well, then I'd say my work is done.
We have to know, do you have any real-life pets? (Or did you when growing up?)

CORY: I don't have any pets presently, though I expect this to change in the next few months (but shh! Don't tell my kids!). I did, however, have a great many animals around the house growing up. My mother, to this day, is a veterinarian. We had dogs, a slew of birds, guinea pigs, a tortoise (still kicking at forty-some-years-old), rats, and more. We also raised any wildlife that needed looking after. Lots of robins, baby bunnies, oodles of squirrels. The neighbors were constantly getting chased by squirrels who thought every human had food for them. There was even a baby deer once, a pelican, and an ostrich. It was chaos. Magical chaos.
What are a few of your favorite middle grade books that you'd recommend for our readers?

CORY: I have so, SO many. But some of my favorites I read just this last year include:
Wishtree by Katherine Applegate
Sweep: The Story of a Girl and Her Monster by Jonathan Auxier
Where the Watermelons Grow by Cindy Baldwin
Louisiana's Way Home by Kate DiCamillo
The Three Rules of Everyday Magic by Amanda Rawson Hill
You Go First by Erin Entrada Kelly
The Mad Wolf's Daughter by Diane Magras
Bob by Wendy Mass and Rebecca Stead
The Secret of Nightingale Wood by Lucy Strange
Is there anything you can share about what you're working on next?

CORY: Certainly! In fact, just last night I typed the two most beautiful words a writer can write: THE END. I'm excited to tell you there's an entirely new cast of animal characters I'm so hoping you'll get to meet. This story is a retelling of The Wizard of Oz, only it stars a glasses-wearing hedgehog named Marcel. And just for my YAYOMG! friends, I'll let you in on my favorite character in this book: she's a spitfire of a field mouse named Scamp, armed with a sling-shooter and sass, and I'm awfully in love with her—with the whole book, really.
We always ask our authors to share words of wisdom/advice for their readers, but we'd love to hear what Alastair, Fritz, and Bertie would have to say. What advice do you think they would each share with the readers of your book?

CORY: Fritz would say: You're pretty okay the way you are. You might look different, feel different, you might have different interests than the kids around you, but keep putting one foot in front of the other. Keep learning, keep living. Because you're better than okay. You're pretty great, actually. And you have an amazing future ahead of you.

Alastair would say (a little grumpily): Life might throw you a few curveballs. You might wake up one day and find you've got no feathers and think there's no way you'll ever fly. But things aren't always as they seem. Maybe you won't fly. Maybe, one day, you'll soar.

Bertie says: My dear girl, Fritz and Alastair took the words right out of my mouth! And if those two thoughts don't put a smile on your face, there's always pie and dancing. But if even THAT doesn't put a grin on your chin, well, try putting a grin on someone else's. Sometimes the thing that's missing from your own happiness is that you haven't given a big enough chunk of it to someone else who needs it. That's the funny thing about hearts and happiness, you know. The more joy you give away—the more joy you find you've got.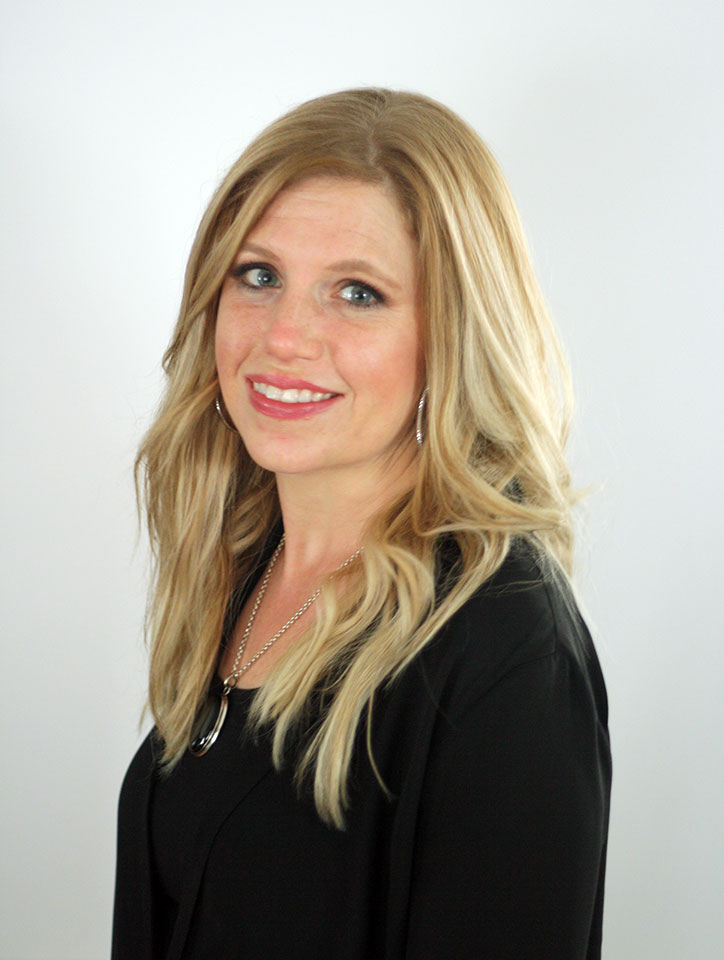 Want to meet author Cory Leonardo and learn more about The Simple Art of Flying? Her book release party takes place on Saturday, Feb. 16th at 2pm at the Barnes & Noble in Liverpool, NY.
Participating in our YAYOMG! Reading Challenge this month? The Simple Art of Flying is a great pick to help you check off your list and complete the challenge!