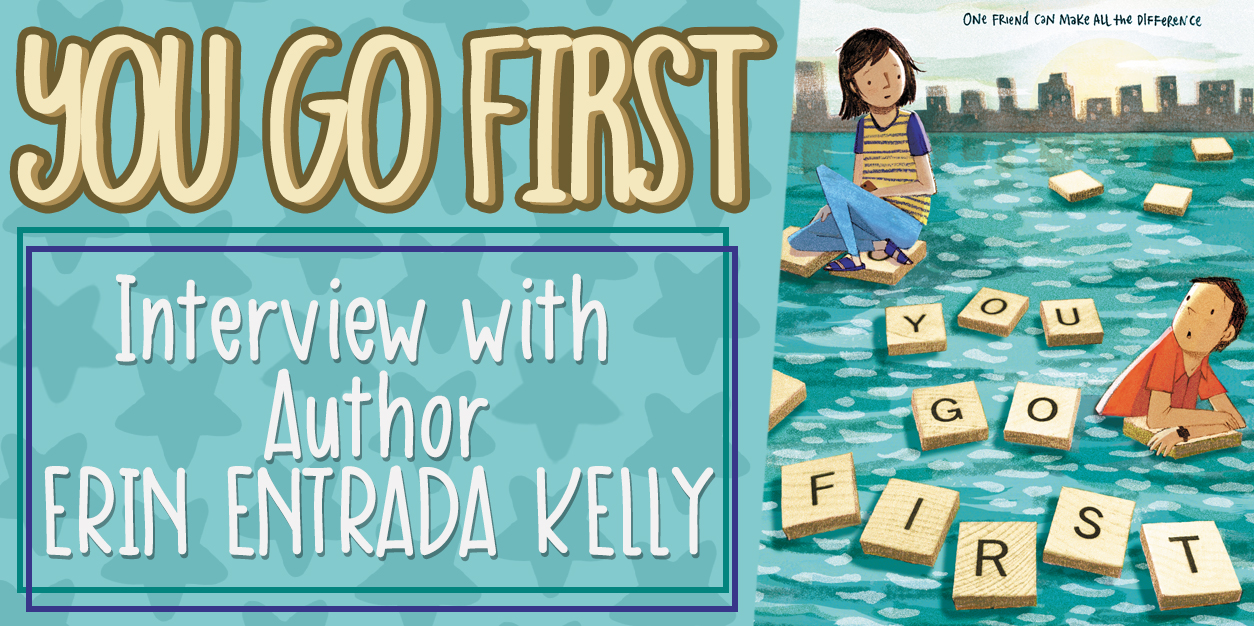 You Go First – Interview with Author Erin Entrada Kelly
You Go First is the brand new novel from Newberry Award-winning author, Erin Entrada Kelly. You may know her from her other amazing novels Hello Universe, The Land of Forgotten Girls, and Blackbird Fly. This new book tells the story of two friends, Charlotte and Ben, who only know each other through their online Scrabble game but actually have a lot in common. It's an authentic, funny, and utterly charming story of friendship and the struggles we face while growing up.
You Go First takes readers through a week in Charlotte and Ben's lives as they drift from friends, deal with bullies, and feel alone as they face some difficult family struggles. This story shows us that no matter how alone we feel, there's always someone out there who understands.
SYNOPSIS:
Twelve-year-old Charlotte Lockard and eleven-year-old Ben Boxer are separated by more than a thousand miles. On the surface, their lives seem vastly different—Charlotte lives near Philadelphia, Pennsylvania, while Ben is in the small town of Lanester, Louisiana. Charlotte wants to be a geologist and keeps a rock collection in her room. Ben is obsessed with Harry Potter, presidential history, and recycling. But the two have more in common than they think. They're both highly gifted. They're both experiencing family turmoil. And they both sit alone at lunch.
Over the course of a week, Charlotte and Ben—online friends connected only by a Scrabble game—will intersect in unexpected ways as they struggle to navigate the turmoil of middle school. You Go First reminds us that no matter how hard it is to keep our heads above troubled water, we never struggle alone.
Go beyond the pages of this fantastic read as author Erin Entrada Kelly shares her inspiration behind the story, her favorite middle grade reads, and her advice for kids trying to make it through middle school.
You Go First – Interview with Author Erin Entrada Kelly:
Tell us a little about You Go First and what inspired you to write this story.
ERIN ENTRADA KELLY: You Go First is the story of Charlotte Lockard and Ben Boxer, two online friends who are separated by more than a thousand miles. Although they've never met and are hesitant to reveal their true selves to each other, they have a lot in common. They are both highly gifted, socially awkward, and alone in the world. They're also going through family turmoil—Charlotte's father is in the hospital after a heart attack, and Ben's parents are getting divorced.
Charlotte's side of the story references a lot of real Philadelphia locations (the Philadelphia Museum of Art, the Mütter Museum, 30th Street Station, etc.) Are these a few of your favorite places in Philly?
ERIN: Yes! Although my favorite thing about Philly are the murals. Maybe I'll work that into a book in the future.
Charlotte and Ben become friends via the online Scrabble game they play on their phones. What drew you to Scrabble as the connection for your characters?
ERIN: I've always been fascinated by board games, and Scrabble was perfect for this story, because it requires a mix of strategy and luck—just like life.
Each new day in the book begins with a new word and definition. What words would you use to describe Charlotte and Ben?
ERIN: Introspective and bright.
Ben would be upset if we didn't ask, what is your Hogwarts house?
ERIN: Hufflepuff!
The characters in You Go First deal with some relatable middle school struggles: drifting from friends, dealing with bullies, parents going through a divorce. Is there a middle school moment that stands out for you from your own experience?
ERIN: One of my most palpable memories from middle school is being picked last for basketball. Every time we picked teams for anything, I was either chosen last or second-to-last. That's something you never forget.
Tell us a little about how you write your books. Do you have a favorite place to write or a particular way you go about getting started on a new story?
ERIN: All of my novels begin with a character. In this case: Charlotte. When an idea settles in my imagination, the first thing I do is get a notebook and start writing it down. That's been my process since second grade, and it hasn't changed much!
What are a few of your favorite middle grade books that you'd recommend for our readers?
ERIN: Where to begin?
The One and Only Ivan, by Katherine Applegate; When You Reach Me and Goodbye Stranger, by Rebecca Stead; Everlasting Nora, by Marie Miranda Cruz; The Thing About Jellyfish, by Ali Benjamin; and Nest, by Esther Ehrlich. For graphic novels, I love The Only Child, by Guojing, which is wordless; and Roller Girl, by Victoria Jamieson.
Are you able to share a little about what you're working on next?
ERIN: Right now, I'm in revisions for my first middle grade fantasy. It's inspired by Filipino folklore and is scheduled for summer 2019.
What is some advice you can share for kids who are trying to make it through middle school, like Charlotte and Ben?
ERIN: You are resilient. You are stronger than you think. You will survive. You are not alone.
You Go First is out tomorrow, April 10 from Greenwillow Books. If you like this book, be sure to check out Erin's other titles, Blackbird Fly, The Land of Forgotten Girls, and Hello Universe. For even more books releasing this month, check out our April YAYBOOKS! Roundup.