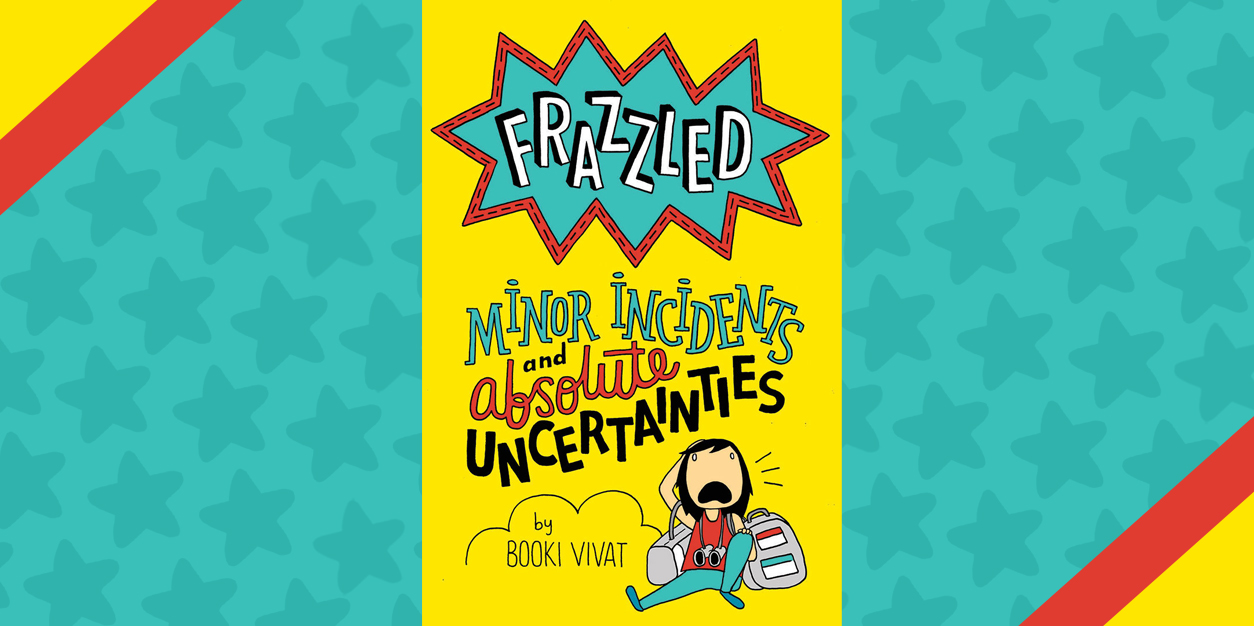 Booki Vivat Shares 5 Illustrated Facts about Frazzled + GIVEAWAY!
You know that amazing feeling when a song, book, or movie just totally understands you on a deep level? That's the feeling you'll get while reading the Frazzled series by Booki Vivat.
In the first two books, we see Abbie Wu doing her best to survive the everyday disasters of growing up. From diabolical cats to corrupt lunch ladies, Abbie has taken on everything in her own dramatic, anxious, and completely over the top way. We've all been in Abbie's shoes at some point. Whether you've struggled to find your "thing" or you've experienced the absolute dread of being paired up with someone for a school project, Abbie has been there, and she totally gets you.
In Frazzled: Minor Incidents and Absolute Uncertainties, Abbie thinks she's got this whole middle school thing pretty much figured out – that is, until her teacher announces that they're going to outdoor school.
Will Abbie be able to survive camp life? We're giving TWO lucky winners a chance to find out. Scroll down for your chance to WIN a copy of the newest Frazzled book.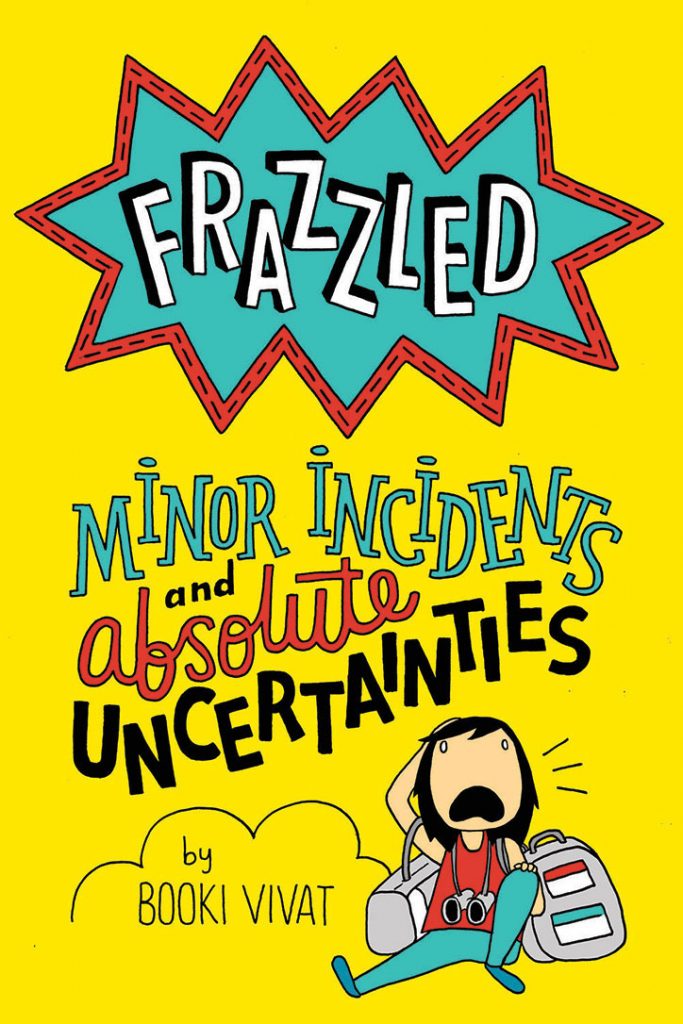 Abbie Wu is even more FRAZZLED as she embarks on an outdoor school trip and encounters new hazards of middle school.
This is the third book in a New York Times bestselling graphic novel series that NPR's All Things Considered called "hilarious"!
Abbie Wu thinks that she's finally getting the hang of this middle school thing. That's until her teacher announces that they'll be going to…OUTDOOR SCHOOL!
While Abbie's usual clique seems to adjust fine at camp, she doesn't quite fit in—with anyone! If that isn't bad enough, her camp counselors are totally evil and she can't figure out what is up with the golden pig.
Abbie feels all alone. Will she learn how to fit in yet stay true to herself? Or will she finally reach her breaking point?
From author and professional doodler Booki Vivat, this popular series follows Abbie Wu, your favorite hilariously neurotic middle school girl, as she tries to come up with solutions to funny real-life middle school challenges.
Akin to Smile by Raina Telgemeier, Frazzled: Minor Incidents and Absolute Uncertainties is heavily illustrated, embarrassingly honest, and sure to appeal to anyone hoping to figuring out how to survive middle school.
Frazzled: Minor Incidents and Absolute Uncertainties
AUTHOR: Booki Vivat
PUBLISHER: HarperCollins Children's Books
DATE: February 5, 2019
Author Booki Vivat has put together something extra special for YAYOMG! readers. She's illustrated 5 Fun Facts about how she brings the Frazzled series to life!
5 Fun Facts About Frazzled: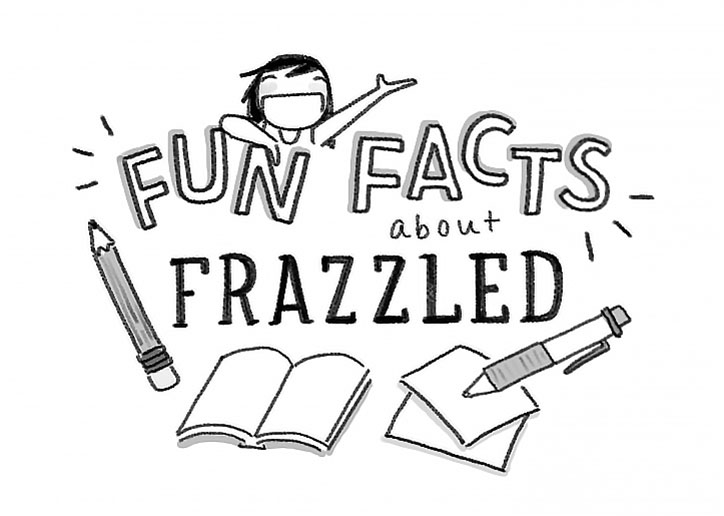 I'm Booki Vivat, the author and illustrator of the Frazzled series! The final book in the series, Frazzled #3: Minor Incidents and Absolute Uncertainties, just came out, and to celebrate, I'd like to share a few fun facts you may not know about this book series!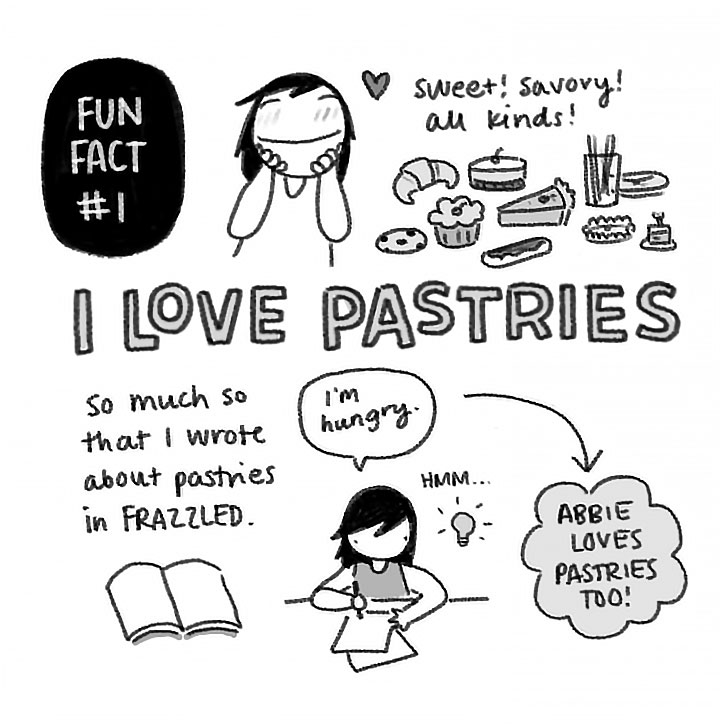 FACT #1

You might not know this, but writing a book is a lot of work, and it can make you pretty hungry. As I was writing Frazzled, I really started to crave my favorite food — pastries! The only thing to do was write what I was feeling into the book, which is why Abbie shares my love of pastries. In real life, whenever I was stuck with writer's block, I would treat myself to a fresh pastry from my local bakery. In the same way, Abbie and her friends always go to Antonia's Bake Shop when things get tough in the Middles. Pastries make everything better!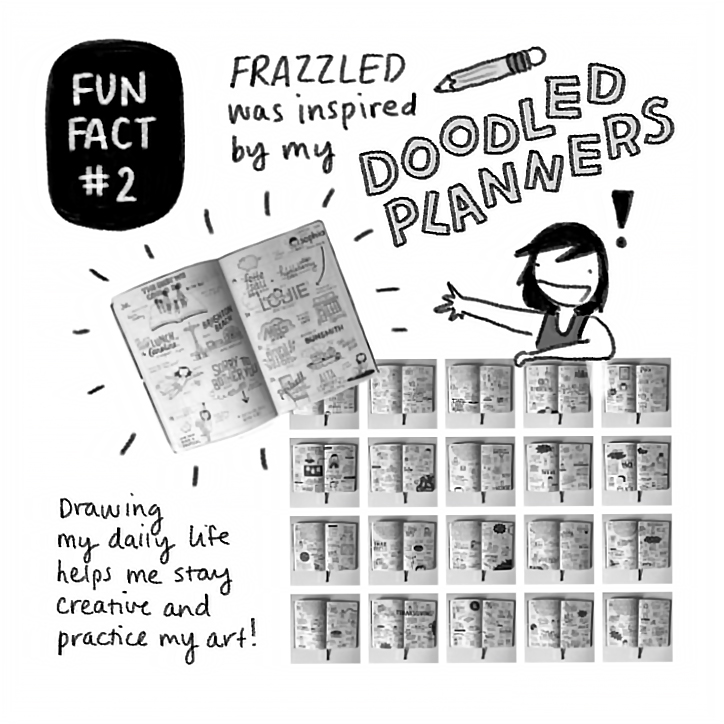 FACT #2

The idea for Frazzled began with a doodle — or rather, a whole bunch of them. I started keeping a planner many years ago, and over time, it evolved into so much more than a way to keep track of my daily schedule. Doodles took over, and my planner became more of a creative outlet and visual record of my life. In fact, Abbie Wu and her story came out of these illustrated planners!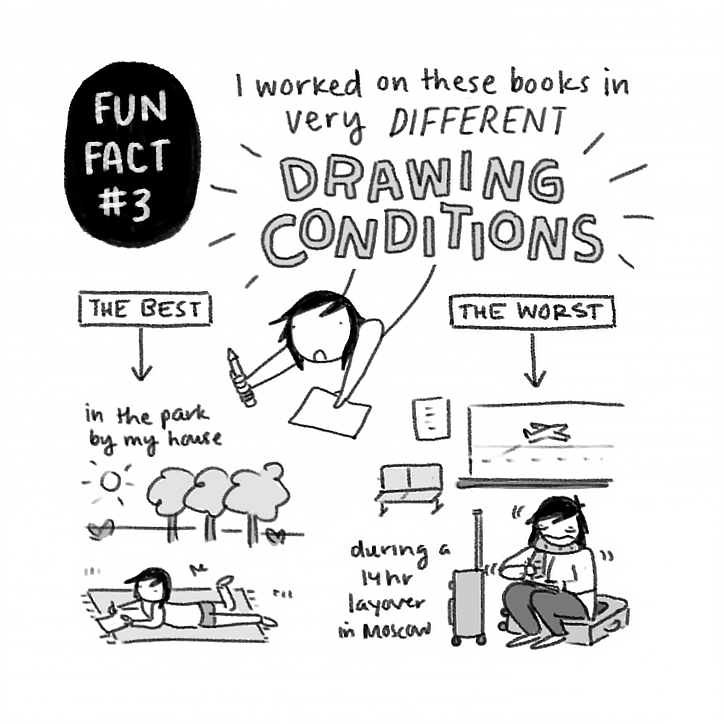 FACT #3

People usually think that artists and illustrators only work in art studios and creative spaces. I used to think that too, but the truth is, you can actually make art wherever you are! I've illustrated parts of Frazzled in VERY different places. My favorite was drawing in the park by my house when the weather was nice. My least favorite was drawing in the waiting area of a Moscow airport during a 14hr layover…in the dead of winter. Luckily, I could channel all my feelings into doodles for Frazzled!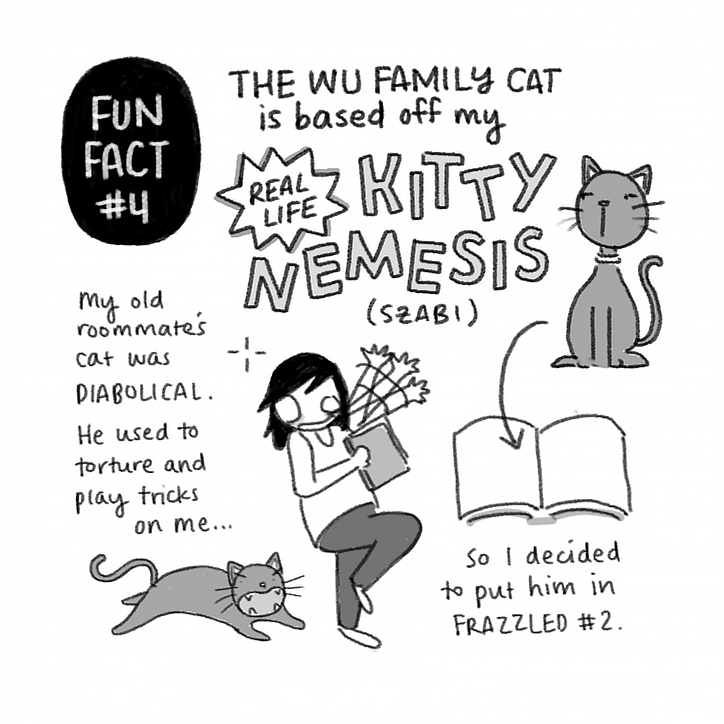 FACT #4

Mark Twain said, "Truth is stranger than fiction," and personally, I agree. A lot of characters and storylines in the Frazzled series are based off my real life experiences, but the most memorable is definitely Mr. Felix McSnuggles the Third, the Wu family's pet cat. My old roommate's cat, Szabi, and I had a very complicated relationship that mostly consisted of him torturing and taunting me. I knew that, somehow, I had to immortalize this epic struggle between us, so I decided to write a fictionalized version of him into Abbie's world. As if middle school wasn't hard enough…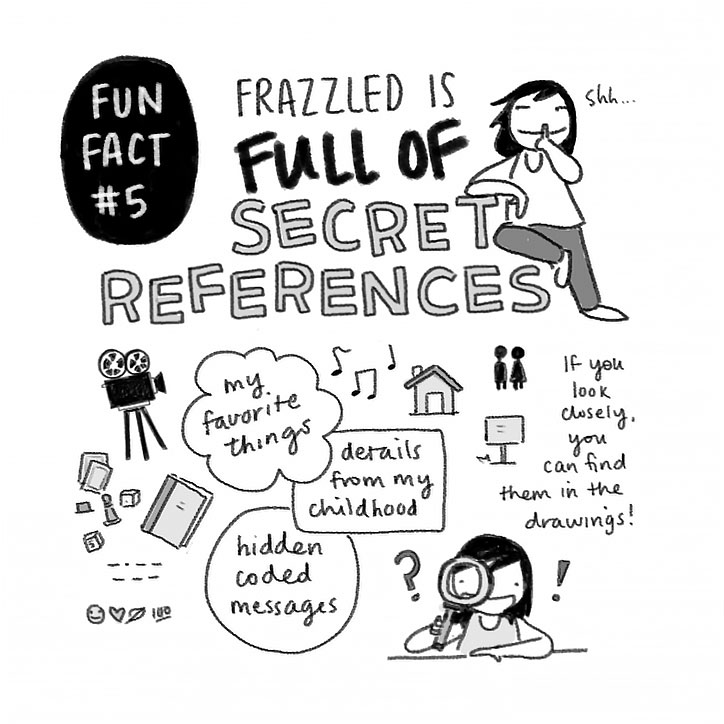 FACT #5

Even though Frazzled is a work of fiction, there are a lot of things about Abbie's character and life experiences that are rooted in my own. For fun, I ended up drawing references to things I like, details from my childhood, and even a few hidden coded messages. Some things you might be able to spot if you look hard enough: a few classic movies, The Beatles, different board games, morse code, and so more!
Frazzled Book Giveaway: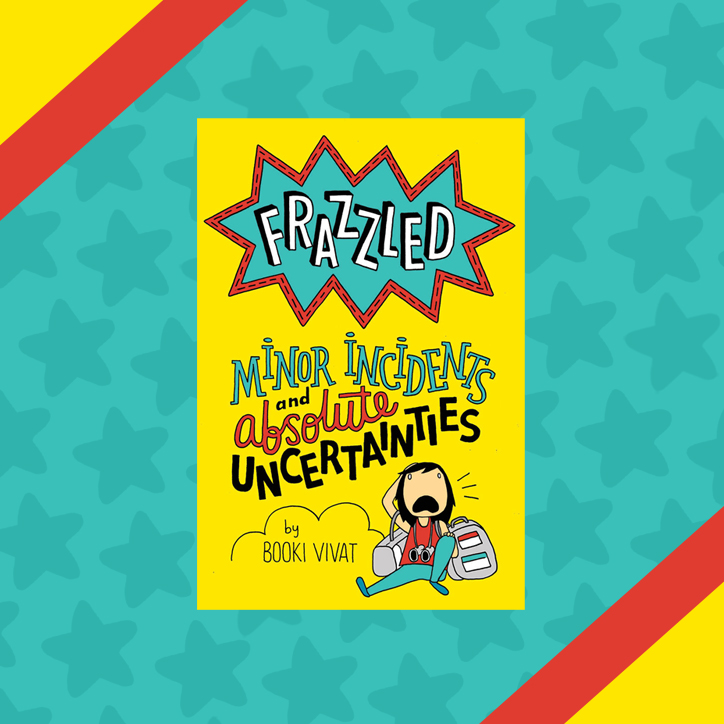 WHAT DO I WIN?:
TWO lucky winners will receive a copy of Frazzled: Minor Incidents and Absolute Uncertainties by Booki Vivat
*Prizes generously provided by HarperCollins Children's Books.
HOW DO I ENTER?:
You must be 18 or older to enter. If you are under 18, please have a parent or guardian enter for you by filling out the form below by February 26! Giveaway begins on February 13, 2019 at 07:00 pm ET and ends on February 27, 2019 at 11:59pm ET. Open to US residents ONLY. Please, only ONE entry per person.
THIS GIVEAWAY HAS ENDED AND THE WINNER HAS BEEN CONTACTED.
*If selected as a winner, we will provide your parent/guardian with an affidavit to confirm that you are a valid winner who has permission to win. They will need to sign and return this affidavit in order to claim your prize. This step is non-negotiable and REQUIRED to claim your prize. Be sure to read the fully detailed rules HERE before entering.
Looking for another series that completely understands the struggles of middle school life? We think you'll love New Kid by Jerry Craft!