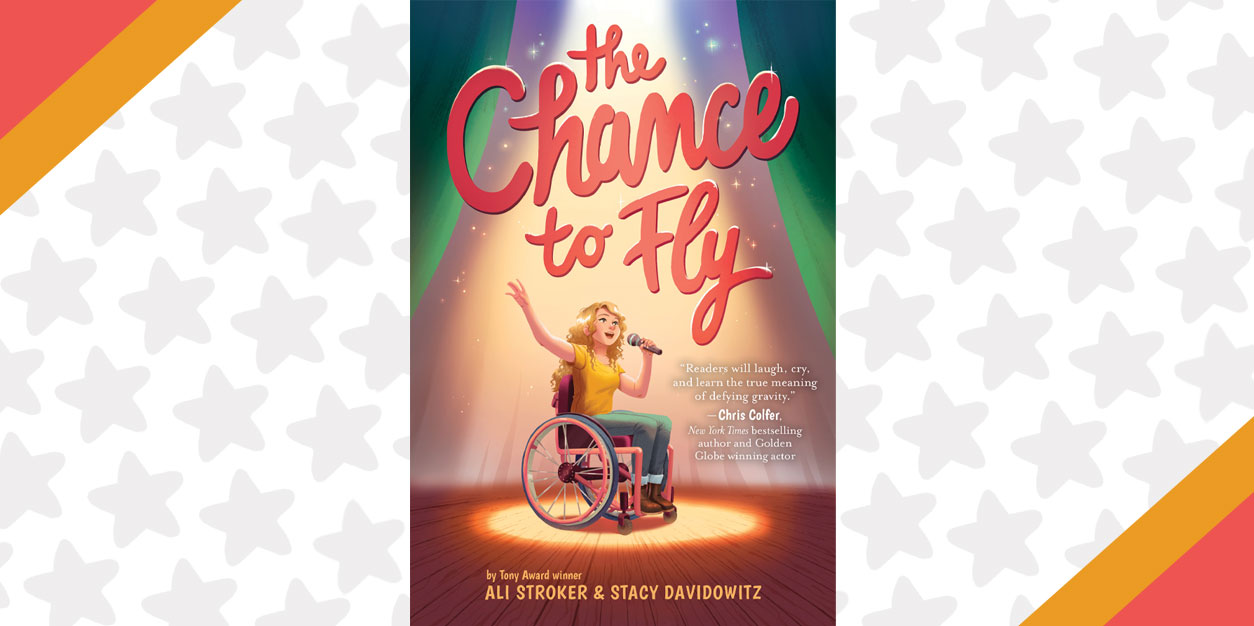 Broadway Dreams & Defying Gravity: 5 Fun Facts About The Chance to Fly
Calling all theater kids! Your new favorite drama club has arrived, and they're here for an uplifting story that will empower you to follow your dreams, no matter what challenges may stand in your way.
Nat Deacon loves a lot of things – her wheelchair racing team, her BFF Chloe, and her dog Warbucks – but she is OBSESSED with musicals. From Hamilton to Les Mis, she lives to sing along to her favorite cast soundtracks.
When her family moves across the country from California to New Jersey, leaving her comfortable life and best friend behind, Nat has never felt more out of place. Her parents encourage her to find a new wheelchair racing team to join, but after spotting a flyer for a local youth production of Wicked, Nat knows there's nothing she wants more than to perform on stage, just like her favorite Broadway stars. But she's never seen someone who uses a wheelchair for mobility on stage – could a girl like her get cast? And will her overprotective parents even let her try out?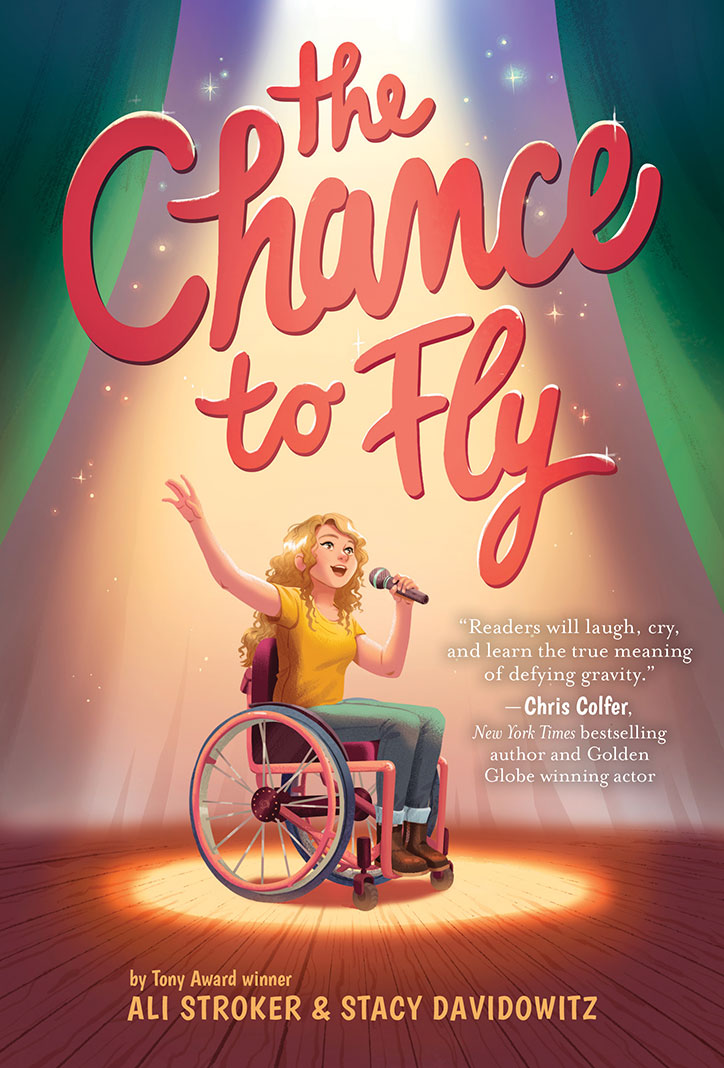 A heartfelt middle-grade novel about a theater-loving girl who uses a wheelchair for mobility and her quest to defy expectations—and gravity—from Tony award–winning actress Ali Stroker and Stacy Davidowitz.
Thirteen-year-old Nat Beacon loves a lot of things: her dog Warbucks, her best friend Chloe, and competing on her wheelchair racing team, the Zoomers, to name a few. But there's one thing she's absolutely OBSESSED with: MUSICALS! From Hamilton to Les Mis, there's not a cast album she hasn't memorized and belted along to. She's never actually been in a musical though, or even seen an actor who uses a wheelchair for mobility on stage. Would someone like Nat ever get cast?
But when Nat's family moves from California to New Jersey, Nat stumbles upon auditions for a kids' production of Wicked, one of her favorite musicals ever! And she gets into the ensemble! The other cast members are super cool and inclusive (well, most of them)— especially Malik, the male lead and cutest boy Nat's ever seen. But when things go awry a week before opening night, will Nat be able to cast her fears and insecurities aside and "Defy Gravity" in every sense of the song title?
The Chance to Fly
AUTHORS: Ali Stroker and Stacy Davidowitz
PUBLISHER: Amulet Books
DATE: April 13, 2021
Filled with tons of Broadway references, first crushes, backstage friendships, and LOTS of drama, The Chance to Fly is an uplifting and relatable story you'll absolutely give a standing ovation. Plus – Nat oozes girl power, and her talent and determination are sure to inspire you!
Can't wait to get reading? You're in luck! Authors Ali Stroker and Stacy Davidowitz are here dishing out 5 fun facts about The Chance to Fly, their love of musicals, and more!
Authors Ali Stroker and Stacy Davidowitz Share 5 Fun Facts The Chance to Fly:
Kismet:

So! On Valentine's Day of 2017, author Stacy Davidowitz met Broadway actress Ali Stroker and totally fangirled. We exchanged chocolate and stories and decided right then and there to create a brainchild together. Thus, The Chance to Fly was born.

Stacy took a stab at the first chapter, with the opening words being "I FOUND OKLAHOMA!" and Ali called Stacy to tell her that she'd just been cast in Oklahoma! at St. Ann's Warehouse in Brooklyn. Eventually, Ali went on to win the Tony for her role in the Broadway production! Kismet.
Annie obsessed:

So, we LOVE musicals. Ali is a Tony Award winning actress, and Stacy is an actor-turned-playwright, and both of us did a ton of theater growing up.

Ali's first show was Annie. She was seven years old, and it was a backyard production. Her dad played Miss Hannigan, the evil woman who runs the orphanage and Ali played Annie. Stacy's first introduction to theater was Annie, too! She played Pepper, the mean orphan, in a community theater production in Long Island. She went on to perform in SIX more productions of Annie. So. Much. Annie.

We passed down our love for Annie to our main character, Nat Beacon. Nat's first introduction to theater is also Annie! It's what makes her fall in love with musicals. She even names her dog "Warbucks" after the character, Daddy Warbucks. She also names her wheelchair "Peaches" after the new orphan in Annie Warbucks, the Annie sequel!
Chapter titles are song titles:

Yes, yes, it's true. We won't give away all of the chapter titles and the shows they reference, but here are a few:

Chapter Two: There Are Worse Things I Could Do – Grease!

Chapter Five: Pulled – The Addams Family

Chapter Six: I Hope I Get It – A Chorus Line

Chapter Seven: The History of Wrong Guys – Kinky Boots

Chapter Eight: The Nicest Kids in Town – Hairspray

Chapter Nine: One Step Closer – The Little Mermaid

We challenge you to figure out the rest…!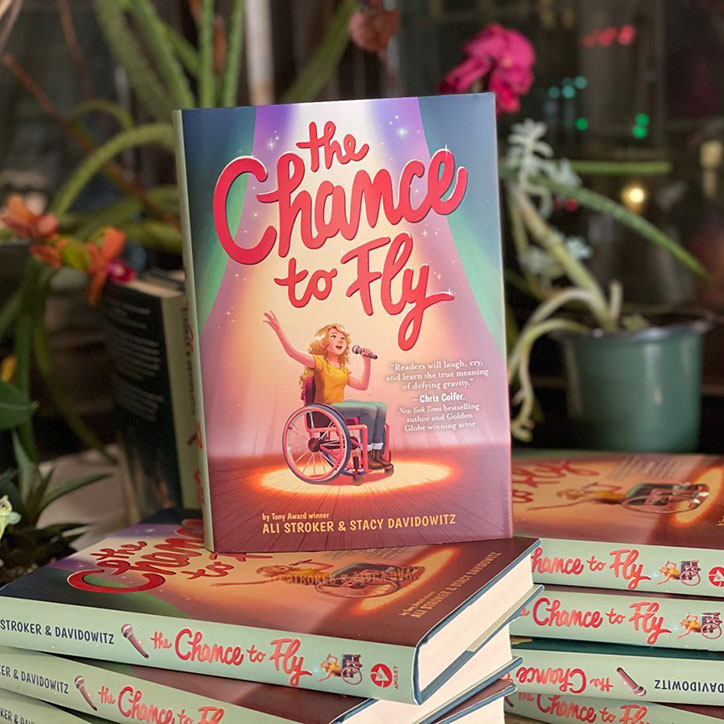 Poo-wa-bah!:

In the book, right before the Broadway Bounders get on stage for opening night of Wicked, they huddle up with their hands stacked and chant, "Poo-wa-bah!" That is a tradition from Stacy's high school theater troupe, the On Tour Company! Don't ask what it means. She doesn't know!
The slow dance:

When Stacy and Ali met for the first time, Ali was just getting into writing. She showed Stacy a scene she'd written about being thirteen and slow dancing with a crush. It was so sweet. And because of that scene, we made sure we got that moment in for Nat. In the last chapter, Nat finally gets to slow dance with the boy she likes. Awwww!
In need of even more amazing reads? We've got LOTS of book giveaways happening now, so grab your favorite adult and enter for your chance to WIN copies of Whatever After: Fairest of All, The Gilded Girl, and the Soul Riders series!