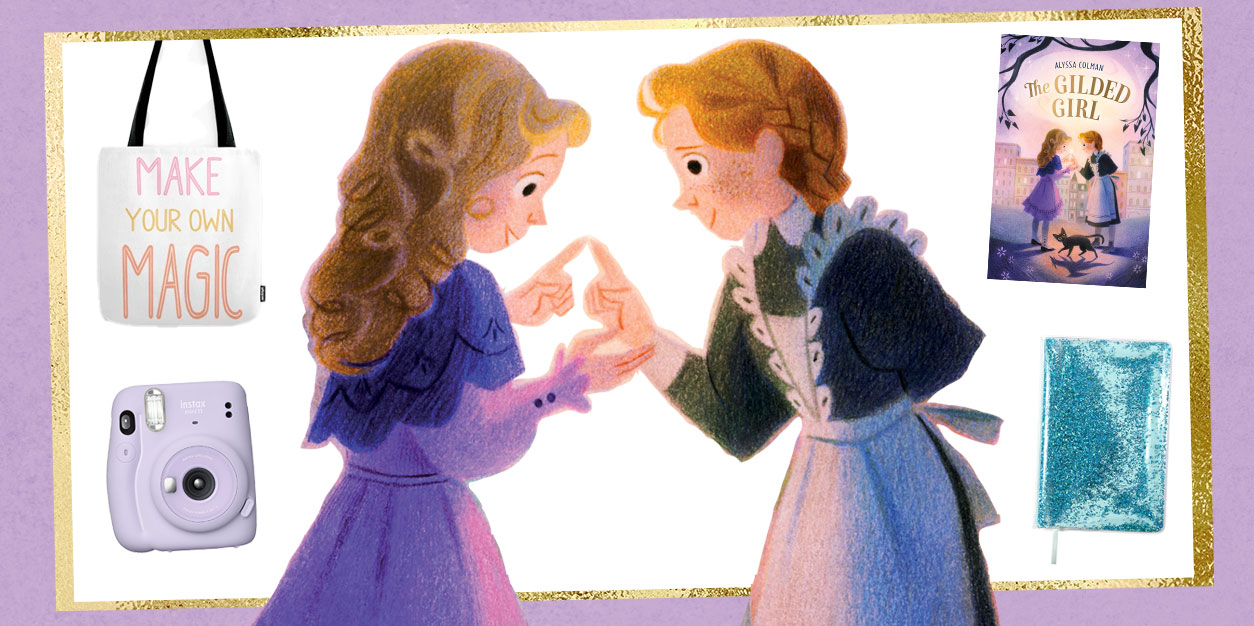 Spark Magic With This Sneak Peek into The Gilded Girl + GIVEAWAY!
NOTE: This post is sponsored by Macmillan.
Magical abilities, elite boarding school drama, an adorable house dragon named Figgy Pudding, and a sprinkle of social justice – that's what lies between the pages of the enchanting new novel, The Gilded Girl by Alyssa Colman.
In this charming fantasy read, you'll be transported to historical NYC alongside Emma, the newest student at the elite Miss Posterity's Academy for Practical Magic, a posh boarding school filled with mystery, intrigue, and magic. It's the most highly regarded school in the world for girls to learn to kindle their magic and use their skills to have everything their hearts desire. Unfortunately, this means that inequality runs deep, as magic is a skill only able to be harnessed by those wealthy enough to attend, while the less fortunate are deemed unworthy and are forced to have their magic snuffed out after their 13th birthday.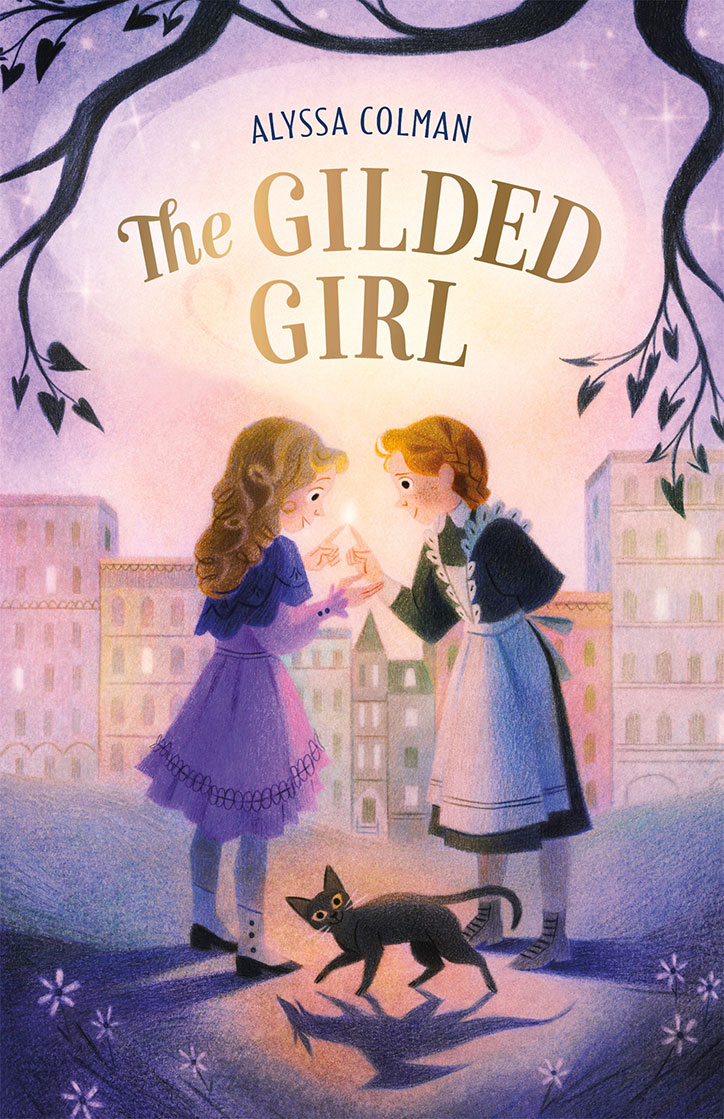 Any child can spark magic, but only the elite are allowed to kindle it. Those denied access to the secrets of the kindling ritual will see their magic snuffed out before their thirteenth birthday.
Miss Posterity's Academy for Practical Magic is the best kindling school in New York City—and wealthy twelve-year-old Emma Harris is accustomed to the best. But when her father dies, leaving her penniless, Emma is reduced to working off her debts to Miss Posterity alongside Izzy, a daring servant girl who refuses to let her magic be snuffed out, even if society dictates she must. Emma and Izzy reluctantly form a pact: If Izzy teaches Emma how to survive as a servant, Emma will reveal to Izzy what she knows about magic.
Along the way, they encounter quizzes that literally pop, shy libraries, and talking cats (that is, house dragons). But when another student's kindling goes horribly wrong, revealing the fiery dangers of magic, Emma and Izzy must set aside their differences or risk their magic being snuffed out forever.
Heartfelt, fast-paced, and utterly absorbing, The Gilded Girl is Alyssa Colman's sparkling debut novel about determination, spirit, and the magic of friendship.
The Gilded Girl
AUTHOR: Alyssa Colman
PUBLISHER: Farrar, Strauss, and Giroux BYR
DATE: April 6, 2021
After tragedy strikes, Emma is left penniless and alone, forced into servitude in order to pay off her debts to Miss Posterity, and dropped by the girls she thought were her friends. Here she meets Izzy, the school maid, a girl whose magic is sparking, and dreams of kindling and using her magic to reunite with her missing sister. As Emma struggles in her new role and Izzy's time is running out, the girls form a pact – Izzy will teach Emma how to survive as a servant, and Emma will teach Izzy everything she knows about magic.
These two unlikely friends will have to set aside their differences and work together as they encounter the dark and dangerous side of magic, Miss Posterity's true villainous nature, and endless twists and turns in this heartfelt story of friendship, determination, magic, and hope.
Intrigued? Our friends at Macmillan have shared the first chapter so you can take a sneak peek into this spellbinding story! Plus, we've partnered together to help you spark your own magic at home with an amazing giveaway! Have a parent enter via the form below for your chance to win!
The Gilded Girl – The Kindling December 1905:
Izzy watched through a crack in the door as the young ladies in the parlor burst into flame. Sparks that began at their fingertips drew up their arms like long silk gloves as the girls took their places on the dance floor. The Kindling Ceremony had begun.
Heat radiated out of the room and Izzy's eyes stung from the smoke. The headmistress went down the line, touching her diamond ring to a ring on the right hand of each girl. They murmured something with each touch. The unheard words were like kerosene to the flames, but Izzy knew the words were something far more powerful—they were magic.
The newly installed electric bulbs had been turned off, so the only light in the parlor came from the students themselves as they moved in synchronization through the elegant, secret dance that would give power to their magic. Izzy had never seen a ballet, but she thought even the best one in the world couldn't be more beautiful and challenging than this. She swallowed her fear and tried to memorize every detail.
The pair of teachers hovered by the wainscoted white walls, wringing their hands as they watched the flames grow around their pupils' bodies. Two years of work had gone into preparing for this moment, but now they could do nothing except circle the room in their long black dresses like watchful mother crows. Izzy had thought the magical flames would hurt, but the ten pupils kindling wore looks of intense concentration, not pain.
Outside the windows, the sky was the dusky gray of winter twilight. Magic tingled in Izzy's boot-polish-stained fingertips as each of the young ladies raised a clean hand with a gemstone ring. Red rubies, green emeralds, blue sapphires, and purple amethysts shone in the firelight. The girls twirled in perfect synchronization while the flames circled them like dancing partners.
If they passed the kindling, they'd each be awarded a shiny diamond ring at the party after. That way, everyone who saw it would know they were one of Miss Posterity's Diamond Girls. Only the elite were allowed to go through the Kindling Ceremony to secure their magic, and among them, everyone said the Diamond Girls were the finest graduates of any girls' kindling school in New York City.
Izzy shifted nervously but kept her eye pressed to the crack between the double doors. She should go back to the kitchen before anyone saw her, but she couldn't tear herself away.
In unison, the girls turned around and around, moving their arms with a casual elegance that took years of practice. The red and gold flares encircling them lit the awed faces of the onlookers. Izzy was too enraptured to hear the footsteps approaching behind her.
"What are you doing here?" Cook's rough hand pulled her back by the shoulder. "You're not supposed to be watching that."
Izzy glanced at the doors. "I wanted to see how—"
"Ignorant girl." Cook's shiny face was red with anger as she pointed at the parlor door. "What they're doing in there isn't for the likes of you and me."
"It's not fair." Izzy clenched her hands into fists at her side. Small eddies of wind whipped around her ankles, ruffling her apron and servant's uniform. "Why do they get to kindle their magic and the rest of us get nothing? We're the ones who need it more."
"'Cause that's the way things are and it's time you learn to accept it. When the Kindling Winds blow in December, every twelve-year-old's magic either snuffs or kindles. There's no middle ground and no option for folks like us." Cook frowned at the tiny tornadoes of dust whistling across the tile. There was a flicker of something in her eyes. Envy, maybe. Izzy wasn't sure. "Your magic will snuff out next year, just like mine did. It gets easier to be around them after that, you'll see."
Izzy's gaze drifted back toward the doors. The steps of the dance played in her head. "I could try to kindle when my time comes next year. I think I could remember how to do it. Bits of it at least."
"You'd better hope you don't. The mistress will turn you out if she hears you talking about it, or she might report you to the police. Is that what you want?" Cook leaned closer. Her breath was sticky-sweet from the chocolate they'd set up for the post-ceremony celebration. "It's too dangerous."
"I'm not afraid of her."
Cook scowled. "Do you have any sense in that head of yours, girl? You should be afraid of her, but it's not only that. People have died trying to kindle wrong." Cook patted her on the shoulder and Izzy flinched. She was used to smacks, not sympathy from Cook's hand. "Best to forget it, I say. This is the way the world is and there's nothing you can do about it."
The swirls of wind around Izzy's ankles blew out like a reluctant sigh.
Cook motioned her forward. "Come on. Back to the kitchen where you belong. The shrimp aspic needs plating before the party. Those Diamond Girls work up an appetite with all that burning."
From inside the parlor came the sound of polite applause. It was over. Now there would be another batch of spoiled Diamond Girls who'd never know a day without magic. They'd go on to high school and learn how to use their newly kindled magic while Izzy would remain a lowly servant, doomed to watch her magic snuff out next year.
A flare of envy surged in Izzy's heart. Those wealthy girls had everything. The magic that tingled in Izzy's veins was the only thing that was truly hers. Despite what Cook said, she knew keeping it was worth any risk.
She wouldn't let her magic snuff out. Somehow she would find a way to kindle it next year.
Sparks flickered from her fingertips as she followed Cook back to the kitchen.
The Gilded Girl Giveaway: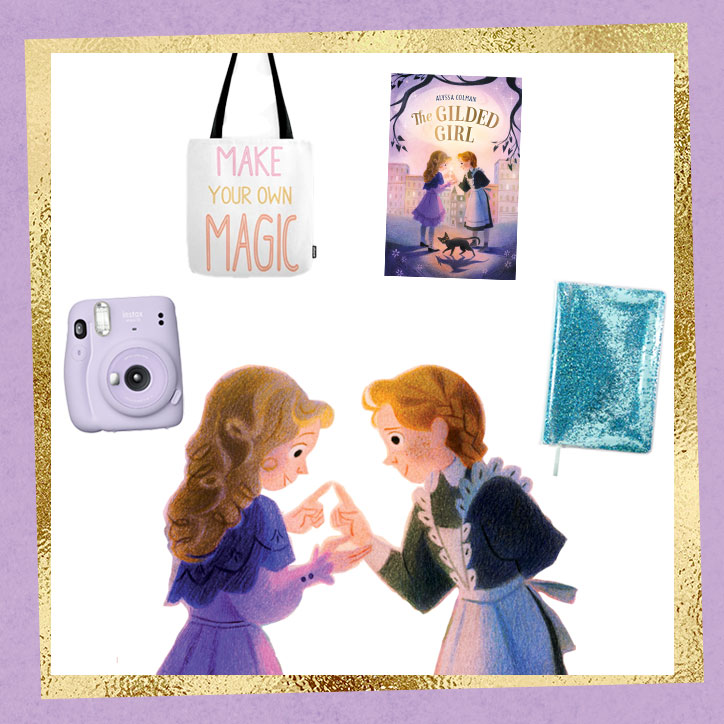 WHAT DO I WIN?:
ONE lucky winner will receive a Gilded Girl Prize Pack that includes:
– ONE (1) copy of The Gilded Girl by Alyssa Colman
– ONE (1) Fujifilm Instax Mini 11 Camera (Lilac)
– ONE (1) Make Your Own Magic Tote Bag
– ONE (1) Aqua Glitter Journal
*Prizes provided by Macmillan and YAYOMG!
HOW DO I ENTER?:
Grab a parent or guardian and have them fill out the form below by May 8, 2021 at 11:59pm ET.
Giveaway runs from 04/08/21 at 10:00 am ET through 05/08/21 at 11:59 pm. Open to US residents ONLY. Be sure to read the fully detailed rules HERE before entering.
THIS GIVEAWAY HAS ENDED AND THE WINNER HAS BEEN CONTACTED.
You must be 18 or older to enter. Please, only ONE entry per person. If selected as a winner, we will provide your parent/guardian with an affidavit to confirm that you are a valid winner who has permission to win. They will be REQUIRED to sign and return the affidavit to YAYOMG! to claim your prize. Prizes will not be mailed out without signed parental consent.
In need of even more magic? Find out if you're more like Emma or Izzy by taking our quiz inspired by The Gilded Girl!