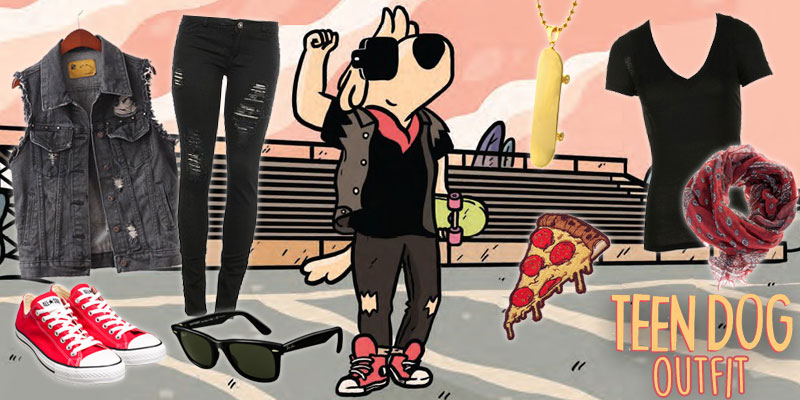 Comic Book Style Series: Teen Dog Outfit
Since Halloween is right around the corner, we thought it would be awesome to do a Comic Book Style Series! We re-created a bunch of looks from some of our favorite comic books that you can rock as Halloween costumes or just whenever you feel like it. First up in the series is a Teen Dog outfit!
Teen Dog is exactly what the name states – a super rad teenaged dog just trying to make his way through high school. He loves eating pizza, going to the arcade, skateboarding, and hanging out with his BFF Mari. All the girls want to date him and all the dudes want to be him. (Especially Thug Pug, that jealous pup!) Since he's awesome as heck, we though he'd make for a pretty fantastic outfit.
Teen Dog's look is pretty easy to re-create, since it's made up of a lot of staple pieces you might already own. A nice denim vest or jacket layered over a simple black tee for the top. A pair of ripped jeans and worn in red chucks for the bottom. If it's chilly, add a varsity jacket for added awesomeness.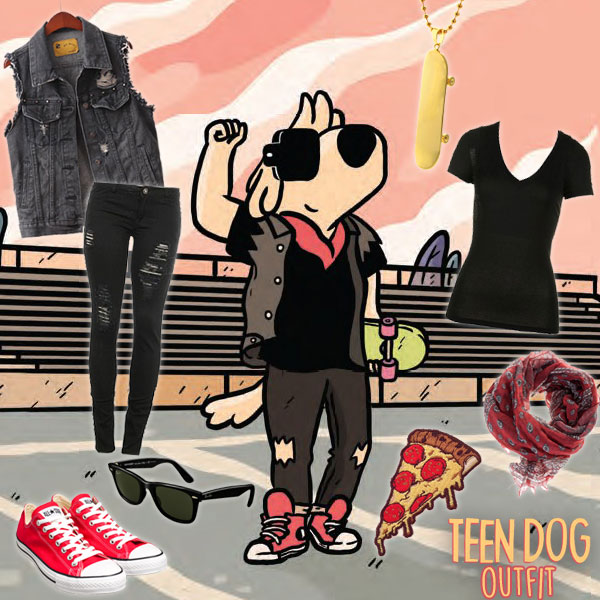 Accessorize with black sunglasses, a red scarf, and a teal backpack to complete the look. Top off your Teen Dog outfit with pizza and skateboard accessories, like patches or jewelry. Bonus points if you can actually kick-flip over the moon!
That's it! Now that you're all dressed up looking like the coolest pup in down, it's time for a dance battle against Thug Pug! If you've never read Teen Dog, you're gonna wanna get on that. It was a 6 issue run from Boom! Box, created by the fantastic Jake Lawrence. Stay tuned for the rest of our Comic Book Style Series, coming soon!