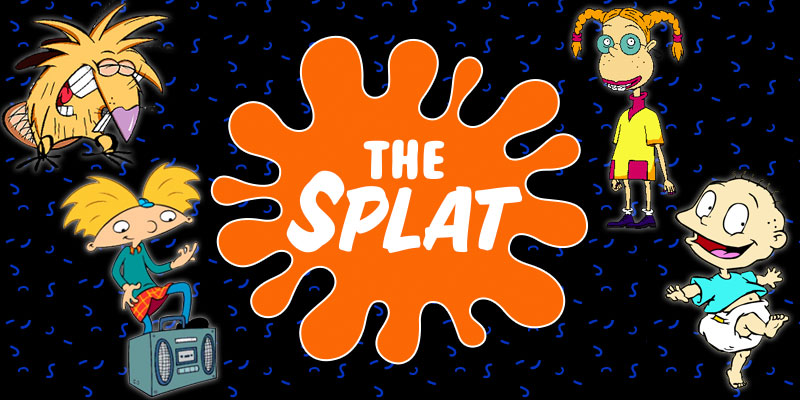 A Newcomers Guide to The Splat
The Splat is here, and it's everything you could ever hope for. These are the shows that most of your parents and older siblings were raised on, and while that may have you saying "ew, lame" – we're telling you – GIVE IT A CHANCE! If you're a fan of Nickelodeon, you're gonna love all of these shows. The shows that will be airing on The Splat are what Nickelodeon was built on. Without Rocko's Modern Life, we'd never have SpongeBob. Without All That, we wouldn't have Game Shakers. Without it's roots, we wouldn't have the Nickelodeon you know and love today! Since you might not be familiar with all these beloved Nick shows of the 90's, we're here to break it down for you.
Here's our Newcomers Guide to The Splat:
All That


– A super hilarious sketch comedy show. Think SNL for kids!
– You know Double G from Game Shakers? That's Kel Mitchell, who got his start on All That.
– Most Memorable Sketches: Good Burger, Vital Information, Dear Ashley.
The Angry Beavers


– A cartoon about two beaver brothers, living it up in their bachelor pad.
– Norbert (the tan one) is laid back, super chill, and very sarcastic. Daggett (the brown one) is a little over excited and not always the brightest.
– After watching, you'll definitely find yourself calling everything you dislike "spooty". Embrace it. we're all for bringing spooty back.
Are You Afraid of the Dark


– If you were into R.L. Stine's The Haunting Hour, this is the show for you!
– The show is about a group of kids who call themselves the Midnight Society who sit around a campfire and tell spooky stories.
– We dare you to watch with the lights out!
CatDog


– CatDog are a cat and dog who are brothers with completely opposite personalities. Check them out perfecting the selfie back way before selfies were a thing!
– Did we mention they're conjoined?
– Dog is voiced by the legendary Tom Kenny, who also does the voice of SpongeBob! (and Ice King, and about a million other characters)
Clarissa Explains it All


– Clarissa Darling is the coolest teenaged girl that ever existed, and you WILL want to be her when you grow up.
– Clarissa's best friend Sam always climbs through her window using a ladder. It's not exactly safe, but it will make you sad that you didn't think of it first.
– Clarissa explains how to deal with everything from embarrassing parents to awful little brothers and everything in between.
Hey Arnold!


– Arnold's room is so technologically advanced, it probably wouldn't even be obsolete yet.
– Spoiler Alert: He's not wearing a skirt or a kilt. It's just the bottom of his flannel. Because Arnold is the original hipster.
– Helga Pataki will have you wondering why you never thought of building a bubble gum shrine of Harry Styles (or whoever your crush may be) in your closet.
Hey Dude


– Hey Dude takes place on a Dude Ranch. How many shows can you name that take place on a ranch?!
– The kids on the show work at the ranch. You've got usual troublemaker, the fashionista, the heart-throb, etc.
– It's got everything you'd expect from a teen show –  romance, boy vs. girl battles, and lots of drama!
Kenan & Kel


– Everyone loved Kenan and Kel so much on All That, they got their own show!
– Kel loves orange soda. I do, I do, I do, I do-ooooo!
– Fun Fact: Kenan and Kel (and All That) creator Dan Schneider created pretty much all of your favorite shows – iCarly, Drake and Josh, Victorious, Game Shakers, Henry Danger, and more! He's basically the king of Nickelodeon.
Ren & Stimpy


– Ren and Stimpy is super weird and kinda gross sometimes, but it's really funny.
– It's Log! It's Log! It's big, it's heavy, it's wood!
– Powdered Toast Man is the greatest super hero of all time.
Legends of the Hidden Temple


– The only game show on The Splat!
– Here's how it goes: Get across a moat. Answer a bunch of history/geography questions. Do a bunch of physical challenges.
– Followed by: Enter a temple. Avoid temple guards. Find 3 pieces of a Silver Monkey statue. Assemble. Win. (Or usually lose. Apparently it's harder than it looks.)
Rocko's Modern Life


– Rocko and his dog Spunky live together in O-Town.
– Rocko's besties are Heffer the cow (also voiced by Tom Kenny. See, we told you. He's a legend.) and Norbert, a neurotic turtle.
– Fun Fact: Stephen Hillenburg was a producer on Rocko. He went on to create Camp Lazlo as well as a little show about an wacky, optimistic Sponge we all know and love.
Rugrats


– Rugrats is a show about babies, told from the perspective of the babies.
– Tommy, Chuckie, Angelica, Phil, Lil, and Spike are the original #squadgoals
– Just TRY and get this theme song out of your head, ever.
Salute Your Shorts


– We run, we jump, we swim, and play! We row, and go on trips!
– Salute Your Shorts is all about kids at camp. Think BUNK'D for the 90's generation.
– It's sorts of like Hey Dude with a lot more pranking and a better sense of humor.
The Wild Thornberrys


– The Thornberrys are a family of documentary filmmakers who film animals all around the world.
– Eliza Thornberry has a secret – she can talk to animals!
– SMASHING!
Doug:


– Doug Funnie is the epitome of teen awkwardness. He's not cool. He's not smooth. He's just trying to get by and find his place in the world and get a date with Patti Mayonnaise.
– Aaaa-eee-oooo! Killer Tofu!
– The Honker Burger is an awesome hangout, but make sure you know the lingo before you order!
The Adventures of Pete & Pete:


– Big Pete and Little Pete are two brothers with the same name.
– Yes, Little Pete has a tattoo.
– Pete & Pete is hands down one of the best shows on The Splat. Take our word for it.
If you're convinced to watch, The Splat airs on TeenNick every night starting at 10pm. Past your bedtime? Don't fret – there will be lots of content on The Splat site for you to get your hands on. Plus, a lot of the old Nick shows are on Netflix and Hulu anyway so you can watch whenever you want!