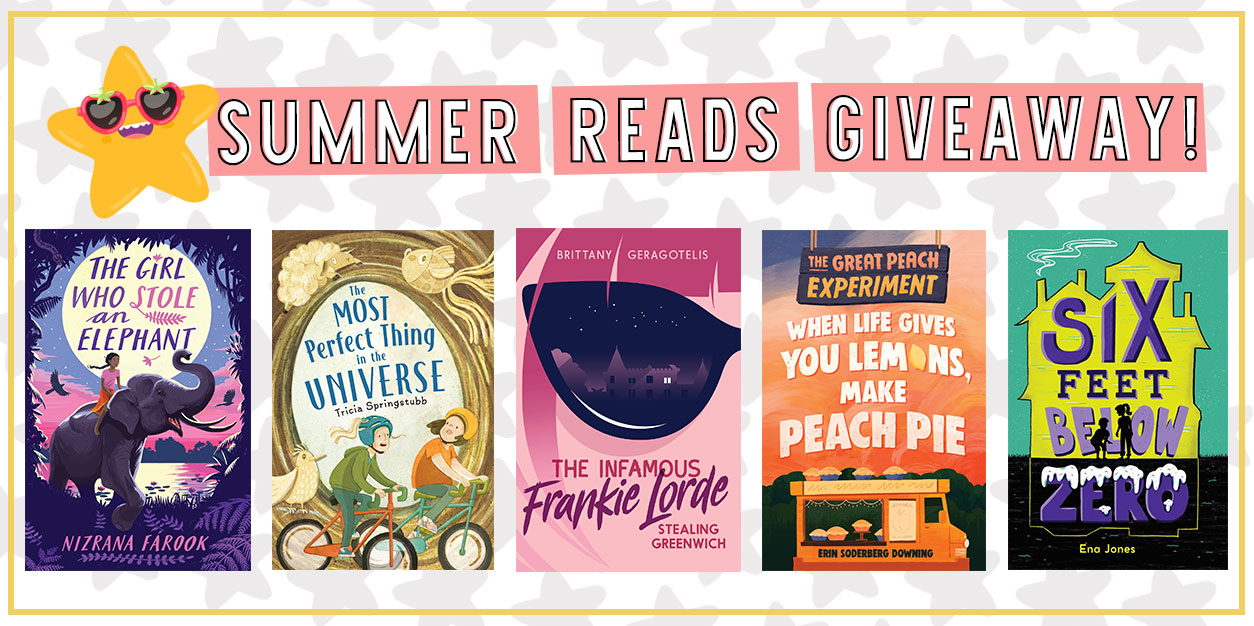 Snag These Reads to Kickstart Your Epic Summer Adventures + GIVEAWAY!
NOTE: This post is sponsored by Holiday House, Pixel+Ink, and Peachtree
Grab your heart-shaped sunnies and a glass of lemonade, because we're saying hello to summer with an exciting announcement! Starting today, we're bringing you a new book giveaway every season filled with some of the latest must-read stories. For our first giveaway, we're kicking things off with our friends at Holiday House, Pixel+Ink, and Peachtree, who've put together a seriously amazing stash of books just for you!
Whether you love reading at the beach, in your bunk at summer camp, or cozied up on the couch in the air conditioning, there's one thing we can all agree on – summer reading is the absolute best! With the freedom to choose whatever books you want and no book reports in sight, you can devour everything from your fav graphic novel series to a brand new book filled with wonder. With these picks you can tour the country in a food truck on a family road trip filled with mishaps, join a reformed international thief on her quest for social justice, step into a magical world filled with secrets and unlikely friends, and so much more. No matter which book you choose, this book haul is filled with epic adventures that'll keep your TBR fresh all summer long.
Ready to enter? We're giving FIVE lucky readers a chance to snag a summer book haul filled with 8 amazing reads – just have your favorite adult fill out the form below for your chance to win!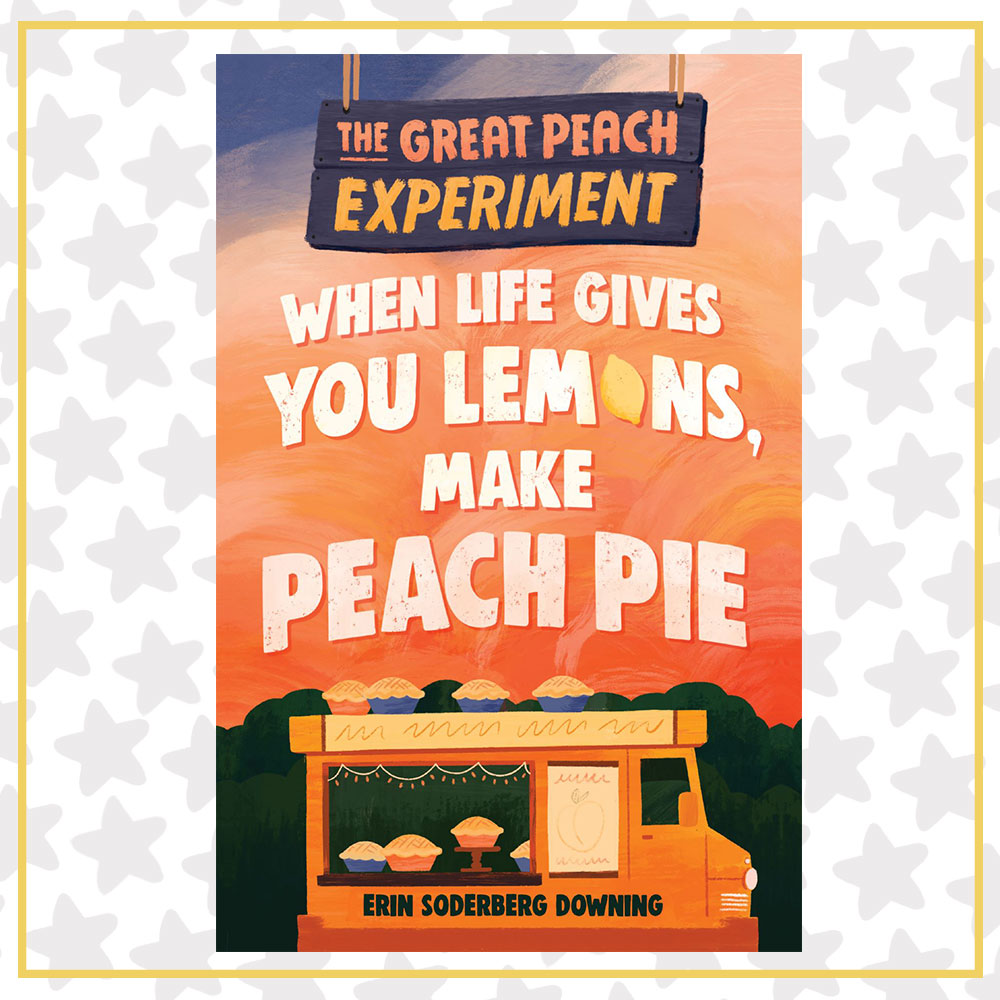 The Great Peach Experiment: When Life Gives You Lemons, Make Peach Pie:
AUTHOR: Erin Soderberg Downing
PUBLISHER: Pixel+Ink
BONUS: Want to know more about this read? Author Erin Soderberg Downing shared 5 Fun Facts about the book and the road trip that inspired it!
SYNOPSIS:
Mix together a used food truck, a road trip that doesn't exactly go as planned, and a lot of pie, and you have the recipe for this sweet middle grade series starter brimming with humor, heart, and a family you'll fall in love with. Perfect for readers who gobbled down The Penderwicks and The Vanderbeeks of 141st Street.
Sweet summer has taken a rotten turn…

After a tough year, Lucy, Freddy, and Herb Peach are ready for vacation. Lucy wants to read all of the books on the summer reading list. Freddy wants to work on his art projects (when he isn't stuck in summer school). Herb wants to swim every day.

Then their dad makes a big announcement: one of the inventions their mom came up with before she passed away has sold, and now they're millionaires!

But Dad has bigger plans than blowing the cash on fun stuff or investing it. He's bought a used food truck. The Peaches are going to spend the summer traveling the country selling pies. It will be the Great Peach Experiment–a summer of bonding while living out one of Mom's dreams. Summer plans, sunk. And there's one more issue Dad's neglected: none of them knows how to bake…

A perfect blend of humor, heart, and family antics, When Life Gives You Lemons, Make Peach Pie is a delectable treat to be gobbled down or savored slowly. (Slice of pie on the side, optional, but highly recommended.)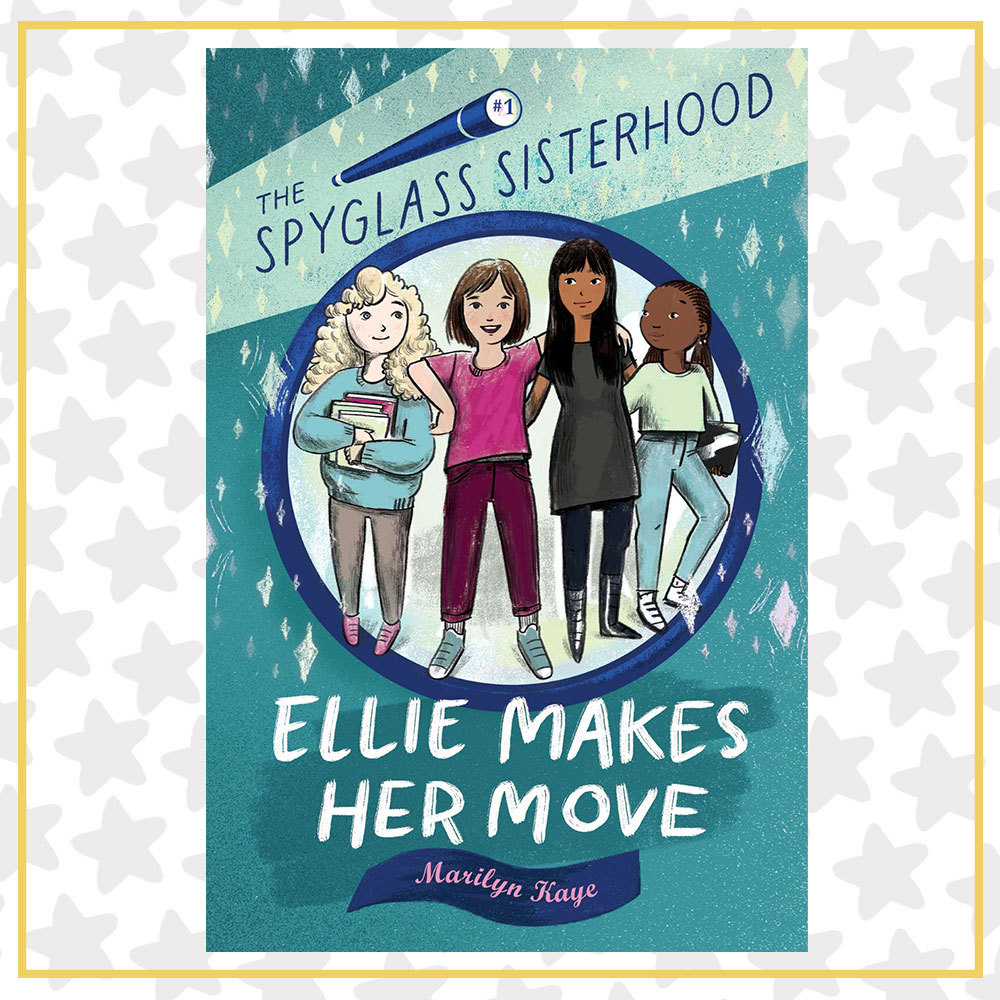 The Spyglass Sisterhood: Ellie Makes Her Move:
AUTHOR: Marilyn Kaye
PUBLISHER: Holiday House
SYNOPSIS:
A magical spyglass reveals secrets that will bring four girls together in this new series.
Twelve-year-old Ellie is ordinary. Absolutely, positively ordinary. Then her dad's latest community project makes their whole ritzy town, including all of Ellie's friends, turn against them. Tired of being ostracized, Ellie's family moves to the other side of the state to live in a rickety 100-year-old house complete with a turret—and Ellie swears off friendship forever.
That is until Ellie explores the turret and discovers an old-fashioned telescope—a spyglass. When she looks through it, the world she sees isn't the same that's out the window. There's a community center that isn't built yet and her new classmate Alyssa flying around on a broomstick!
To figure out what the magical images mean, Ellie recruits other self-described loners, Alyssa and Rachel. When they see a vision of fellow student Kiara playing tag with a tiger and a donkey—they have their first real spyglass secret to solve.
The New York Times best-selling author behind the Gifted series and the Replica books, Marilyn Kaye delivers a story filled with light magic and heart in this first book in the Spyglass Sisterhood series. Each girl will take a turn at the spyglass, confronting fears and sticking up for her peers.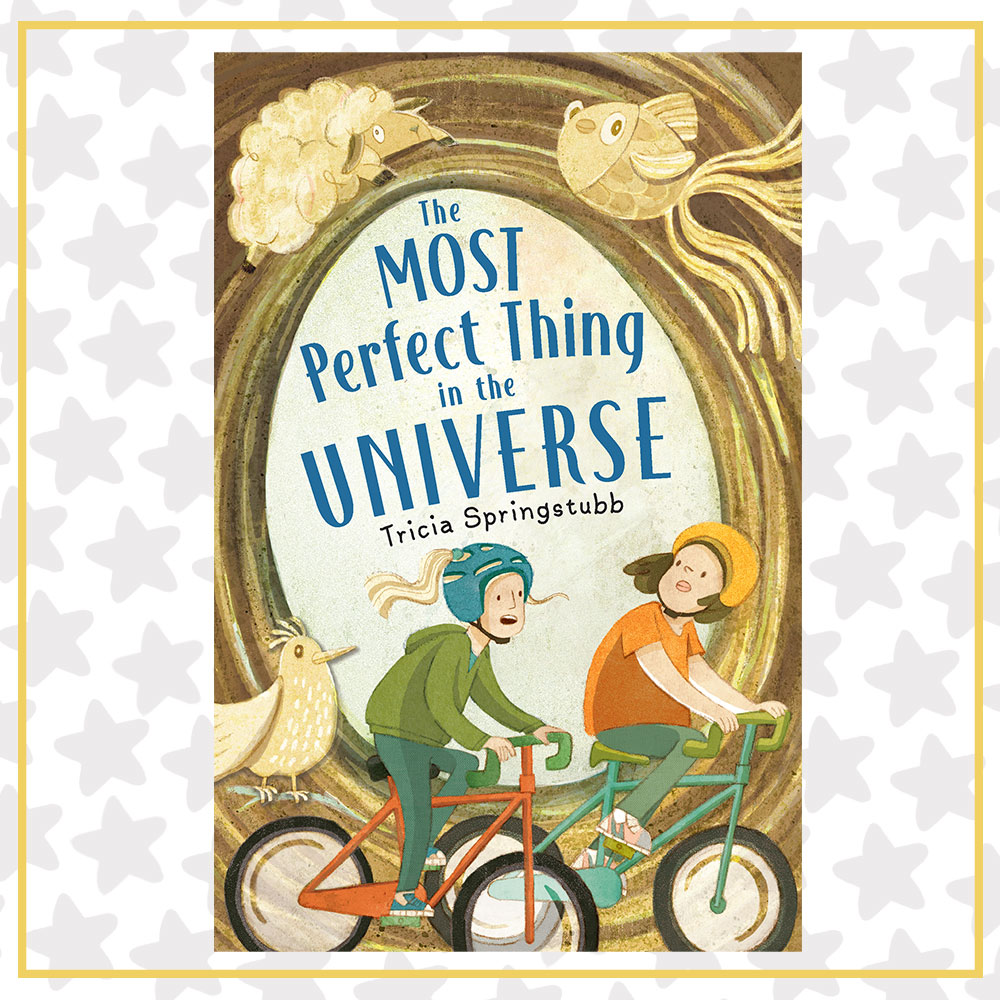 The Most Perfect Thing in the Universe:
AUTHOR: Tricia Springstubb
PUBLISHER: Holiday House
SYNOPSIS:
For fans of Shouting at the Rain by Lynda Mullaly and The Adventures of a Girl Called Bicycle by Christina Uss, a novel about one unadventurous girl who discovers she is anything but.
Eleven-year-old Loah Londonderry is definitely a homebody. While her mother, a noted ornithologist, works to save the endangered birds of the shrinking Arctic tundra, Loah anxiously counts the days till her return home. But then, to Loah's surprise and dismay, Dr. Londonderry decides to set off on a perilous solo quest to find the Loah bird, long believed extinct. Does her mother care more deeply about Loah the bird than Loah her daughter?
Things get worse yet when Loah's elderly caretakers fall ill and she finds herself all alone except for her friend Ellis. Ellis has big problems of her own, but she believes in Loah. She's certain Loah has strengths that are hidden yet wonderful, like the golden feather tucked away on her namesake bird's wing. When Dr. Londonderry's expedition goes terribly wrong, Loah needs to discover for herself whether she has the courage and heart to find help for her mother, lost at the top of the world.
Beautifully written, The Most Perfect Thing in the Universe is about expeditions big and small, about creatures who defy gravity and those of us who are bound by it.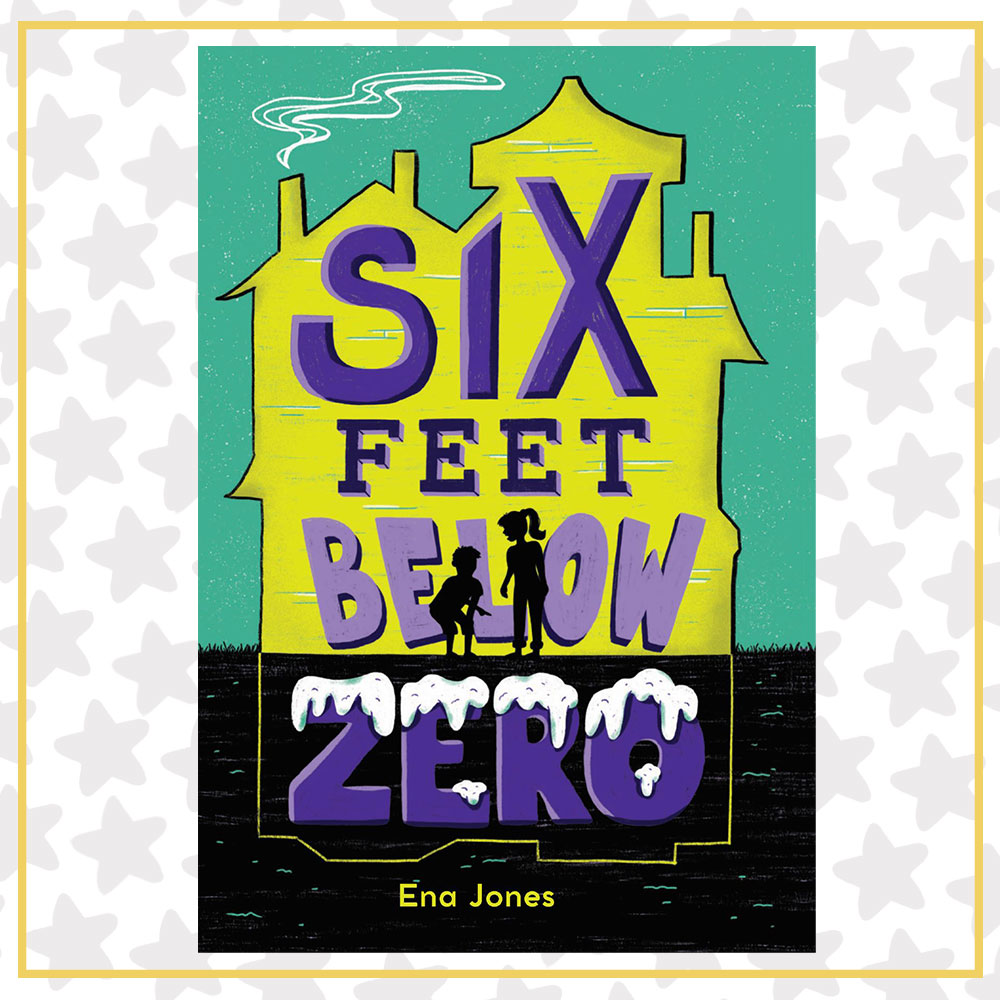 Six Feet Below Zero:
AUTHOR: Ena Jones
PUBLISHER: Holiday House
BONUS: Are you loyal like Rosie, adventurous like Karleen, logical like Baker, or free-spirited like Aunt Tilly? Or are you just as evil as Grim Hesper? Take our Six Feet Below Zero quiz to find out!
SYNOPSIS:
A dead body. A missing will. An evil relative. The good news is, Great Grammy has a plan. The bad news is, she's the dead body.
Rosie and Baker are hiding something. Something big. Their great grandmother made them promise to pretend she's alive until they find her missing will and get it in the right hands. The will protects the family house from their grandmother, Grim Hesper, who would sell it and ship Rosie and Baker off to separate boarding schools. They've already lost their parents and Great Grammy–they can't lose each other, too.
The siblings kick it into high gear to locate the will, keep their neighbors from prying, and safeguard the house. Rosie has no time to cope with her grief as disasters pop up around every carefully planned corner. She can't even bring herself to read her last-ever letter from Great Grammy. But the lies get bigger and bigger as Rosie and Baker try to convince everyone that their great grandmother is still around, and they'll need more than a six-month supply of frozen noodle casserole and mountains of toilet paper once their wicked grandmother shows up!
This unexpectedly touching read reminds us that families are weird and wonderful, even when they're missing their best parts. With humor, suspense, and a testament to loyalty, Ena Jones takes two brave kids on an unforgettable journey. Includes four recipes for Great Grammy's survival treats.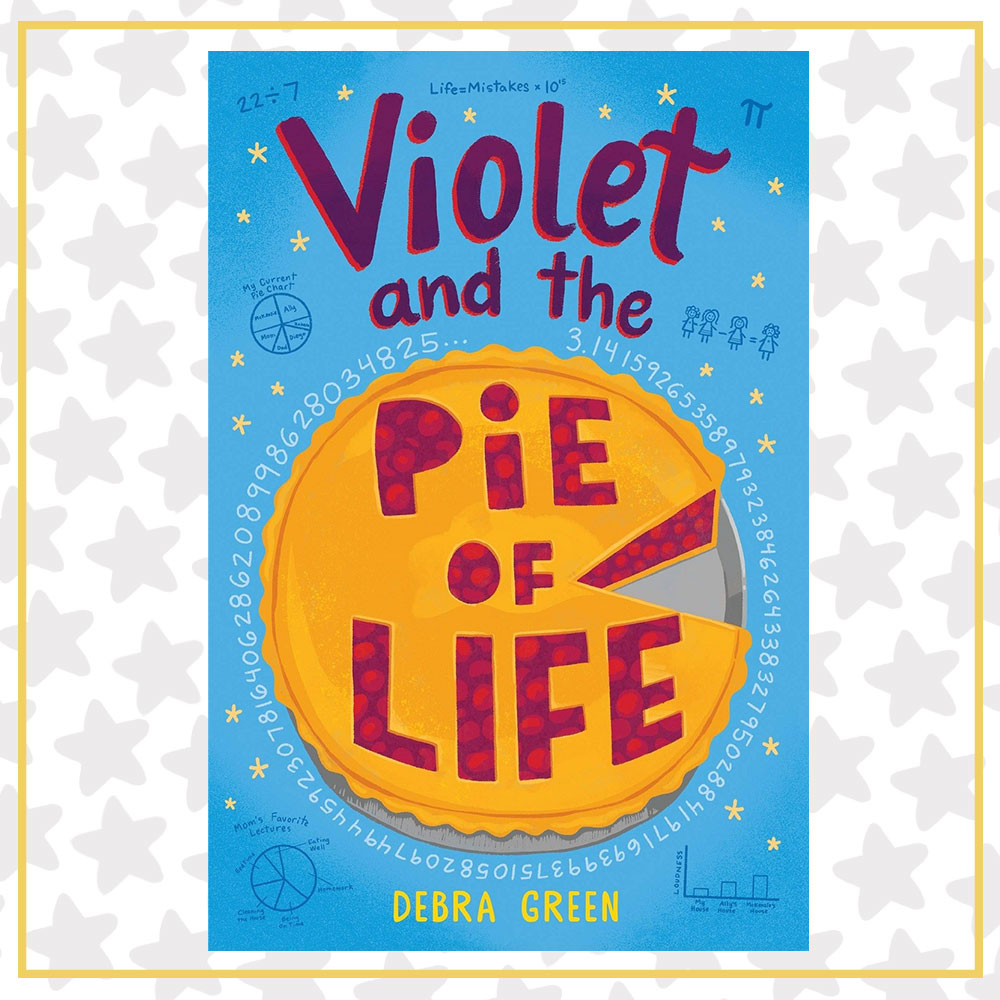 Violet and the Pie of Life:
AUTHOR: Debra Green
PUBLISHER: Holiday House
SYNOPSIS:
There's no golden ratio for a family, despite what number-crunching Violet might think.
Twelve-year-old Violet has two great loves in her life: math and pie. And she loves her parents, even though her mom never stops nagging and her dad can be unreliable. Mom plus Dad doesn't equal perfection. Still, Violet knows her parents could solve their problems if they just applied simple math.
#1: Adjust the ratio of Mom's nagging to her compliments.
#2: Multiply Dad's funny stories by a factor of three.
#3: Add in romantic stuff wherever possible.
But when her dad walks out, Violet realizes that the odds do not look good. Why can't her parents get along like popular, perfect Ally's parents? Would it be better to have no dad at all, like her best friend, McKenzie? Violet is considering the data when she and Ally get cast in the school play, and McKenzie doesn't–a probability that Violet never calculated. Maybe friendship and family have more variables than she thought.
Filled with warmth, math-y humor, and delicious pie, this heartfelt middle grade read is perfect for fans of The Miscalculations of Lightning Girl. Includes illustrated charts, graphs, and diagrams throughout.
The Infamous Frankie Lorde: Stealing Greenwich:
AUTHOR: Brittany Geragotelis
PUBLISHER: Pixel+Ink
BONUS: Feeling fired up, but not sure how you can get involved and make a difference? Take the quiz to channel your inner Frankie Lorde and find a cause to get passionate about – click here!
SYNOPSIS:
A pre-teen international thief turns over a new leaf (sort of) to right societal wrongs in her snooty new town in this upper middle grade series starter for fans of Ally Carter's Gallagher Girls and Heist Society, Stuart Gibb's Spy School, and Ocean's 8.
Being the protégé (and daughter) of the man responsible for some of the world's biggest heists has given Frankie Lorde a unique perspective. And a special set of skills. She can spot an FBI agent in a second, pick a lock in two, and steal a Bugatti in three. (Even if she's technically too young to drive it.) Frankie and her dad are a team, and their jobs are the stuff of international awe.
And then Dad is arrested.
Sent to live with her uncle, who she barely knows and who is, ironically, a cop, Frankie is forced to navigate an entirely foreign world: suburbia. She has to go to middle school, learn what kids her age wear and eat and do for fun–and, alas, it doesn't involve lifting expensive watches.
But life in Greenwich, Connecticut, one of the richest towns in America, also opens her eyes to a startling reality, and seeing the stark contrast of the super-rich and the super-not-rich who support the community living side-by-side gives Frankie an idea. What if she were to put her less-than-legal know-how to good use, turning the tables and evening the score…?
Fresh, fun, and timely, Stealing Greenwich introduces a smart, slick young criminal mastermind with a heart of gold who is sure to become a darling for middle grade set.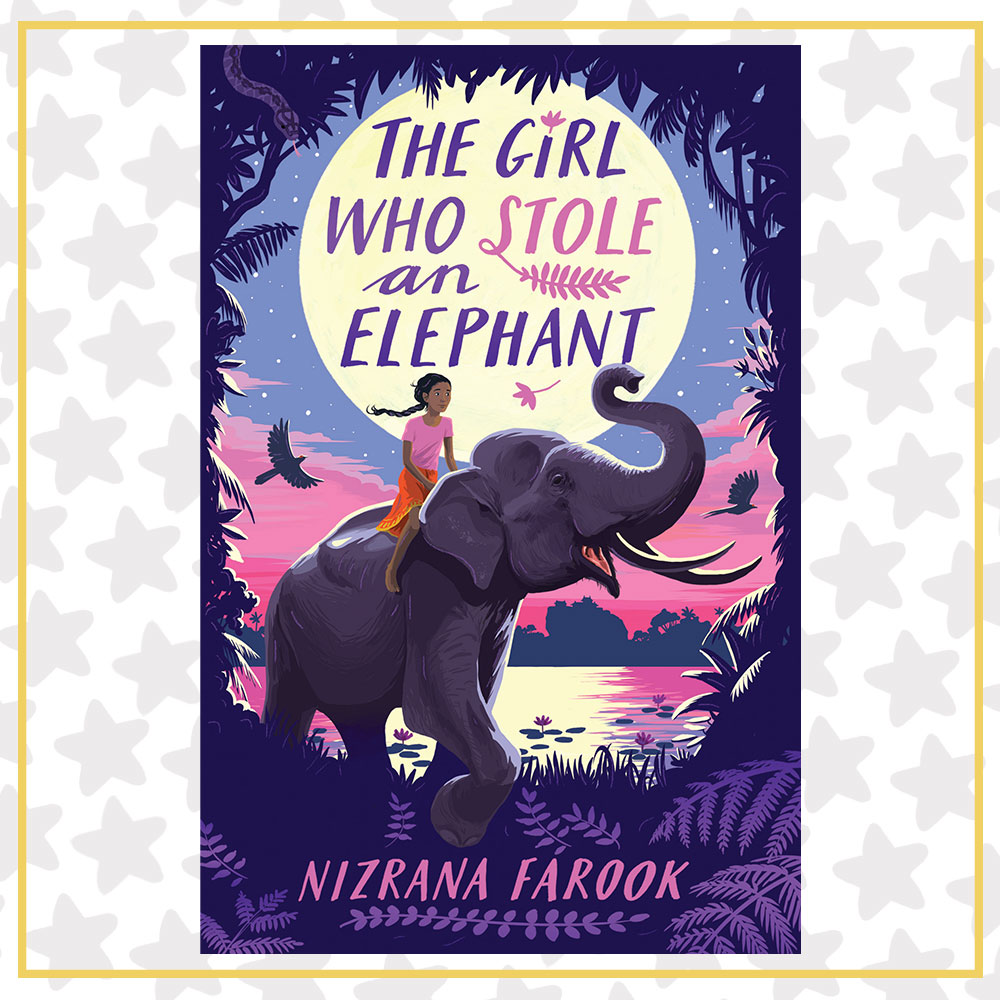 The Girl Who Stole an Elephant:
AUTHOR: Nizrana Farook
PUBLISHER: Peachtree
SYNOPSIS:
Chaya, a nobleman's rebellious, outspoken, no-nonsense daughter, just can't resist the shiny temptations the king's palace has to offer. But playing Robin Hood for her impoverished community doesn't come without risks, and when Chaya steals the queen's jewels from a bedside table―a messy getaway jeopardizes the life of a close friend.
After an equally haphazard prison break, Chaya barely escapes on the king's prized elephant! With leeches and revolution lurking in the jungle, Chaya leads her companions on a thrilling adventure. After leaving her village as a thief, can she return as a hero? Or will Chaya's sticky fingers be the beginning―or the end―of everything for the intrepid gang?
Debut author Nizrana Farook spins a page-turning middle grade tale in a lush, fictional Sri Lankan setting. Just right for adventure fans, the book explores themes of friendship and loyalty, risk and reward, and heroism.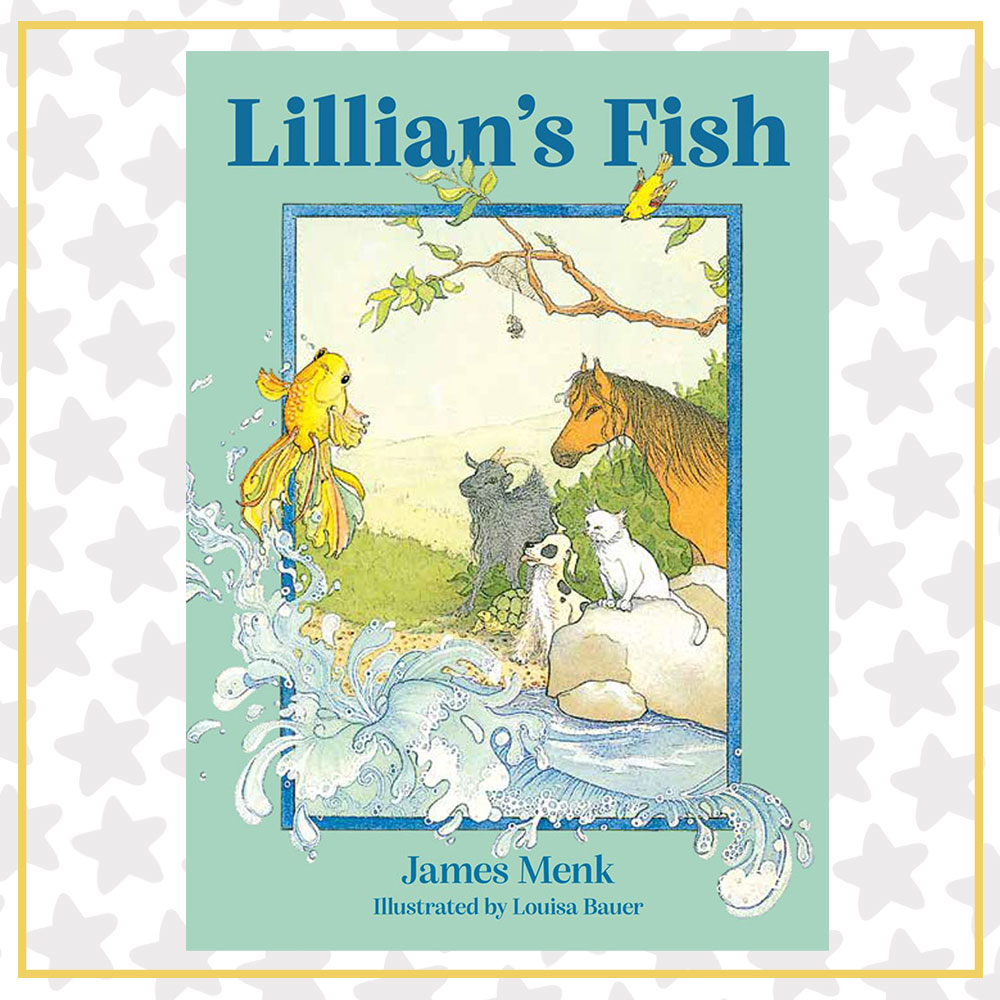 Lillian's Fish:
AUTHOR: James Menk
ILLUSTRATOR: Louisa Bauer
PUBLISHER: Peachtree
SYNOPSIS:
A band of family pets secretly embark on a mission to find a fish that has mysteriously disappeared in this illustrated middle grade tale of family and friendship.
When Lillian turns six, her favorite gift is an extraordinary fish whose body shimmers with all the colors of the rainbow. But when the brand-new birthday fish disappears, Lillian is devastated.
While she and her brothers try to unravel the mystery, the other family pets―the horse, the goat, the dog, the cat, the turtle, the spider, and the bird―secretly band together to find out what has happened to the little fish. A trail of clues soon leads the animals on a fantastic adventure along the river and deep into the woods, where they encounter new places and strange creatures.
James Menk's delightful, lively tale of discovery and friendship will enchant readers of all ages. Louisa Bauer's captivating drawings bring this charming story of children and their pets to life.
Summer Reads Giveaway: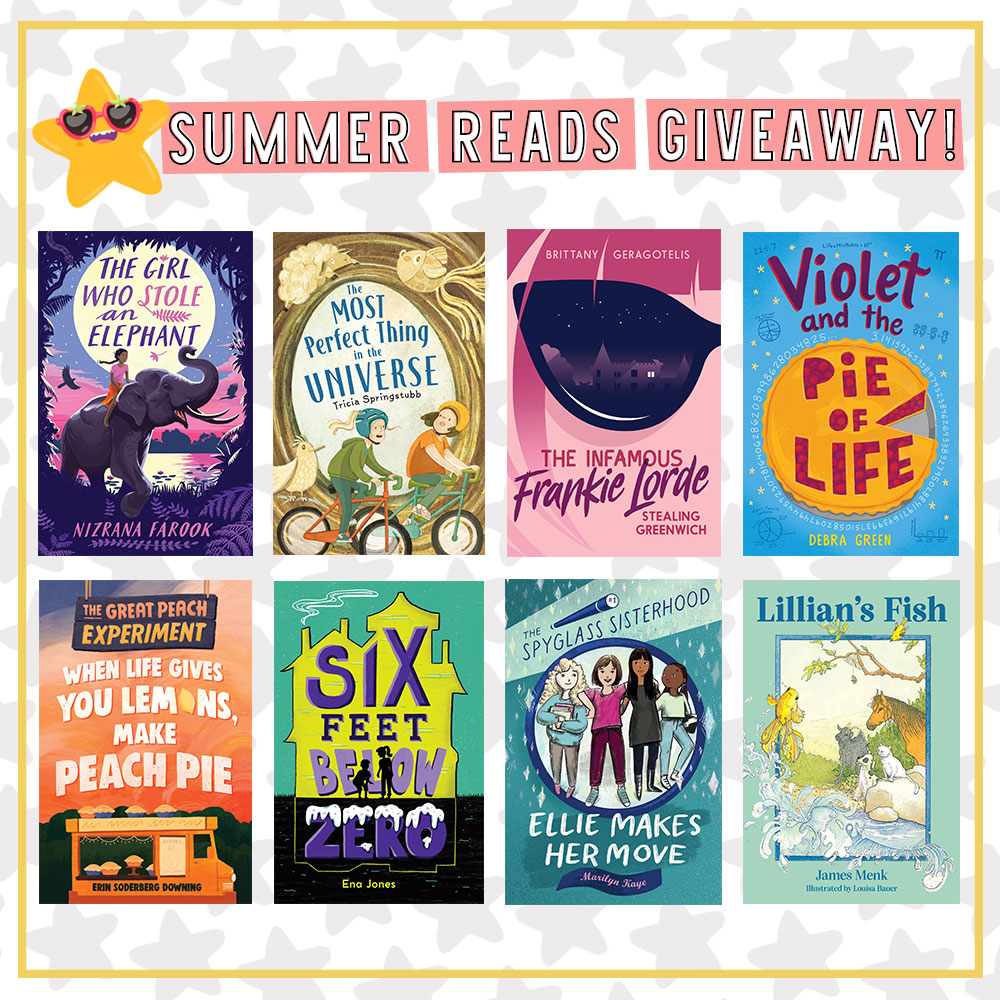 WHAT DO I WIN?:
FIVE lucky winners will receive a Summer Reads Prize Pack that includes:
– ONE (1) copy of The Great Peach Experiment: When Life Gives You Lemons, Make Peach Pie
– ONE (1) copy of The Spyglass Sisterhood: Ellie Makes Her Move
– ONE (1) copy of The Most Perfect Thing in the Universe
– ONE (1) copy of Six Feet Below Zero
– ONE (1) copy of Violet and the Pie of Life
– ONE (1) copy of The Infamous Frankie Lorde: Stealing Greenwich
– ONE (1) copy of The Girl Who Stole an Elephant
– ONE (1) copy of Lillian's Fish
*Prizes generously provided by Holiday House, Pixel+Ink, and Peachtree
HOW DO I ENTER?:
Grab a parent or guardian and have them fill out the form below by July 5, 2021 at 11:59pm ET.
Giveaway runs from 6/21/21 at 12:00 pm ET through 7/5/21 at 11:59 pm. Open to US residents ONLY. Be sure to read the fully detailed rules HERE before entering.
THIS GIVEAWAY HAS ENDED AND THE WINNERS HAVE BEEN CONTACTED.
You must be 18 or older to enter. Please, only ONE entry per person. If selected as a winner, we will provide your parent/guardian with an affidavit to confirm that you are a valid winner who has permission to win. They will be REQUIRED to sign and return the affidavit to YAYOMG! to claim your prize. Prizes will not be mailed out without signed parental consent.
In need of even more reads? Click here for fun facts, minicomics, and quizzes about all the best new books!