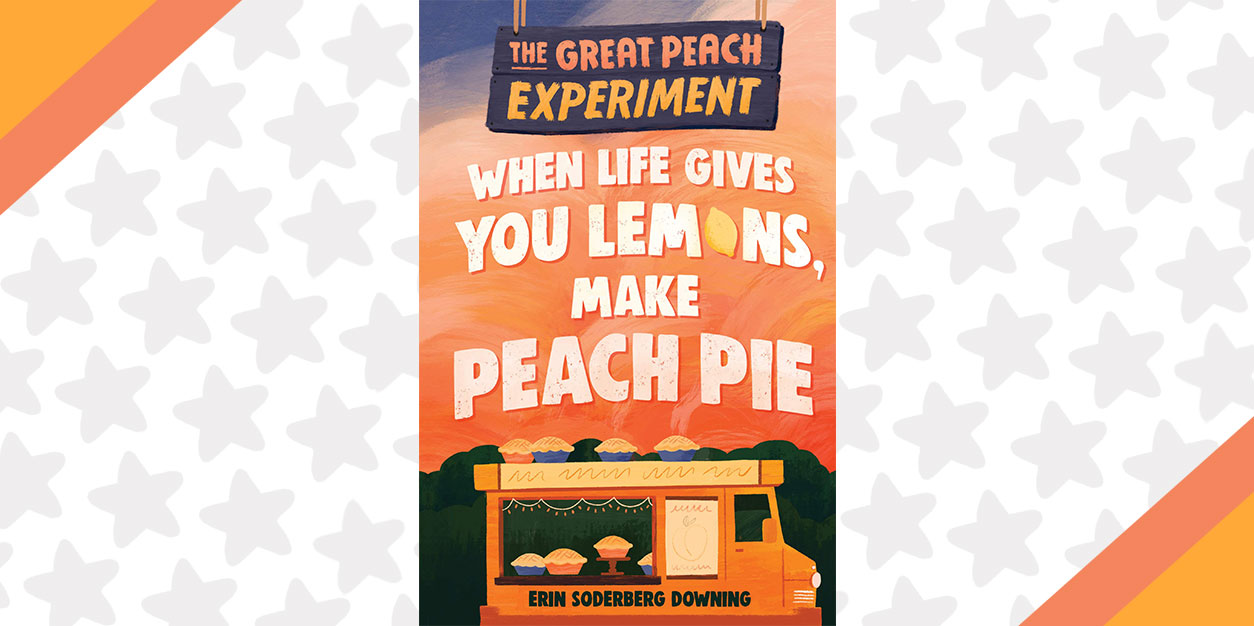 Food Truck Roadtrips & Tasty Pies: 5 Random Facts About The Great Peach Experiment
In this quirky family adventure, the Peach kids are in for the road trip of a lifetime!
After going through a tough time, tight-knit siblings Lucy, Freddy, and Herb Peach are ready for a fun-filled summer. Lucy can't wait to devour every book on her summer reading list, Herb wants to swim every single day, and Freddy wants to work on his art project. But after a life-changing surprise, the Peach family finds out they're actually millionaires – and their dad wants to buy an old food truck and spend the summer driving across the country slinging pies and seeing the sights as a way to honor their mother who passed away.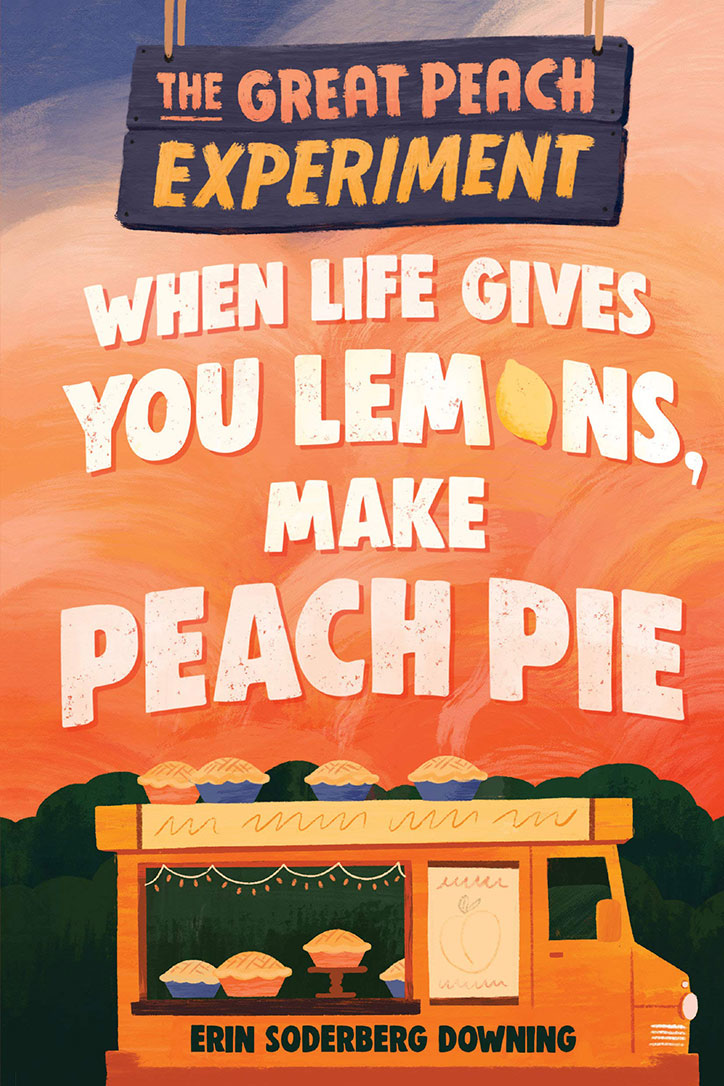 Mix together a used food truck, a road trip that doesn't exactly go as planned, and a lot of pie, and you have the recipe for THE GREAT PEACH EXPERIMENT.
Sweet summer has taken a rotten turn…
After a tough couple of years, Lucy, Freddy, and Herb Peach are ready for summer break. Lucy plans to read all of the books on the seventh-grade summer reading list; Freddy wants to work on his art projects (when he isn't stuck in summer school); and Herb just wants to swim every day. But before summer can even get started, their dad surprises them with an announcement: one of the inventions their mom came up with before she passed away has sold, and suddenly the Peaches are millionaires!
Dad has big plans for the cash—and it's not what any of the Peach kids hope or expect. He's bought a used food truck, and they're going to spend the summer traveling around the country selling pies. It will be The Great Peach Experiment—a summer of family bonding while living out one of Mom's lifelong dreams. Summer plans, sunk. And there is one other itty-bitty issue Dad's neglected: none of them knows how to bake!
The Great Peach Experiment: When Life Gives You Lemons, Make Peach Pie
AUTHOR: Erin Soderberg Downing
PUBLISHER: Pixel + Ink
DATE: April 6, 2021
Cramming into a tiny food truck for the next few months isn't exactly what Lucy, Freddy, and Herb had in mind for their vacation, but giving up their summer break isn't even their biggest problem – no one in the family knows how to bake or run a food truck – so this experiment might end up being a big disaster! Will the Peach family be able to survive their summer on the road? You'll have to read it to find out!
When Life Gives You Lemons, Make Peach Pie is the perfect summer read, filled with so many LOL-worthy moments, zany road trip antics, and tons of heartwarming family moments. It's also the first in a series, and we can't wait to gobble up even more adventures starring the Peach fam! Sound like your kind of story? Author Erin Soderberg Downing is here sharing 5 random facts about The Great Peach Experiment, including her own family road trip that inspired the story!
Author Erin Soderberg Downing Shares 5 Random Facts About The Great Peach Experiment:
Fifth-grader Freddy Peach loves random facts…almost as much as he loves creating big, messy art projects; building cardboard fortresses with his two best friends; and playing pranks on his older sister Lucy and his little brother Herb.
Since Freddy is constantly spouting out random facts in When Life Gives You Lemons, Make Peach Pie (facts that, according to his big sister Lucy, are totally irrelevant…but usually also fairly interesting), here is author Erin Soderberg Downing with five random fun facts about The Great Peach Experiment!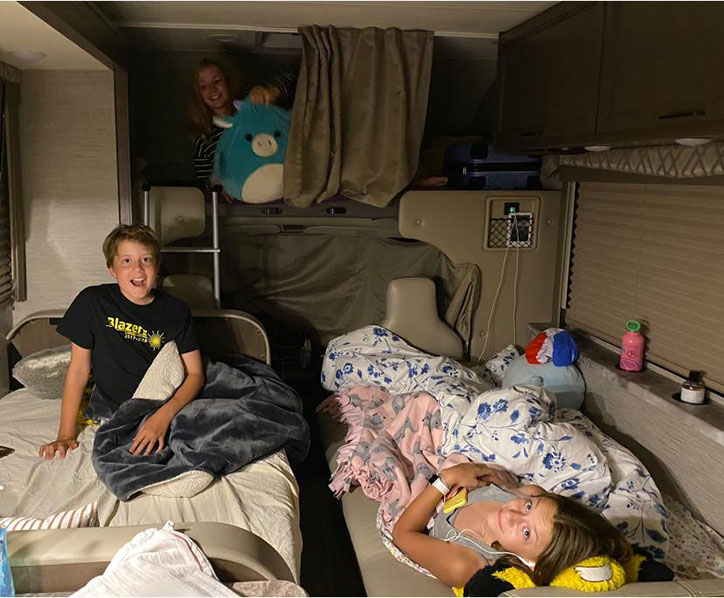 FACT #1:

I came up with the idea for The Great Peach Experiment: When Life Gives You Lemons, Make Peach Pie because I've always dreamed of having an adventure like this with my own family. Even though I've never bought a food truck (and, let's be honest here, I really can't cook at all), I did stuff my whole family into an RV this past summer for a road trip around Lake Superior.

Things definitely got a little interesting with five of us (including 12-year-old twins and a 14-year-old) squeezed into a tiny space for over a week, with nowhere to go to escape from each other. I think my kids have heard enough of my terrible singing to last a lifetime, and my son's nonstop random facts about Middle Earth (he's a big fan of The Hobbit!) nearly drove us all crazy.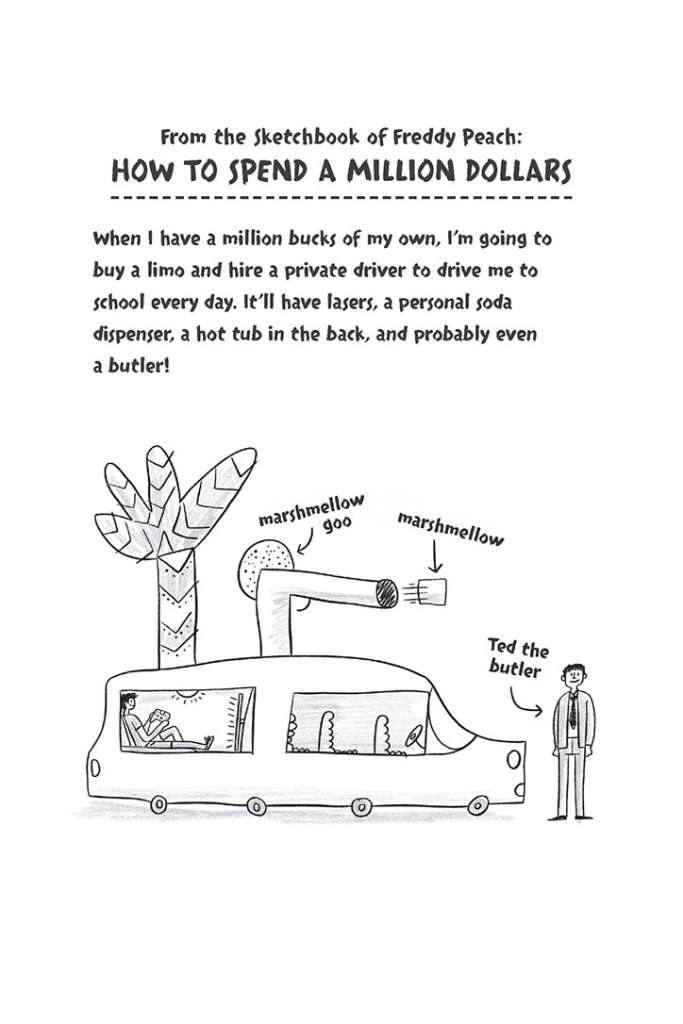 FACT #2:

My son Henry (who is now 13, but was Freddy's age when I was writing this book) drew almost all of Freddy Peach's sketches in the book! Freddy loves drawing, and so does Henry. One of my favorite parts of this novel are Freddy's sketchbook entries that show what he would do if he suddenly had a million bucks. Above is one of my favorite ideas Freddy has for how he would spend a million bucks.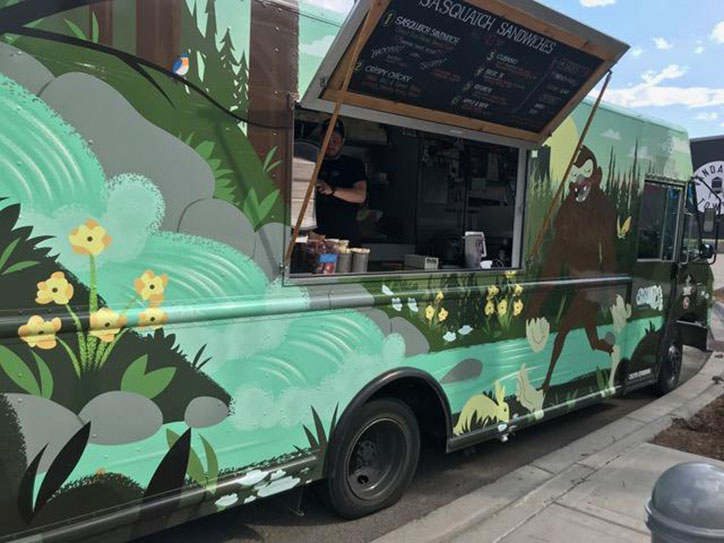 FACT #3:

I love doing research for my books, even though everything I write is fiction and I mostly get to make stuff up. But this book's research was extra sweet, since I got to taste a lot of pie and practice baking pies for all the food truck scenes. I'm still not a great pie-baker, but I am very good at eating pie. My favorite is Key Lime, and I love it most when it has a super-buttery, crumbly, graham-crackery crust! I also got to poke around inside a few food trucks, which was also super-fun!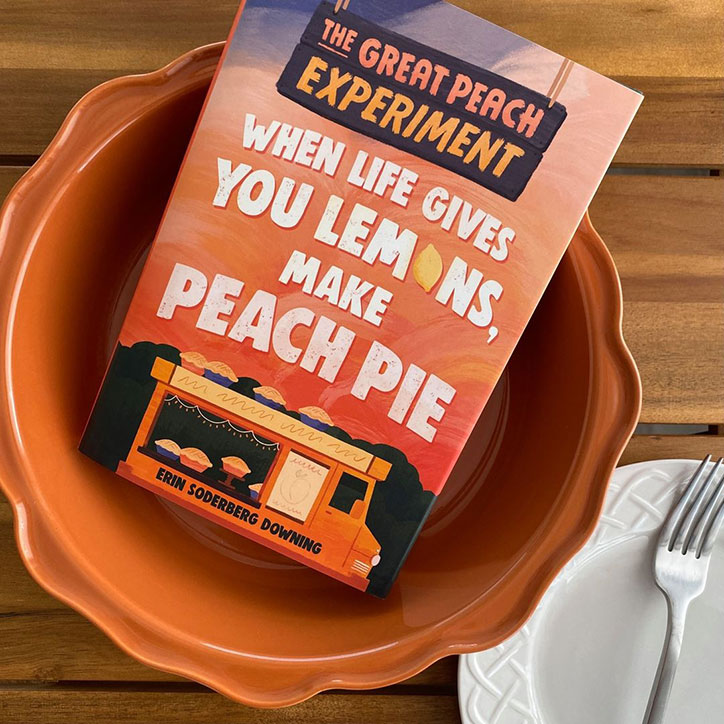 FACT #4:

In When Life Gives You Lemons, Make Peach Pie, over-achiever Dad tells each of the Peach kids they need to pick a personal goal that they want to accomplish during their family's summer road trip adventure. To help me figure out what each of the kids' summer goals should be, I thought about what my favorite parts of a road trip are and used those as a jumping-off point:

Third-grader Herb's goal is to find somewhere to swim every day while on their trip. I picked this for Herb because I love swimming in lakes and pools and rivers and oceans…pretty much anywhere I'm allowed! I get super-excited whenever I get to stay in a hotel with a pool—especially if it's an outdoor pool!

Fifth-grader Freddy's summer goal is to stop at a bunch of random roadside attractions while they're driving from stop to stop. I got the idea for this goal after my family took a road trip across the country a few years ago, and to help make the drive through boring stretches less blah, we found this app that tells you about fun stuff nearby. For example, did you know there are several cities that claim to have the World's Largest Ball of Twine? Or that the World's Largest Cherry Pie Pan is in Michigan? Or that there's a field of giant concrete corn statues in Ohio? Those are some of the things Freddy finds when he's searching for random roadside stops during The Great Peach Experiment!

Seventh-grader Lucy's personal trip goal is to read all the books on her school's summer reading list—and there are a lot of them! I love to read, so I filled Lucy's book list with some of my own personal favorites (I've read and loved all of these books!). Click here for the list, in case you need some ideas for what to read next!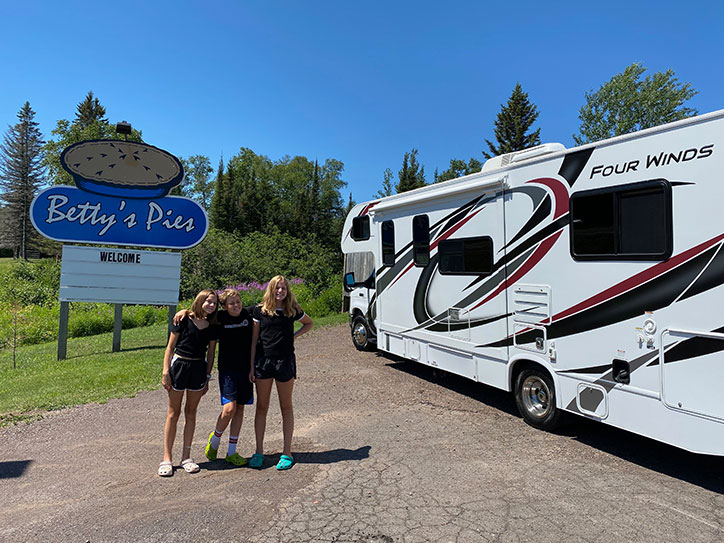 FACT #5:

Finally, to answer the most important question you probably have about this book about pie: Yes, of course someone gets a pie in the face during the The Great Peach Experiment. I'm not going to say who, but I can tell you it's an ooey-gooey, chocolate-caramel-whipped-cream pie. Now you're craving pie, aren't you?
Looking for even more heartwarming sibling stories? We think you'll love A Place to Hang the Moon by Kate Albus. Click here to take our quiz to find out if you're most like Anna, Edmund, or William!