Play Through the Magic of the Disney Parks with These Amazing Games + GIVEAWAY!
NOTE: We teamed up with Funko Games for this Play Through the Magic of the Disney Parks Giveaway. All opinions are our own; we were under no obligation to give a positive review. Giveaway prizes provided by Funko Games.
Disney World and Disneyland are the most magical places on earth – and these new games are the ultimate way to experience the Disney magic at home!
Whether you're counting down the days to your first-ever park visit, a Disney fanatic who dreams of one day snapping a selfie in front of Cinderella's castle, or someone who goes Disneybounding with their family every year, you're going to swoon over the newest Funko Games releases!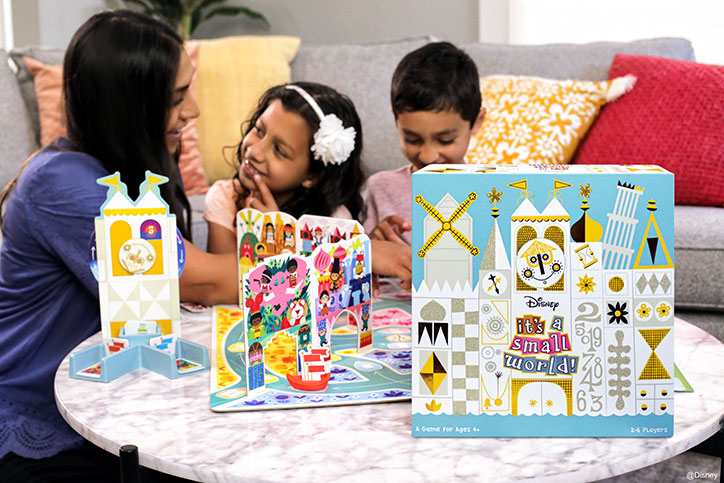 it's a small world, Mad Tea Party, You Can Fly, and Haunted Mansion: Call of the Spirits capture the indescribable feeling of being at the parks, each inspired by the theme parks, characters, and films that make up Disney history. Playing through these games will make you feel like you're rocking your cutest pair of Mickey ears, munching on a Dole Whip, and immersed in the excitement of your favorite ride. They're perfect for family game night, sleepovers, or sibling bonding and pair amazingly with a Disney movie night!
We teamed up with our friends at Funko Games to help you bring the Disney Parks magic home with an enchanting giveaway! Keep reading to take a journey through these amazing new games, and then have your favorite adult fill out the entry form below for your chance to WIN!
These 4 Magical Games are Inspired by Your Fav Disney Parks Rides: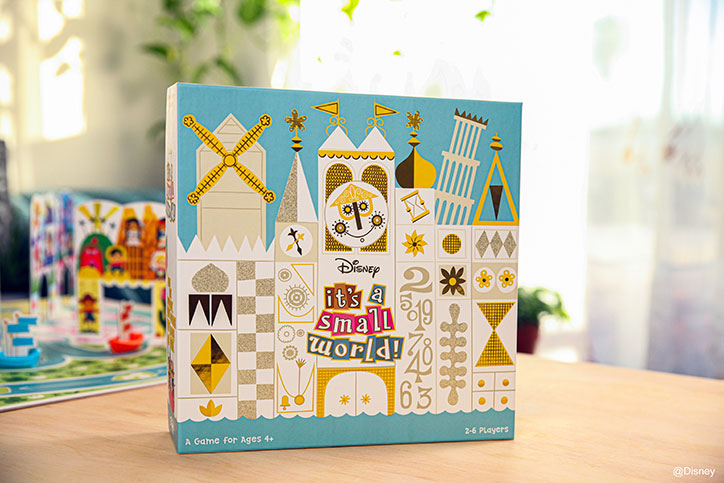 it's a small world:
it's a small world is so perfectly designed, you can practically hear the joyful children singing the iconic song the moment you open the box!
Board the happiest cruise that ever sailed and embark on a playful journey through the it's a small world ride. The 3D game board features gorgeous designs straight from the Disney Parks, right down to the smiling clock tower and shimmering metallic accents. Sail through the waterways and team up with a family member to match picture cards to the scenes as you sail from room to room.
This game is currently a Disney Parks exclusive, and it's SO iconic that it's currently sold out! Don't fret, though – it's hitting Amazon on July 1st!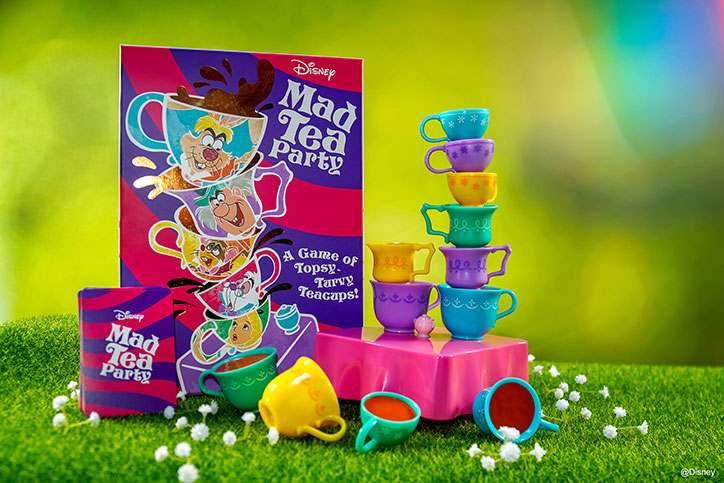 Mad Tea Party:
Inspired by Alice in Wonderland, Mad Tea Party brings the legendary tea party to life in a game of topsy-turvy stacking fun that'll have you dreaming of a spin through Alice in Wonderland at Disneyland!
Step into the colorfully whimsical upside-down world of Wonderland! Draw a card and place a teacup on the stack, but be careful not to let the tower fall! Because this is Wonderland, nothing is ever quite as it seems, so expect some twists and mishaps along the way from the Mad Hatter, Cheshire Cat, and White Rabbit.
The colorful angled cups and wobbly table make this game easy to learn but hard to master – giving everyone an equal chance at winning! Bringing this game on your next babysitting gig? You can stop the table from wobbling to make things simpler for younger kids to get the hang of it!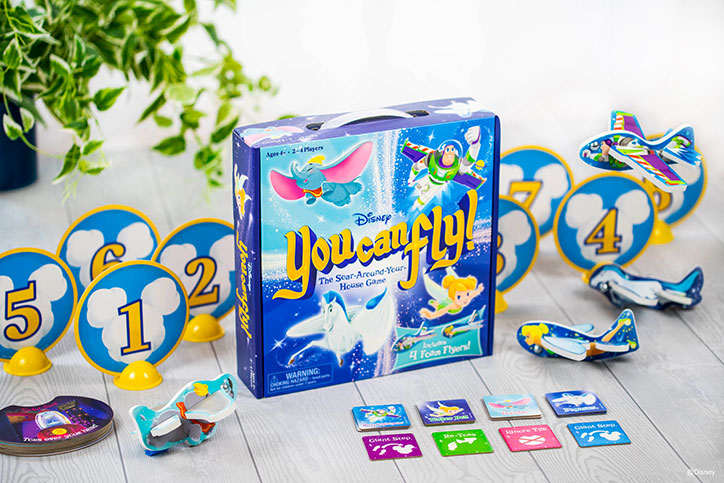 You Can Fly:
Get on your feet and soar through the air like Tinker Bell or fall with style like Buzz Lightyear in You Can Fly!
Play as some of Disney's most notable flying characters in this imagination-fueled adventure! Choose your flyer, create your own course, and take on the funny flying challenges like throwing through your legs or with your eyes closed while trying to earn points. The best part about this game? It can be played both indoors and outdoors, and it's different every time based on how you choose to lay out the flight path. Keep it simple for your younger siblings or go the distance and make it challenging for your Disney-loving besties – there's no wrong way to play!
We love that this game is super customizable and gets everyone moving – our fav way to play? Making up our own flying challenges to keep the magic alive!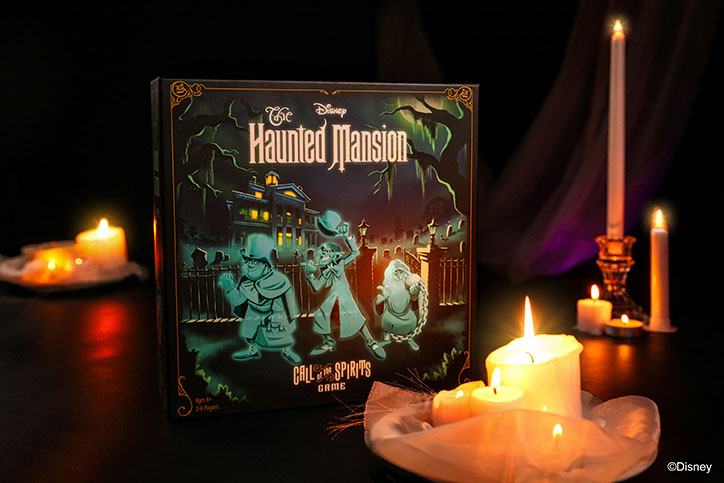 Haunted Mansion: Call of the Spirits:
You'll need to beware of hitchhiking ghosts as you play through this hauntingly fun board game inspired by the Haunted Mansion ride!
Explore the rooms of the ghost-infested manor found in the Disney Parks ride and experience the spine-tingling chills as you play through the game, with endless rotating hallways changing things up as you play. Search for spirits, socialize with the legendary 99 ghosts who haunt the halls, and bring the Haunted Mansion back to life (or death!).
True to the Disney ride, you'll love the eerie vibes of this ghastly game!
Play Through the Magic of the Disney Parks Giveaway: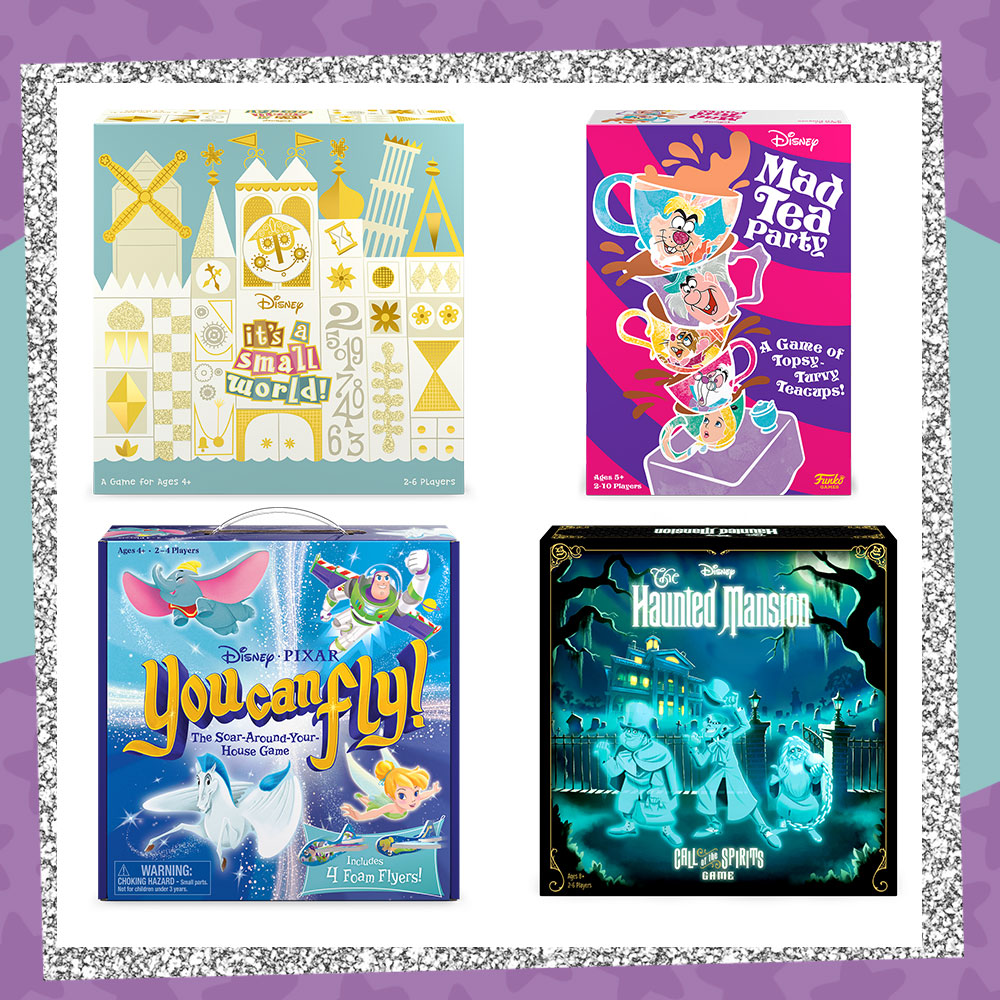 WHAT DO I WIN?:
ONE lucky winner will receive a Funko Games Prize Pack that includes:
– ONE (1) Disney it's a small world game
– ONE (1) Disney Mad Tea Party game
– ONE (1) Disney You Can Fly game
– ONE (1) Disney Haunted Mansion: Call of the Spirits game
Prizes generously provided by Funko Games.
HOW DO I ENTER?:
Grab a parent or guardian and have them fill out the form below by June 22, 2021 at 11:59pm ET.
Giveaway runs from 6/8/21 at 01:30 pm ET through 6/22/21 at 11:59 pm. Open to US residents ONLY. Be sure to read the fully detailed rules HERE before entering.
THIS GIVEAWAY HAS ENDED AND THE WINNER HAS BEEN CONTACTED.
You must be 18 or older to enter. Please, only ONE entry per person. If selected as a winner, we will provide your parent/guardian with an affidavit to confirm that you are a valid winner who has permission to win. They will be REQUIRED to sign and return the affidavit to YAYOMG! to claim your prize. Prizes will not be mailed out without signed parental consent.
Need even more Disney magic in your life? Check out our interviews with your fav Disney stars like Jackson Dollinger, Kaylin Hayman, and more!