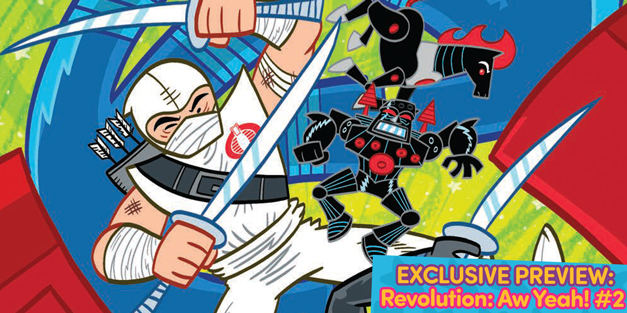 EXCLUSIVE Preview: Revolution: Aw Yeah! #2
We interrupt your regularly scheduled chillaxing to bring you an exciting announcement! No, it's not time for evil bidding. It's time for the next thrilling adventure in Revolution: Aw Yeah! #2 from IDW Publishing! No idea what the heck we're talking about? Let us explain.
Revolution: Aw Yeah! is a super silly comic series featuring the iconic heroes and villains from Transformers, GI Joe, ROM, and Micronauts. It's an extremely fun and insanely hilarious explanation of why their worlds are merging in the official Revolution comic series. Reading this feels like the comic book version of dumping out all your favorite toys and making them play with each other, regardless of where they come from. Just let your imagination run wild and make up crazy scenarios. That's pretty much what the entire Aw Yeah universe is all about.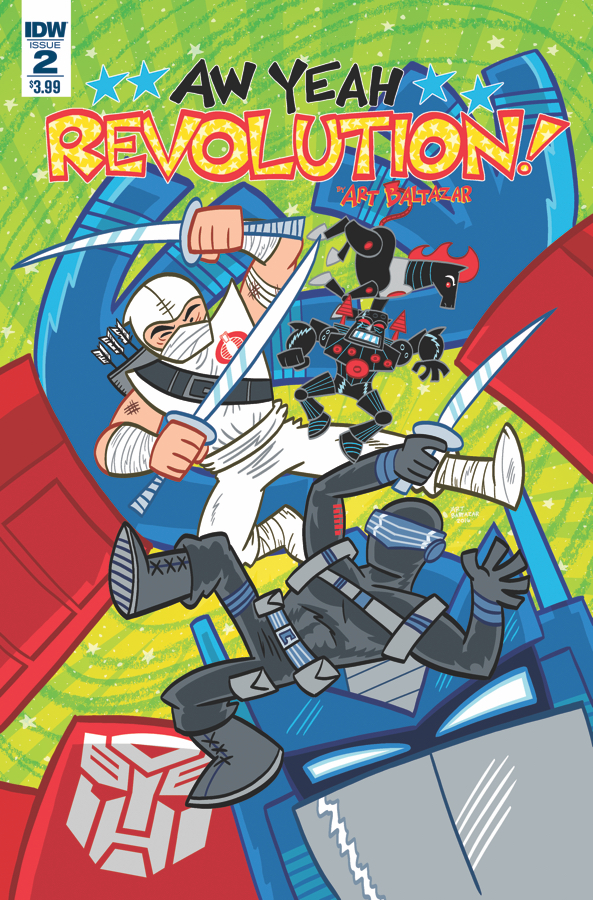 The series also a great stepping stone for budding comic enthusiasts like you guys to get acquainted with these huge, established worlds and characters. Mostly though, Revolution: Aw Yeah! is a great excuse to read a funny comic, even if you're not into any of that stuff. We don't know much about the previously mentioned worlds, but we were able to follow along just fine and we're glad we did.
Plus, any excuse to gobble up more of Art Baltazar's quirky sense of humor and unique doodle-esque drawing style is okay with us. You may recognize his work from Aw Yeah Comics, Tiny Titans, DC Super Pets, and lots of other equally great and silly comics. He truly knows how to bring the fun!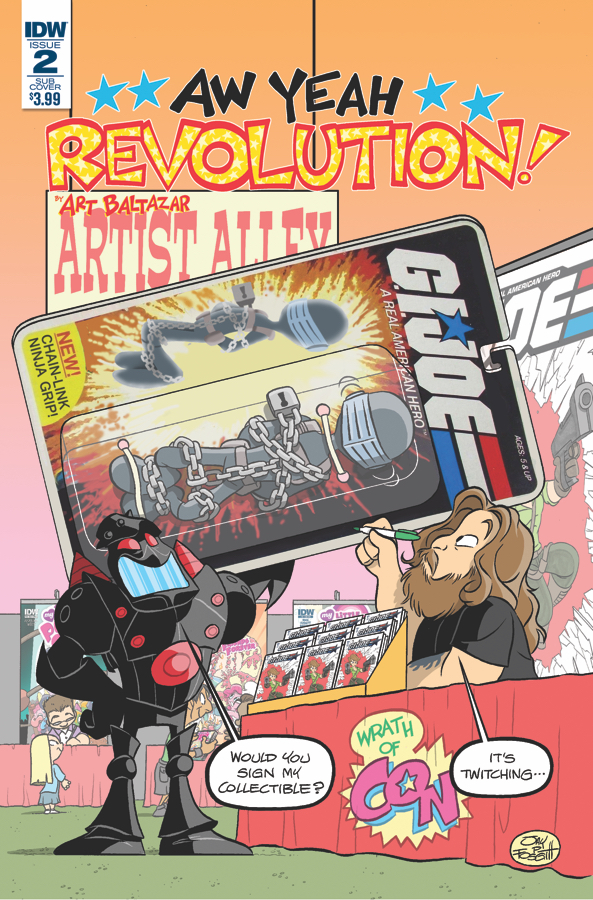 In Issue #1, readers met Baron Karza, the most ultimate evil villain who's living deep in Microspace, chillin' with his horse, Andromeda. When he's not up to no good, he loves to kick back and read his favorite comic books. He's been on a search for the Orbash Gem, a magical ancient relic that's rumored to be the ultimate power of all existence. He discovers it within Transformers universe and after retrieving the Gem, he plans to attack Optimus Prime and drain his powers. Meanwhile, somewhere else all together, ROM the noble Space Knight is on a hunt for the most evil and nasty creeps lurking deep within the galaxy. When he detects some of the Dire Wraiths alien species on an asteroid, he heads out to investigate. All of their worlds end up colliding, but you'll have to pick up the issue to find out how. We refuse to spoil it for you.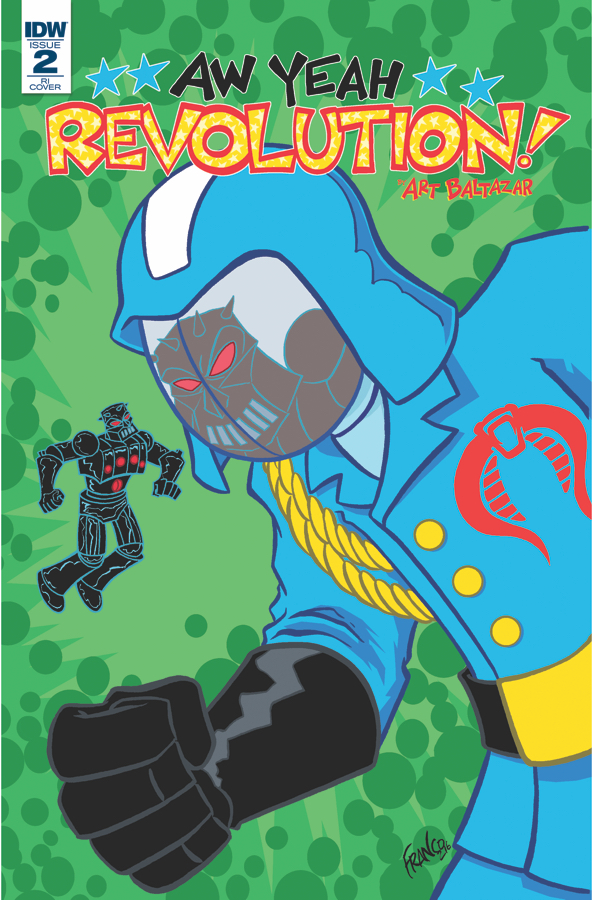 Revolution: Aw Yeah #2 picks up where the first issue left off, which happens to be in the middle of an epic battle between Baron Karza, ROM, Optimus Prime, and Snake Eyes. Will Baron Karza finally be able to capture Snake Eyes and add him to his ultimate collection? This issue brings the G.I. Joe and the rest of the Joes into play and there's an intense showdown between Snake Eyes and Storm Shadow that just can't be missed. Oh, there's one other tiny detail. The Microverse can't exactly handle all these super-sized dudes hanging around so their world is in danger of being crushed by their sheer mass. Or worse! But you'll have to read it for yourself to find out what that means.
Check out the EXCLUSIVE preview of Revolution: Aw Yeah! #2 below before it hits comic shops on June 21st.
EXCLUSIVE PREVIEW: Revolution: Aw Yeah! #2:
Click the image to view it larger.
Revolution: Aw Yeah! #2
Publisher: IDW
FC • 32 pages • $3.99
Writer: Art Baltazar
Art/Cover: Art Baltazar
Variant Cover: Franco
Synopsis: After learning that his favorite comic book character SNAKE EYES is real, BARON KARZA, along with his new ally COBRA COMMANDER, tries to capture him and claim SNAKE EYES as the ultimate collectible! WHAT?! Someone call G.I. JOE! What will happen when the JOES get involved in the battle, you ask? That's right! A showdown between Snake Eyes and the Ninja STORM SHADOW! But what happens next…would be a SPOILER! Beware BARON KARZA! Or the world will be crushed in his grasps!
Now that you're as tickled as we are by this completely silly little comic series, why not check out some of our other favorite comics?