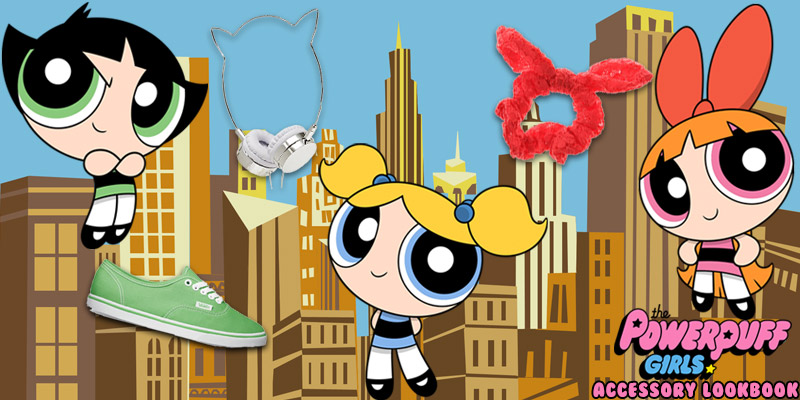 Accessorize Like a Powerpuff Girl
The Powerpuff Girls are a totally kick-butt team of crime fighting sisters, but let's be honest, we all have a favorite. Whether you relate to the animal lover in Bubbles, the super-sciencey Blossom, or the oozlingly sarcastic Buttercup – there's something to love about each and every one of them. Everyone loves to show off their love for their favorite fandoms by dressing up like the characters, and we've got a whole slew of Style Guides on our site to help you guys do just that!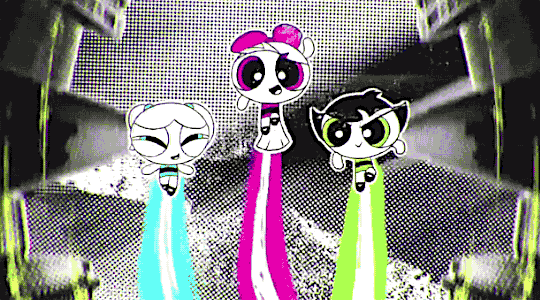 Since dressing like the PPG is pretty easy (just a solid color dress, a black belt, white tights, and some black Mary Janes), we thought it might be more fun to whip up a Powerpuff Girls Accessory Lookbook for you guys. That way you can keep the spirit of your favorite PPG character in everything you do. Whether it's a backpack for school, a pair of headphones so you can rock out to Taco Cat, or a wristband to keep you un-sweaty during gym class (or a bad guy butt-kicking sesh), we've pick out something for every type of PPG fan!
Powerpuff Girls Accessory Lookbook: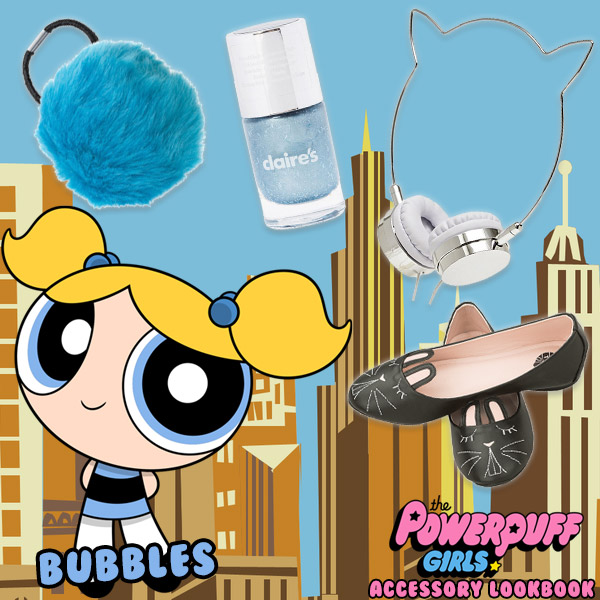 Bubbles:
Bubbles is sweet, perky, and always ready to cuddle a cute creature (even if it's the bad guy!). Ever since the original series, Bubbles has always been into animals – especially kitties. That's why we chose a pair of fabulous cat ear headphones for her look! You'll look totally precious while you rock out to the Sensitive Thugz (or whoever your favorite band is). Since Bubbles is always talking about bunnies in the new series, we figured a pair of bunny flats would be a perfect fit. They're similarish to her Mary Janes, but they're bunnies! With cute little ears! For your feet!
Instead of her little ball hair ties, we picked fluffy puffball ones instead. These match both the "Powerpuff" theme as well as Bubbles love for fluffy critters. Finally, some powder blue nail polish to top off the look! Bubbles loves beauty products and even has a Beauty Blog (But On Video!) where she teaches girls how to use makeup. Between her tips and our lookbook, you'll be able to whip up a Bubbles inspired look before bedtime!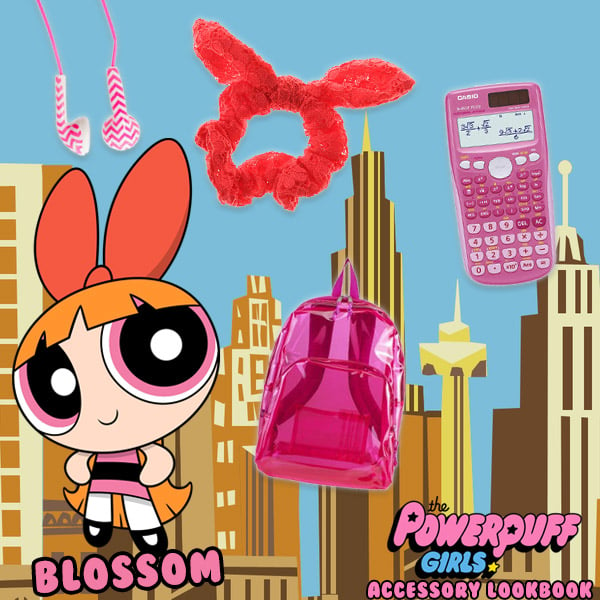 Blossom:
If you're a fan of Blossom, you know she's all about organization and doing her best (as well as better than EVERYONE else) at school! Blossom is really into Science and Math, so a cute pink scientific calculator is perfect for your Blossom inspired look. It'll help you be just as smart as she is, get your homework in on time, and look totally cute while doing it. That pink calculator wouldn't be complete without a super cute pink backpack to put it in! Since Blossom is equal parts style and smarts, we chose a see-through backpack for her look. The obsessive organizer in her will love knowing exactly where all her things are in her backpack without having to search for them.
Next up, a cute pair of earbuds. You know Buttercup probably has some kind of calming soundtrack flowing through her ears as she plans and organizes her life. To top it all off – a pink bow headband, of course! You'll look super cute in this headband at school, while you clean your room, or while you kick butt at the science fair.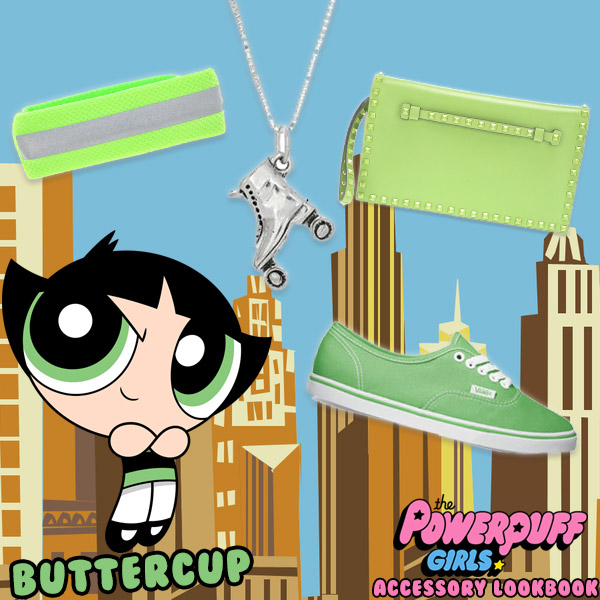 Buttercup:
Buttercup is 100% attitude. She's not into girly stuff, she's all about kicking butt! Buttercup's short lived roller derby days with the Derbytantes are the reason we picked a rollerskate necklace. What could be tougher than skating around and knocking the other team on their butts for fun?! To add to her extreme personality, we also included a green wristband, perfect for those days where you're shredding up the half pipe, climbing up a rope in gym class, or just having an all day gaming sesh. A minty green pair of Vans sneaks match Buttercup's color almost perfectly, and you can wear them anytime you want. No bunny flats for this girl!
The final piece? A studded green clutch. We know Buttercup likely wouldn't be caught dead with a purse, but if it's got studs on it and can potentially use it to whack a bad guy in the face, we think she might be down. Just don't call her princess!
Not sure which style you want to try out? Take our Powerpuff Girls Bestie Quiz to find out if Blossom, Buttercup, or Bubbles would be your BFF!