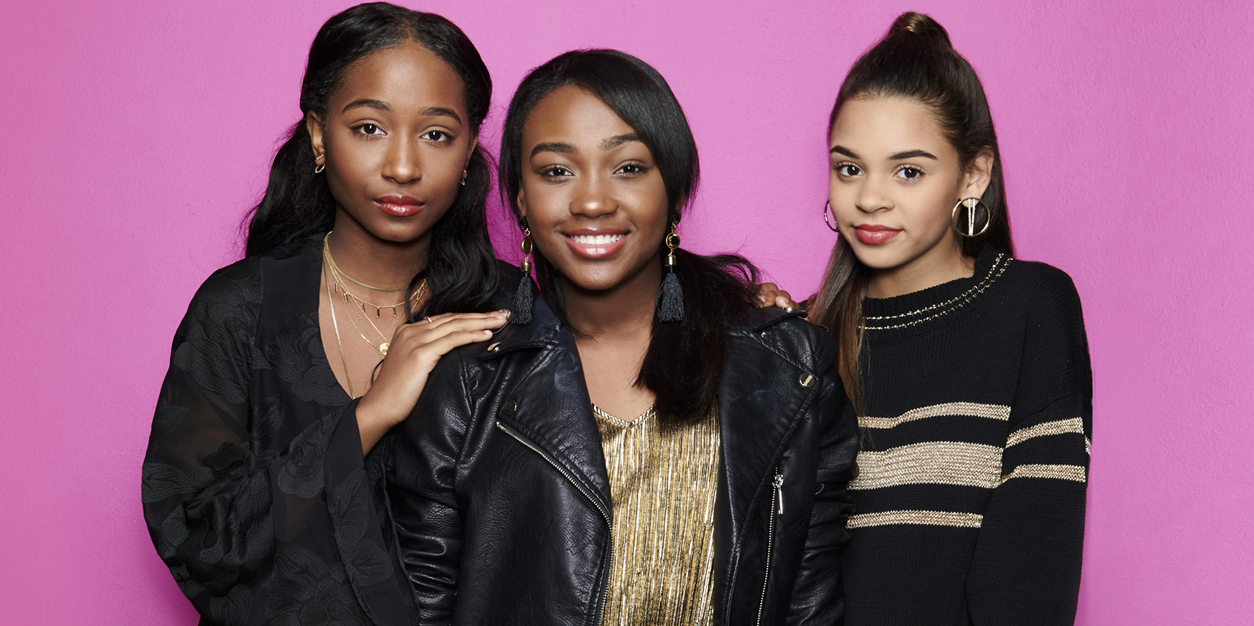 Get to Know Gabby, Madox, and Anaya of Pink Heart
Positive, fierce, and empowering – those are the words that we'd use to describe Pink Heart, a new girl group that's totally on the rise. Their single Girl Bo$$ celebrates hard-working, amazing girls and women who take charge and believe that they can do anything. Fight For You dropped last month and it's an upbeat, inspiring bop about being there for the people in your life when they're down. Today Pink Heart dropped yet a new single, Elevator ft. King Roscoe, give it a listen here!
Who are Pink Heart exactly? Gabby, Anaya, and Maddox, three teen girls with confidence, passion, and talent galore. All three girls sing on each track, but they all bring something unique to the table. Anaya brings the strongest voice, Maddox is an amazing rapper, and Gabby slays the choreography.
Get to Know Pink Heart:
Ready to learn more about Anaya, Gabby, and Madox? Keep on scrolling for everything you need to know about the girls of Pink Heart!
Anaya – The Singer
Name: Anaya
Song of the Moment: Best Part by Daniel Caesar ft. Her
Favorite Girl Boss: Yara Shahidi
Best Candy: Jolly Ranchers
Someone I'm Dying to Meet: Tori Kelly
Somewhere I'd Like to Travel: Paris, France
Dream Musical Collab: Ariana Grande
Favorite Color: Red
Goal for the Future: To stay grounded in who I am as a young woman, and to continue to inspire others with Pink Heart's music.
Advice: My advice to young girls or even boys is it's okay to be yourself, and it's ok to fall hard through the process, but it's up to you to get back up and come in stronger.
Gabby – The Dancer
Name: Gabby
Song of the Moment: Boo'd Up by Ella Mai
Favorite Girl Boss: Zendaya
Goal for the Future: To be an International Model
Favorite Color: Teal
Food I Can't Live Without: Salad
Somewhere I'd love to Travel: Paris, France
Best Place to Shop: RUE 21
Fav Emoji of the Moment: ?
Advice: Never give up. Believe in yourself and know that you are special.
Something I've learned from Pink Heart: I've learned to be humble, be kind to others, also to know that I can do anything. Also, it's important to have someone to look up to who can provide you with inspiration.
Madox – The Rapper
Name: Madox
Song of the Moment: Nice For What by Drake
Favorite Girl Boss: Beyonce
Dream Musical Collab: Pink Heart and Willow Smith
Hidden Talent: People don't know that I am a makeup artist.
Food I Can't Live Without: French Fries
Favorite Subject in School: Social Studies/World History
Somewhere I Would love to Travel: Italy
Goal for the Future: Be the top touring pop girl group in the world!
Advice: Stay grounded, humble and believe in yourself through it all. You can to anything you put your mind to.
Now that you know Pink Heart better than ever be sure to give them a follow and become a part of Heart Nation! If you loved getting to know Pink Heart, we think you'll love our interview with Luna Blaise!