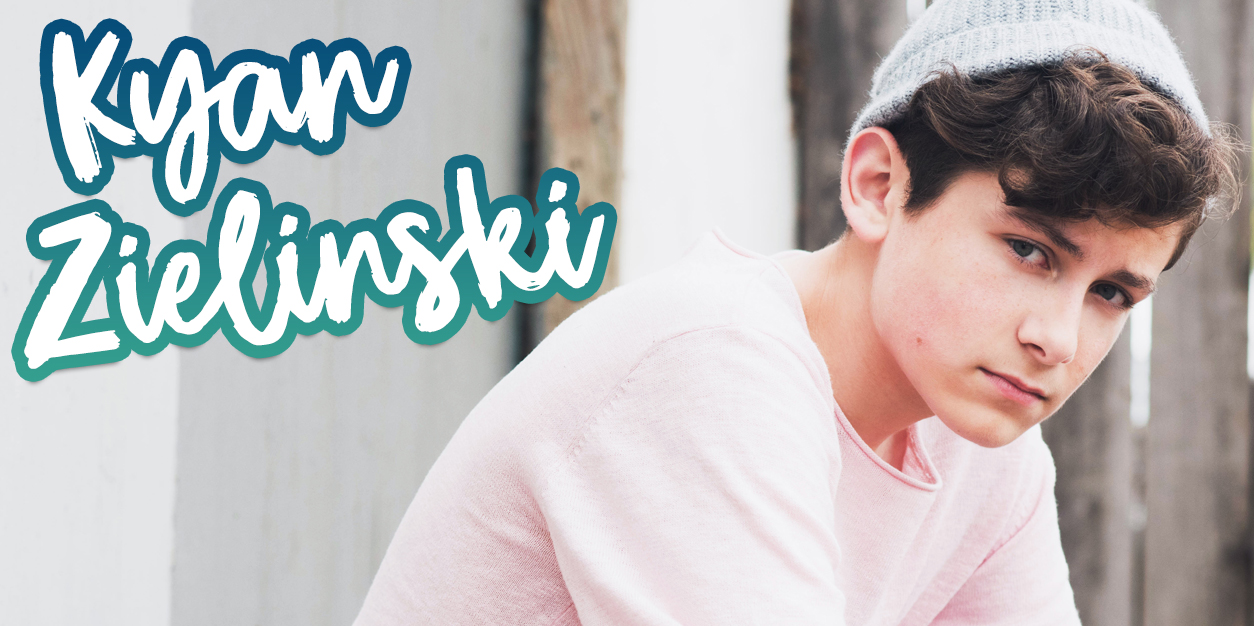 Kyan Zielinski Chats The Dangerous Book For Boys, His Inspirations, and More!
Kyan Zielinski is an up and coming actor who stars as Liam McKenna on the Amazon Kids series, The Dangerous Book for Boys. Inspired by the popular books, the fantastic six-episode series is filled with imagination, brotherly bonding, and a whole lot of feels. It's a truly great series that reminds us all to look up from our screens, spend time with our families, and to always be on the lookout for adventure.
Kyan brings a ton of life and heart to his character Liam, but did you know he has a passion for being behind the camera as well? Kyan shared with us that he loves all aspects of the film business and aspires to break into directing, producing, and writing. Currently, he can be found documenting his life, his travels, and his love of camera gear on his vlog and Instagram. Be sure to give him a follow to keep up with all things Kyan and stay in the know about his exciting acting announcements!
Kyan also loves video games, which we were excited to discover when he took over our Instagram story during E3 earlier this month. If you missed it, be sure to check out our Story Highlights!
Get to know Kyan Zielinski as he chats about his role on The Dangerous Book for Boys, the people who inspire him, and his upcoming roles!
Get to Know Kyan Zielinski:
Tell us a little about your Amazon Kids series, The Dangerous Book for Boys. What can fans expect from the show?
KYAN ZIELINSKI: People can expect to be taken on a journey of imagination. Viewers will see a real, raw story about a family going through loss and learning how each person copes with it. There is a twist of imagination and comedy which lightens the subject matter and brings hope into their world.
You play Liam on the show. What is your character like and do you share any similarities with him?
KYAN: Liam is the oldest of the 3 boys in the family. He is the wiz kid, smartest of the brothers, but also bossy and irritated at most things his brothers do. He has a complexity about him as he knows where he stands in the world, but also knows with the passing of their father, he needs to step up and be the man of the house but is unsure how.
Liam and I have similarities in the way we go about life. We both like to have things organized, figured out, and are very particular. We are both introverts to an extent, Liam more so than me, but I have my times as well.
The series features comedic and fantasy moments with some heavier subjects woven in. Which types of scenes are your favorite to work on and why?
KYAN: I enjoy the heavier subjects as I feel there is more room to grow and act with a depth that is relatable. There's an enjoyment for me as an actor in dramatic acting because I'm allowed to share more creatively and tell a deeper story than what can be offered in most comedic acting. It pushes through boundaries and gets to a place of real emotion, connection with the audience, and vulnerability.
What are some shows you're loving right now?
KYAN: Oh wow, so many. I love Designated Survivor, Stranger Things, This Is Us, The Goldbergs, and Modern Family to name a few.
What are 5 things your fans might not know about you?
KYAN:
– I've been professionally acting since I was 8 years old. I started out in musical theatre.
– I love cameras, all videotaping equipment, and vlogging. I have a YouTube Channel where I vlog about my life called Kyan Zielinski Vlogs. If you would like to follow me, please subscribe!
– I have family in Europe and have had the opportunity to travel around many European countries. My favorite place to visit is Italy!
– I love spicy food. Bring on the Sriracha!
– I aspire to be a Director one day. I love all aspects of the industry, so I'm starting with acting, and hope as an adult I will have the opportunity to do some writing, producing, and directing.
Who is someone that inspires you?
KYAN: Personally, I am inspired by my parents who have provided me with endless support, guidance, and love. I owe them big for their continued backing of my dreams.
Professionally, I am inspired by acting/directing genius Ron Howard and actors that have no limits and diverse careers like Johnny Depp, Jack Black, and Tom Hanks.
What's up next for you? Do you have any projects currently in the works that fans can look forward to?
KYAN: Yes, next year in 2019 I have 2 movies coming out, Small Things, and the horror film They Reach.
What are some of your goals for the future?
KYAN: I hope to continue to have the opportunity to tell stories from all different sides of the industry. I love working and dedicating myself to this multi-faceted craft. As I enter into my adulthood, I would love to be able to provide for my family while doing what I love and continue to stay true to myself and my family & fans by remaining a good person and staying grounded in what's truly important in life.
Do you have any advice you'd like to share with our readers?
KYAN: Yes! Follow your dreams. If you have a goal or something you want to do in life, go for it. It's never too early or too late to start! Stay true to yourself, be a kind person, and reach for the stars because the sky's the limit.
Now that you're in the know about all things Kyan Zielinski, we think you'll love our interview with BUNK'D star, Will Buie Jr.!