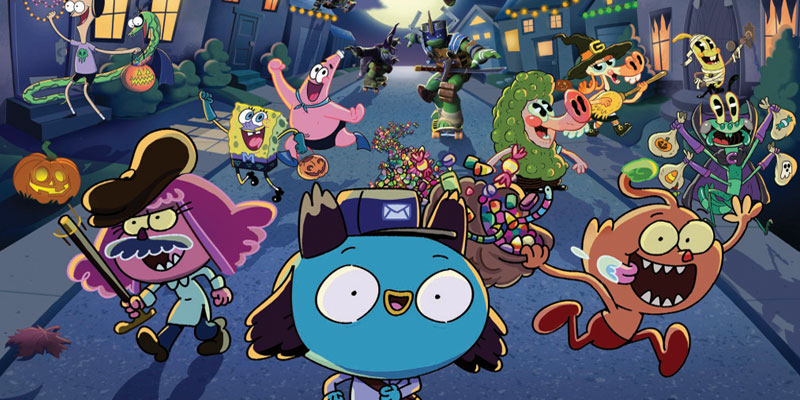 Nickelodeon's Halloween 2015 Lineup is Spooktastic!
Nickelodeon always goes all out for their Halloween specials, and this year is no exception! From a new movie to a live Halloween special, this year is sure to knock your socks off! Some of their apps and games, like Sky Whale, SpongeBob Moves In, and Nick Dance Machine are getting special Halloween updates as well. Here's what you can expect to see on Nick this October, just make sure to keep an eye out for the Hash Slinging Slasher!
Nickelodeon Halloween 2015 Lineup:

Liar, Liar, Vampire – Nickelodeon Original Movie
Liar, Liar, Vampire follows Davis Pell (Rahart Adams), a super shy 17 year old boy who switches schools and is mistaken by the popular crowd as a vampire. His neighbor Vi (Brec Bassinger) helps him take things to the next level and embrace his vampire persona to become popular and rule the school. The more people who find out, though, the harder it is to keep the lie going. Will Davis be able to keep the lie alive, or will he have to confess to everyone?

Power Rangers Dino Charge – The Ghostest With the Mostest
Bat Monster kidnaps ones of the Rangers from a Halloween party and extracts memories that lets her impersonate the Power Rangers. Kendall must question the teens in order to find the imposter before things are too late and the Energems are stolen.

Halloween Ultimate Costume Party
The cast of Game Shakers are hosting the most kick-butt Halloween party ever!  In this hour long special, there will be live music by Rachel Platten, a costume contest, and DIY Halloween tips. There will also be special guests – including the cast of Nicky, Ricky, Dicky & Dawn, Talia in the Kitchen, and WITS Academy!

Harvey Beaks – Le Corn Maze…OF DOOM!/Harvey Isn't Scary
Le Corn Maze…OF DOOM!: The Squirrels are determined to make this year's Halloween maze super scary, since the kids complained last year that it wasn't scary enough. Everyone enters the maze, but will they all be able to make it out?
Harvey Isn't Scary: Harvey has a hard time telling scary stories, which wouldn't be so bad, if the scary stories didn't keep the boogyman away. Harvey needs to step up his game and tell a scary story or else everyone in Littlebark will be doomed!

Game Shakers – Scared Tripless
Double G's Halloween tradition is to scare Triple G, but Babe and Kenzie get in the way by telling Triple G what to expect. Will Double G still be able to pull off his elaborate plan, or will Trip end up scaring Double G instead?!

100 Things to Do Before High School – Have the Best Halloween Ever Thing
Principle Hader HATES Halloween and cancels all the Halloween festivities. It's up to CJ to try save the day and get all the activities un-cancelled. Crispo and Fenwick have a costume related crisis.

The Thundermans – Patch Me If You Can
Phoebe offers to babysit her boyfriends brother who is generally very well behaved and shy. But when he finds out one of Max's inventions ruined his favorite teddy bear, he turns evil and Phoebe must help un-do it before he gets revenge on Max.

Bella and the Bulldogs – Sha-Boo! Ya
Troy and Sawyer try to scare the girls at the football and cheerleader campout, but when an urban legend about the school's old groundskeeper seems to be coming true, will the tables be turned on the boys?

Shredder's Horror Hour
Shredder and his pals are teaming up for an hour every weeknight to terrify the Turtles and haunt their dreams! Each night we'll see a different mutated villain trying to take on the Turtles, leading up to a huge reveal – Shredder's origin story!
Sounds like we're in for a ton of spooky new Halloween treats in addition to the reruns of past Halloween movies and episodes from all our favorite shows!