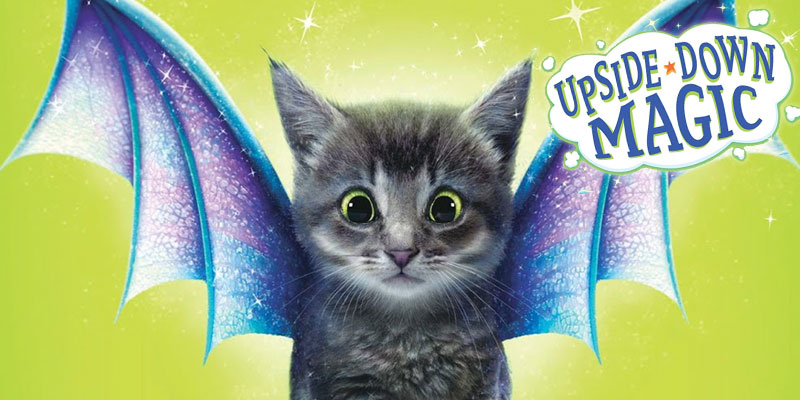 Upside Down Magic
Upside Down Magic is the first book in a brand new series written by Sarah Mlynowski (author of the fabulous Whatever After series), Lauren Myracle (The Winnie Years), and Emily Jenkins (Invisible Inkling). It follows Nory Horace and her not-so-normal, kinda magical friends as they prove that upside-down magic definitely beats right side up!
Nory Horace is a 9 year old girl who is brave, smart, and totally loves peanut butter cookies. Oh – and she can transform into a bunch of different animals, sort of. Her shape shifting talent doesn't always work as planned. For example, she can't just turn into a dragon or a kitten – she turns into both! A dritten!
Nory ends up flunking out of her dad's own magic academy and is forced to attend public school, where she meets a bunch of brand new friends who's magic is anything but normal. Elliot makes frozen fire, Andres is always floating or sitting on the ceiling, and Bax – well, we'll let you find that one out for yourselves!)
In her new school, the lessons are always unconventional and the magic always goes wonky at the worst possible moments. After being surrounded with people who are just as different as Nory and totally supportive of her, she realizes that upside-down magic might actually be the best kind of magic there is!
There's three totally awesome things about the Upside Down Magic series:
1. It's a series, which means there will be lots more weird and wacky adventures in store for Nora and the gang.
2. Disney Channel just picked up the rights to turn it into a TV SERIES! (And if Wizards of Waverly Place taught us anything, it's that Disney knows a thing or two about wacky magic)
3. It's available today! The book is finally released, and you can pick up a copy at your favorite local bookstore or get a digital copy on your favorite device!
For more awesome reads, check out our Books section!