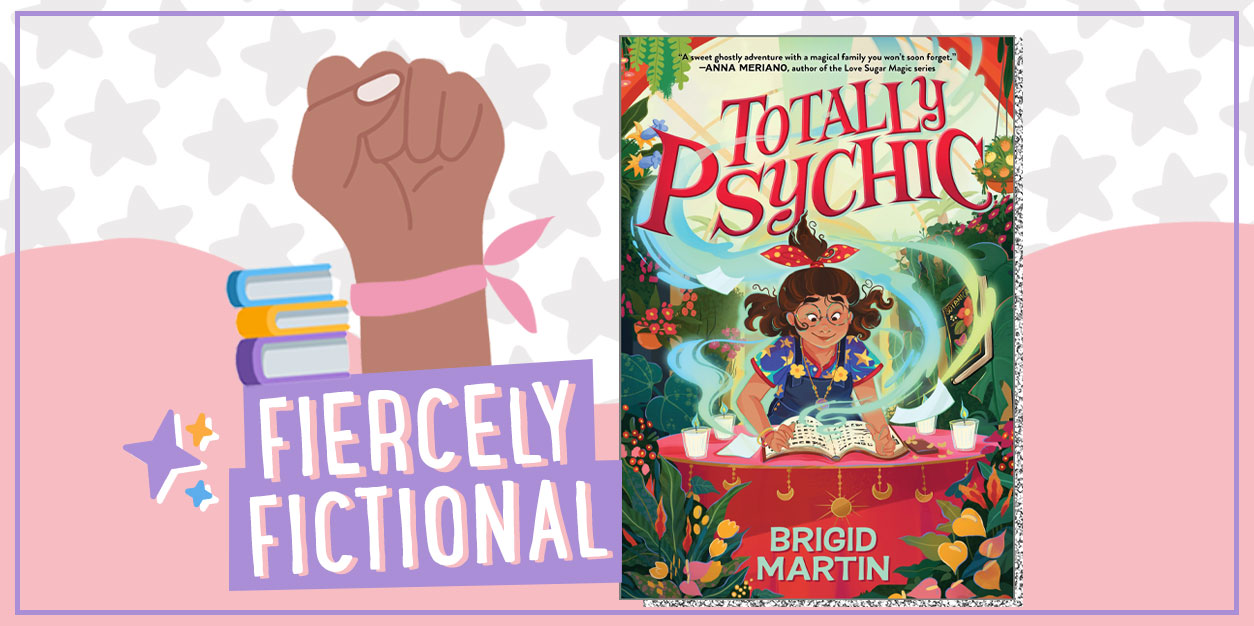 FIERCELY FICTIONAL: Totally Psychic
FIERCELY FICTIONAL is all about celebrating fierce, inspiring fictional girls we know you'll love. To us, "fierce" isn't just about slaying dragons or solving mysteries. It's about breaking free from your comfort zone, discovering your confidence, fighting for what you believe in, & discovering your emotional strength. Any girl can shine bright & be fierce, & in this series, we'll connect you with a new fiercely fictional character every month!
FIERCELY FICTIONAL is back, and we're featuring Cuban-American middle school psychic, Paloma from Totally Psychic by Bridgid Martin.
Paloma Ferrer is totally psychic. Her entire family has passed down "the gift" for generations, each manifesting in their own unique ways. No one is more notable than her grandmother, a famous celebrity medium on her annual tour of Latin America. Paloma adores her grandmother, and since they share a similar gift, she dreams of being just like her – traveling the world and using her abilities to help others connect with their loved ones. Her parents have another plan for her, though. They'd prefer that Paloma and her little sister Magadela live out of the spotlight and prioritize schoolwork and real connections rather than their abilities, so they're packing up their familiar life in Miami and headed to California.
Totally Psychic: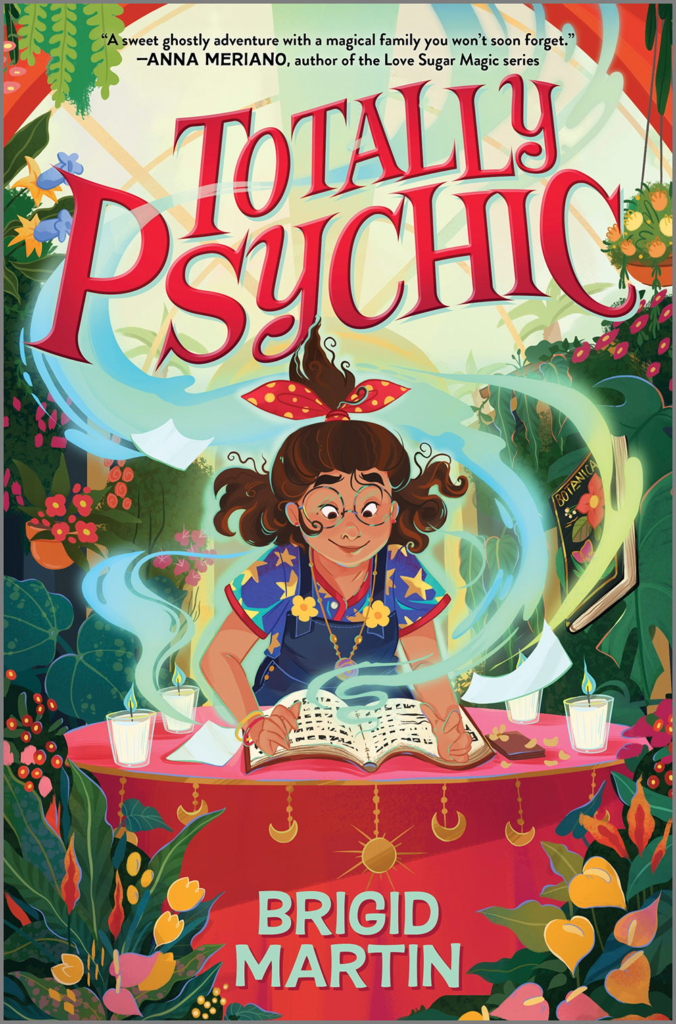 This debut middle grade series stars a Cuban-American tween medium navigating friends, family and ghosts!
Paloma Ferrer is psychic. In fact, everyone in her family line has "the gift." Now that Paloma has come into her powers, she dreams of a famous medium to celebrities, being just like her beloved grandma.
When Paloma's parents move them from Miami to Los Angeles, she hatches a plan to get her career as a medium up and running:
Host seances at her new school and stream on social media
Build her profile and make a name for herself
Avoid detection from her tattletale of a little sister
But when a reading gone awry leaves Paloma in a sticky situation with a new friend, she'll need more than a crystal ball to find her way out of this mess.
Totally Psychic
AUTHOR: Brigid Martin
PUBLISHER: Inkyard Press
DATE: August 15, 2023
Frustrated about leaving her life behind, Paloma isn't so sure about her new home in Los Angeles. Starting over stinks, but she's hoping to make new friends while also making a name for herself to prove to her grandmother she's ready to go on tour. Her plan? Host weekly seances at school, stream them on her socials, and do her best not to get caught by her little sister. Paloma's plan works like a charm, and her popularity soars. But things quickly get out of hand, and she's left with a messy friendship situation, a bunch of ghosts on the loose, and a ton of secrets she's keeping from her family. To make everything right again, she won't just need her flower-powered visions, she'll need to ask her family for help.
This paranormal adventure is totally adorable and a perfect pick headed into a new school year. It will have you eager to practice your psychic abilities and find your special calling. Paloma may be psychic, but her struggles are super relatable for readers, and she's totally fierce in the way she handles things. She uses the things that make her special to truly shine, and while she definitely makes mistakes, she knows when to own up to them and asks for help when she needs it.
We're excited to share that Totally Psychic author Brigid Martin is here sharing a peek between the pages of this new read and all the reasons Paloma is totally fierce!
Five Reasons We Think Paloma is Totally Fierce:

She overcomes obstacles to achieve her goals:
Not only is Paloma totally psychic, but she is also totally fierce! She is trying to get a handle on her new unruly powers of seeing and speaking to ghosts all while attending a new school in California, trying to make new friends, and maintaining her friendships with her two besties back at home in Miami. Sometimes her anxieties get the best of her, and her powers begin to short-circuit. But it's ok because she has her family to help her through the tough times and make things right again.
Ultimately Paloma succeeds and thrives in her new environment but only after dealing with a few bumps in the road along the way, such as accidentally opening up a portal to the spirit world and unleashing hundreds of ghosts upon her school—whoops!

She is honest with her friends and family:
Even though honesty got Paloma into a bit of a sticky situation, it is also honesty that helps to get her out of it. After the ghost of her friend Willow's grandfather pressures her into telling a secret that she knows will make her new friend upset, Paloma decides to come clean and prove that she was telling the truth even though she admits that maybe telling Willow the secret wasn't the right thing to do in the first place.
Paloma also tries to hide the fact that she accidentally opened a portal to the spirit world that she can't close from her family because she doesn't want to get in trouble, but ignoring the problem only makes things worse so she decides to come clean to her family who help her out of this mess.

She doesn't let her mistakes define her:
Ok, so who hasn't made a couple mistakes every now and then? Paloma is someone who typically likes to figure things out on her own without the help of others and especially without the detection of her tattletale little sister, but she isn't above knowing when it's time to tap out and call in the experts. Following in the footsteps of her Abuela, the greatest psychic medium of all time is hard work and Paloma recognizes that she still has a long way to go in her training before she can be just as good as her Abuela.
Paloma realizes quickly that she's in over her head when she attends her new friend Willow's slumber party and uses a Ouija board to summon some ghosts, which is super against the rules in her family! Not only does the reading open a portal to the spirit world that is too powerful to close, but it also summoned Willow's grandfather who will not leave her alone about a BIG family secret that she knows she shouldn't meddle in. Luckily Paloma has an entire family of psychic mediums who know exactly what to do to get her out of a messy situation.
Even though she may have made a mistake, she isn't ready to give up on trying to be a better psychic medium and still plans to give readings for her friends and family. After all, practice makes perfect!

She knows what makes her different is her greatest strength:
Paloma always knew that her family was special and that having powers can sometimes have its perks, like getting flower premonitions that help her predict the future. Paloma can see ghosts and even befriends a few in her school, like Dustin who haunts the greenhouse that Paloma uses to host her readings that she livestreams to the entire school. But talking to ghosts isn't the only thing that Paloma is good at.
In addition to being able to see and speak to ghosts, everyone in Paloma's family has a unique ability and Paloma's abilities have manifested in the form of flowers materializing in the air for her to interpret since every flower has its own meaning. She even has a book of flowers from Abuela to help.
From numerologists to astrologers to dream analysts, each of Paloma's relatives use their gifts to help others because it's a special thing to be able to use the things that you are good at to try to make someone else's day a little brighter.

She likes to help others:
When Paloma moves across the country from Miami to California, she decides to start a psychic medium service at her school to practice her new powers while making friends in the process. Before she leaves her aunts, uncles, cousins, and grandparents behind back in Miami, her Abuela reminds her of the rules of mediumship that she is bound to follow. The most important of which is that readings should be healing not hurtful. Paloma recognizes that reconnecting people with their lost loved ones is hard and should be handled with care, so she makes sure to be respectful and mindful of the feelings of her classmates that are coming to her to help them through a hard time.
Her popularity begins to soar as more and more students want to connect with their departed loved ones and her new friends even get involved and use their skills from being in the school's film club to help her film these interactions.
📚Need another fierce read to add to your shelf after Totally Psychic? Catch up on our FIERCELY FICTIONAL series!