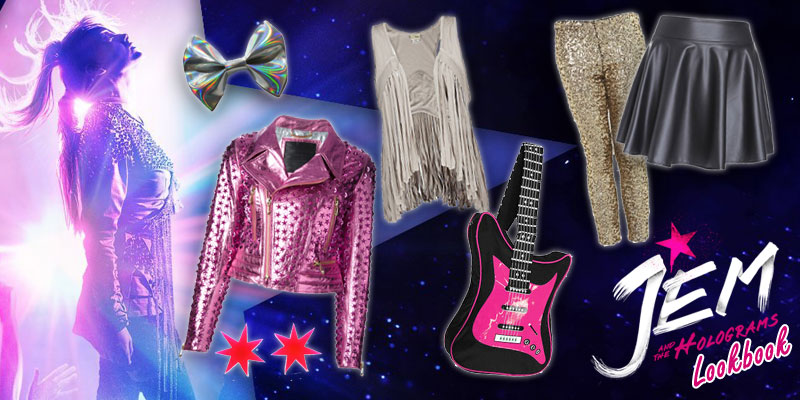 Jem and the Holograms Lookbook
If you've got young blood and live for fashion, our Jem and the Holograms lookbook is gonna rock your world! Generally when we do a fashion post based on a TV show or movie, we try to match an exact outfit worn by the characters – but since Jem, Kimber, Aja, and Shana's style is just so truly outrageous, we decided to just go nuts with it. Some of this stuff is a little wild and better for a Halloween costume or Jem cosplay, other stuff you could totally rock on stage with your band or just hanging out with your friends. Like Jerrica and the girls, you can be casual offstage and fabulous onstage! Enough babble from us, it's showtime, Synergy!

In the
Jem and the Holograms
movie, the girls rock tons of edgier, darker styles on stage, so we picked a bunch of super studded jackets and sequined leggings to match their movie look. They're more into adding color with their hair and makeup, which you can totally mimic with colorful clip-in hair extensions so you switch it up from pink to purple to blue every single day and awesome nail art, too. The original
Jem
and the gang from the cartoon were more about bright colors and glitter, so we also included a few pieces so you can add great pops of color to your look. (The modern day comic features the girls in fabulously colorful outfits too!)
Most of the items in the gallery can be mixed and matched into the ultimate Jem look, so don't be afraid to try new things! If there's something in your closet that you're kinda bored of wearing, you can Jem-ify it by adding studs, spikes, or sequins. Channel your inner rockstar with fringe vests, killer boots, and fierce leather skirts.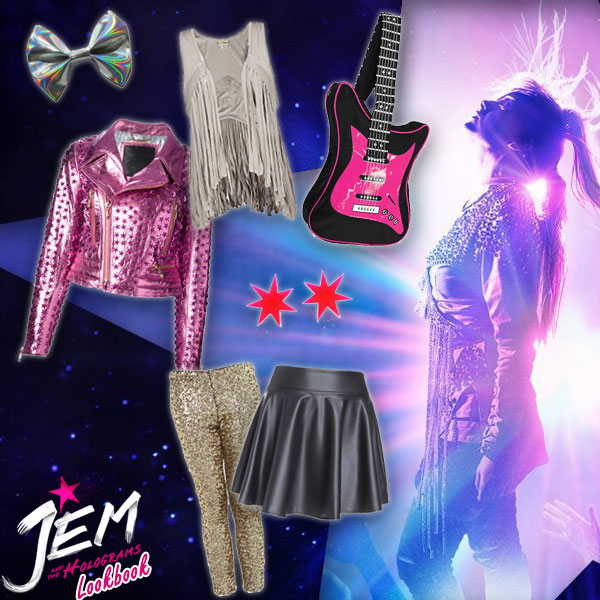 When you're a total rock goddess like Jem, accessories are almost as important as your outfit! Accessorize your look with tons of bracelets, necklaces, and even a hologram phone case. Top off your look with Jem's signature starburst earrings. (Which are super easy to find on Etsy, if you're in the market for a pair!) Show off your musical side with microphone earrings or guitar pick necklaces. Dressing up like Jem means you can't take your look too far, so just let loose!
Once you've got your look together, you're ready for a life of glamour, glitter, fashion, and fame! Break a leg!