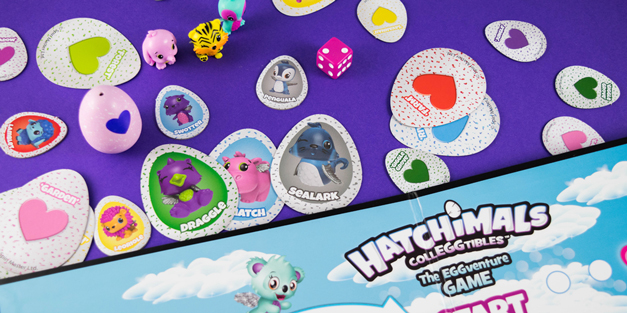 Hands on With the Hatchimals CollEGGtibles EGGventure Game
If your Hatchimal is your BFF and you spend all your free time cracking open CollEGGtibles, we have a feeling you'll love this new game from Spin Master. The Hatchimals CollEGGtibles EGGventure Game combines the surprise of hatching a cute new creature with the excitement of collecting and crams it all into one fun game!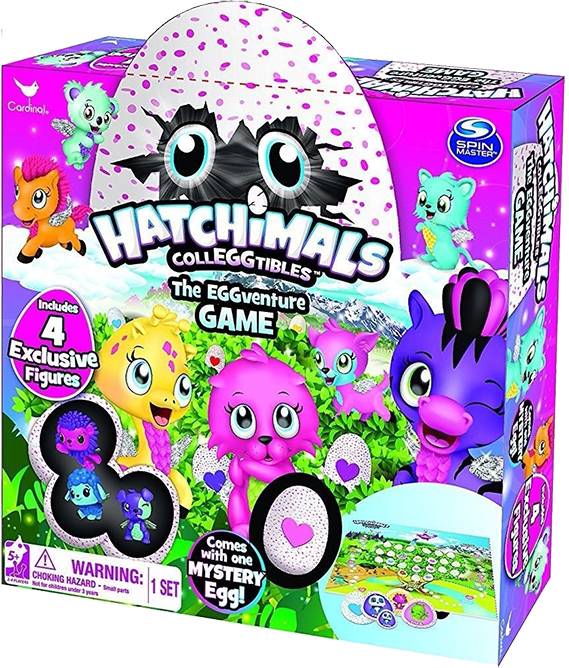 The best part? The game comes with 4 totally exclusive Hatchimals CollEGGtibles that can only be found inside this game. Which Hatchimals are they? A Yellow Tigrette, a Pink Elefly, a Blue Penguala, as well as a Purple Sealark hiding inside the mystery egg. If you're a kid who loves to collect them all, you're definitely going to want to pick up this awesome game. Now, on with the EGGventure!
Hatchimals CollEGGtibles EGGventure Game:
In the box you'll find:
– One Adorable Game Board
– 3 Exclusive Hatchimals CollEGGtibles creatures
– One Pink Mystery Egg (also with an exclusive inside!)
– 25 Egg Cards
– 25 Egg Tokens
– Instruction Sheet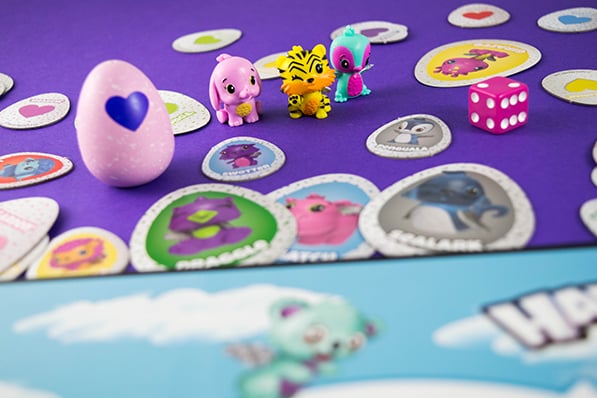 The first thing you'll notice (besides how cute the box is) is that the mystery egg is PINK! Pretty EGGciting. Rub that little heart, hatch it, and inside you'll find a very cute surprise. For now though, let's focus on the game itself.
The EGGventure Game is all about collecting and making matches. Instead of trying to collect as many as possible like you do with the figures, you'll want to collect the egg tokens that match the cards in your hands.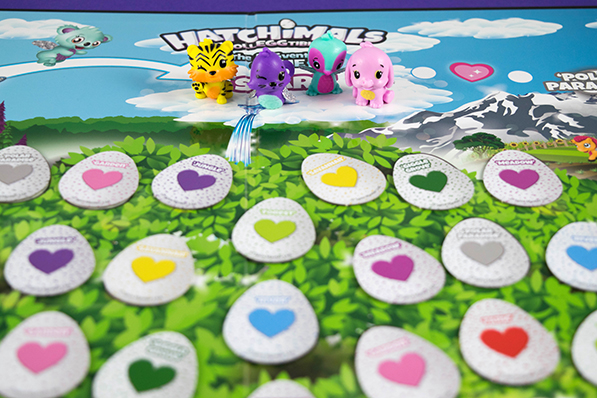 The game is quick to set up and easy to play. Place your 4 favorite CollEGGtibles figures at the top of the board near the cloud. Then, shuffle up all the small egg tokens. Lay them on the Giggling Tree animal side down until it's is completely full. That's it, you're ready to go! Shuffle up the egg cards and deal 5 to each player. You can stack the remaining cards for later.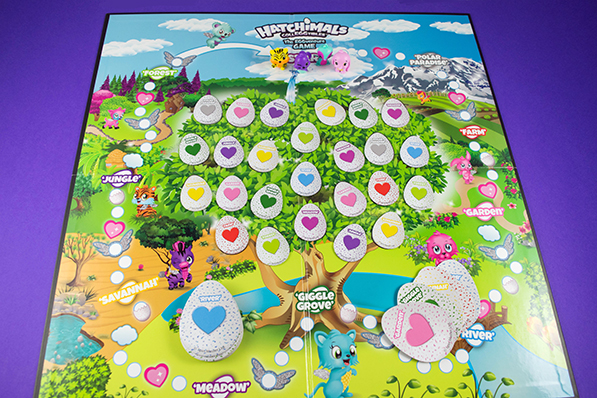 You'll make your way around the colorful game board by rolling the dice. As you move, your goal will be to "Match and Hatch". This means you'll try to match the egg tokens from the Giggling Tree to the cards you have in your hand. Each time you make a match, you hatch a Hatchimal! EGGcellent!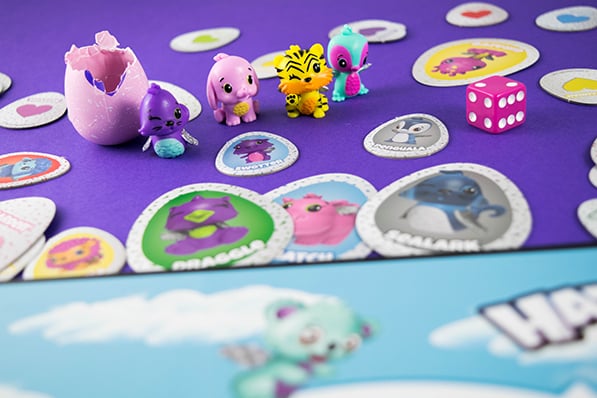 Along the way you'll find lots of special spaces. Some let you choose any token you want from the board, others will send you back to the start. Whoever hatches all their Hatchimals first is the winner! Ready to play again? Add all the tokens back on the tree, discard all the egg cards you were playing with, and deal 5 fresh cards to each player.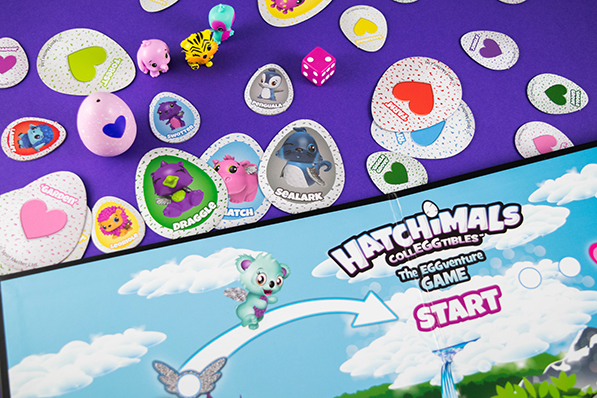 While the game is easy to learn, it's not always so easy to win. That's why we think this game is great to play as family or when you're just hanging out with your younger siblings. No matter what your age, if the luck of the dice isn't in your favor, you won't be able to win. We loved the thrill of racing each other to hatch all our matches before the other players.
Looking for even more fun? Spin Master also just released Hatchimals CollEGGtibles Mystery Puzzles! The puzzles come with a pink mystery egg that has an exclusive Hatchimal hidden inside. That's not the only surprise, though. There are multiple versions of the puzzles, so you won't know which puzzle you'll hatch until you open it!
Can't get enough collectible fun? Take our quiz to find out which Lil' Butter is your BFF!