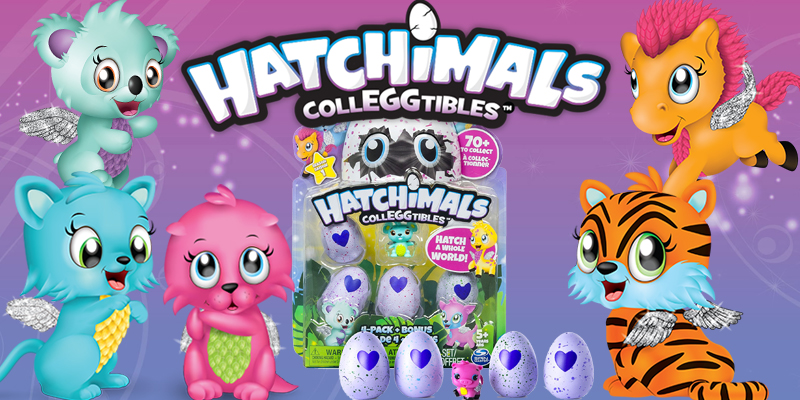 Hatch a Whole World: Hatchimals CollEGGtibles Have Arrived
Hatchimals CollEGGtibles are almost here! Even though they don't officially release until May 1st, some stores have put them out early and they're already selling out. Thankfully, we were able to snag a few packs early to unbox for you guys. (Thanks to our friend @tinyshopkinscollector on Instagram for helping us out!)
We definitely recommend hitting up your local toy store as early as you can – these are definitely going to go fast. If you're lucky enough to get some of these awesome CollEGGtibles for yourself, here's what you can expect from Season 1!
Hatchimals CollEGGtibles Season 1: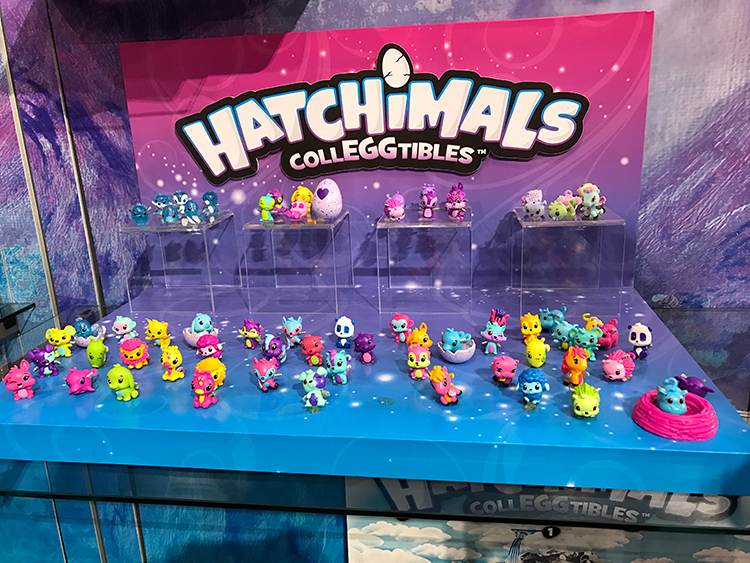 We first saw Hatchimals CollEGGtibles at New York Toy Fair back in February. We got to tour the huge Spin Master booth and we even got to hatch and keep one of our own.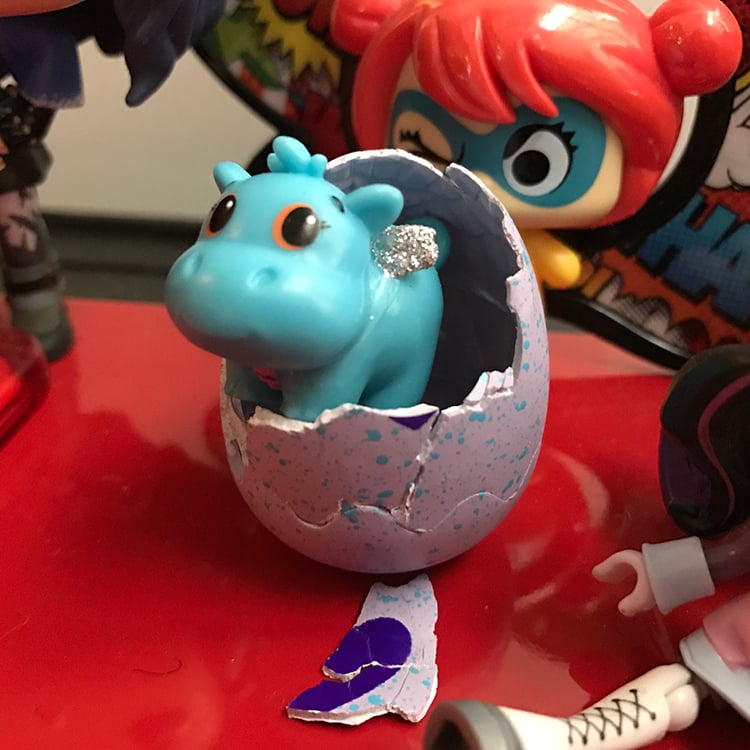 That's right, this little guy has been sitting on our desk since February, patiently waiting for some new friends. We saw a sneak peek of a few things that aren't available yet, including some playsets and Hatchimals Glitter, which comes out in July!
Back to the CollEGGtibles – they combine the fun of hatching your very own creature and the surprise of collecting blind bag toys into one super eggciting experience.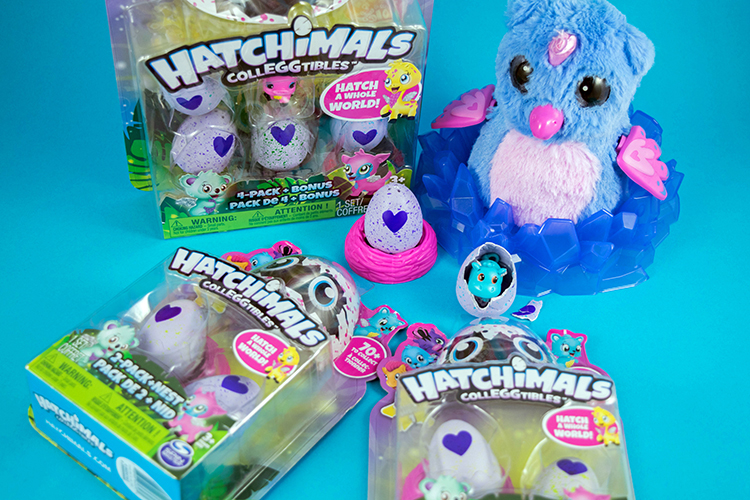 Ready to get your hatch on? Hold the egg in your hand, rub the heart until it changes color, then crack it open! Inside you'll find one of over 70 adorable Hatchimals creatures. Each creature varies in rarity, ranging from common to rare to ultra rare, to limited edition.
Each mystical creature has a special home in Hatchtopia, ranging from Giggle Grove to Lilac Lake to the extra magical Cloud Cove. (That's where the limited edition creatures live!)

Hatchimals CollEGGtibles 4-Pack + Bonus – $9.99
This is the largest pack you can buy at the moment. It comes with 4 speckled eggs and a bonus animal, as well as a Collectors Map and Checklist so you can keep track of your growing collection. One thing we really love about these – it's not just a box to open – cracking open the egg is a whole new interactive experience and it's fun EVERY. SINGLE. TIME.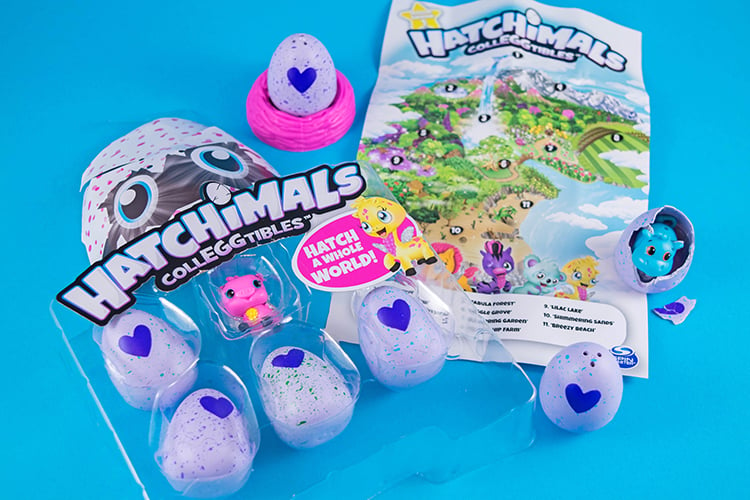 Collectors Tip: The bonus animal in the 4-pack doesn't come in an egg, so this is a good way to look for ones you're missing without working too hard!

Hatchimals CollEGGtibles 2-Pack + Nest – $4.99
This pack comes with two surprise eggs for you to hatch, as well as nest so your new friends have a place to live. We love resting our eggs in the nest before we hatch them, it just looks so cute! Each creature also has has adorably glittery wings and feature super cute poses.
Collectors Tip: The speckles on the eggs match the area on the map that the creature is from! If you're looking to fill in your collection, try to find packs with the colored speckles you need so you have a better chance of getting the ones you're missing.

Hatchimals CollEGGtibles 1-Pack Blind Bag – $2.99
We weren't able to find any of these ones out in the wild just yet, so a picture will have to do. The single blind bag packs come with one egg to hatch – but you won't be able to see what color speckles it has until you open up the pack. These are perfect for collectors who love the ultimate level of surprise. At just $2.99, they make great gifts, too!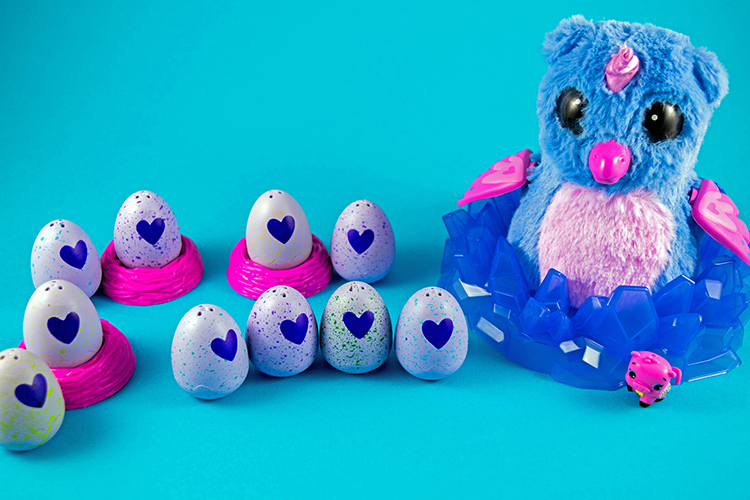 Collectors Tip: Getting doubles isn't a bad thing. It just means you have an excuse to trade with your friends. Who knows – you might even be able to trade for a super limited Cloud Cove creature!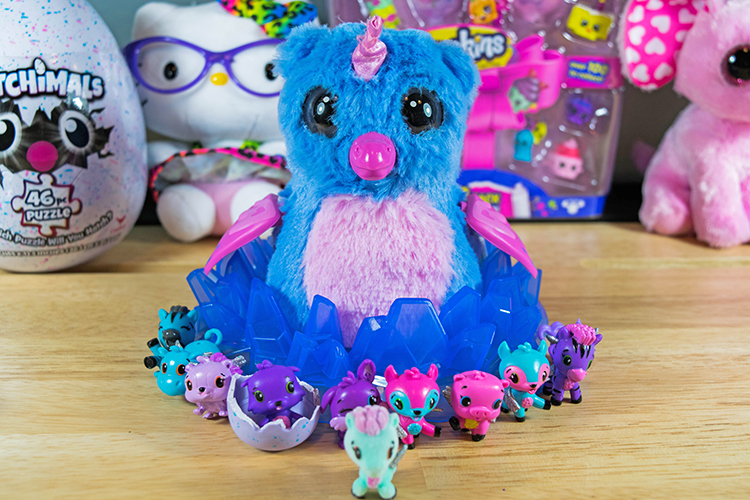 Now that you know all about these eggcellent toys, we're guessing you want to know where to get them? You can find them at Target, Walmart, Toys R' Us, and other retailers.
Want to know more about Hatchimals? Check out our review of the Hatchimals Owlicorn!