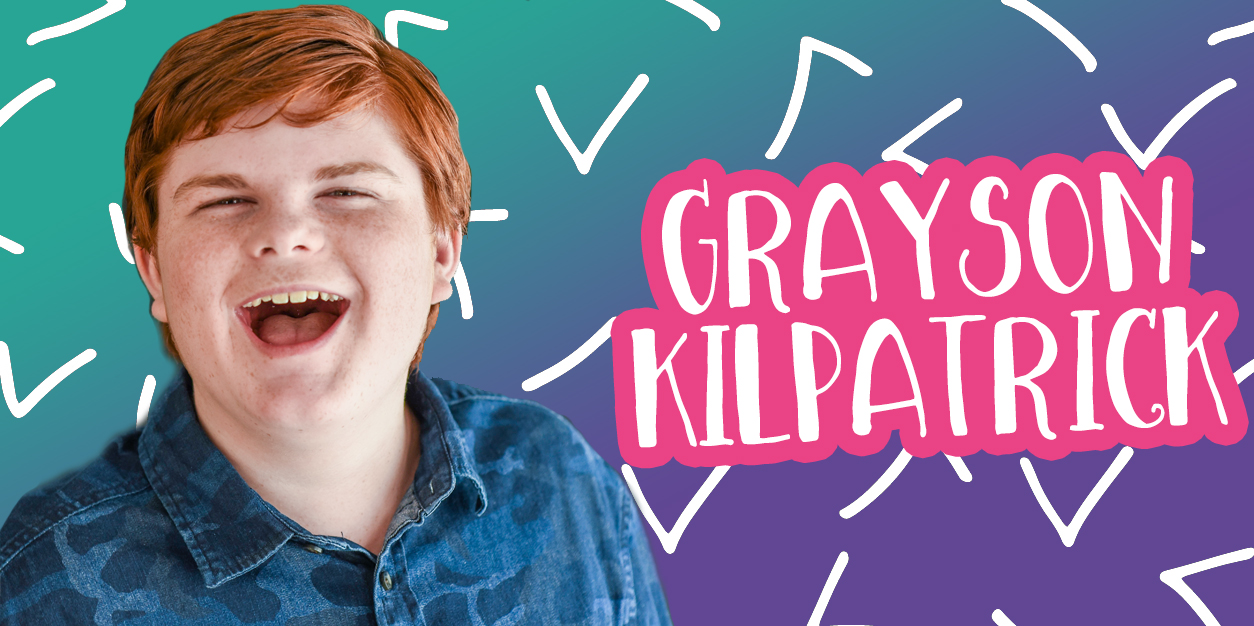 Grayson Kilpatrick Chats Chicken Girls: The Movie and his Collection of Rubik's Cubes
Today we're chatting with Grayson Kilpatrick, an up and coming actor who you likely recognize as Sheldon from Chicken Girls: The Movie on Brat! Grayson has a passion for acting and comedy which has landed him roles on many TV shows and movies, with lots more in the works. He has already worked alongside big names like Will Ferrell, Mark Wahlberg, and Bill Hader!
Starring in Chicken Girls: The Movie has put Grayson in the spotlight and connected him with lots of new fans who he loves to keep in touch with on social media. He is incredibly kind and welcoming to his fans, giving them lots of shoutouts, love, and comments on his Instagram. If you want to keep in touch with Grayson, be sure to give him a follow!
We were so excited to chat with Grayson about what it was like to film Chicken Girls: The Movie, his impressively large collection of Rubik's Cubes, and more! Get to know him below.
Get to Know Grayson Kilpatrick:
How did you first discover your love of acting and how did you get your start?
GRAYSON KILPATRICK: I was invited by Grayson Russell to the set of a movie that was being filmed in Huntsville, Alabama. He was in Huntsville for a book signing and local premiere for Diary of a Wimpy Kid: Dog Days. He was also co-starring in the movie Space Warriors that was being filmed at the U.S. Space and Rocket Center just down the road from the movie premiere. We talked for a few minutes, and he invited me to come to set as an extra. I went the next week when they needed extras in a few scenes, and I loved it!

You recently appeared as Sheldon in Chicken Girls: The Movie. What was it like working with the Chicken Girls cast?

GRAYSON: It was great to meet the cast that was from the web series! I didn't know much about the show other than that it was huge on YouTube. I didn't get nervous because they were very welcoming and respectful of my acting career.

Do you have a favorite moment from filming that you'd like to share?

GRAYSON: There was a deleted scene where Sheldon was walking away from the shower that was supposed to be at his house. I was walking through the bathroom, and I noticed this white stuff dripping from my head! I said "Hey! What is this milky substance coming out of my hair?!" It turns out that the hair person on set had put pomade (a hair styling product) in my hair that morning and when it got watered down for the "shower scene," it turned milky white and ran down my face.

What is something you've learned from your acting career so far?

GRAYSON: Sometimes when I'm acting in a scene, a memory will come to mind. Like if something dramatic has happened in my life, it will help me to act out the dramatic scene. It's like when a painter just starts painting with no real idea in mind until he gets started and then the picture starts forming.

If you could be cast in a film where you got to hand-pick your co-stars, (who) would you choose?

GRAYSON: I would really have loved to have worked with Chris Farley. Farley's Saturday Night Live skit about his character, Matt Foley "living in a van, down by the river" was the inspiration for me to write my own John Foley: Motivationally Speaking short that I put on YouTube last year.

I got the chance to work with Melanie Paxson (Fairy Godmother in Disney's Descendants) who played Principal Anthony in Chicken Girls: The Movie. It was really great to work with her! She's AWESOME!

Also, I would have loved to work with Robin Williams (May he rest in peace!). There are some that I still hope to work with someday like Robert Downey Jr. and maybe the Chicken Girls cast again.

When you're not busy acting, what are some things you do for fun?

GRAYSON: Playing games on Xbox and the computer. I also have nearly forty Rubik's Cubes. Some are different shapes than cubes but, yeah, I spend a lot of time collecting those and solving them too. Oh, and watching YouTube videos on my phone.

What is a dream or goal you have for the future?

GRAYSON: I want to continue acting definitely. I'm being asked to write more short films, but it's harder to do than most people think.

What is something your fans would be surprised to learn about you?

GRAYSON: I have thought that if I ever get tired of acting, I can always go to college and become an engineer. I love the idea of designing sports cars that are world famous!

Do you have any advice you'd like to share with our readers?

GRAYSON: Just be yourself! There are people that will bully you because of jealousy, or they just don't like the way you look. If you find something that you love and you want to try and make a career out of it, go for it! I wanted to be an actor, so I found acting classes and I asked other actors for advice.
Now that you know Grayson, get to know more of the Brat fam! Peep our interviews with Piper Rockelle, Txunamy, and Sofie Dossi!