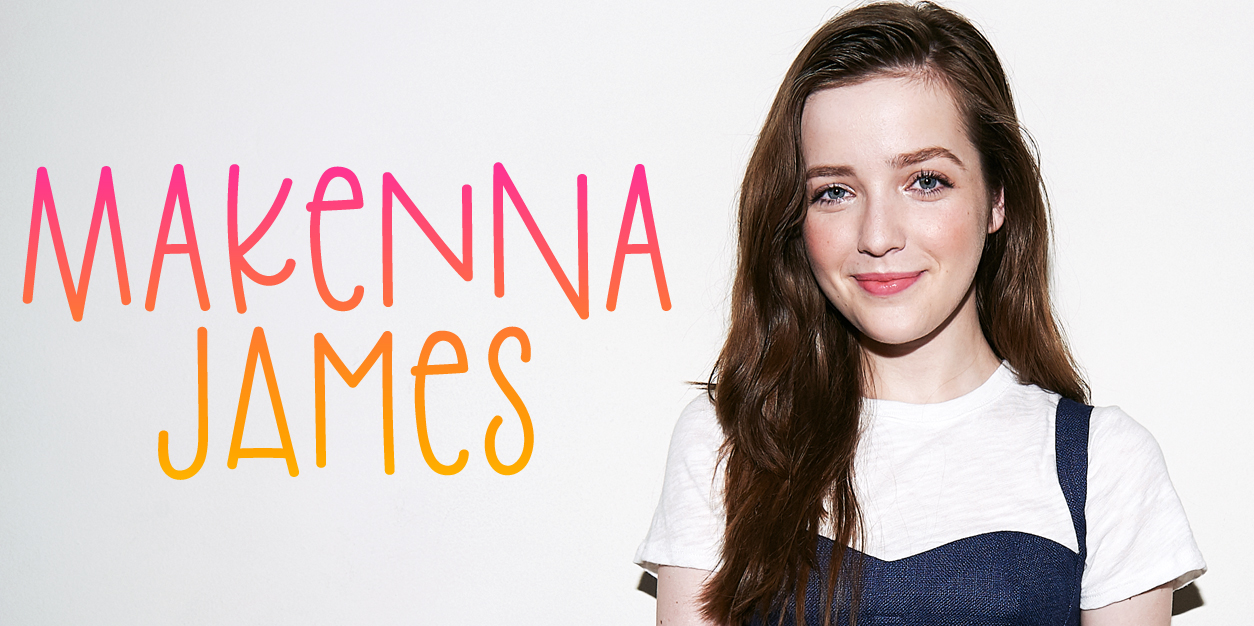 Makenna James Shares her Passion the Environment and the Types of Characters She Connects With Most
Makenna James is an actress with an activists heart. She's had roles on shows like The Goldbergs and Teen Wolf, and can currently be seen starring alongside the amazing Alicia Silverstone in the Paramount Series, American Woman. Makenna loves reading and is passionate about environmental advocacy and Flaming Hot Cheetos, which she is planning on eating a ton of while attending Harvard this Fall.
We were so excited to chat with Makenna about her latest acting role, heading to Harvard, and more! Get to know her in our interview below.
Get to Know Makenna James:
How did you first discover your love for acting?

MAKENNA JAMES: During a winter choir showcase in middle school. Can I sing? No. Not at all. But, after singing a terrible solo rendition of Rudolf the Red Nosed Reindeer, I knew entertainment was for me.

You play Alicia Silverstone's daughter Becca in the new Paramount Series, American Woman. What can you tell us about your character and the show?

MAKENNA: Becca is a rebellious wild child. She is strong-minded, political, and has a fractured relationship with her mother, Bonnie. The show itself is riddled with feminism and empowerment, coupled with the dynamic setting of the '70s.

What has it been like working alongside the amazing leading ladies – Alicia Silverstone, Mena Suvari, and Jennifer Bartels?

MAKENNA: Such an honor. Alicia is a warm and maternal figure and it was an absolute pleasure getting to see her every day. I wish I had more screen time with Mena and Jen. Luckily, I got to spy on them working in-between my scenes. They are incredible. I swear, Jen made me laugh everyday.

You've taken on a wide variety of roles in your career so far, what is your favorite type of character to play?

MAKENNA: I wouldn't say that there is a specific type that I love. In fact, I'm often surprised by the characters that I end up connecting with. The only real prerequisite I have is that they differ from myself in some way. It is incredibly hard to play someone that has a similar personality. But, of course, everyone loves playing evil.
You were recently accepted to Harvard University (CONGRATS!!). What will you be studying and how are you hoping your college experience will help shape your future?

MAKENNA: Thank you so much! For now, I am officially undeclared, but am interested in criminal justice and environmental science. Per college as a whole, I'm hoping that I glean as much personally as I do academically. I am not going to college for the novelty–it is way too expensive to justify that. I want to pursue other careers in conjunction with acting.

What is something you are passionate about?

MAKENNA: Environmental advocacy. I firmly believe in ensuring the planet's viability for generations to come–for all species.

We hear you're an avid reader. What types of books do you like to read and what are some of your favorites?

MAKENNA: I love almost everything, but have an affinity for fiction. Some of my favorite works are Caravans by James Michener, Grapes of Wrath by John Steinbeck, and Harrison Bergeron by Kurt Vonnegut, which is a short story.

Who have you been inspired by recently?

MAKENNA: Timothée Chalamet's alter ego, "Lil Timmy Tim." Epic raps, self-depreciation, and zero regard for what other people think.
What advice would you like to share with our readers?

MAKENNA: Words of wisdom: follow your passion, always stand up for yourself, and do not drink coffee and eat Hot Cheetos at the same time!
Now that you know Makenna James, we think you'll love our interview with contortonist and actress Sofie Dossi!