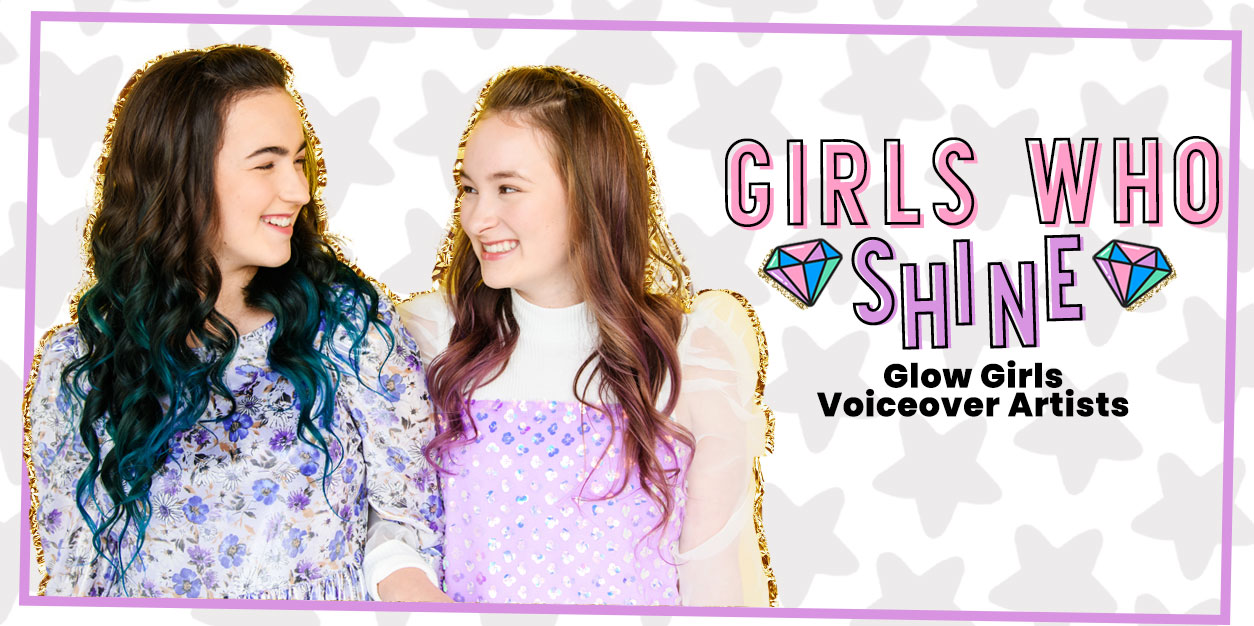 GIRLS WHO SHINE: Cassie and Sabrina of Glow Girls, Sisters & Voiceover Artists
GIRLS WHO SHINE is a new series on YAYOMG! where we're spotlighting passionate young entrepreneurs, activists, innovators, and other girls who shine bright in a big way!
Today our GIRLS WHO SHINE series continues with two hardworking sisters making their mark in the world of voiceover, Cassie and Sabrina Glow, also known as the Glow Girls!
When we first chatted with the Glow Girls back in 2019, we were completely wowed by their passion and enthusiasm for their craft. With over 7 years of experience and a recording studio in their house (complete with twinkly lights), Cassie and Sabrina are basically unstoppable. They've lent their voices to countless animated series, commercials, toys, and podcasts, and they're still as excited as ever each time they step into the booth to record a new project!
All the hard work this dedicated duo has put in over the years has paid off in a big way, too! Not only do they feel rewarded every time they hear their voices in a real toy or while watching tv, but they're also award winners whose talent has been recognized throughout the industry!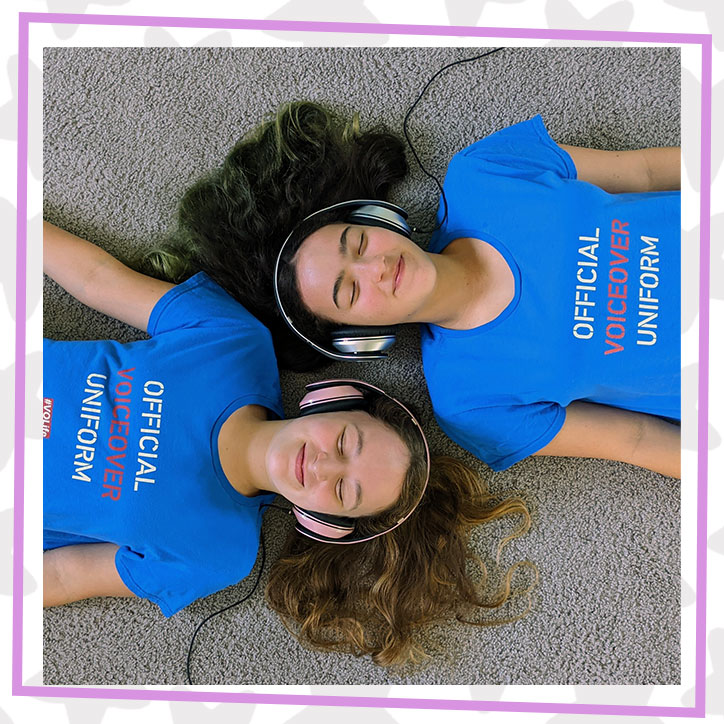 When they're not rocking studio hair in the recording booth, Cassie and Sabrina love doing karate, riding roller coasters, and playing board games with their family. They're also all about giving back, donating the proceeds from some of their VO bookings (as well as their voices) to a local food bank in their community to help those who've been affected by the pandemic.
Get to know the Glow Girls as they share their story, dish on what it's like to be a voice artist, and divulge their proudest VO moments!
Glow Girls – Get to Know Cassie and Sabrina Glow: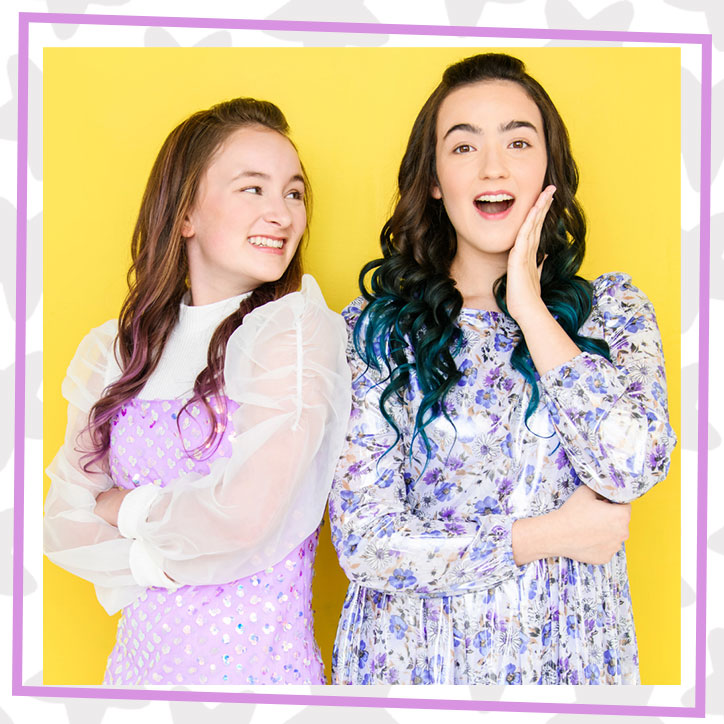 Tell us a little bit about YOU!:

GLOW GIRLS: We are an award-winning sister team of Voiceover & Singing Artists based in Orlando, Florida. We are avid Disney fans, love cooking new recipes, and have an extensive t-shirt collection.

When we aren't recording voiceover in our home recording studio, we can be found sketching, studying animation styles, practicing karate, or playing a spirited game of Exploding Kittens, Villainous, MadLibs, or Clue during family game night!
You've been voice artists for nearly 7 years! What do you love most about what you do? What types of voice roles are you each best at?

GLOW GIRLS: Voiceover is FUN! It never feels like work, even though we've worked really hard and have put in tons of time training, recording, and practicing over the years. We've been lucky to work with so many incredible, friendly, and creative people too.

One of the best feelings about doing voiceover is when you get to hear your voice in the finished product. Sometimes the finished voiceover work we do is published quickly within weeks, but other times the development process for animated shows or toys can be years. Either way, it never gets old hearing yourself on TV, in a video, on Spotify, or in a toy!

Animation Voiceover is definitely one of our strengths. If you need a super fast-talking adorable animal – Cassie is your go-to! If you need a sassy villain type – give Sabrina a call! It is so much fun to bring a character to life, especially when you get to be part of the creative process and put your own flair into the delivery.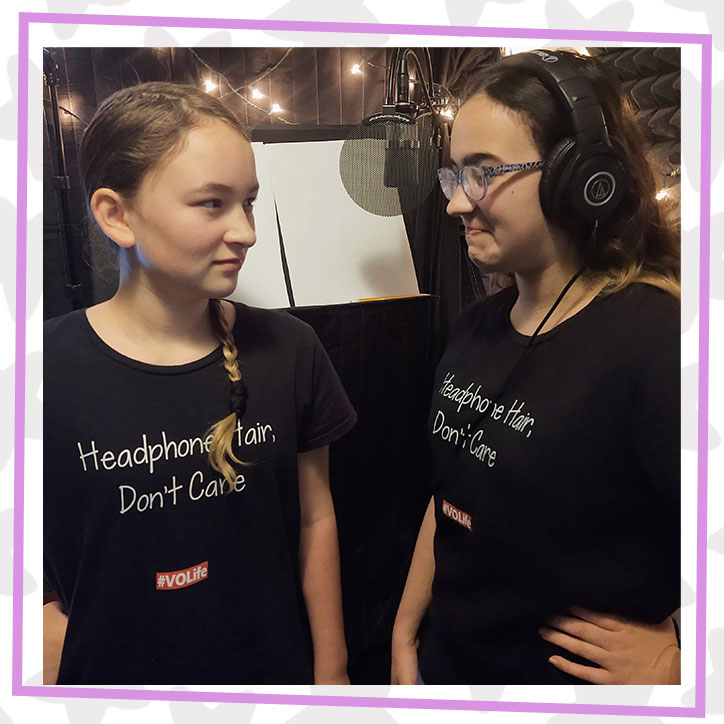 Take us into the booth! Do you have any pre-recording rituals to get you ready to record?

GLOW GIRLS: Ahhhh, the booth is our "Happy Place" – we spend a lot of time there, so we like to make it comfortable! Our Home Recording Studio is a dedicated soundproofed room in our home with plenty of space (which is especially great when doing animation, singing, or working together on a project). In addition to the typical sound panels, acoustic foam, and padded flooring, we also have it decorated with fuzzy carpeting and sparkly lights for fun!

As for pre-recording rituals, we constantly drink water (usually 3 to 4 huge thermoses a day), always review, mark-up, and practice our scripts, and do vocal warm-ups – thanks to our vocal coach, Melanie Galiardo – before big recording sessions. And because you never want to wear noisy clothing in the booth that could create unwanted sound on the mic, we usually pick a favorite t-shirt to wear when recording.

We've collected quite an assortment of t-shirts over the years which have funny sayings and references to our favorite things on them like Disney, Brooklyn 99, Hamilton, Nutella, Ketchup, Avocados, and of course Voiceover! One of our favorite T's reads "Headphone Hair, Don't Care" – thanks to industry friend Donovon Corneetz of VOLife Clothing. And speaking of hair, our hair is always tied back, braided, or piled up in a high bun out of the way so it doesn't get permanently entangled in our headphones – we call it "studio hair"!
You've both lent your voices to countless projects over the years Is there a career moment or project that you are most proud of?

GLOW GIRLS: That is really hard to narrow down! We are both incredibly proud of becoming SOVAS Award Winners. (See us below in our red carpet gowns!)

CASSIE: One of my most memorable voiceover bookings will always be as "Kid Cass" for Disney Channel's Rapunzel's Tangled Adventure. The series is one of my all-time favorites, and my character was a younger version of my favorite character on the show, voiced by the incredible Eden Espinosa, who just so happened to share my name, Cassandra! As a life-long Disney fan, it is so rewarding to contribute to a part of Disney animation history.

SABRINA: I'm very proud to be the long-running voice (it's been over 5 years) of "Mila" in the popular preschool animated series My Magic Pet Morphle. When I started with the series, they had about 300 thousand subscribers on YouTube which has since grown to almost 10 million subscribers with billions of views! Now the show is available on Netflix, Amazon Prime, Apple TV, and Spotify too – I love knowing that so many kids across the world are happy hearing my voice.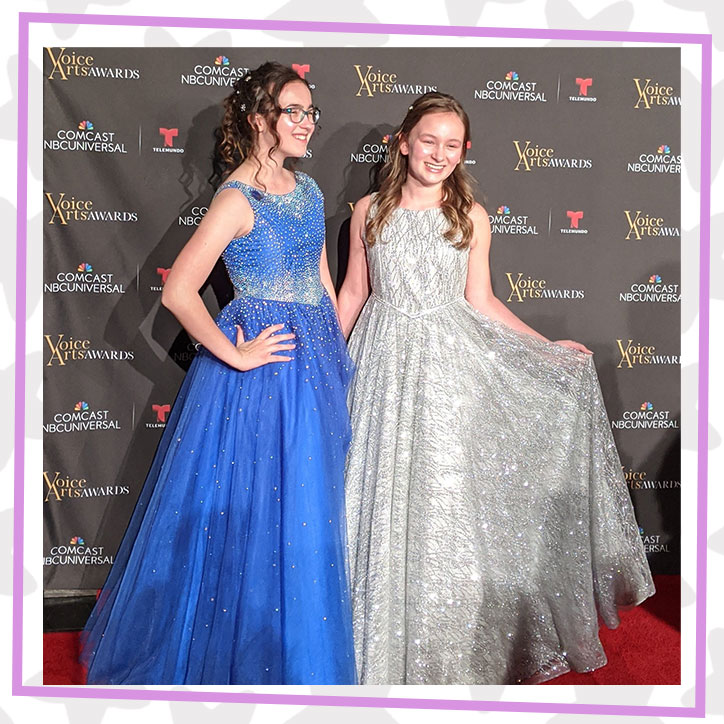 You're two of the youngest Voice Arts (SOVAS) award winners! How does it feel to be recognized for your voice talents at such a young age?

GLOW GIRLS: We don't think the full weight of achieving this career milestone has fully sunk in! Joan Baker and Rudy Gaskins of the Society of Voice Arts and Sciences have built an incredible platform to celebrate and recognize achievement in the voiceover industry.

It is an amazing feeling to be recognized for our work and celebrated as part of the VO community, especially alongside powerhouses and legends in the field! It validates all of the dedication and hard work devoted to voiceover over the years, and really encourages us to keep moving forward.
What do you love most about working with your sister?

GLOW GIRLS: Working together is always a blast, especially when we get to voice characters who play off of one another, or harmonize together for a song. We work really well together – it encourages a lot of creativity and an open exchange of ideas – and sometimes… maybe even a little friendly competition!

It's great to have someone who totally understands the ups and downs of the business – to share experiences, celebrate wins, and be supportive when things don't go as you hoped.
This is how we shine bright…

GLOW GIRLS: We use our voices (literally) to give back!

Growing up in Florida, we were so fortunate to have countless visits to the theme parks – the Magic Kingdom will always be such a special place where our family created memories and celebrated special occasions. No matter where we live someday, Orlando will always be home to the place that really sparked our imaginations and solidified our love for voiceover and animation!

Knowing that the local community was impacted so hard economically by the pandemic, we wanted to find a way to give back. We decided to donate our 1st Voiceover booking every month to the Second Harvest Food Bank of Central Florida, a charitable organization that offers hope and fights hunger in our local community. We have pledged a minimum of 12,000 meals for 2021. We have also offered our voiceover services to their marketing department and plan to volunteer in person as well (once a COVID vaccine is available).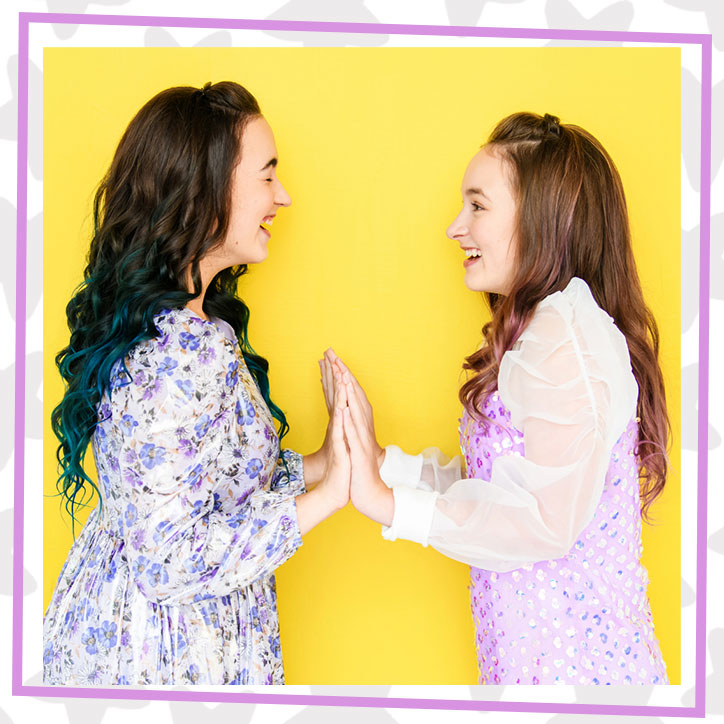 My biggest dream is…

GLOW GIRLS: Our biggest dream is to launch our own musical animated series (we are currently writing our story, sketching, storyboarding, composing music…)

We would love to work for a top Animation Studio somewhere in the world like LA, Ireland, or Canada, and who knows, maybe start our own animation development studio – Glow Girls Studios has a nice ring to it! And while doing that, we still want to be in the booth doing voiceover!
The women who inspire me are…

GLOW GIRLS: We can't help but be inspired by this most recent historic Inauguration Day. Vice President Harris, breaking barriers to become the highest elected Woman in history, FLOTUS Dr. Jill Biden, an expert in her field, and celebrated Poet Laureate Amanda Gorman using her incredible talents to spread a message of Unity. Talk about Girls Who Shine – such remarkable role models!

Specific to the Voiceover industry, we are inspired by Russi Taylor, who was the long-time voice of Minnie Mouse into her 70s – one of THE most iconic characters of all time! Not only did Russi's talent inspire us, but she was such a shining example of leading a life by following your passion and doing what you love. We are also massively inspired by Tara Strong, who has one of the most prolific voiceover careers in the business. Besides her enormous talent, Tara is also incredibly gracious and charitable with her fans and community. Recently, we had the opportunity to participate in an animation workshop with Tara. Getting to perform reads for her and receive positive feedback was amazing. We have to admit – we were starstruck!

In the Animation and Art world, we have always been inspired by Mary Blair, an American artist who produced art and animation for The Walt Disney Company for Alice in Wonderland, Cinderella, Peter Pan and It's A Small World. One of our favorite books is Ink & Paint – The Women of Walt Disney's Animation that shares stories of pioneering women in the entertainment industry.
The advice I want to share with other girls…

CASSIE: You are going to hear "no" so many times as you pursue your dreams. But if you keep working hard, somehow, somewhere, sometime, you are going to get that "yes"!

SABRINA: You are never too young to start doing amazing things and working towards your goals!
Inspired by the Glow Girls? We think you'll love getting to know these other girls bringing the girl power, paving their own paths, and shining bright – click here!