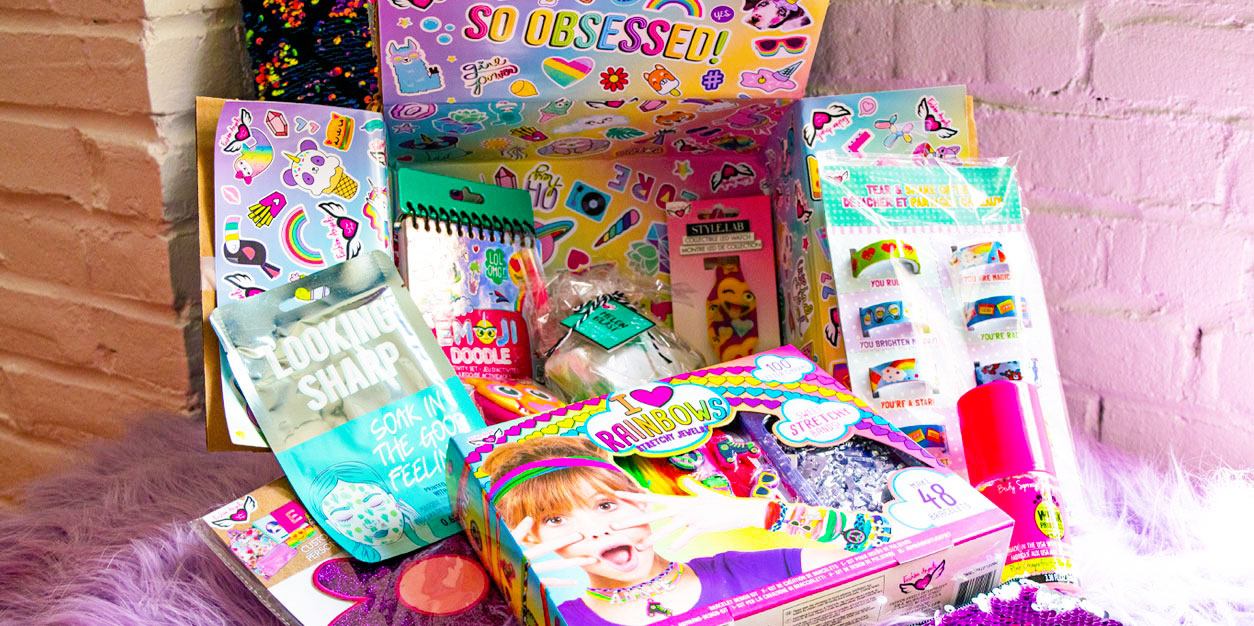 Find Your Wings Subscription Box Sneak Peek + GIVEAWAY!
NOTE: We teamed up with Fashion Angels for this unboxing and giveaway. They provided us with samples of the Find Your Wings Subscription Box and will provide the prize for the giveaway. All opinions are our own; we were under no obligation to give a positive review.
We're so excited to share that our friends at Fashion Angels have created an amazing new subscription box! We know that a TON of our readers are totally obsessed with all of their amazing accessories, beauty products, and craft kits, so we have a feeling you're going to LOVE this brand new box!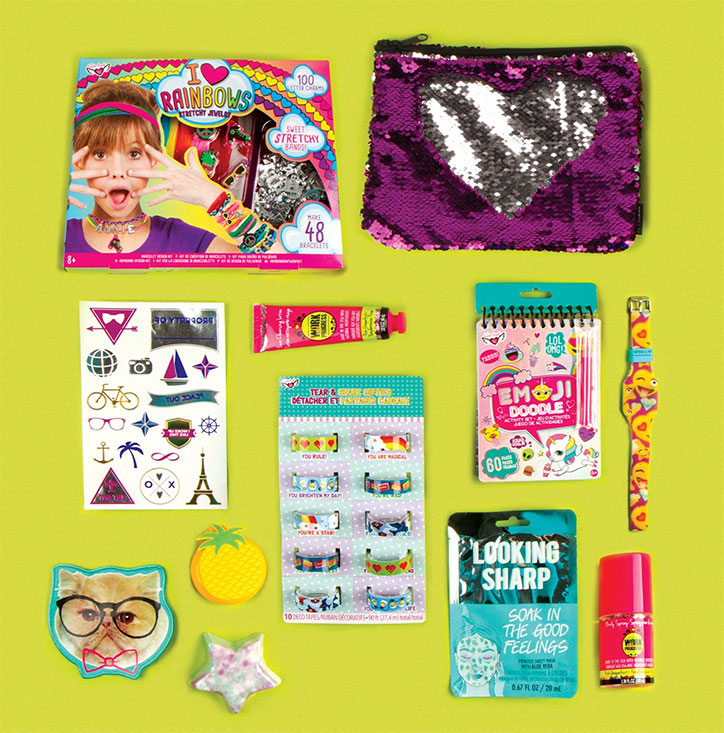 Being the leader of all things tween, sparkly, and fun, it's no surprise that Fashion Angels decided to get into the subscription box game. We were honored when they asked us to show off a sneak peek of the new box!
We're also collaborating to help YOU find your wings with a giveaway – one lucky winner will receive one of these amazing boxes!
Fashion Angels – Find Your Wings Unboxing:
The first thing we noticed as we started unboxing is that the items don't come packaged inside a "pretty" box, like the JoJo Siwa Box or OwlCrate Jr. Instead, the Fashion Angels squad decided to use a regular box with an adorable all-over print insert. They explain that by not using "pretty" packaging, they were able to save money – money that was used to include TWO additional items in the box! Pretty amazing, right?
There were TWELVE full-sized items in this first box, more than we've ever seen in any other subscription. The Find Your Wings box also offers a huge variety of products – a mix of bath and beauty items, crafty items, and accessories! Enough rambling, let's find out what we found inside.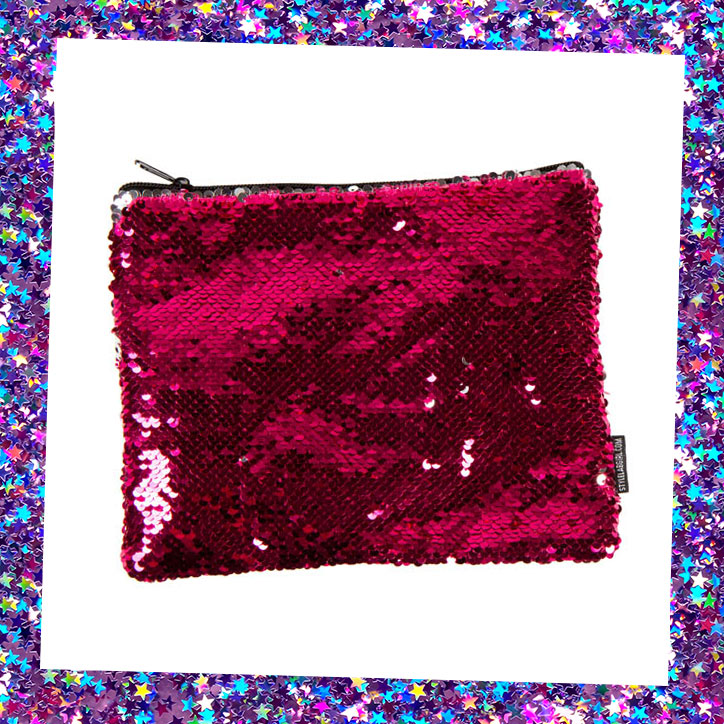 Magin Sequin Zip Pouch

Add a pop of magic to your latest #OOTD with this dazzling Magic Sequin zip pouch! Use it as a pencil case when you head back to school or stash all your sleepover essentials in it.

We've used our collection of Magic Sequin clutches to stash everything from markers and stickers, to backpack essentials, to cash and lipgloss for a night out. It's such a versatile accessory!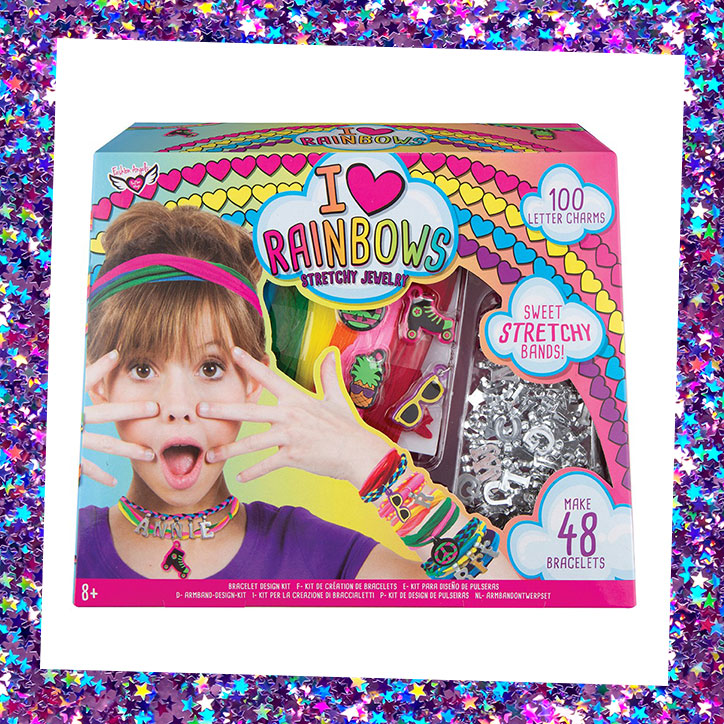 I Heart Rainbows Stretchy Jewelry Design Kit

Dreaming of becoming a jewelry designer? This awesome I Heart Rainbows jewelry design kit will have you creating lots of colorful stretchy bracelets, necklaces, and headbands!

We suggest making matching accessories for you and the squad to rock as you head back to school.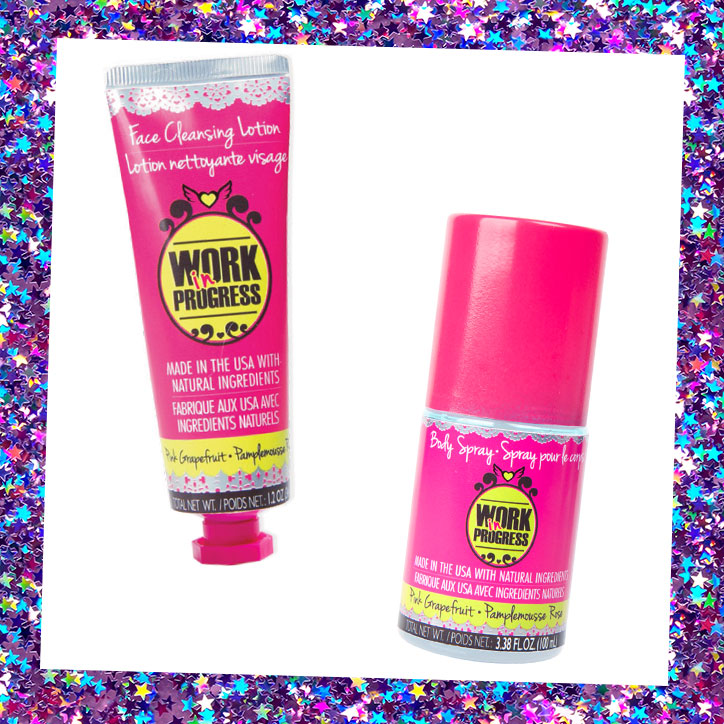 Work in Progress Face Cleansing Lotion and Body Spray

Stay fresh all Summer with these pink grapefruit scented beauty essentials. Wash away sweat, dirt, and Summer stickiness with the Work in Progress cleansing lotion. Then, try the refreshing body spray to smell great during a fun night out with friends.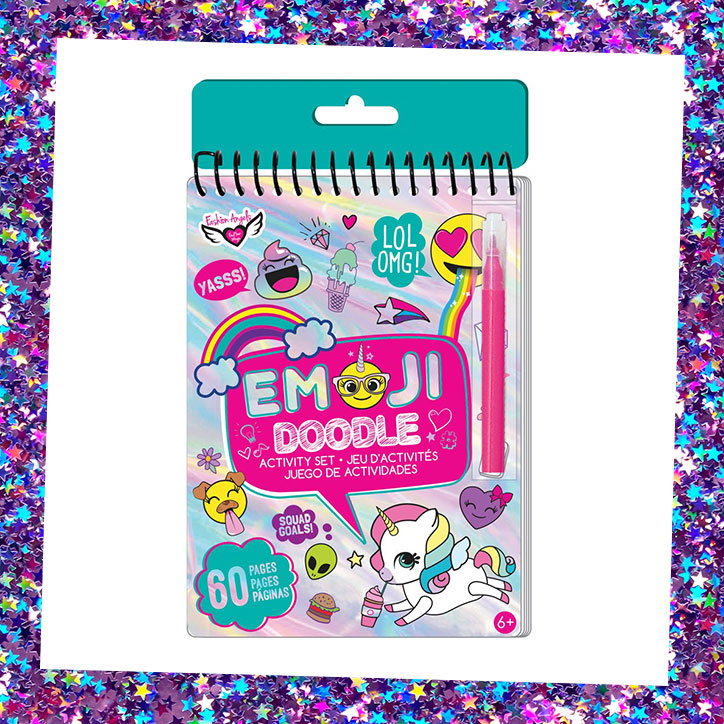 Emoji Doodle Activity Book

This awesome Emoji Doodle Activity Book will keep you company at the beach, on a rainy day, or even on a road trip.

It comes complete with a bright pink marker and the pages are filled with puzzles, activities, and coloring pages. This doodle book will keep the boredom at bay all Summer long!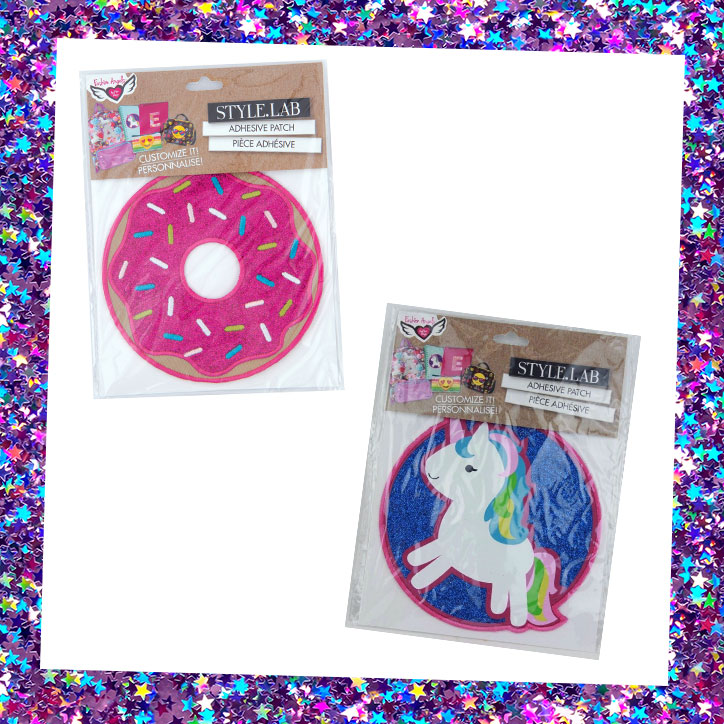 Mystery Graphic Patch

We got a flower patch in our Find Your Wings Box, but you never know which one you'll recieve! There are a ton of different varieties available, but yours will be a surprise.

Since these are adhesive patches, your possibilities are pretty much endless. Wear your patch on your backpack or your fav denim jacket OR stick 'em to your school supplies for added flair. We love how BIG these patches are too – they make such a bold statement!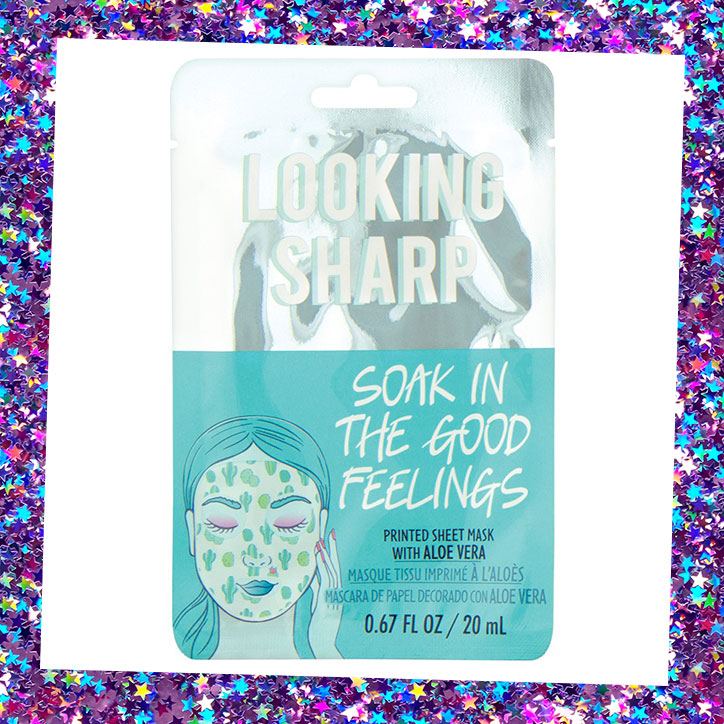 Looking Sharp Sheet Mask

Who doesn't love face masks? Even if you're not into makeup, face masks are a great way to keep your skin looking fresh and fabulous. Take a break and relax as you breathe in the soothing cucumber scent as the aloe vera refreshes and hydrates your skin.

Don't forget to snap a selfie, as this face mask is covered in a super cute cactus print!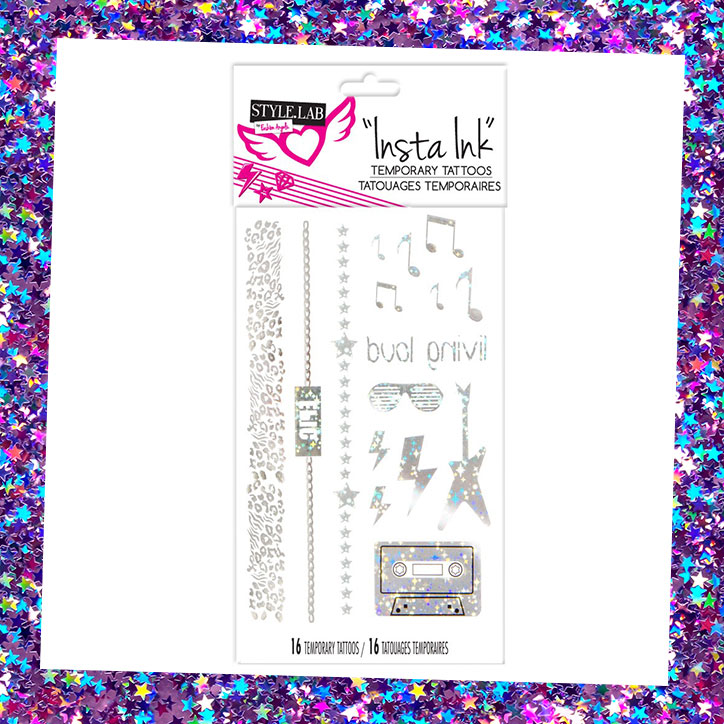 Holographic Insta Ink Temporary Tattoos

We're OBSESSED with the Fashion Angels line of Insta Ink tattoos. They come in a ton of different varieties and are shimmery, sparkly, and metallic.

We received this set of music themed tattoos, perfect for wearing to a concert or party with your besties. Which style will you find in your box?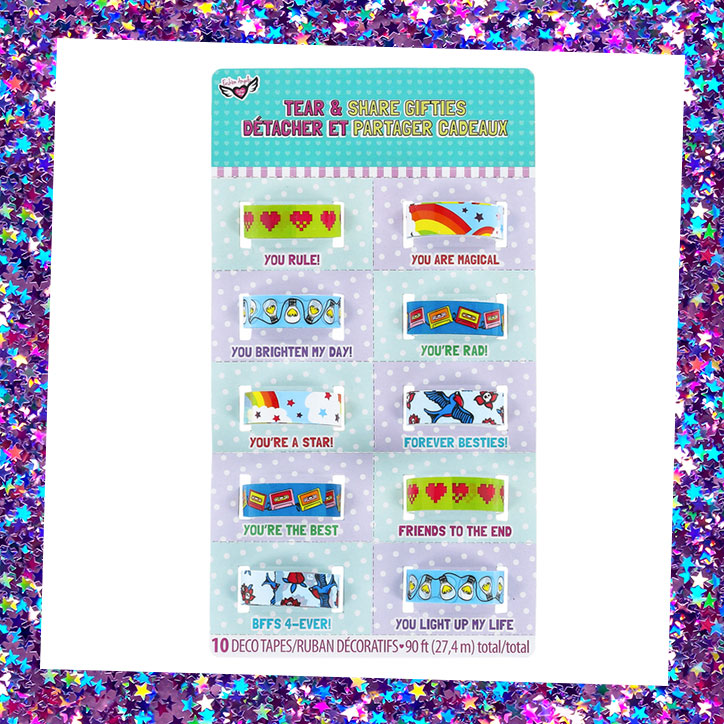 Tear & Share Tapeffiti

This set of Tapeffiti stickers make it easy for you to tear and share with your besties. With 10 different styles included, there's a match for everyone's unique personality.

Mix and match your Tapeffiti to decorate your locker, craft handmade cards, or decorate your bullet journal!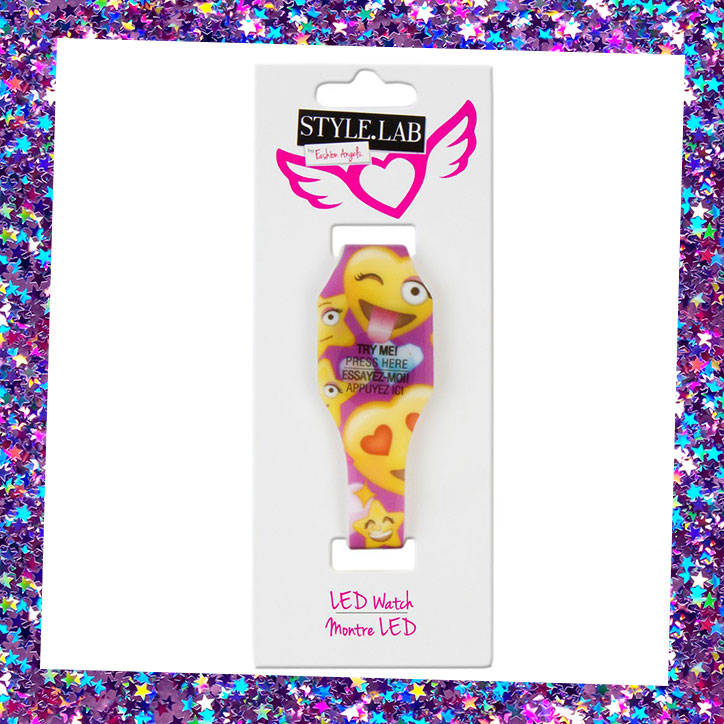 Emoji LED Watch

This super cute emoji watch is sure to put a smile on your face! It lights up and displays the time, but also doubles as a really cute wristband. It's perfect for checking the time during class or wearing to the beach or the pool when you might not have your phone on you.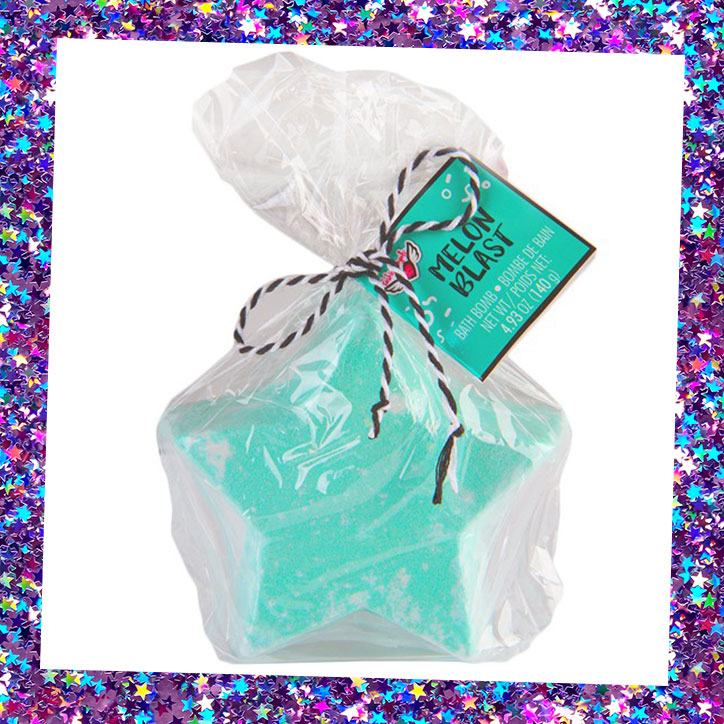 Fresh Vibes Bath Bomb

Plop this star shaped bath bomb into the tub and relax as it fizzes away, giving you a luxurious spa-worthy experience at home. Breathe in the lovely melon scent and let all your troubles drift away.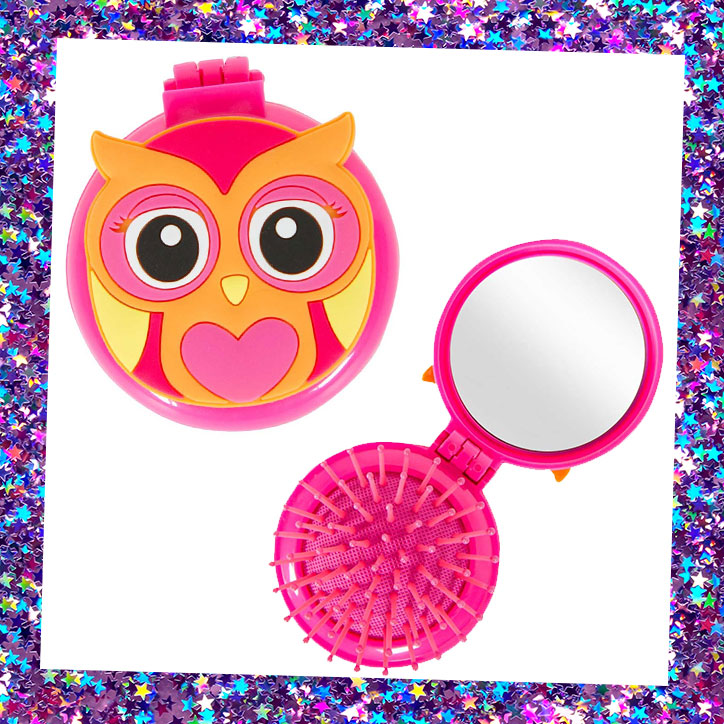 Owl Pop Up Brush & Mirror

Perfect for stashing in your mini-backpack or sleepover bag, you can't go wrong with this pop-up brush and mirror set. Open it up and pop out the brush to tackle your current hair situation and then use the mirror to make sure you're looking totally glam!
HOW DO I SUBSCRIBE?:
– Grab an adult and head to the Find Your Wings Subscription Box website!
– Use code LAUNCH10 for 10% off your first order.
– COST PER BOX: $30/month + S/H
(3-month, 6-month, and 12-month pre-pay plans are also available)
– WHAT DO YOU GET?: Each month you'll receive a themed fun-filled box featuring over $70 worth of craft activities, bath, beauty, and on-trend fashion accessories that will help you find your wings!
Place your order by July 31st in order to receive the first-ever box this August!
Find Your Wings Subscription Box Giveaway: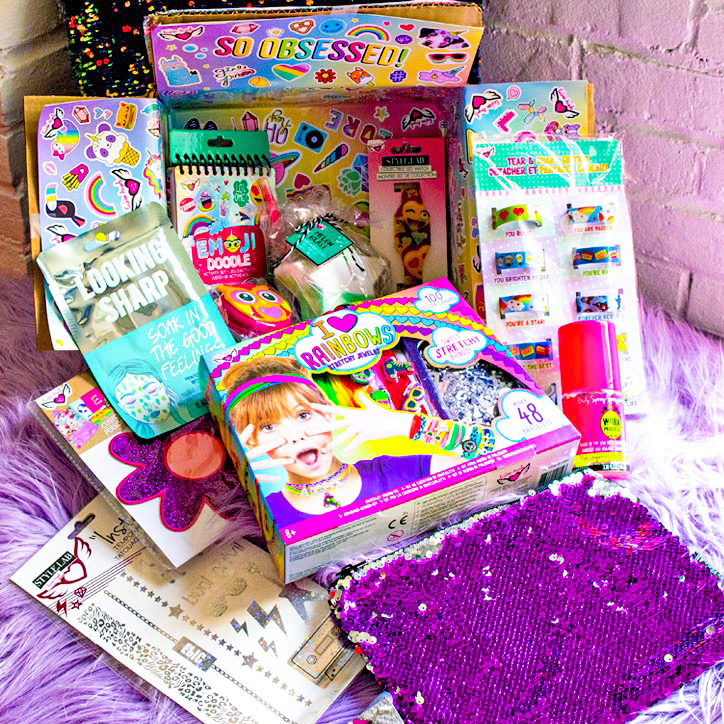 WHAT DO I WIN?:
ONE (1) lucky winner will receive a Find Your Wings Subscription Box, generously provided by Fashion Angels!
*Please note that we cannot guarantee which styles/patterns/colors you will receive inside your box – items are chosen at random.
HOW DO I ENTER?:
Grab a parent or guardian and have them fill out the form below by July 19, 2019 at 11:59pm ET.
Giveaway runs from 07/05/19 at 05:00 pm ET through 07/19/19 at 11:59 pm. Open to US residents ONLY. Be sure to read the fully detailed rules HERE before entering.
THIS GIVEAWAY HAS ENDED AND THE WINNER HAS BEEN CONTACTED.
You must be 18 or older to enter. Please, only ONE entry per person. If selected as a winner, we will provide your parent/guardian with an affidavit to confirm that you are a valid winner who has permission to win. They will be REQUIRED to sign and return the affidavit to YAYOMG! to claim your prize. Prizes will not be mailed out without signed parental consent.
Need more subscription boxes in your life? Here are a few of our favs!