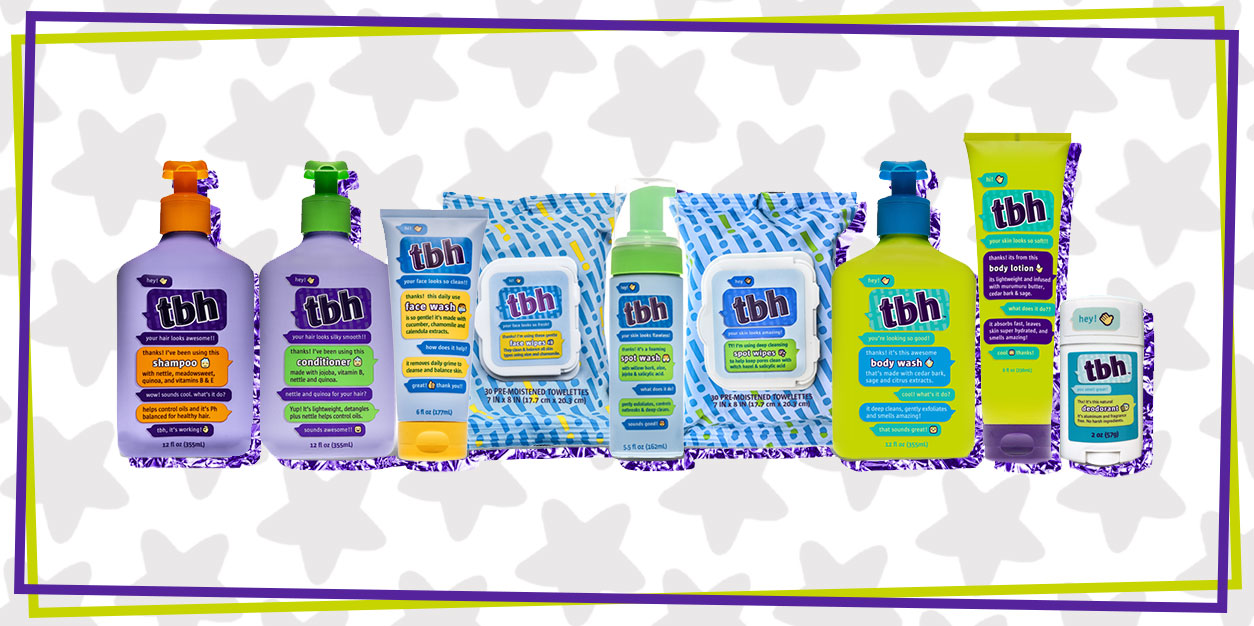 Say Goodbye to Your Boring Routine with TBH Kids + GIVEAWAY!
NOTE: We teamed up with TBH Kids for this giveaway. All opinions are our own; we were under no obligation to give a positive review. Giveaway prizes provided by TBH Kids.
On the hunt for the perfect bath and body products to add to your daily routine? If you're looking for something that suits both your unique vibe and your skincare needs, you NEED to know about TBH Kids.
While there are plenty of products on the market that are targeted at tweens, there aren't many who truly GET what you're going through. TBH Kids understands that puberty sucks and changing bodies are a bogus, yet completely natural part of growing up. According to the brand, "TBH products use good-for-you natural fruit and plant extracts to help put kids on the right path to a lifetime of healthy personal care. Our products are free from harsh chemicals, parabens, sulfates, and phthalates. They're soy, dairy, gluten, and nut free too!"
More importantly, they're inspiring confidence and teaching kids like you to care about the products they use on their bodies, as well as what they're made of. We're loving the TBH Kids brand and message, which is why we've teamed up with them to give YOU a chance to win a prize pack featuring a ton of their products!
What TBH Kids Gets Totally Right: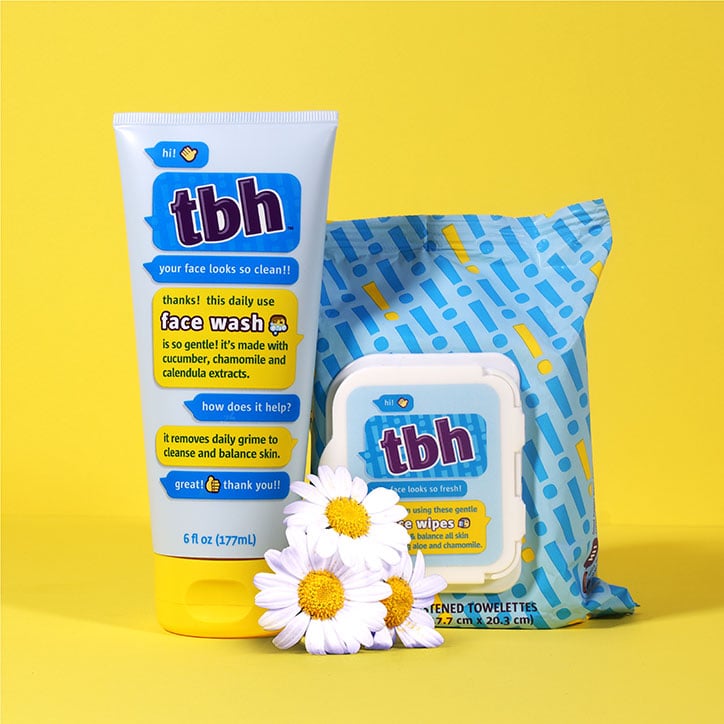 They Understand Tweens:
Being a tween isn't just mood swings and growth spurts, it's a time where your face and hair can be extra oily, you're getting your first pimples, and just generally a little more stinky than you were as a kid. That's why TBH Kids crafts their products to tackle these tween-specific issues, leaving you looking your best.
Having products that are exclusively yours means you'll feel more excited about using them. This helps promote healthy habits that will ensure you're always feeling amazing. The brand even takes its message of honesty and empowerment to social media. Their Instagram posts encouraging tweens to be unique, live their best lives, and surround themselves with people who help them shine.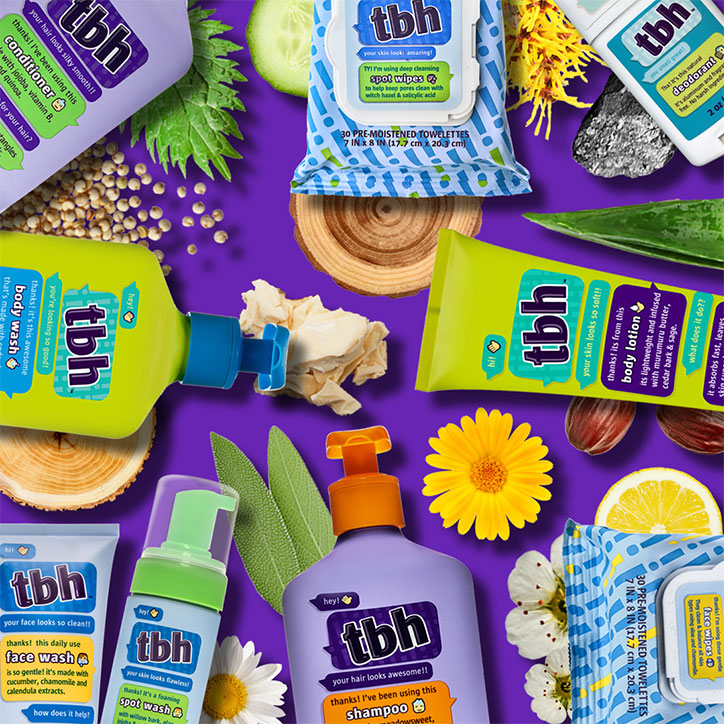 Good Ingredients, Always:
Every single product in the TBH Kids lineup swaps out harsh chemicals for all natural, good for you ingredients. For example, their TBH Shampoo tackles oily hair and helps restore your natural pH balance. The gentle formula of nettle, cedar bark, and sage has a subtle scent that will leave your hair looking super clean and won't weigh it down.
Unlike your hair, you want your skin's natural oils to remain in-tact, which is why their exfoliating TBH Body Wash uses a mixture of lemon, cedar bark, and cucumber. This refreshing and effective mixture hydrates, exfoliates, and cleans your skin without irritation. Plus, it leaves you smelling great!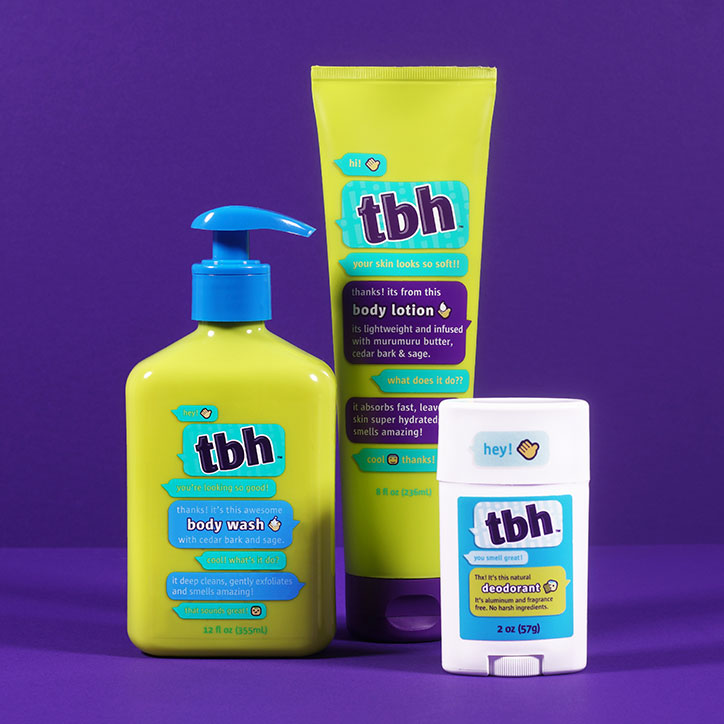 Building Confidence & Routine:
Your tween and teen years can be tough, but TBH Kids wants you to feel amazing and confident as you take on the world and hang out with your besties. You're not alone in your journey of growing up. TBH helps you feel secure in knowing you're not the only one wearing deodorant, dealing with blackheads, or struggling with awkward body moments.
In addition to the fun tidbits on their packaging, the TBH website is full of tips and tricks to work into your daily life. Did you know that changing your pillowcase frequently can help prevent breakouts? Or that chamomile is great for soothing irritated skin? By teaching you about their ingredients and promoting a daily routine, TBH Kids encourages habits that you'll always carry with you!
TBH Kids Giveaway: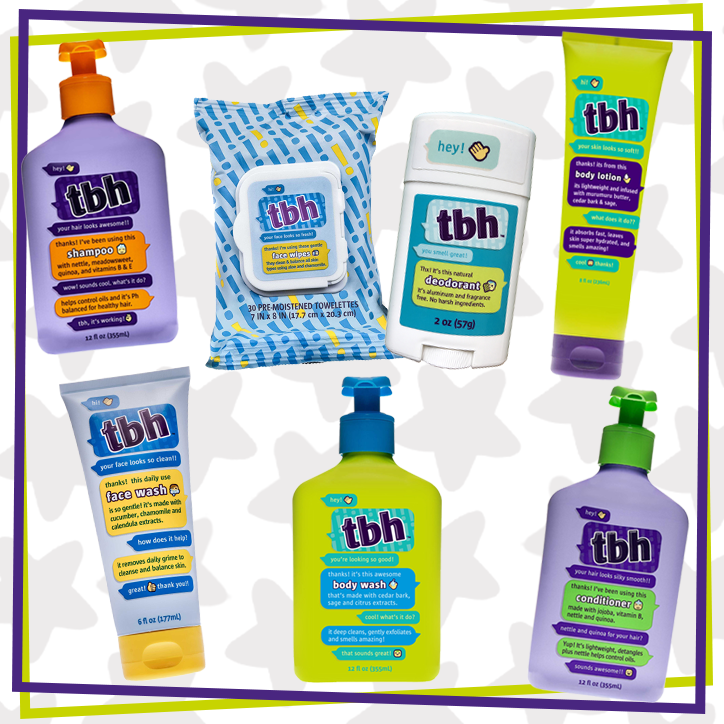 WHAT DO I WIN?:
ONE (1) lucky winner will receive a TBH Kids Prize Pack that includes:
– ONE (1) bottle of TBH Shampoo
– ONE (1) bottle of TBH Conditioner
– ONE (1) tube of TBH Body Lotion
– ONE (1) bottle of TBH Body Wash
– ONE (1) stick of TBH Deodorant
– ONE (1) tube of TBH Gentle Gel Face Wash
– ONE (1) package of TBH Gentle Face Wipes
HOW DO I ENTER?:
Grab a parent or guardian and have them fill out the form below by July 22, 2019 at 11:59pm ET.
Giveaway runs from 07/08/19 at 01:00 pm ET through 07/22/19 at 11:59 pm. Open to US residents ONLY. Be sure to read the fully detailed rules HERE before entering.
THIS GIVEAWAY HAS ENDED AND THE WINNER HAS BEEN CONTACTED.
You must be 18 or older to enter. Please, only ONE entry per person. If selected as a winner, we will provide your parent/guardian with an affidavit to confirm that you are a valid winner who has permission to win. They will be REQUIRED to sign and return the affidavit to YAYOMG! to claim your prize. Prizes will not be mailed out without signed parental consent.
Need TBH Kids in your life? If your parents sign up for the newsletter, they'll receive 20% off their first order. Want to win even more amazing tween-focused stuff? Enter for your chance to win one of Fashion Angels new Find Your Wings Subscription Boxes!