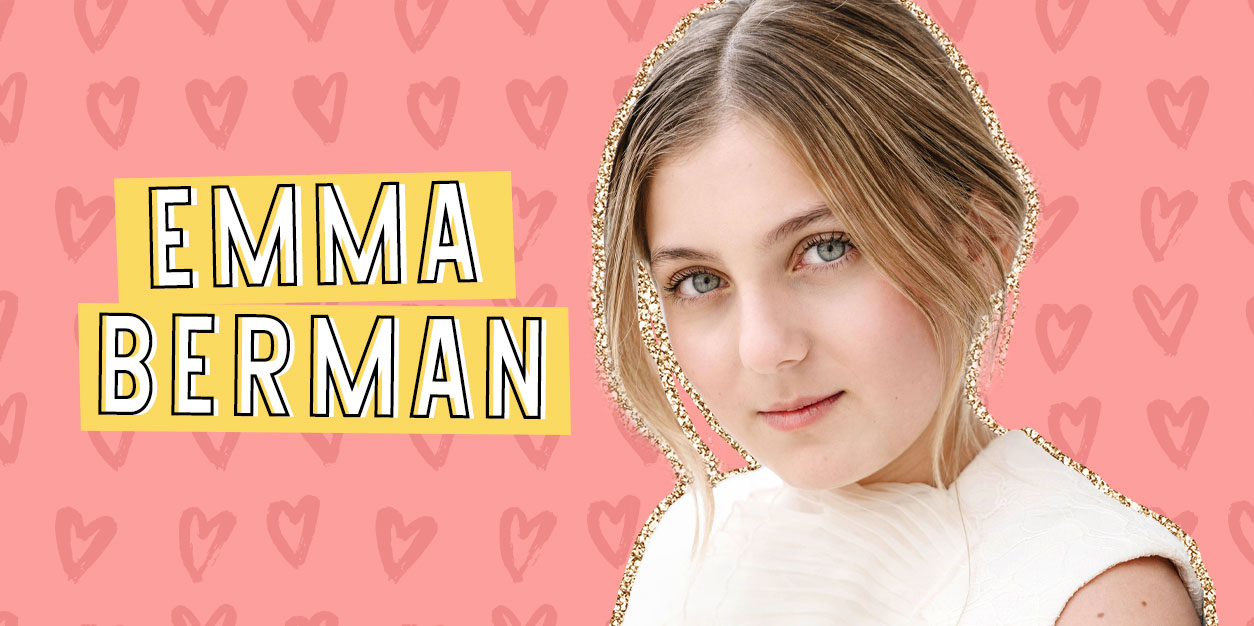 Emma Berman Dishes on Luca, Girl Power, and her Love of Broadway
Like most kids, Emma Berman grew up loving the magic and adventure in animated Disney and Pixar films, and now, she's landed the role of a lifetime – voicing a Pixar character!
In Disney and Pixar's newest animated film, Luca, Luca and Alberto are two curious and free-spirited best friends living it up in the Italian Riviera eating gelato, taking scooter rides, and exploring the world together during one epic summer. They also share a secret that no one can know – they're both sea monsters that the human world only knows from myths and legends. Emma lends her voice to Giulia, a 12-year-old girl who befriends Luca and Alberto on their adventures. As a lifelong Disney fan and voiceover artist, it was one of Emma's biggest dreams to bring a Pixar character to life, and she couldn't be happier about the experience.
When she's not doing voiceover work, Emma loves go-karting with her brother, reading books (she loves The Hobbit and Harry Potter), and watching musicals any chance she gets.
Get to know Emma Berman as she dishes on Luca, her passion for voice acting, and the Broadway show she dreams of starring in!
Get to Know Emma Berman: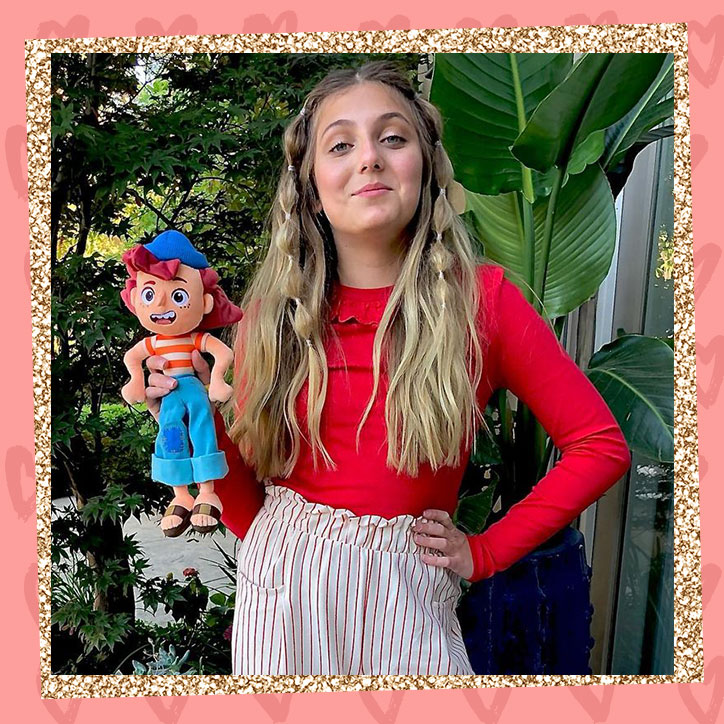 You voice Giulia in the new Disney and Pixar animated film, Luca! What can you share about the film?

EMMA BERMAN: Luca is about the kind of friendships that change us, make us curious, and help us overcome our fears and conquer our dreams! This film encourages kids who might not be very popular or think they don't belong to accept themselves and all of the aspects that make them who they are, build confidence and thrive. Luca is a very inspiring story and the three main characters are unique and empowering.
Tell us a little bit about your character Giulia – what is she like?

EMMA: Giulia is about my age, 12 years old, she is a bit awkward and goofy, and she really wants to make new friends. Giulia is smart, brave, determined, strong, passionate, fiery, intense, genuine and charming. She totally embodies what girl power is all about!
You've lent your voice to everything from animation to toys, what do you love most about doing voiceover?

EMMA: I enjoy playing around with the different pitches and tones and vocal registers and explore how the slightest changes in my voice can portray so many different emotions. I also love to learn new dialects and accents.

Lending my voice to a Pixar character definitely feels like winning the mega-million jackpot! I can't even compare this feeling to anything, it's so incredibly exciting!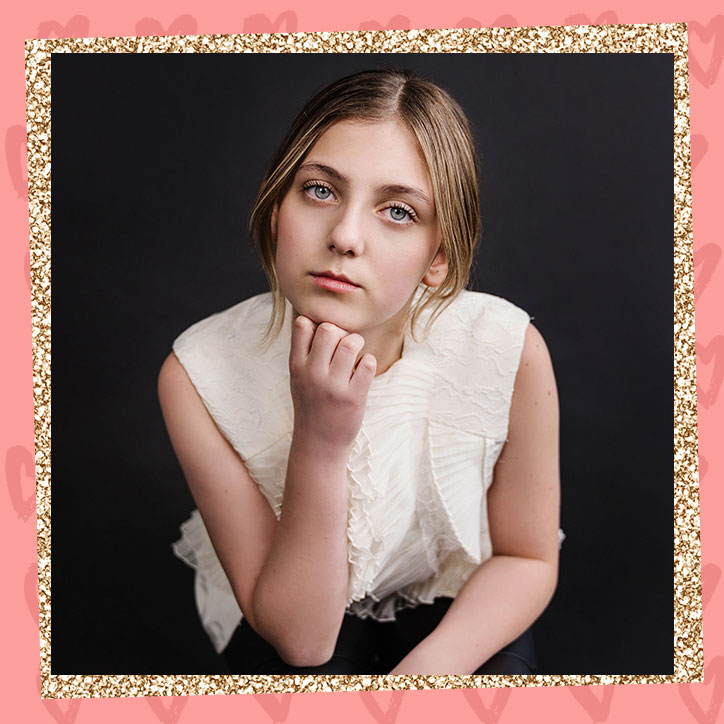 What are a few of your Disney favs?

EMMA: I really love anything and everything to do with Disney and I am obsessed with all the Pixar movies! One movie that stands out to me just a little more than the rest is Inside Out because it is based in San Francisco, which is where I was born and raised.

Some of my favorite Disney Channel series are Good Luck Charlie, Sydney to the Max, and Jessie.
In addition to VO, you've also performed in the theater! What do you love about performing on stage?

EMMA: I love the thrill of performing on stage and feeling the energy from the people watching the show. It gives me goosebumps knowing that someone out there made time and effort to come to watch a show I am in, and I want to make that experience a very special moment for them to remember. I can't wait for an opportunity to be on stage again soon!
What would be your dream Broadway role?

EMMA: A dream Broadway role would be Glinda from Wicked! Popular is my go-to song when I need some cheering up!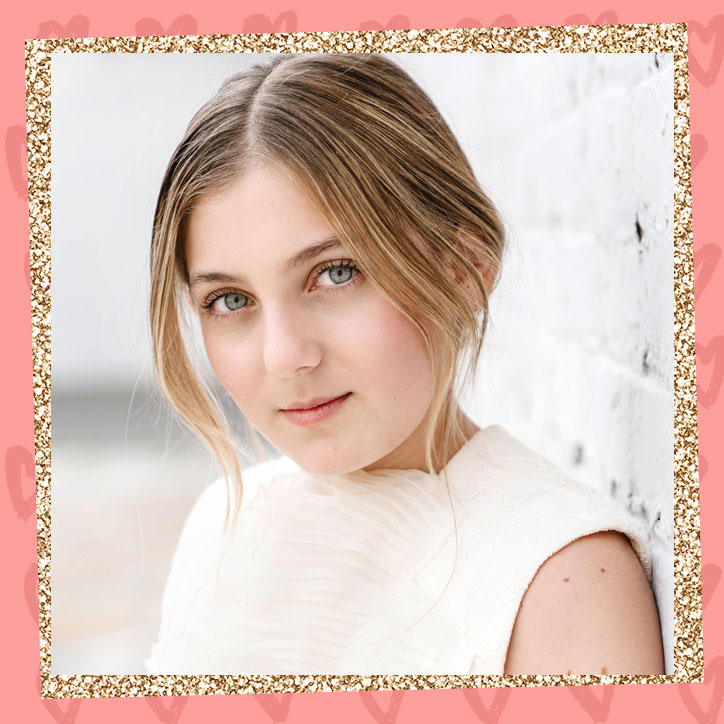 What's your favorite way to chill out at home?

EMMA: One of my favorite things is playing my guitar. Right now, I am learning how to play Wish You Were Here by Pink Floyd. I also love to read, and I just started reading a book called Theater Shoes which I am really enjoying. I also love to snuggle with my kitty, Peppa, and watch old black and white classics and musicals like Bye Bye Birdie, or Shirley Temple movies.

I also love this app called Calm where I listen to bedtime stories or follow along with meditations during the day because it grounds me, and I always feel very relaxed afterwards!
What is your biggest dream for the future?

EMMA: My biggest dream is to work as a storyboard artist for Pixar when I grow up and maybe even direct a Pixar film! I find all the aspects of making an animated movie so cool, from recording the vocals to changing the lighting in a scene and I am planning to learn all about it when I go to college!

When I had a chance to visit Pixar's headquarters recording for Guilia, I thought that it was literally the coolest place on Earth! The creative energy there is off the charts, it's totally magical!
Do you have any words of wisdom you'd like to share with your fans?

EMMA: I think that finding a hobby that makes you feel happy like playing an instrument, or a sport or getting involved in theater is really awesome and fun. I think that it is super cool to try new things and explore! One quote that I adore by Hedy Lamarr is "Try everything. Join everything. Meet everybody. That's the secret of life."
Are you a Disney fanatic? We're giving away a prize pack FILLED with magical Disney board games – click here for your chance to enter and WIN!