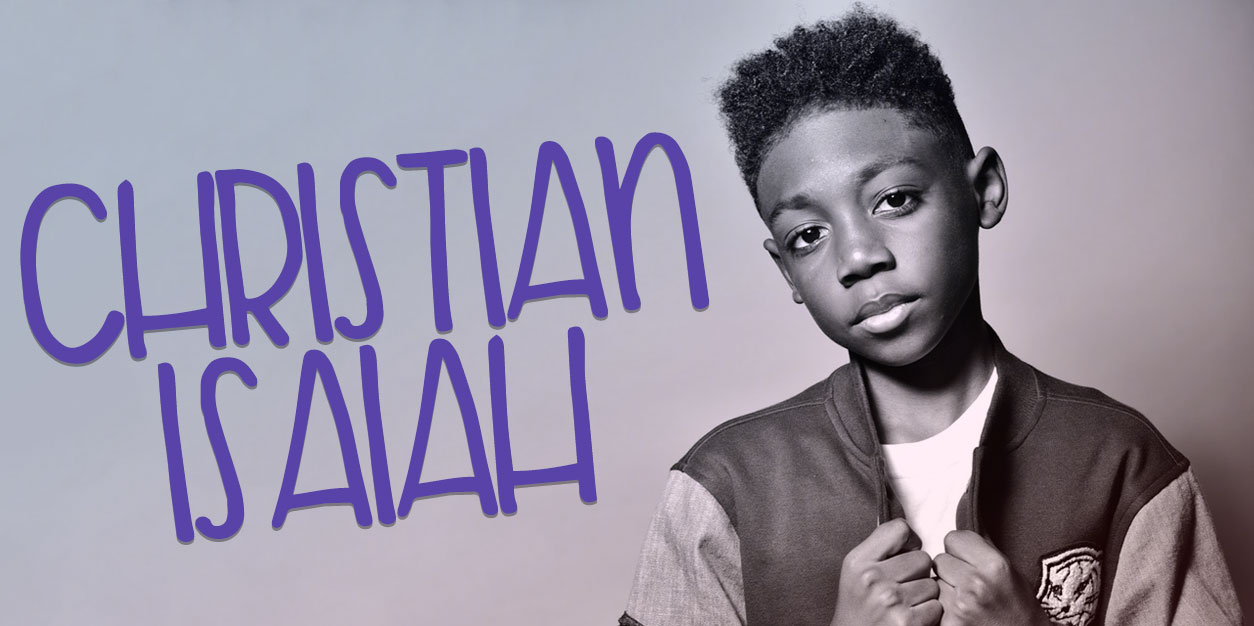 Christian Isaiah Shares his Most Challenging Role and Dishes on all his Favs
Ten year old Christian Isaiah may be young, but he's already landed quite a few iconic roles in the four short years he's been acting professionally. He's made appearances in everything from Reel Kids to Jimmy Kimmel Live, taken on the part of Young Tupac Shakur, and is currently starring as Liam Gallagher on the hit Showtime series, Shameless.
Even though Christian is totally crushing his acting career, he's still just a kid. He's super passionate about football (especially the Dallas Cowboys), Hot Wheels, and all pretty much all things superhero. It may not happen so quickly for everyone, but Christian is proof that dreams really can and do come true if you put your heart into what you love.
We were so excited to be able to chat with Christian Isaiah about the role that has challenged him most, his dream role, and his dream for the future!
Get to Know Christian Isaiah:
Tell us a little about you first discovered your love of acting.

CHRISTIAN ISAIAH: I started acting in plays at church and in school. In Virginia, some friends told my mom about an audition to be on Disney. That led me to come to Hollywood and participate in a showcase that led to me showcasing my talents in acting and modeling. At the showcase, I got over 20 callbacks, the most in my group!

I had so much fun at the showcase that my mom and I decided this would be fun to pursue since she was retiring from the Navy soon, so we packed up and moved to LA. Now, 4 years later, I am having fun working with some amazing actors and living my best life!

What are some of your favorite tv shows and movies?

CHRISTIAN: The Flash, Arrow, Supergirl, DC Legends of Tomorrow, and Agents of Shield. My favorite movies are Black Panther, The Fast and the Furious (All of them), and Avengers: Infinity War.

What is your favorite role you've taken on so far? Which role has challenged you the most?

CHRISTIAN: For both, it's the role of Liam Gallagher on Shameless. This role has allowed me to step out of my comfort zone, and say and do things I normally wouldn't say or do. Also, I don't know what the writers will have me saying or doing from one episode to the next!
If you could choose your dream role, what type of character would you like to play, and who would you want as your costars?

CHRISTIAN: I would love to be in a Fast and the Furious movie and play Tej (Ludacris) or Roman's (Tyrese) son or nephew. Also, I would love to be in a Marvel movie.

What are some things you like to do for fun?

CHRISTIAN: I love go-karting, throwing the football around, and hanging out with my friends.

What is a goal you'd like to achieve in the future?

CHRISTIAN: To own my own business making concept cars.

Do you have any advice you'd like to share with your fans?

CHRISTIAN: Follow your dreams! No dream is too big!
Now that you know everything there is to know about Christian, check out our interview with fellow actor and car enthusiast, Will Buie Jr from BUNK'D!